Vapamore MR-100 Steam Cleaner
The Vapamore MR-100 Primo steam cleaner is a popular choice of canister steamers for home use. It is a multipurpose residential machine that you can use for carpets, floors, upholstery and above floor cleaning.  With a compact design, user-friendly features, and onboard accessory storage, there's a lot to love about the MR100 steamer.
But when you compare Vapamore to other brands such as Dupray or McCulloch, it's a lot more expensive for what you get. So, how does it stack up against these brands? Why should you spend more money on a Vapamore steam cleaner?
Let's take a closer look, to determine if the Vapamore MR-100 is a worthwhile buy.
Vapamore MR-100 Specifications
| Specification | Vapamore MR-100 |
| --- | --- |
| Power: | 1500 watts |
| Steam Pressure: | 50PSI |
| Boiler Temperature: | Up to 220⁰F  |
| Steam Tip Temperature: | Up to 210⁰F |
| Operating Time: | Up to 60 minutes |
| Preheat Time: | 11 minutes |
| Steam Hose Length: | 6 feet |
| Accessories: | 20 |
| Warranty: | Lifetime |
See the MR-100 in Action
This short 1 minute video shows the different uses of the Vapamore Primo:
Overview: How does Vapamore MR-100 Primo Work? 
The Vapamore MR-100 Primo steam cleaner is designed for home cleaning tasks. It comes with a 1500 watts element and an improved floor head design to enhance its performance. It uses a solenoid-operated steam control and allows you to adjust the amount of steam according to your cleaning demands.
If you are searching for an extremely effective machine for eliminating bedbugs, the Vapamore Primo is a good choice. This unit is very effective in killing germs and other types of microorganisms.
Which features make the Vapamore MR-100 Primo Unique?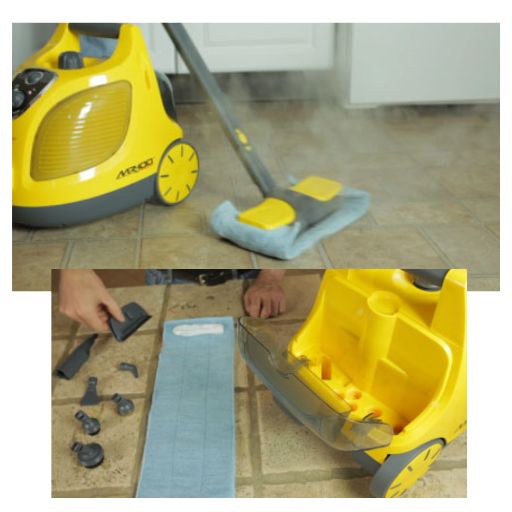 Steam Pressure 
The Vapamore MR-100 Primo steam cleaning system offers higher steam temperatures and pressure compared to other residential models.  The water heats up to 220°F and the steam is released at a pressure of up to 50PSI, or 40 grams per minute of steam flow. You can adjust the pressure according to your needs.
Steam tip temperature measurements have been performed, which show the Primo steam cleaner outputs steam around 210⁰F
As a result, it is not only suitable for cleaning dirt and stains but also effective in sanitizing all forms of microorganisms including germs, bacteria, viruses, mold and mildew. Apart from that, this machine is among the most reliable models for eliminating bed bugs and dust mites.
Water Tank Capacity 
Even though this machine doesn't have a continuous operation feature, you can use it for 50-60 minutes which is generally enough for home cleaning operations. The 1.6 quart stainless steel water tank heats the water within 11 minutes.  
Safety Features 
Another great thing about the MR100 Primo is that it comes with excellent safety features. These are:
Auto shut-off: The auto-shut-off function switches it off automatically when the temperatures exceed 250°F.  This protects it from damages that may occur due to overheating.
Reliable locking mechanism: It also has a reliable locking system that prevents your kids from activating it accidentally.
Twist lock attachments: The twist lock ensures that the attachments remain in their position when cleaning. 
The Little Things that Matter
This machine allows you to move easily when cleaning a large area since it comes with an 18-foot retractable power cord. There are very few steam cleaners on the market that have a retractable power cord, most wrap around the back or bottom of the unit.
It also has a 6 foot steam hose and durable caster wheels on the bottom. The handle has an ergonomic shape and the steam trigger is well positioned. This allows you to move it wherever you want comfortably.
Accessories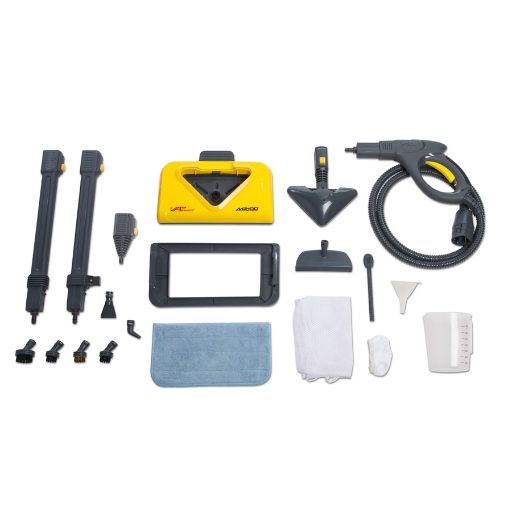 To ensure that you have all the tools required for home cleaning, this machine comes with 20 attachments. They include:
Nylon grout brush
Large nylon brush 
Brass bristle brush 
Floor cleaning head 
2 extension tubes 
Triangle corner brush 
Smooth surface squeegee 
Steam gun and hose 
Jet nozzle tool 
Water level dipstick 
Carpet glider
Detail scraper tool 
Microfiber floor pads 
Upholstery/fabric tool 
Replacement O-ring 
Accessory storage bag
Funnel  
Measuring cup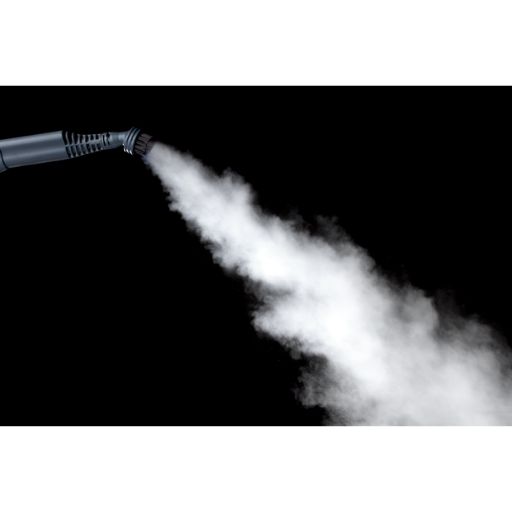 Pros
Quality brand and steam cleaner
Excellent range of accessories
Replacement accessories available
Low moisture content in steam
Powerful steam output for effective cleaning
ETL certified
Lifetime warranty
Cons
Must use distilled water or you will void the warranty (not really a con, you should use distilled water in most steam cleaners)
Hard to claim warranty if outside the USA, costs involved in sending machine back
Pricier than comparable steam cleaners
The Importance of Buying from a Vapamore Authorized Dealer
Vapamore will not warranty, support or service any machine that has been purchased from an unauthorized dealer.
This particularly applies to purchases on Amazon, eBay, Walmart and other online marketplaces. Vapamore feel so strongly about this, they've dedicated an entire page on their website to listing the names of unauthorized dealers.
If you are interested in purchasing a Vapamore steam cleaner, I recommend doing so via Sylvane. Sylvane are Vapamore authorized resellers, offer free shipping, and most of their steam cleaner prices are the same as what you will find on Amazon.
Frequently Asked Questions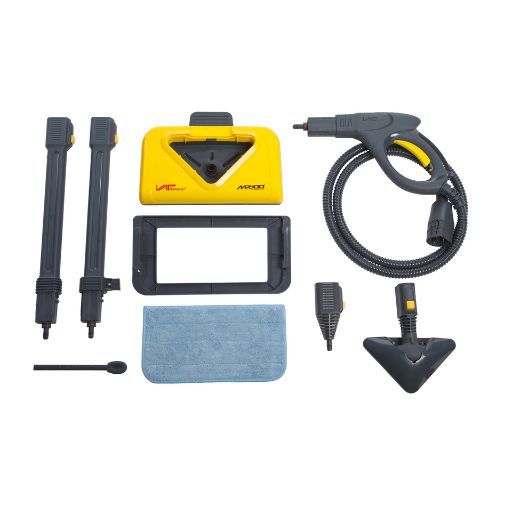 Vapamore MR-100 Vs McCulloch: Which one is better? 
Vapamore offers better quality fixtures and accessories than McCulloch. The lifetime warranty of Vapamore is a prime example, compared to the 1 year warranty offered by McCulloch.
The 50PSI of the MR-100 Primo is slightly lower than the 58PSI found on the McCulloch MC1385 (McCulloch's top of the line model), however the output of steam at up to 40g/min on the Primo beats the MC1385 easily. Which outputs steam at a maximum rate of 31g/min.
15 grams per minute on the lowest setting and 31 grams
No McCulloch steamer can be easily used on carpet or rugs – they don't come with carpet gliders, whereas the MR-100 does.
With Vapamore, you really are buying a well built, quality machine, which is why it is more expensive overall. McCulloch is a popular choice in steamer, but sometimes you get what you pay for. That's the case with Vapamore.
Vapamore vs Dupray Neat
The Dupray Neat steam cleaner is around $200 less than the Vapamore MR-100. If your budget doesn't allow for the MR-100, the Dupray Neat is one to consider, especially as the boiler tank heats up to 275⁰F (hotter than the MR-100).
It's also comparable in terms of pressure, with both steamers outputting steam at 50PSI. Vapamore offers a little more flexibility with adjustable steam pressure, retractable power lead and onboard tool storage. You can read a full comparison review of the Primo vs Dupray Neat here.
Final Verdict: Is Vapamore MR-100 Primo Steam Cleaner Worth it? 
If you're in the USA, the Vapamore MR-100 is a worthwhile buy. If you're outside the USA, I'd choose a different brand – solely because of needing to ship it back to the US for any servicing, maintenance or warranty repairs. Vapamore are very clear that return shipping is at the buyers expense, and if you're not in the US, this could cost you as much as the steam cleaner.
Also, if you're not prepared to purchase and use distilled water in your Vapamore steam cleaner, then the Vapamore brand isn't for you. You will void the warranty using tap water. Make sure you only buy from an authorized reseller of Vapamore products (such as Sylvane), and that you are buying a new machine. This is part of the lifetime warranty terms and conditions.
Overall, the MR-100 Primo is impressive, especially for a compact home use steam cleaner. If you've been disappointed by the steam output of cheaper models, spending a little more on the Primo is worthwhile.