Vapamore vs Dupray: How the Primo & Neat Stack Up in 2023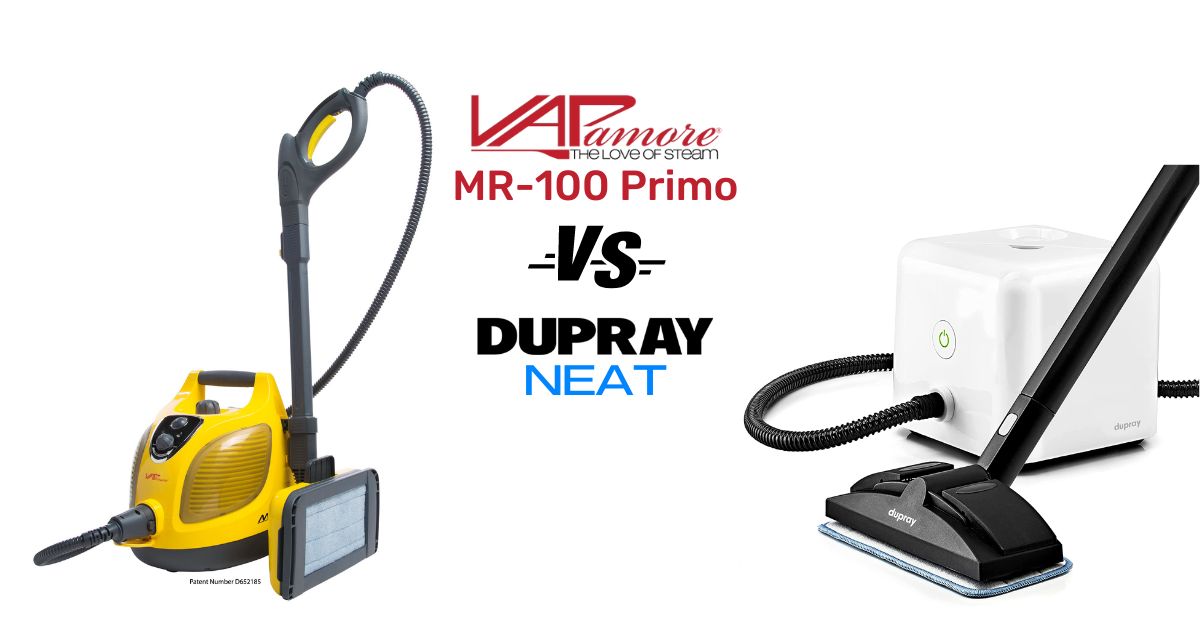 There's no denying that Dupray steam cleaners are one of the best-selling models on the market in 2023. But if you're looking to compare similar steam cleaners, you may have considered the Vapamore MR-100 Primo.
Visually, the Dupray Neat and the Vapamore Mr-100 Primo look nothing alike. They're both compact steam cleaners for home use, and they effectively get the job done.
So, let's compare Vapamore vs Dupray and see if we can find a better buy between these two steam cleaners.
Vapamore vs Dupray Side-by-Side Comparison
| Specification | Vapamore MR-100 Primo | Dupray Neat |
| --- | --- | --- |
| Power: | 1500 watts | 1500 watts |
| Size: | 13 x 15 x 14 inches | 10.5 x 10.5 x 9 inches |
| Weight: | 10.5lbs | 9lbs |
| Boiler Capacity: | 54oz | 54oz |
| Run Time: | 50-60 minutes | 50 minutes |
| Boiler Temperature: | 220⁰F | 275⁰F |
| Steam Pressure: | 50PSI (3.5 bars) | 50PSI (3.5 bars) |
| Heating Time: | 11 minutes | 8 minutes |
| Boiler Construction: | Stainless Steel | Aluminum |
| Tip Temperature: | 205-210°F | Unknown |
| Power Lead: | Retractable 18ft | Wrap Around 16ft |
| Accessories: | 20 in total | 17 in total |
| Accessory Storage: | onboard + bag | separately |
| Warranty: | Lifetime, accessories 1 year | Lifetime boiler, parts/accessories 2 years |
What Makes Dupray Neat So Popular?
Dupray is very active with its marketing, with a fresh website design in 2022. They have loads of videos showing the Neat steam cleaner in use, a compact machine with a modern design.
The price point is a winner – selling for under $200, the Dupray Neat is an affordable entry-level steam cleaner backed by a lifetime warranty on the boiler tank, which also heats to a hotter-than-average temperature of 275⁰F.
Why Consider Vapamore?
At around double the price for a steam cleaner with the same wattage, same size boiler tank, and same PSI, why would you consider buying the Vapamore MR-100?
Here's what you get for the extra money:
A retractable power cord is stored inside the housing of the steamer at the press of a pedal.
Child safety lock on the handle.
More accessories, also with onboard storage.
Overheating protection – The Primo will shut down if the boiler reaches 250°F. Note, however, that this isn't as hot as the Dupray gets.
Larger steam head.
Adjustable steam levels.
A steam cleaner made in Italy.
A lifetime warranty on the boiler, heating element, and all internal electronics (some conditions apply, such as only using distilled water).
Like Dupray, Vapamore has a wide selection of videos, stepping you through setup, usage, different functions, and more. These videos' awful 90's style voiceover and elevator music are the downside.
This dates the product and brand. Vapamore products have been around for longer, first launching in 2012.
The Dupray Neat first came to market in 2018, although the founders of Dupray were involved in commercial steam cleaning throughout the previous decade.
Steam Cleaner Accessories Compared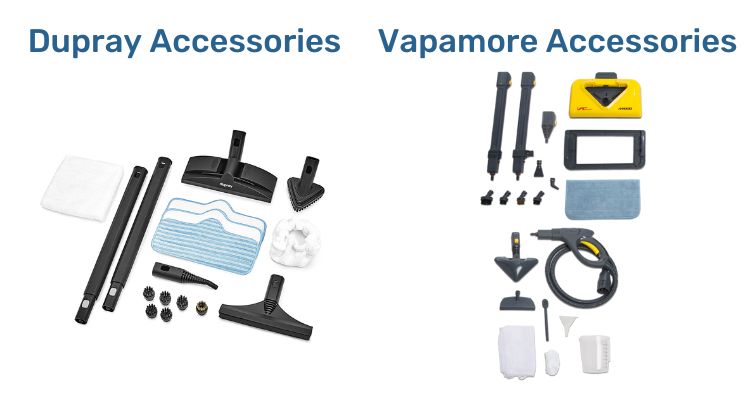 When comparing the standard accessories included with both the Dupray Neat and Vapamore MR-100 steam cleaners, you get ever so slightly more with Vapamore. There's also the bonus of storing the accessories onboard the MR-100 steam cleaner.
With Dupray, you get:
5 nylon brushes
1 brass brush
1 lance
1 window squeegee
1 triangle tool with a scrubbing brush on the bottom and microfiber cover
With Vapamore, you get:
1 nylon grout brush (shorter bristles)
1 medium nylon brush
1 large nylon brush
1 brass brush
1 flat scraper
1 jet nozzle
1 carpet glider
1 triangle tool with a scrubbing brush on the bottom
1 squeegee that doubles as a fabric tool
Grout Brush Differences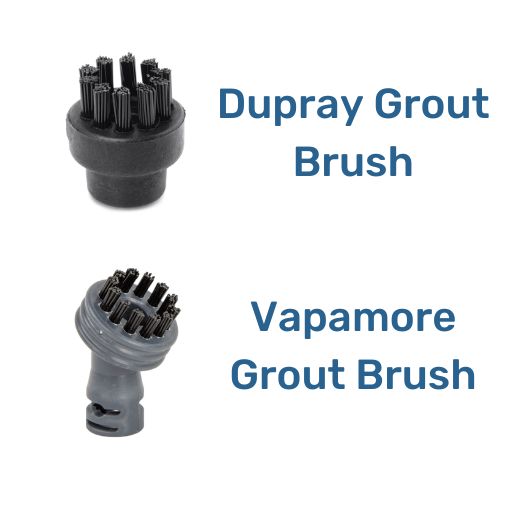 The Dupray nylon brushes have slightly longer bristles than the Vapamore grout brush but are around the same length as the Vapamore nylon brushes.
The Vapamore grout brush is designed with short and stiff bristles, so they won't bend as much when heated up with steam. Unfortunately, you only get one grout brush as standard with the MR-100, but you can purchase extras from Vapamore for $4.00 each.
Comparatively, you can purchase a 10-pack of nylon brushes from Dupray for $29.00, which is $2.90 per brush.
Vapamore brushes also twist and lock into place, whereas Dupray brushes push onto the end of the lance.
My Eurogem steamer has push-on brushes, and for the most part, they stay on well. I have, however, had times when they fell off the end of the lance. Comparing the design between Vapamore vs. Dupray, the Vapamore twist and lock design is more secure.
Horsehair Brushes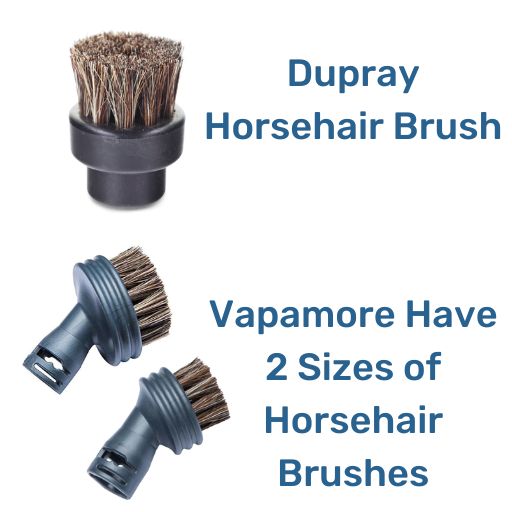 Neither brand offer horsehair brushes as standard; however, you can purchase these separately.
Horsehair is gentle and excellent for delicate surfaces, jewelry, timber, and car detailing. You don't necessarily need these, but it is excellent that both brands make them. Vapamore makes both a small and larger-sized horsehair brush, whereas Dupray offers one smaller size.
Vapamore sells the horsehair brushes individually for $4.00 each, whereas Dupray sells a pack of 10 for $29.00. This offers much better value at $2.90 per brush, but the likeliness of needing ten horsehair brushes in your lifetime is slim.
The advanced cleaning pack offers much better value if you consider purchasing the Dupray Neat. It includes two horsehair brushes, more microfiber cloths, small and large bonnets, eight more nylon brushes, four brass brushes, and two stainless steel brushes.
This all comes in a felt storage bag, which will come in handy given the Dupray Neat offers no onboard storage. This is an excellent upsell from Dupray (for $79); I'd definitely add this on. This equates to $3.43 per piece, $3.16 if you count the bag as an item.
Using the Vapamore MR-100 vs Dupray Neat
The Floor Head
As you can see from the table further up this post, the water capacity, running time, PSI, weight, and size are all quite similar (or the same) between the two units. The Dupray neat is smaller and more compact if space saving is an issue.
Regarding usability, I like the pullout triangle scrubber on the head of the MR-100 Primo. This saves stopping and changing attachments if you need to scrub the floor.
A triangle scrubber tool comes standard with the Dupray Neat, but that means detaching the head and attaching a separate tool. It's not a deal breaker for me, but the convenience of having it built into the floor tool is well-designed by Vapamore.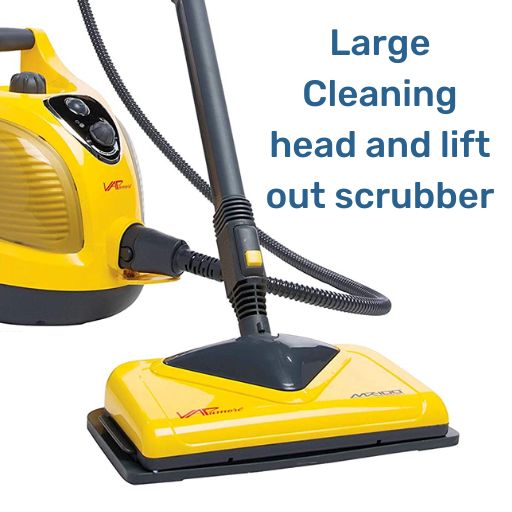 The head of the Dupray Neat is smaller than the Vapamore Primo but still a decent size for a canister steam cleaner. If you have a large home, you may find the Dupray a little small for your needs, but if you have a smaller home or apartment, it will suit you just fine.
Microfiber Pad Design
The Vapamore has velcro-style microfiber pads which attach to the bottom of the steamer floor tool. You get one microfiber pad with the MR-100; additional pads will cost you $7.00 each.
I find this a little pricey, especially when you can use any microfiber or cotton cloth with the Dupray steam cleaner.
One thing that is well-designed about the Dupray Neat is the clips on the floor tool. I often cut up old towels and use them as floor cleaning cloths – being able to use any cloth and attach them with clips is convenient, saves you money, and gives life to old items that would otherwise end up in the landfill.
If you were to buy the large microfiber bonnets from Dupray, they cost $29.00 for a 5 pack, which is $5.80 per piece. You can also purchase generic branded microfiber pads on Amazon for around $20 for a 6 pack.
I can see why Vapamore could no longer have the clips on the head with the introduction of the triangle scrubber integrated into the floor tool in 2018. There isn't room on the steamer head to have both.
Unfortunately, it will be a deciding factor for some – the ease of clipping any cloth onto the head but having to change accessories or buying expensive microfiber pads regularly. I searched on Amazon for a generic pad to fit the MR-100 steam head, but as it's a deep rectangle, I couldn't find one.
McCulloch MC1385 and Haan steam mops were the closest I could find to a similar-sized steam head, and when comparing pricing, you would be paying a couple of extra dollars to get the genuine product from Vapamore.
Steam Settings
Dupray has an on/off button and no variable steam output. Comparatively, Vapamore has adjustable steam settings, outputting up to 40 grams per minute.
The boiler on the Dupray Neat heats hotter than Vapamore – the Neat heats to 275°F, whereas the Vapamore heats to 220°F.
The Neat seems to have trouble maintaining the heat and steam pressure, though. You can get past this by letting it heat up for longer than recommended (give it 10-15 minutes rather than 7-8 minutes) and steaming it in short bursts, giving the boiler time to heat back up as needed.
Keep an eye on the on/off button on the Neat. The light around it will change from green to orange. When it is orange, stop and let the steam build back up.
When considering Vapamore vs Dupray for the steam settings, Vapamore offers more steam control. It also seems to pump out plenty of steam even with longer use. Watch this video here to see what I'm talking about.
Overall, both steamers will operate at up to 3.5 bars of steam pressure maximum (50PSI) and, therefore, should be comparable. I'm going to assume that the users complaining about the lack of steam from the Dupray haven't quite got the hang of slow and steady steam cleaning yet.
Storing the Power Lead
Vapamore offers a retractable power lead that, at the press of a pedal, rolls back inside the housing of the steam cleaner.
This is a better design than the Dupray Neat, which wraps around underneath the steam cleaner.
There's also nowhere to stand up or clip in the extension poles and steam head on the Dupray Neat. On the Vapamore, you can slide this into the side, fold up the head and store the steam cleaner neatly.
Warranty and After Sales Support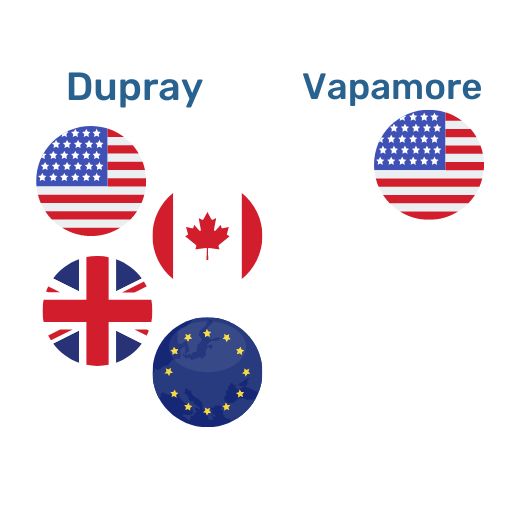 I've got to hand it to Dupray on this one. They are well supported in the US, Canada, the UK, and Europe. Dupray hasn't made it to Australia and New Zealand, but when they do, I'll be the first in line!
Vapamore openly states on its website they work with thousands of online retailers across the globe. I tried to order a Vapamore MR-100 for delivery to Australia, it is possible, but not from an Australian retailer, nor would it have an Australian electrical plug or be rated for the 220V used in this country.
I searched elsewhere and found the MR-100 online via ubuy in Germany. However, it would also be imported from the US. The same problems would apply.
Vapamore's warranty states you will have to ship the steam cleaner back to Arizona for any repairs required under their lifetime warranty. And pay for the return shipping back to you too. Furthermore, Vapamore stipulates this must be with Fed Ex or UPS. Not USPS. Ouch.
So, if you are in the US, consider a Vapamore. If you are outside the US, don't. If you are in Canada, Grainger and Vacupro are authorized resellers, however, please check with them before purchasing if any warranty repairs will happen in Canada or the US.
Feedback on Amazon indicates it's the US, and you will be sorely out of pocket.
The Final Decision
Vapamore and Dupray offer a versatile multipurpose steam cleaner with accessories for a whole house cleaning.
You get a few more accessories with Vapamore, such as a scraper, angle nozzle, and carpet glider, as well as extra functionality and little things (like a retractable cord) that make life easier.
But there's something about the Dupray that draws you in.
Is it the compact little cube-style steam cleaner that looks so… neat? (no pun intended!). I've written full reviews on both steam cleaners, so if you're still on the fence, you can do some further reading here:
If you're on a budget, try the Dupray Neat until you can afford something better. If you have more money, the Dupray Home is a much better steam cleaner (and still slightly cheaper than the Vapamore MR-100). The link above will take you to my review, which explains why.
If you're outside the US, I can't recommend Vapamore for the sole reason of having to send it back to the US for any repairs under warranty. They appear to be quite strict about compliance with the lifetime warranty too.