There's nothing quite like a steam cleaner when cleaning your home. The McCulloch MC1385 Deluxe Canister Steam Cleaner is one of the best for chemical free pressurized cleaning.
This deluxe canister steam system is incredibly versatile – it can clean everything in your home, not just the flooring. From windows and shower screens to your grill and outdoor power equipment, the MC1385 effectively and naturally cleans using ordinary water turned into pressured steam.
A two-year warranty also backs the machine, so you can rest assured that you make a quality purchase. I'll take a closer look at this cleaner's features in this McCulloch MC1385 review.
Please note this review is not sponsored by McCulloch – I bought the machine of my own accord.
About The McCulloch Company
McCulloch is a brand within the Swedish company Husqvarna Group famous for manufacturing outdoor power products. Their products include chainsaws, cultivators, garden tractors, trimmers, brush cutters, and mowers.
McCulloch is a household name, and for a good reason. Not only do they make high-quality garden products, but they also have an impressive range of steam cleaners to choose from. They are manufactured by Vornado Air LLC (under license from Husqvarna) and are also affiliated with Steamfast, a trademarked company owned by Vornado.
Plus, their customer service is top-notch, so you can be sure that you're getting the best possible advice and support when choosing and using your McCulloch steam cleaner.
Unboxing the McCulloch MC1385 Deluxe Canister Steam Cleaner
The first thing I noticed after unboxing the McCulloch MC1385 was how long the steam hose is. It's 120 inches long (10ft). Then there's the handle and the extension poles. My first thought was that I wanted to test this on the ceiling rather than the floor!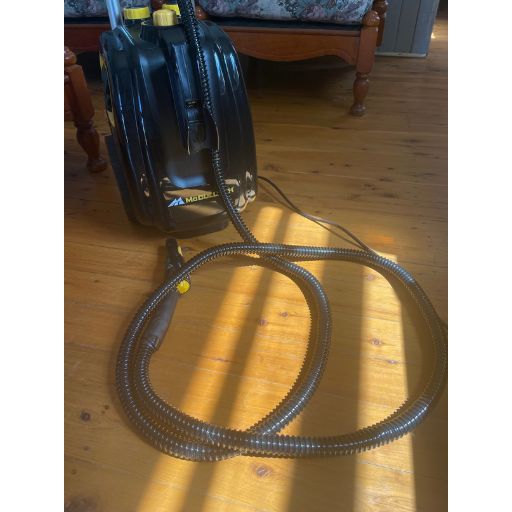 Assembling the steamer was easy. You don't need any tools, and everything clips into place.
It features a pressure gauge on top, which shows the machine's pressure during use and is color-coded in red, yellow, and green. It looks like this: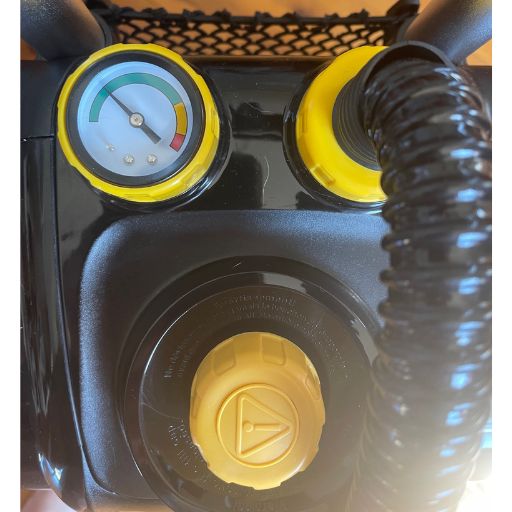 I filled the MC1385 with 48 fluid ounces of distilled water. In total, it holds up to 64 ounces and will run for 2 hours, depending on the steam setting. It took around 7 minutes to heat 48 ounces of water.
On the handle, you can adjust the steam pressure. There are no settings, like on my steam vacuum. It is a dial that moves left to right for more or less steam.
The handle feels nice in your hand. It is round and easy to hold and press the steam trigger.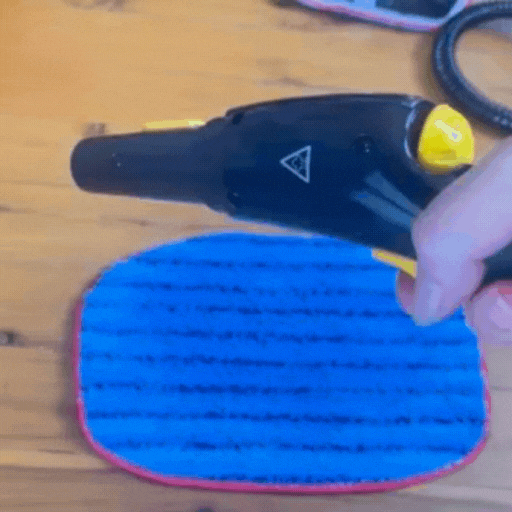 I purged the hose for the first time on the low steam setting. It was surprising how much water came out of the steam hose and how wet the steam was on the low setting. I tried to capture this in a video, but it isn't easy to see the water.
I'd recommend keeping a small towel handy if you are stopping and starting steaming, so you can purge the water out of the line for 2-3 seconds before steaming.
You can use the McCulloch steam cleaner on the following floor types and surfaces:
Tile
Glazed Ceramic
Marble
Linoleum
Sealed wood flooring
Sealed Laminate (on low steam)
Granite
Stained or polished concrete
Avoid using this steam cleaner on unsealed hardwood, waxed surfaces, and unglazed ceramic tile. Never use any steam cleaner on luxury vinyl products.
The mop head size is an incredible 12 inches wide x 8.5 inches deep. That's about double the depth of most rectangular steam mop heads and will reduce floor cleaning time.
Testing the Steam Mop
I tested the steam mop on the lowest steam setting. The steam output is 15 grams per minute at the lowest steam rate.
15g/min of steam for my timber floors was not going to get the job done to my liking. So I experimented with the steam pressure, eventually getting right up to the maximum setting, which is a steam output of 31 grams per minute.
At the highest steam pressure, the machine produces steam at 58PSI. I have sealed wood flooring and have previously damaged it with too hot steam from my Vax steam mop and steam vacuum cleaner.
I'm pleased to advise the McCulloch did not cause any damage to my timber flooring.
McCulloch MC1385 Accessories
It comes with standard accessories included with most canister steam cleaners.
I was surprised by the size of the accessories. They're big – much bigger than the accessories with my Vax steam mop (which also fit my Eurogem steam vacuum):
When I look at McCulloch's marketing, it is very male-oriented, so it makes sense to have man-size accessories. I'm happy if they're tough and get the job done faster!
Where to Use the Accessories:
| Accessory | Where to Use |
| --- | --- |
| Jet Nozzle or Angled Nozzle | Cracks and crevices, golf clubs, dog toys, the tread of shoes, general dirt, grease and grime, sporting equipment, children's toys |
| Triangle Brush | Designed to get into corners, used on floors, countertops, bathtubs, shower recesses |
| Large Brush | A 12 inch x 8.5 inch scrubbing brush perfect for textured tile floors, grout, pavers, and stone |
| Steam Mop with Microfiber Pads | Use on stone, slate, glazed tile, sealed hardwood, and linoleum. Use with care and the lowest steam setting for laminate. |
| Scraper Tool | Baked on food, general grease, and grime, removing stickers or sticky spots, oven cleaning, stovetop cleaning |
| Squeegee with Scrubbing Brush | Windows, both internal and external, car windows and windscreen (do not use on window tint), shower screens, mirrors, glass, areas with soap scum |
| Nylon Brushes | General home cleaning, ovens, stove tops, around faucets and taps, microwave, refrigerator, toys, shower and bath, door knobs |
| Brass Brushes | BBQ Grills, cast iron grills, hotplates and cookware, oven racks (be careful on stainless steel, glass, and tile, scratching may occur) |
| Round Scrub Pads | Countertops, ovens, slate, refrigerator, bathtub, general cleaning |
Test the attachments on a small, inconspicuous area if you are concerned about scratching. This particularly applies if using the brass utility brush.
Replacement brushes can easily be purchased on Amazon or via McCulloch.
The key to learning to use the attachments effectively is not to push too hard! The heat from the steam combined with copious amounts of elbow grease will damage the attachments. Work slowly and let the steam work its magic; your attachments will last longer.
There are four hooks on the back of the machine where you hook on a net to store the accessories. You can also store them in the tote-style bag included with the McCulloch MC1385 canister steam system.
Testing the Accessories
This steam cleaner isn't really designed for soft surface cleaning. No microfiber cloths are included, and no bonnets for the small triangle tool to use on mattresses or the sofa.
I wanted to test it on my older lounge suite that my dogs like to sit on and see how well it worked, so I got a little creative with a microfiber cloth and an elastic band wrapped around the triangle tool: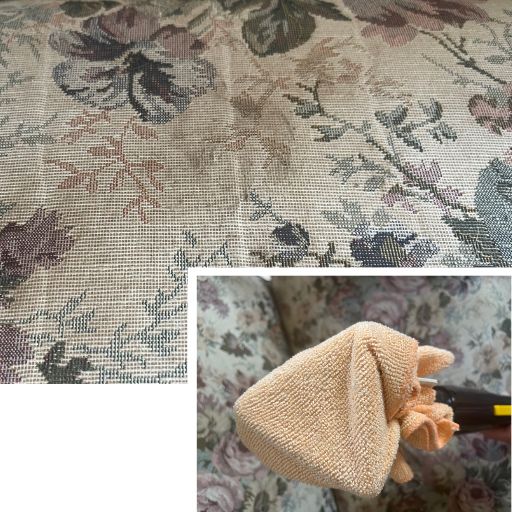 I'll update this post when the seat cushion is dry with an after photo.
Update: good, but not perfect. Not bad for the minute or two I cleaned the fabric.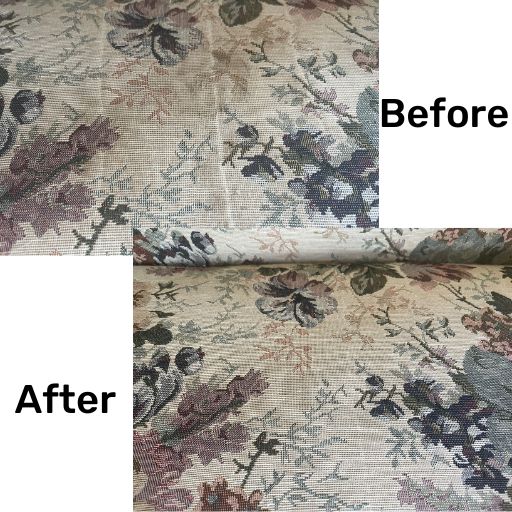 I also have some dining chairs in a suede-like fabric that had some mold on them. The MC1385 on the low steam setting and the nylon bristle brush did a great job of fading the mold.
It also left a watermark on the fabric. I suspect this is due to the water content of the steam on the low setting.
The Kitchen Stove Top
I rolled the steam cleaner down to the kitchen to test it on my gas stove top. Using the lowest steam setting, I tested cleaning the greasy grate. The MC1385 melted the grease efficiently. I was then able to wipe it away with a cloth.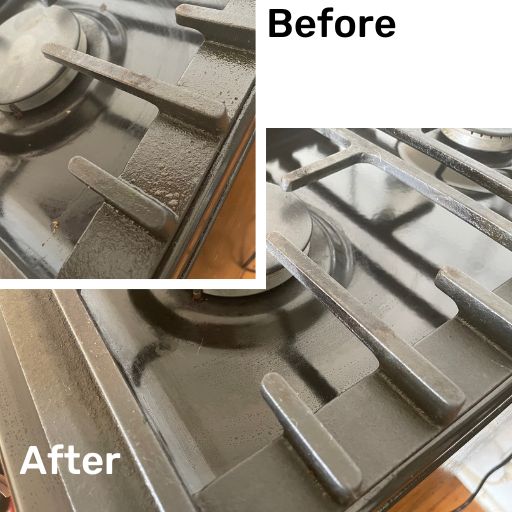 The steam from the MC1385 has more water content than I am used to with my Eurogem steam vacuum. My cleaning cloth was soaking wet, and I needed to wring it out after cleaning one side of my stove.
The Eurogem is a vapor steam cleaner, however. It costs about four times as much as the MC1385.
I continued, turning the steam up to medium pressure, which was better to clear out crumbs from around the oven handle and some splash marks on the front of my cooker.
Overall, for a steam cleaner that heats to 212°F, I am impressed with its ability to eliminate grease, dirt and grime in the kitchen.
Floor Cleaning
After cleaning my stove top and exterior, I finished off the remainder of the large capacity tank by steaming my kitchen floor.
My husband commented on how large the steamer head is and how much more of the floor it covered at once. As for dirt collection? The results speak for themselves: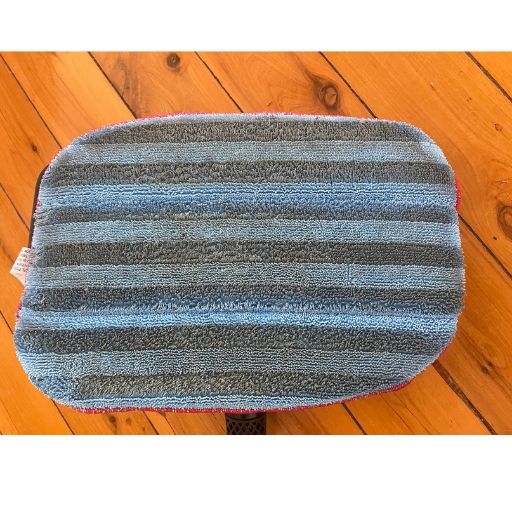 Cleaning Time
Thanks to its powerful 1500W motor, this McCulloch product can provide up to 120 minutes of continuous steam. If you constantly use the highest steam setting, expect the steamer to run for around 90 minutes. Varying the steam pressure allows for longer use.
The MC1385 steam cleaner can be used on demand by pressing the steam trigger on the handle. You can also lock this into position by pressing the steam trigger lock on US models. This will allow a continuous steam flow without needing to hold any buttons or triggers down.
In Australia, the steam lock function is removed from the machine, as it is against regulations in this country.
Moving About
McCulloch's canister steam cleaner with an integrated handle makes the machine look like a rolling suitcase or handheld luggage. The upright design is a space saver when storing the machine, and the large wheels allow you to maneuver the steamer around easily.
Given the design, you must remember to use the handle and move the steamer rather than pulling it along like a vacuum. The stabilizing bracket on the bottom of the steamer keeps it fairly secure when standing upright, but it could be prone to toppling over if you gave it a hard pull rather than using the handle.
Moving from one room to another was easy to roll the steamer behind me like luggage. It is not heavy to pull. If anything, the long steam hose was the hindrance, and it needed to loop up a little, so it didn't drag on the floor.
A 1 Minute Look at the Steamer in Action
How to Fill the McCulloch MC1385 Steamer
Your McCulloch steam cleaner should be on a flat-level surface before filling. Here are the steps:
Unscrew the reservoir cap on the top of the steam cleaner.
Using the included filling cup, fill the machine with 64 ounces of distilled or demineralized water.
Replace the reservoir cap, ensuring it is tightly screwed on.
McCulloch recommends using either distilled water or demineralized water in the steam cleaner. This minimizes the potential build-up of mineral deposits from regular tap water.
If you need to refill the unit whilst you are steam cleaning, you will need to wait 5-10 minutes for the steamer to cool down. Any excess steam pressure can be released by pressing and holding the steam button.
How to Descale the McCulloch MC1385
McCulloch promotes using ordinary water in your steam cleaner for chemical free cleaning. If you choose to use tap water in your McCulloch steam cleaner, you must descale it with vinegar every month. Here are the steps:
If you have been using the steamer, turn it off and allow it to cool completely. Alternatively, start with a cold steamer.
Empty any remaining water from the reservoir tank and discard this water.
Pour 8 ounces of white vinegar or cleaning vinegar into the reservoir.
Allow the vinegar to sit in the reservoir for 40 minutes.
After this time, drain the vinegar from the reservoir.
Fill the reservoir with fresh water, rinse it around in the reservoir and drain again.
If the vinegar odor continues, you may need to rinse several times.
Distilled water can be purchased in bulk from Amazon or Walmart for a few dollars. I highly recommend using distilled water to extend the life of your steamer and its components.
Performance of McCulloch MC1385 Deluxe Canister Steam Cleaner
This top-of-the-line multi purpose steam cleaner delivers excellent performance for the home steamer market thanks to its 58 psi of steam cleaning power.
The McCulloch MC1385 Deluxe Canister Steam Cleaner is perfect for tackling general cleaning needs! This powerful little machine has a lot of steam (especially on the higher setting) for chemical free cleaning.
Whether your home is full of pets or kids, this multi purpose steam cleaner will easily take care of the dirt and grime.
Frequently Asked Questions
Can You Use the McCulloch MC1385 Steam Cleaner on Carpets?
The McCulloch MC1385 does not include a carpet tool for steaming carpets. It is designed for use on hard flooring only. You could easily spot clean carpets, but as a steam cleaner, it will not extract water from carpets and is not designed for whole-room carpet cleaning.
How Hot Does the McCulloch MC1385 get?
The MC1385 heats the water to a boiling point, which is 212°F.
What is the Accessory Net for on McCulloch MC1385?
The accessory net loops onto the back of the steam cleaner and holds your smaller cleaning tools, like the scrubbing brushes, scraper tool, jet nozzle, and grout cleaning tools.
Drawbacks of the McCulloch MC1385 Deluxe Canister Steam Cleaner
The McCulloch MC1385 Deluxe Canister Steam Cleaner is an excellent option for an easy-to-use and effective cleaning tool. However, there are a few drawbacks that potential buyers should be aware of before purchasing.
The biggest consumer complaints about the McCulloch MC1385 steam cleaner are the length of the power cord and the need to replace the bristle brushes and scrubbing attachments. You also can't see how much water is left in the machine.
I didn't have a problem with any of these things. I used gentle pressure on the accessories and let the steam do the work. I moved power outlets when needed. When the water gets low, there is less steam pressure. Keep an eye on the gauge on the top of the machine, and you'll know when to refill.
I figured this out the first time I used the McCulloch.
My biggest complaint about the McCulloch is the water content of the steam and having to purge the line after resting the steamer. Neither of these is a deal breaker for me. I am simply used to using a vapor steamer with less than 5% moisture content.
If you know to expect this initial water and keep a small towel handy to collect it, you'll likely enjoy this steam-cleaning machine as much as I did.
Using McCulloch Commercially
McCulloch is a popular choice for automotive detailers. Please note there is no commercial warranty on this machine. It is not commercially rated. I advise against using it for professional car detailing or in any commercial setting – McCulloch will not honor the warranty if something goes wrong.
McCulloch MC1375 vs MC1385 – Which is Better?
The two machines' main differences are the boiler tank size, the number of accessories, and the design.
The MC1385 holds more water and will run for longer. Given the larger boiler tank, this could also provide more prolonged steam pressure—the machines have the same amount of power, wattage, and PSI.
It was a hard choice for me, given the MC1375 and 1385 are the only two models available in Australia. Which one do I buy? I went with the MC1385 for the variable steam control, large capacity tank, and included storage bag with more accessories.
Where to Buy the McCulloch MC1385 Steam Cleaner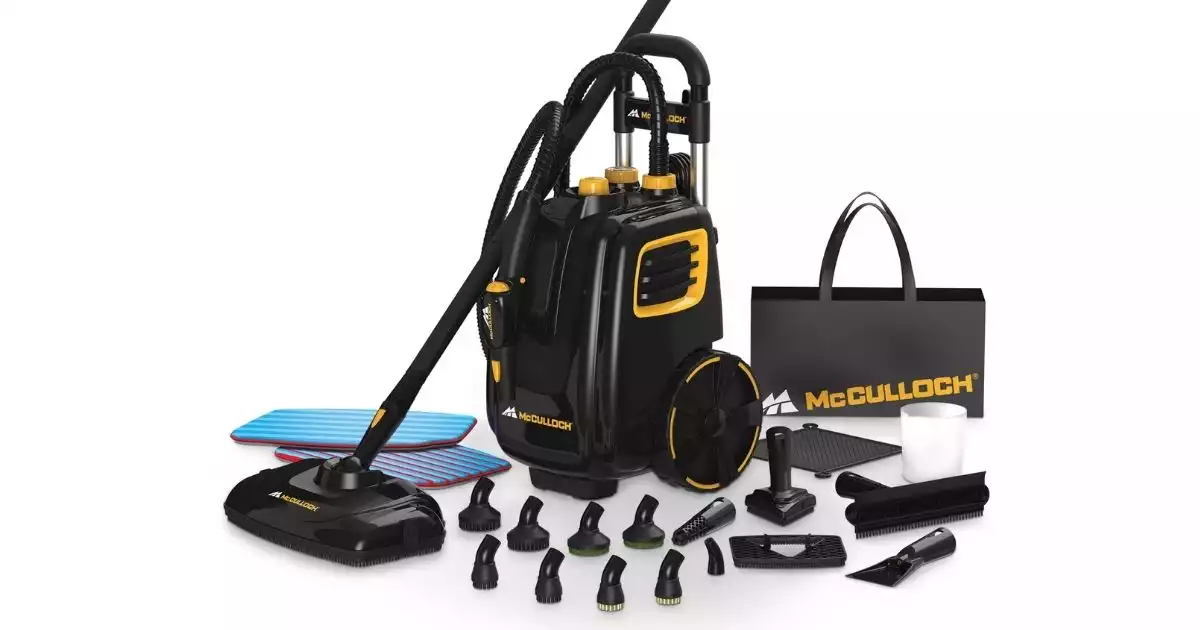 McCulloch MC1385 Steam Cleaner
Top of the line model from McCulloch
Great range of accessories for cleaning both indoors, outdoor items such as grills, boats and car interiors.
Variable steam settings
Runs for up to 2 hours, depending on steam setting
We earn a commission if you make a purchase, at no additional cost to you.
Vapor Clean Pro6 Solo vs McCulloch MC1385
McCulloch and Vapor Clean are not in the same league of steam cleaners. Vapor Clean is a much better steam cleaner, made in Italy (vs. China for the McCulloch), offers 75 PSI (compared to 58 PSI for the McCulloch), and the Vapor Clean Pro 6 Solo is rated for commercial use (the McCulloch is not).
If you have the budget for a Vapor Clean Pro6 Solo, this is a much better buy than the McCulloch MC1385. It also costs about four times as much.
Contacting McCulloch Customer Service
If you are in the USA, you must register your machine for warranty purposes within 60 days of purchase. To do that, go to the McCulloch Steam website and complete the online form. If you do not register your McCulloch MC1385 Steamer within 60 days of purchase, McCulloch will void your warranty.
For services under warranty, contact McCulloch Steamers at 1-800-711-6617 or email consumerservice@mccullochsteam.com.
If you need to send back your McCulloch MC1385 for repair, send it to:
Steamfast – Attention Warranty and Repair
415 E 13th Street
Andover, KS 67002
If you are in Australia, head to the Australian McCulloch website to register your purchase. For any enquiries under warranty, contact McCulloch on 1800 099 012 or at info@mccullochsteam.com.au.
Please note the head office is located in Perth – so you will need to call between 8:30 am – 4 pm Western standard time. I'm pleased to report the steamer arrived in Queensland from Western Australia in a couple of days – excellent service!
You must get a return authorization before sending any steamer back for repair or servicing. Please speak to McCulloch customer service before sending back any steamer.
Conclusion
If you are new to the steamer market or don't have a large budget, the McCulloch MC1385 is an excellent home-use steamer to buy. This all-inclusive machine allows you to clean all areas of your home (except the carpet) using only steam power.
For around $250 (USD), or double that if you are in Australia, you get a good machine backed by a home-use warranty, many accessories, and a trusted, established brand.