Best Steam Mop for Textured Tile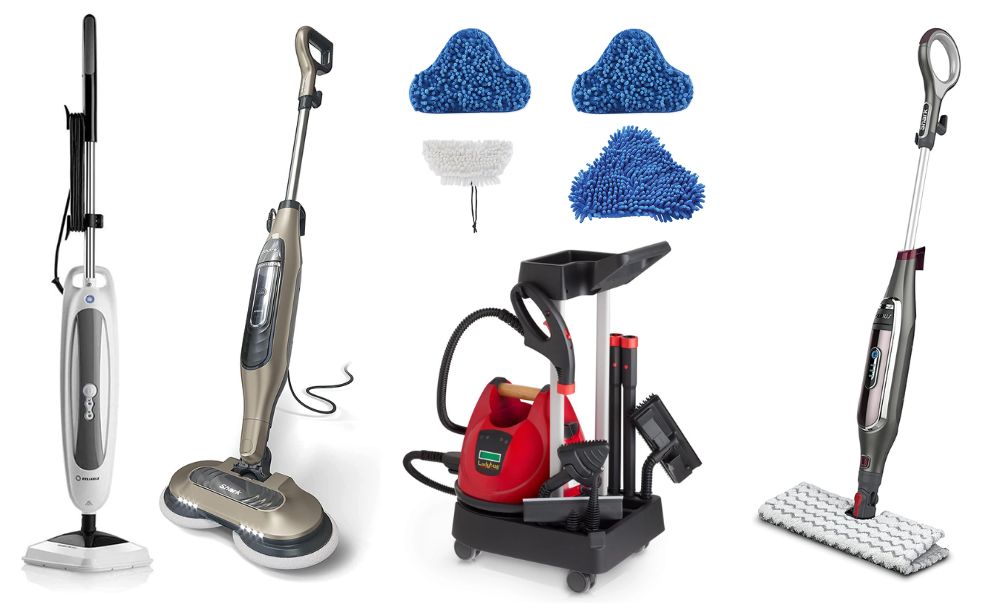 If you have textured, rough, or uneven tile floors, you understand how difficult it is to find an effective steam mop that glides smoothly on the surface.  Most traditional steam mops come with smooth microfiber pads that glide over textured tiles grooves, making cleaning difficult.  
I decided to make it easier for you by researching some of the best models to consider.  After comprehensive research, I came up with a list of the best steam mops for textured tile.
The best models are those with scrubbing brushes, liftoff heads, and floor pads specially designed for rough floors. Let's take a look:
Best Steam Mop for Textured Tile
Here are my choices for the best steam mop for textured tile and why I think they are great.
Shark S5003D Genius Hard Floor Cleaning System 
The Shark S5003D Steam Mop is one of the best-selling steam mops for tile floors. Unlike most traditional steam mops, this one is equipped with a dual-sided mopping pad with strips of nylon scrubbers that enable them to lift and lock in the dirt when cleaning.
This helps to lift dirt from your textured tiles while the microfiber holds the dirt, leaving you with a clean tile floor.
To enhance performance when removing stuck-on messes, activate the Steam Blaster to release a powerful burst of steam. This helps to loosen debris from corners, crevices, or grout lines.
With three intelligent steam settings and direct steam channeling, you can use this steam mop on various floor types without being concerned about causing damage.
Steam blaster for tough stains
Lightweight
Three steam settings
Double-sided mop pads
1 year warranty
Short power cord
It doesn't stand up on its own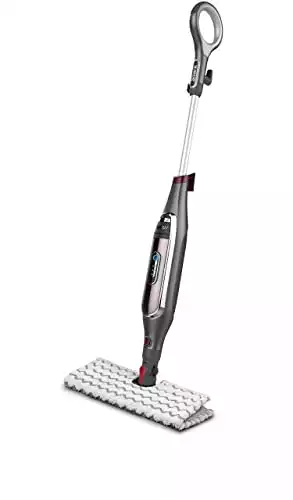 Shark S5003D Genius Hard Floor Cleaning System
Steam Mop with 2 floor pads
Electronic steam control with 3 settings
12 month warranty
We earn a commission if you make a purchase, at no additional cost to you.
05/19/2023 04:02 pm GMT
H20 Mop X5 Elite Mop 5-in-1
If you are searching for a versatile steam mop that will clean your textured tile flooring and every other area of your home, consider the H20 Mop X5 Elite. 
You may have seen this steam mop advertised on TV. It is a feature of infomercials across the US, UK, Europe, and Australia through the worldwide distributor Thane.
The H20 X5 Elite has a removable handheld steamer, which offers 5-in-1 functionality. As a result, it is perfect for floors, windows, garments, carpets, and upholstery. You can also use it to clean bathrooms, kitchens, offices, bedrooms, laundry rooms, or any other room.   
With 1500 watts of power, this steamer takes 30 seconds to heat. I like the blue coral mop pads for getting into the grooves of textured tile floors and grout lines. 
If you have Venetian blinds or shutters in your home, you will love the included blind cleaner attachment. This is something missing from most other steam mops and cleaners and is a massive plus for this machine.
Coral pads get into grooves of textured tile and offer more dirt absorption
Excellent range of accessories for cleaning your entire home
Removable handheld steam cleaner
Lightweight
It's pricey
Complaints the handle is flimsy
Love the Accessories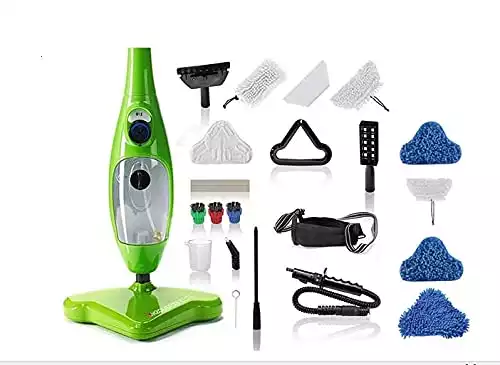 H2O X5 Elite Steam Mop
Steam mop with a removable handheld steam cleaner
Loads of accessories for cleaning blinds, carpets, windows, textured floors, mattresses, and more
Adjustable steam settings
We earn a commission if you make a purchase, at no additional cost to you.
05/19/2023 07:22 pm GMT
Reliable 300CU
The Reliable Steam Boy Pro looks like any other steam mop. But press the foot pedal and off lifts a triangle-shaped scrubbing brush for grout cleaning, and deep cleaning of slate, textured, rough, or uneven tile flooring.
The 180-degree swivel head makes the machine suitable for cleaning open spaces and tight corners or around furniture. The 245-degree steam ensures that the dirt is dissolved and wiped away quickly through one-easy motion.  
Additionally, it comes with a carpet glider for refreshing carpets and rugs, and the high-density microfiber pads fit firmly in the inbuilt steam base grip for easier cleaning.  The power cord is 21 feet long, and the machine takes just 2 minutes to heat water. 
Once it is ready, you can clean continuously for 25 minutes. Another rare feature in the machine is the replaceable anti-scale cartridge that helps filter hard water, a great feature for those who want to use tap water in their steamer.
Anti-scale cartridge 
Carpet glider
Easy-press foot release for scrubbing brush
Large water tank for longer cleaning time
A bit heavy when full of water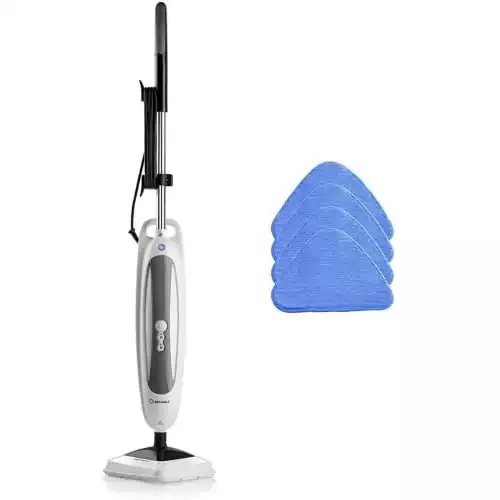 Reliable 300CU Steam Floor Mop
Steam mop with removable head and large scrubbing brush, suitable for grout and textured tile cleaning
Larger than standard water tank
Includes extra microfiber mop pads
We earn a commission if you make a purchase, at no additional cost to you.
05/19/2023 01:45 pm GMT
Bissell PowerFresh Deluxe
Bissell PowerFresh Deluxe turns up regularly on my lists because it's an excellent tile floor cleaner. Like the Reliable steam mop above, you can lift the machine's body off the base and use the built-in scrubbing brush to clean the tile surface and grout.
It has three steam settings which you can choose according to the level of dirt on the floor. If you have mixed flooring types in your home, the PowerFresh Deluxe gives you options – use the low setting for your wood floor, high for your bathroom floor, and medium for general mopping.
Taking 30 seconds to heat up, it also comes with a nylon and microfiber mopping pad similar to the Shark steam mop above, which helps to get into the grooves on a rough tile floor.
Popular brand
Easy to use; buy extra mop pads and replacement parts if needed
Built-in floor scrubber
Three steam settings
Needs distilled or demineralized water for longevity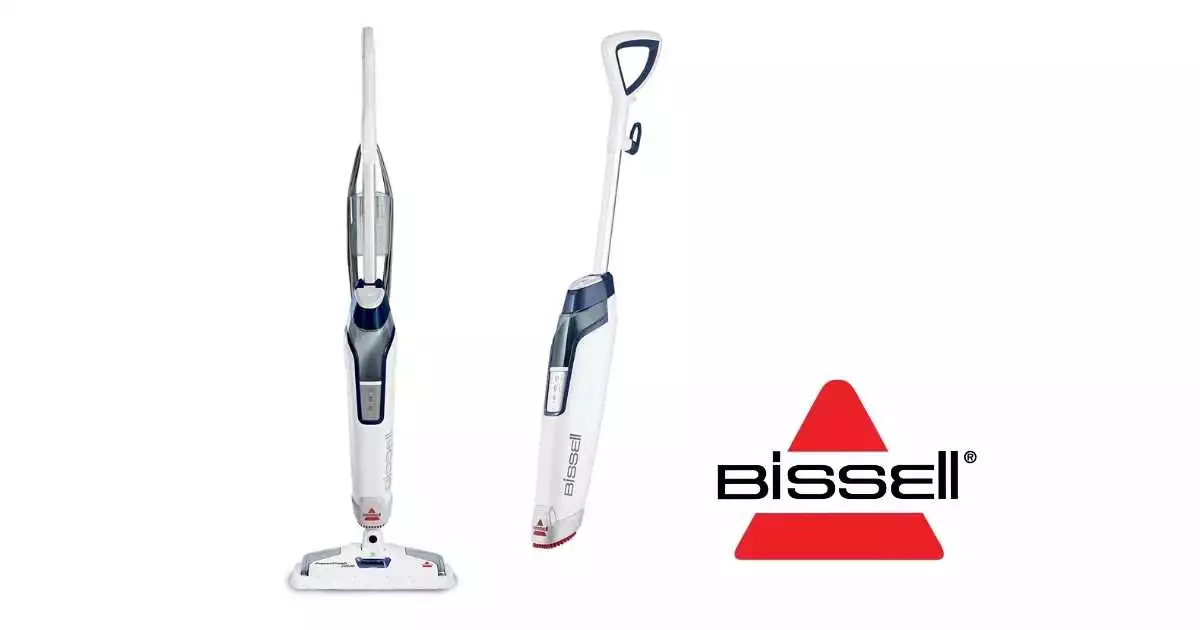 Bissell Powerfresh Deluxe
2 steam settings
Built in water tank (doesn't remove)
25ft power cord
Great brush for grout or textured tiles
2 microfiber pads included
We earn a commission if you make a purchase, at no additional cost to you.
Best Steam Cleaner for Textured Tiles 
If you have larger tiled floor areas or need a tile cleaner that will run for longer, consider these floor steamers:
Vapor Clean Pro 6 Duo  
If you are looking for a powerful steam cleaner that can handle commercial and residential cleaning, the Vapor Clean Pro 6 Duo is undoubtedly the best.
In terms of performance, it offers high steam temperatures of up to 311⁰F and high pressure of up to 87 PSI.  The 2.1-quart water tank takes just 9 minutes to heat water, and you can clean continuously with the dual water tank system.
The body features stainless steel construction and has round edges with rubber bumpers to protect your furniture, wall, or other surfaces from scratches. Despite the heavy-duty construction, you can move it around easily since it has a compact design.
The boiler is made of 304 stainless material, making it more resistant to corrosion and oxidation.  Additionally, this steamer comes with steam handle controls to enhance your comfort when moving it around.
You will find up to 31 cleaning tools in the box, perfect for cleaning grout and textured tile. It also features a drain at the bottom for emptying water.  
Suitable for commercial and residential cleaning  
High steam pressure and temperature 
Allows continuous operation 
31 cleaning tools 
UL and ETL certified 
Lifetime warranty on the boiler tank
Quality Choice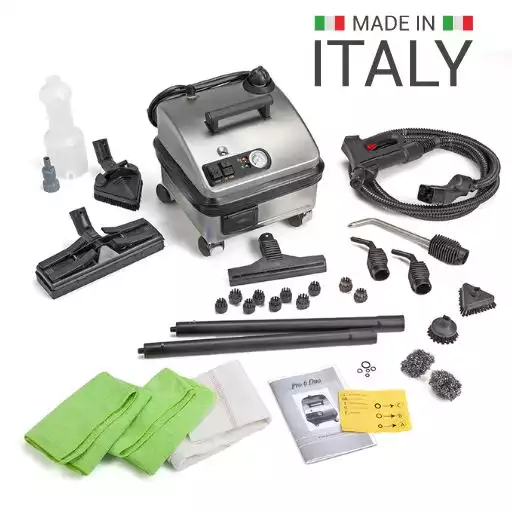 Vapor Clean Pro6 Duo Steam Cleaner
Italian made continuous refill steam cleaner with copper tubing, brass fittings, tungsten welded stainless steel boiler heating to 311°F and operating at a powerful 87PSI. This compact steam cleaner packs a punch and doesn't cost thousands of dollars - an excellent price for a continuous fill steam cleaner. A worthwhile buy for home or commercial use.
We earn a commission if you make a purchase, at no additional cost to you.
Bilitools Steam Cleaner 
Bilitools Steam Cleaner is a new-release product. It's cheap, and how long this holds up is yet to be seen. However, I've chosen this floor steamer for textured tile because it has a unique scrubbing brush not seen on other models. Check it out below: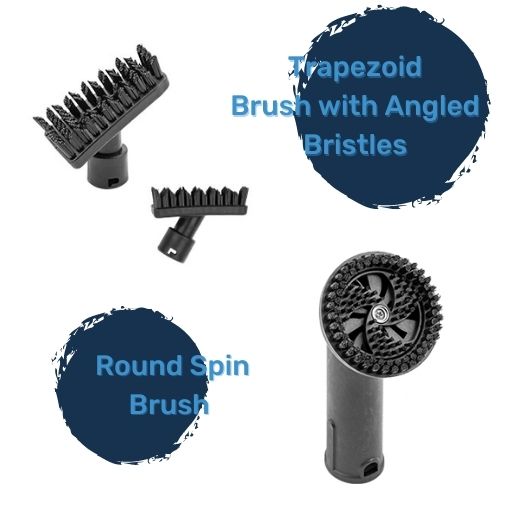 It also heats up to 339°F and has a pressure of up to 5 bars. This machine offers better performance than most residential steam cleaners on the market.  You can use it to deep clean and sanitize your tiled floor with ease.
Apart from the high steam pressure and temperature, the 1800 watts steamer has 17 cleaning tools to enhance versatility.  
The 1.8 liters water tank takes 8 minutes to heat water, and once the steam is ready, it offers a cleaning time of 35 minutes. Other convenient features in this machine include the display pressure gauge, plus an LED indicator showing the working status.   
1800 watts of power 
17 accessories 
Trapezoid brush suited to tile grout
Large water tank 
Extra long power cord 
The handle gets too hot
It's a made-in-China steamer, and I don't know if it will last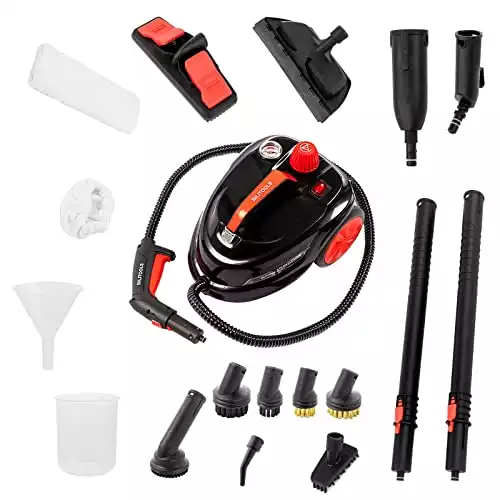 BILITOOLS Ultra Hot Steam Cleaner
Heats to a whopping 339°F
5 bars of steam pressure (up to 65 PSI)
Great range of attachments for both hard and soft surfaces
Unique textured tile and grout cleaning tools
We earn a commission if you make a purchase, at no additional cost to you.
05/19/2023 03:22 pm GMT
Dupray Neat
I can't have a best-of list without putting at least one Dupray steam cleaner on it. Dupray is leading the way in quality steam cleaners at affordable prices.
The Dupray Neat is a good entry-level steam cleaner priced under $200. If your budget allows, I'd upgrade to one of the next models up, like the Dupray One Plus, with a continuous refill.
But if not, the Neat offers good cleaning capabilities for a budget price. It has round bristle brush attachments suitable for grout cleaning, and the triangle scrubbing brush can get deep into textured tiles.
Once you're done cleaning your tile flooring, switch attachments, steam upholstery, mattresses, and oven (to name a few other uses). 
In terms of performance, the Dupray Neat Steamer offers high steam temperatures of 275⁰F, and the steam comes out at a pressure of 50 PSI (3 bars).  
The Neat is made in China and has an aluminum boiler, and this is part of what makes this model so inexpensive. I see the value in the higher-end Dupray models, which are either made in Europe or Italy and have stainless steel boiler tanks. Stainless steel also holds heat better than aluminum.
Either way, however, you still get a lifetime warranty on the Neat's boiler tank from Dupray, another reason why their machines are ones to consider.
Compact, lightweight, and sleek design 
50 minutes of cleaning time
Versatile for a whole house clean
Excellent range of accessories
Lifetime warranty on the boiler tank
Need to allow pressure to rebuild
Powercord wraps around the base, which is not the best design
No way to see how much water is left in the boiler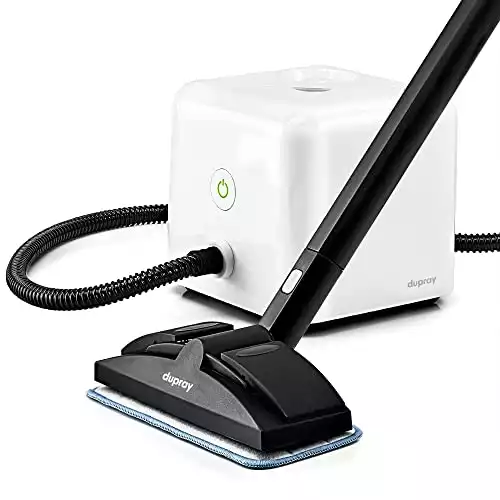 Dupray Neat Steam Cleaner
Compact yet powerful
Boiler heats to 275°F
Versatile attachments
Lifetime warranty on boiler
We earn a commission if you make a purchase, at no additional cost to you.
05/19/2023 11:09 pm GMT
McCulloch MC1385 
This steam cleaner is a multipurpose machine that you can use for cleaning textured tiles and other parts of your home. It has 23 premium attachments for removing grime, stains, or grease from surfaces such as autos, grills, appliances, floors, etc. In terms of performance, it releases hot steam up to 200⁰F at a pressure of 58 PSI. 
This one has the lowest temperature of the steam cleaners on this list. It made this list, however, because of the scrubbing bristles on the steamer head. Easily run this over your textured floors and watch the bristles and steam work their magic. 
120 minutes cleaning time 
Affordable price  
Variable steam control 
58 PSI steam pressure 
Lots of attachments
2 years warranty, use distilled water in the tank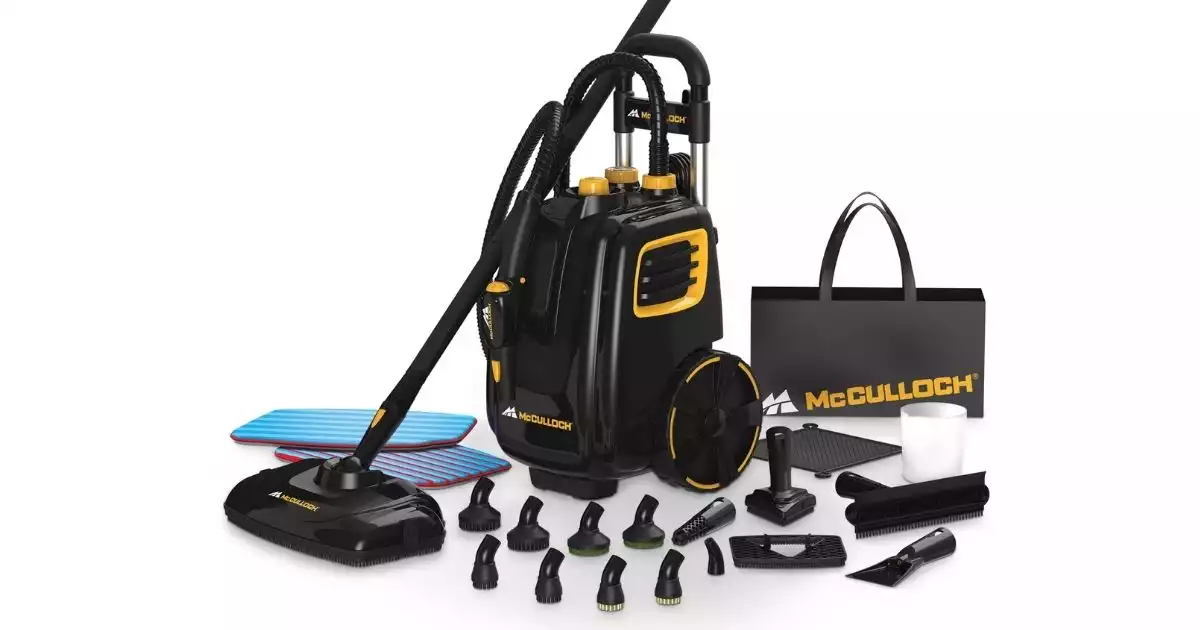 McCulloch MC1385 Steam Cleaner
Top of the line model from McCulloch
Great range of accessories for cleaning both indoors, outdoor items such as grills, boats and car interiors.
Variable steam settings
Runs for up to 2 hours, depending on steam setting
We earn a commission if you make a purchase, at no additional cost to you.
Top of the Line: Ladybug 2350
Consider a ladybug canister steam cleaner if you have a large home and are looking for the best of the best.
The scrubbing attachments that come with this steam cleaner will make light work of cleaning rough tiles. You can safely use tap water without worrying about mineral buildup thanks to the TANCS technology.
This one comes with a big price tag, but if you want quality and have the budget to spend, a Ladybug is worth a look. The link will take you to my full review.
Best Steam Mop for Non-Slip Tiles 
Non-slip tiles can be a challenge to clean. Ordinary mops and steam mops are frustrating to use, as they don't glide easily over the non-slip surface. So, for a non-slip tile cleaner, I've chosen the Shark Steam and Scrub.
With three modes for light, normal and deep cleaning, the discs on the base of the machine spin at 150 rotations per minute, effectively scrubbing the floor while steaming simultaneously. 
Apart from using it to clean non-slip tiles, it is also perfect for all sealed floors, including hardwood, marble, stone, and ceramic tile. The downside is it doesn't clean deep-set grout very well.
3 steam modes 
150 scrubs per minute 
Swivel steering
Long power cord
Upright lock to stand up on its own
It may leave circular marks on some floors
Not the best for cleaning grout lower than tile
It only runs for around 12 minutes in deep cleaning mode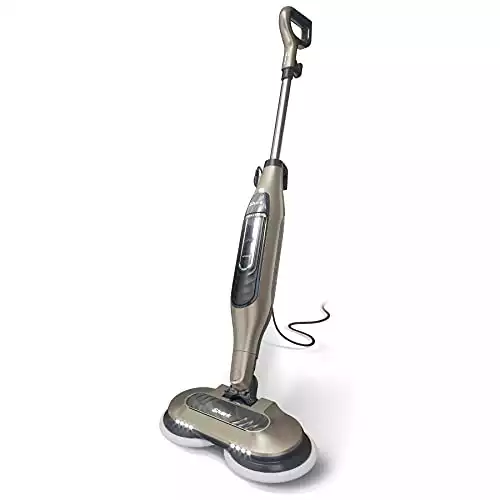 Shark Steam & Scrub S7001
Choose from three steam modes
Rotating floor scrubbing discs
Suitable for most flooring types
Buy on Amazon
We earn a commission if you make a purchase, at no additional cost to you.
05/19/2023 10:25 pm GMT
What is Textured Tile?
Textured tile flooring refers to tiles that have a rough or raised surface. This can be achieved through various methods, such as imprinting a texture into the clay before the tile is fired or applying a textured finish to the tile's surface after it has been fired.
Textured tile can add visual interest and slip-resistance to a floor and is often used in commercial and public spaces for these reasons. It can also be used in homes to add character and warmth to a space.
Textured tiles can be made from various materials, including ceramic, porcelain, and natural stone. They can be glazed or unglazed and come in various colors and patterns. Make sure your textured tile has been adequately sealed before steam cleaning.
Frequently Asked Questions About Cleaning Textured Tile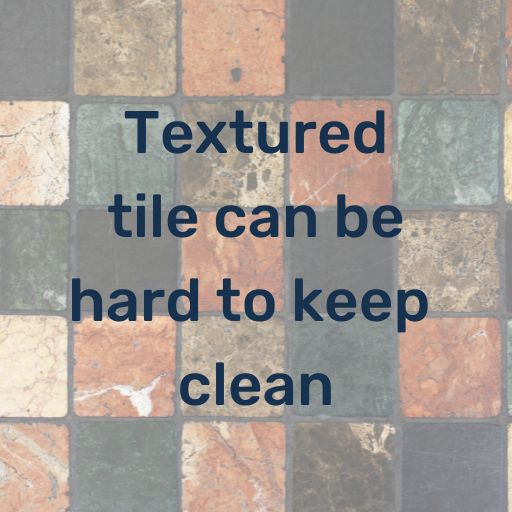 Does a Steam Cleaner Clean Textured Tiles?
The right steam cleaner can make light work of cleaning rough textured tile floors. Look for a steam cleaner with brushes on the head, or brush accessories to help get into grooves and uneven surfaces.
Why Are My Tiles Sticky After Steam Mopping? 
Various reasons can cause your tiles to be sticky after cleaning. This is likely to happen if you don't vacuum your tiles before steam cleaning or when using a dirty mop pad. Other causes may include insufficient steam, using cleaning agents, or a build-up of previous cleaning products.
What is the Best Steam Mop for Slate Floors? 
As slate has an uneven textured surface, consider using a steam mop with a scrubbing brush to get into crevices, such as the Bissell Powerfresh Deluxe, or Shark Steam and Scrub.
Conclusion 
Cleaning textured tiles can be a bit more challenging than cleaning smooth tiles due to the rough surface. With the right steam cleaner and attachments, it is possible to keep textured tiles looking clean and well-maintained.
Using a soft-bristled brush such as the nylon brushes included with most steam cleaners can help to clean grooves and grout lines. Take care not to scrub too hard to prevent damage.
Regular vacuuming and steam mopping will help to remove dirt before it can get ground in. By following these tips, you can keep your textured tiles looking beautiful and in good condition for years to come.