6 Car Engine Steam Cleaner Choices to Melt Away Oil and Grease
Your car engine is one of the most important parts of your vehicle – it's what keeps your car running smoothly and efficiently. But over time, your engine can start to accumulate dirt, grime, and other build-up that can negatively impact its performance. That's why it's important to regularly clean your car engine, and a steam cleaner is one of the best ways to do it.
A steam cleaner uses high-pressure steam and very little water to clean your engine. It is a safe and effective way to remove all the build-up and restore under the hood of your car. Steam cleaners are regularly used in auto-detailing, both interior car detailing and engine cleaning. If you're looking for the best way to clean your car engine, a steam cleaner is the way to go.
In this list below, I've chosen 6 high heat car engine steam cleaners where the boiler temperature heats over 300°F.
Heat is important when it comes to removing road grime, oil, grease and other contaminants that standard steam cleaners just won't budge. So, let's jump right in and take a look at the top choices. You'll also find some tips and how to guides further down this post.
| Steam Cleaner | Boiler Temperature | Steam Pressure |
| --- | --- | --- |
| Vapor Clean Pro6 Duo | 311°F | 87PSI |
| NaceCare Commercial | 374°F | 115PSI |
| Vapamore Forza | 320°F | 90PSI |
| Dupray Hill Injection | 345°F | 121PSI |
| Mondovap Steam Vapor TANCS | 330°F | 98PSI |
| US Steam Eagle | 312°F | 75PSI |
Quality Choice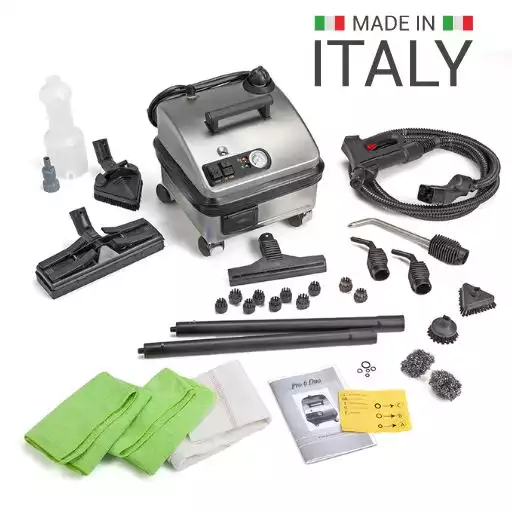 Vapor Clean Pro6 Duo Steam Cleaner
Italian made continuous refill steam cleaner with copper tubing, brass fittings, tungsten welded stainless steel boiler heating to 311°F and operating at a powerful 87PSI. This compact steam cleaner packs a punch and doesn't cost thousands of dollars - an excellent price for a continuous fill steam cleaner. A worthwhile buy for home or commercial use.
Buy at Sylvane (Authorized Reseller)
Buy on eBay
We earn a commission if you make a purchase, at no additional cost to you.

NaceCare Commercial Steam Cleaner
This commercially rated steam cleaner heats up to 374°F and can be refilled whilst in use for no down time. The max 115PSI gives you whopping steam power. The versatile accessories make this a great commercial choice for everyday car detailing.
Buy at Sylvane
Buy on eBay
We earn a commission if you make a purchase, at no additional cost to you.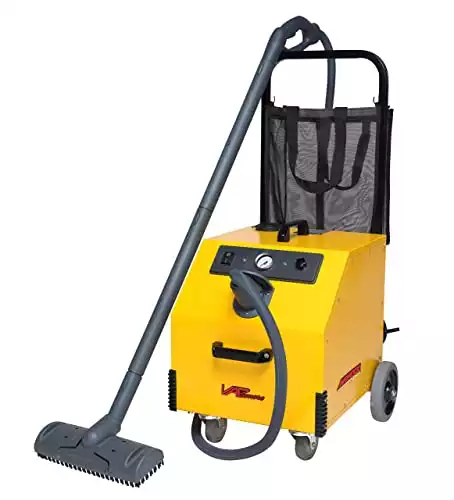 Dupray Hill Injection Steamer with Detergent
This commercial grade steamer from Dupray is made in Italy and offers unlimited cleaning time thanks to the continuous refill tank. You can also add detergent, a great option when cleaning commercial kitchens, car engines and other greasy areas that need an extra boost. The boiler heats to 345°F, has a lifetime warranty, and with the 20+ accessories you'll be finding things to clean you've never cleaned before.
Buy on Amazon
We earn a commission if you make a purchase, at no additional cost to you.
07/22/2023 02:58 pm GMT

Mondovap Steam Vapor System with TANCS
The MondoVap steam vapor system has a built in Thermo Accelerated Nano Crystal Sanitation (TANCS) system that disinfects surfaces in 7 seconds or less. This commercial model has no downtime as it can be continuously refilled when in use. The boiler heats to 330°F, with a surface temperature of 230°F. It comes with a 45 piece accessory kit as standard (cart shown in picture sold separately), and can steam up to 98PSI. Did I mention it heats up in less than 7 minutes? It's pretty impressive, but so is the price.
Buy at Sylvane (Authorized Reseller)
We earn a commission if you make a purchase, at no additional cost to you.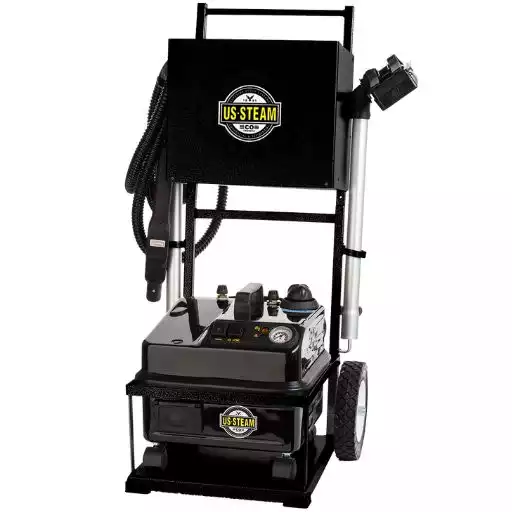 US Steam Eagle Commercial Steam Cleaner and Cart
The US Steam Eagle Commercial Cleaner looks similar in design to the Vapor Clean Pro6 Duo, but costs about $900 more. Housed in stainless steel and a cart included as standard, make this a popular choice for commercial use. The boiler heats to 312°F - 100 degrees hotter than than your average household steam cleaner. With a steam pressure of up to 75PSI, you'll melt away grease and grime with ease. It's ETL safety certified, has dual tanks for continuous refill when in use and comes with basic accessories for cleaning. The 1 year warranty lets it down, compared to most commercial steam cleaners who offer lifetime warranty on the boiler tank.
Buy at Sylvane (Authorized Reseller
We earn a commission if you make a purchase, at no additional cost to you.

How Do You Steam Clean an Engine? 
When steam cleaning car engines, you must wear protective gear such as eyewear, gloves, and clothes that protect you from bits that may fly out accidentally.
What you need:
Start with a Cool Engine
For your own safety, please make sure the engine is cool before you start cleaning.
Remove any loose dirt or debris. You can do this with a vacuum to suck out the dirt and dust, a leaf blower or wet vac on blower mode to blow it out, or use a small handheld brush, or a detailing brush to brush it out.
Remove the Battery
Removing the battery from your engine bay is a simple process and takes a couple of minutes. This adds another element of safety, particularly with all of the electrical components in modern cars. Disconnecting the battery ensures you won't accidently short anything out and damage electronics.
Start from the Top (and work your way down)
Start under the hood and work your way down to the back of the engine. You'll then want to work forward towards the front of the car.
The pressurized hot steam from a steamer should be enough to clear the buildup of dirt, grease or grime from the engine bay. If preferred, you can use a cleaner and degreaser such as Chemical Guys Cleaner and Degreaser.
Clean in Small Sections
Work in small sections. Steam clean a small area, use the detailing brush to agitate the dirt, get into cracks and crevices, steam again, then wipe over with a microfiber cloth to dry.
Finish with a UV Protectant
If desired, you can use a UV protectant on the plastic areas of your engine to restore color and shine.
See The Detail Geek Steam Clean an Engine
This short video shows how the detail geek steam cleans his engine. He uses the McCulloch MC1375 steamer. He does use a couple of chemicals in this video as well. I'd love to see a side by side comparison of just using the steam cleaner and no chemicals. From my experience, using a high heat car engine steam cleaner would melt away grease and grime without the need for extra chemicals.
Why Should I Steam Clean my Engine? 
Gunk or grime buildup on the engine's bay area may result from different factors such as oil contaminants, by-products of fuel combustion, road grime, leaves, bugs and more. These can become a fire hazard, cause increased wear and tear on parts, or reduced vehicle performance.
When cleaning, you can detect issues that may lead to severe problems or affect the engine's durability. Replacing a car engine is expensive, and since you don't want this to happen, it is good to ensure that the engine bay is always clean.
Cleaning helps to remove combustible elements, road salts, or debris that may cause parts of the car engine to corrode or rust. A clean engine enhances the performance of your vehicle, and it also gives your car a better resale value. It also helps you detect any leaks or issues moving forward.
Is it safe to steam clean an engine? 
Steam cleaning is among the most effective ways of cleaning engines. Ensure you disconnect and remove your car battery before steam cleaning. We have also recommended steam cleaners above that have high heat boilers, which produce hotter, drier steam with less than 5% moisture content. You should always avoid getting water into any electrical components, the alternator or spark plugs.
Is it safe to steam clean an engine bay? 
The engine bay is a vehicle compartment where the car's engine is positioned. Always work in small areas and use a microfiber cloth to dry the area fully after steaming. These is less risk of damage when steam cleaning compared to using a pressure washer, or garden hose. As mentioned above, avoid water getting into spark plugs, electrical components and the alternator.
How often should you steam clean an engine? 
If you live in the city, garage your car and don't drive it off any sealed roads, you may may not need to steam clean your engine very often. Inspect it every few months to determine how dirty the engine is. Alternatively, if you drive on unsealed roads, or take your vehicle off road recreationally, cleaning more frequently is a good idea. Inspect your car regularly, and consider steam cleaning your engine quarterly.
Enjoy a Clean Car Engine
Steam cleaning comes with risks, both to yourself (burns) and to anything you clean. Using a high heat car engine steam cleaner is not without risks, so if you are concerned, contact a professional car detailer to help you out. Costs to steam clean an engine start around $75.
The beauty of DIY engine steam cleaning is you can use your steamer again and again around your home, on your car interior, boat, grill and more, making it much more cost effective in the long run.