Bissell PowerFresh Steam Mop Review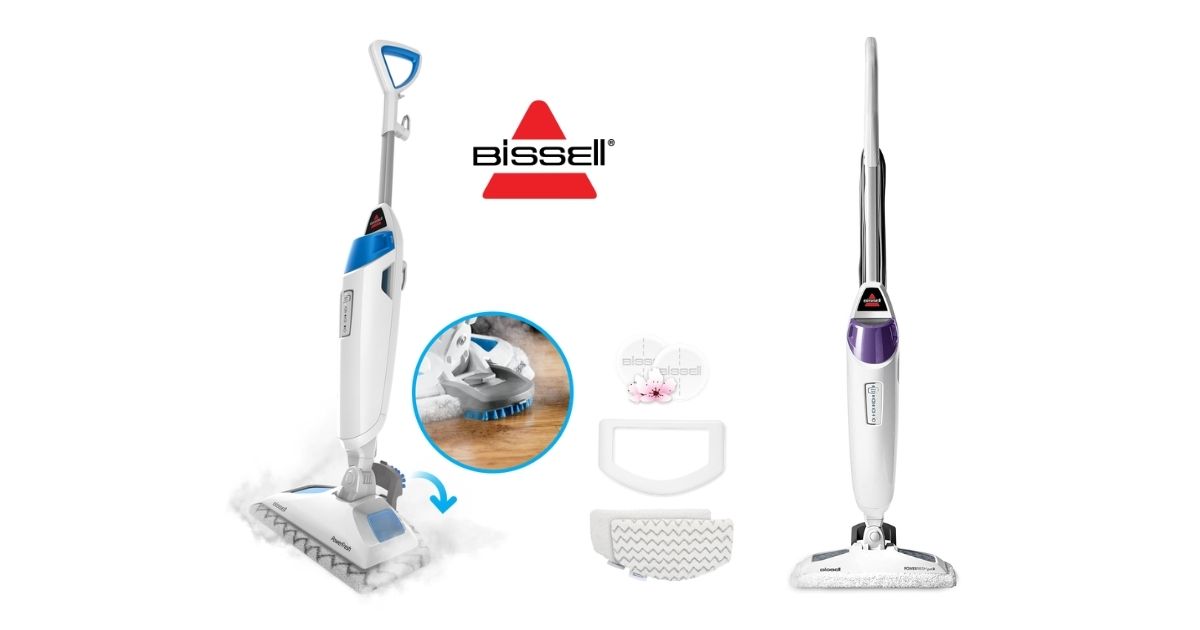 The Bissell PowerFresh steam mop (model number 1940) delivers deep cleaning via steam on all sealed hard floors. This lightweight, compact powerhouse makes it easy to clean and sanitize your floors within minutes. The PowerFresh Steam Mop also has variable steam settings that let you choose from a gentle mist or powerful burst of steam to tackle any messes around your home. Furthermore, the quick-release cord wrap allows for easy storage, making this steam mop the perfect addition to any household. 
This review will describe key features of the product, design, performance, pros, cons, and most importantly, whether you should buy this product or not. Let's dive into the article! 
Product Overview 
The Bissell PowerFresh 1940 steam mop is engineered to clean sealed hardwood, ceramic, linoleum, granite, and marble floors. It heats up in just 30 seconds and provides powerful steam penetrating deep into the floor's surface to remove dirt, grime, and even sticky messes from everyday spills. The unit features a removable water tank that can hold up to 16 oz. of water and a built-in Easy Scrubber to help loosen tough dirt and stains.  
It is highly recommended by consumers and has scored 4.6 out of 5 stars on Amazon, with 76% of users awarding it the full five stars. Buyers via Bissell have scored it 4.6/5 also, with 91% of reviewers stating they would recommend the Bissell 1940 to a friend.
Key Features of the Bissell PowerFresh Steam Mop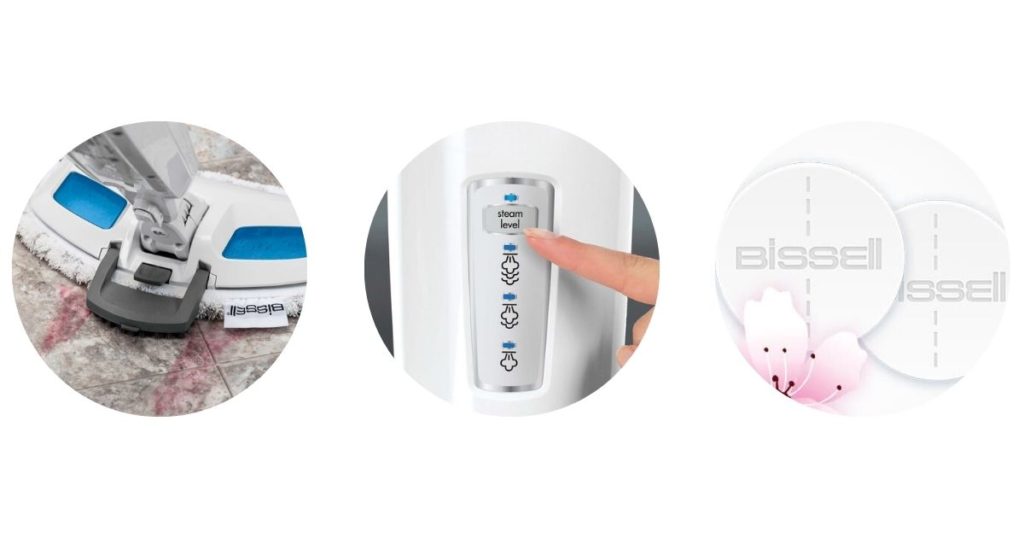 Here is a rundown of the features and benefits of the Bissell 1940 steam mop.
Cleaning Pads 
The PowerFresh 1940 Steam Mop comes with two cleaning pads: one soft microfiber pad that removes dirt, grime, and sticky messes, and one scrubbing pad designed for tough messes like dried-on food, pet messes, and sticky spills. 
Spring Breeze Fragrance Discs 
Spring Breeze is by far the most popular Bissell fragrance disc, and the PowerFresh 1940 model included two for your to try. The patented, odor-eliminating formula releases when inserted between the mop head and mop pad, scenting the room as you clean.
Carpet Glider 
The PowerFresh Deluxe also comes with a carpet glider attachment to help you sanitize and refresh your carpets and rugs. To use the glider, attach the carpet glider attachment to the mop head and make sure to use the plain white mop pad with this attachment. The gray and white scrubbing pad is more likely to stick to the carpet and make it difficult to move.
Removable Water Tank 
The Steam Mop features an easy-to-fill, removable water tank that holds enough water for 15 minutes of continuous steam. The tank is located at the top of the steam mop, right below the handle, and can be refilled at any time during use. As with most steam cleaners, use distilled or demineralized water for best results and longevity of your steamer.
Customizable Steam Settings 
The Bissell PowerFresh Steam Mop comes with customizable steam settings. This convenient feature allows you to choose from three levels (Low, Medium, and High) of steam output to fit your cleaning needs. This makes the PowerFresh steam mop a good choice for delicate laminate flooring, which can be damaged by the high heat of steam.
The unit also features a SmartSet Digital Steam Control that indicates the machine is ready to use or not. When the indicator light stops blinking, your mop is ready to use, and you can select your desired level of steam by pressing the Steam Level button to start cleaning. 
2-year limited Warranty 
The Bissell PowerFresh 1940 Steam Mop comes with a 2-year limited warranty, covering the repair or replacement of any defective or malfunctioning part. However, the Warranty doesn't apply to the routine maintenance components (such as the brushes and mop head pads) and damage caused by negligence or unauthorized repair. 
Flip Down Scrubber
On the back of the steamer is a built in flip down scrubbing brush, perfect for helping to remove tough stains and dried on mess from your floor. You can easily flip this up and down with your foot, ready to use whenever you need to.
How to Assemble the Bissell PowerFresh Steam Mop 
The Bissell PowerFresh 1940 Steam Mop is easy to assemble and use. The product box contains a Handle, Lower Body, Mop Head, Water Tank, (1) soft microfiber pad, (1) microfiber scrubby pad, and 2 Spring Breeze Fragrance Discs. 
To assemble the Steam Mop, remove all of the parts from the packaging and fit them together by following these two simple steps: 
First, attach the lower body to the mop head and snap it into place (you should hear a click). 
Next, slide handle assembly down, insert the screw, and screw in until tightened. Your steam mop is ready to use! 
Drawbacks of the Bissell Powerfresh Steam Mop 
Even with its impressive features, the Bissell Powerfresh steam mop does have a couple of drawbacks. First, it doesn't have an on/off button, so you have to plug it in and unplug it each time you use it. Secondly, users have reported the water tank can be challenging to remove, especially with wet hands. Finally, it doesn't have extra tools or accessories to help you clean windows, countertops, and stoves.  
Frequently Asked Questions 
Here are the most commonly asked questions about the Bissell PowerFresh 1940, and their answers.
What Goes in the Bissell PowerFresh?  
The Bissell Powerfresh should be used with distilled or demineralized water to prolong the life of your steam mop. The Bissell also offers demineralized waters in various scents like Citrus, Eucalyptus Mint, and Spring Breeze to add a fresh scent while cleaning.  
Putting alcohol or detergent based products into the unit may damage the machine or make it unsafe for use. Tap water may cause calcification of your heating element, clogging and poor steam output from the steamer, and it will eventually stop working.
How to Turn On Bissell PowerFresh Steam Mop? 
To turn on Bissell PowerFresh Steam Mop, plugin the power cord into a 120-Volt outlet. SmartSet™ Steam Select Indicator light will start blinking. Wait 30 seconds for the unit to heat up or when the indicator light turns solid. Now, choose the steam level and start cleaning your floors by slowly passing the mop over the surface. 
How Do You Use a Bissell PowerFresh?  
To use the Bissell PowerFresh steam mop, first, fill the water tank with clean water. Next, plug in the mop and wait 30 seconds to heat up.  
Once the mop is hot, choose the level of steam you to start steaming.  
The steam mop pump may produce a "knocking" sound upon first use. Don't worry; this will diminish after a few moments. 
To sanitize an area of your floor, place the microfiber Mop pad over the spot for a minimum of 15 seconds using continuous steam. Use the scrubby pad on the steam mop to clean dried-on sticky masses. 
Sweep the mop across the floor in a back and forth motion, being sure to get into corners and tight spaces.  
After cleaning the floor, press the Steam Level button until the blue light is illuminated, and unplug the mop.  
Allow the mop to cool before filling it with water and storing it away.  
How to Clean Your Bissell Powerfresh Steam Mop? 
To clean your Bissell Powerfresh steam mop, first, unplug it and allow it to cool. Next, remove the water tank and clean around the inside of the tank with a cloth. Make sure that the tank is completely dry.  
Then, wash your mop pads using mild liquid detergent or baking soda and allow the pads to air dry before using them again. Finally, wipe down the exterior of the mop with a soft cloth to keep it looking nice and clean. Also, it is recommended to store the unit upright in a protected, dry area. 
How to Remove the Water Reservoir of the Bissell PowerFresh Steam Mop 1940? 
The water reservoir is easy to remove and refill. Simply lift the water tank straight up and away from the unit. Then unscrew the cap, fill the water tank, replace and tighten the cap until snug. Now you can return the water reservoir by gently sliding the tank into place and pressing down firmly. 
Who Sells the Bissell PowerFresh Steam Mop? 
The Bissell Powerfresh steam mop is available in most major stores and retail websites like Amazon and Walmart; and also direct from Bissell. Here are some options: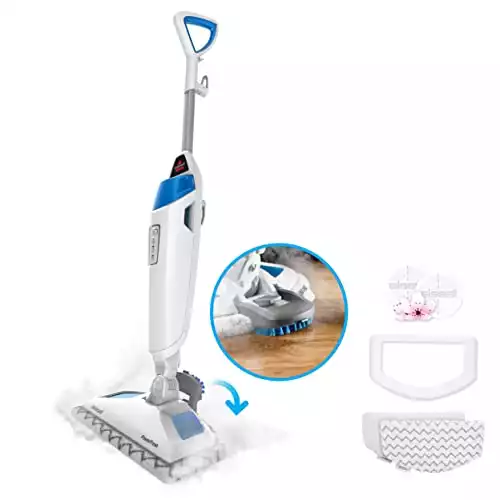 Bissell Power Fresh Steam Mop
3 steam levels
flip down floor scrubber
2 microfiber pads included
2 fragrance discs included
refresh carpets and rugs with the included carpet glider
We earn a commission if you make a purchase, at no additional cost to you.
Is the Bissell PowerFresh Steam Mop Worth The money?  
Overall, the Bissell Powerfresh steam mop is an excellent choice for those looking for an easy-to-use, strong performer, and reliable steam mop. It has many features that make it stand out from other steam mops on the market, such as the three levels of the steam settings, a long power cord, a detachable water tank, and an easy scrubber.  
It is priced under $100 at the time of writing, making it an economical choice for a steam mop. It doesn't include extra tools for cleaning windows, stoves, and other above-the-floor surfaces. If you are looking for a steam mop with multiple functions and above floor cleaning options, take a look at the PurSteam Steam Mop 10 in 1 Cleaner instead. This is more competitively priced than the Bissell and offers a removable handheld steamer.
Bissell PowerFresh Steam Mop Model 1940 Vs. Model 19404 
The 1940 and 19404 are two very similar models of the Bissell Powerfresh steam mop. Both models have three steam settings, a 23-foot power cord, a removable water tank that holds 16 oz. of water, and a carpet glider to refresh your carpets. 
The main difference between the two models is that the 1940 model comes with a white body and blue water tank, while the 19404 model comes with a white body and purple water tank. Another minor difference is that the 1940 model comes with two Spring Breeze fragrance discs, while the 19404 model comes with two Odor Eliminating fragrance discs to help you remove the smell of pet odors. 
You can also find a limited edition aqua color at Walmart. This is model number 19405.
Conclusion 
The Bissell Powerfresh Steam Mop is an excellent choice for anyone looking for a steam mop to clean their hard floors. It's lightweight, easy to use, and comes with various features to make your cleaning experience easier. It is budget friendly, priced under $100. Bissell is a trusted name in floor steamers and if you use distilled or demineralized water in your steam mop, you are likely to have it last a long time. This makes the Bissell PowerFresh 1940 a recommended buy.