Bissell PowerFresh Lift Off Review
The Bissell PowerFresh Lift Off Steam Mop is specifically aimed at pet owners, with multiple cleaning attachments to help clean up pet messes, pet toys and pet bedding, along with being an everyday steam mop and handheld steam cleaner for your home.
The lift-off feature allows you to easily remove a handheld steam cleaner from the unit for above the floor cleaning and sanitizing. The steam action quickly dissolves dirt and grime, leaving your floors looking clean and shiny. Plus, the pet version comes with extra odor-eliminating fragrance discs specifically designed to remove pet odors.
Product Overview
The Bissell PowerFresh Lift Off Pet Steam Mop has a 2-in-1 design consisting of an upright steam mop and a detachable handheld unit. The primary steam cleaner offers users many benefits, while the handheld accessory allows them to clean hard-to-reach areas. The device also comes with 13 different tools that enable users to tackle almost any cleaning task they can think of. Just add distilled water, attach the desired tool, and you are good to go.
Overall this steam mop is an excellent option for those looking to invest in something that is versatile and affordable. It is not surprising that it has received high ratings from consumers on sites like Amazon, with an average customer satisfaction rating of 4.3 out of 5 stars. Consumers are pleased with how easy the steam mop is to use and how well it cleans up tough messes in a short amount of time.
Prices pulled from the Amazon Product Advertising API on:
Product prices and availability are accurate as of the date/time indicated and are subject to change. Any price and availability information displayed on [relevant Amazon Site(s), as applicable] at the time of purchase will apply to the purchase of this product.
Key Features of the Bissell PowerFresh Lift-Off Pet Steam Mop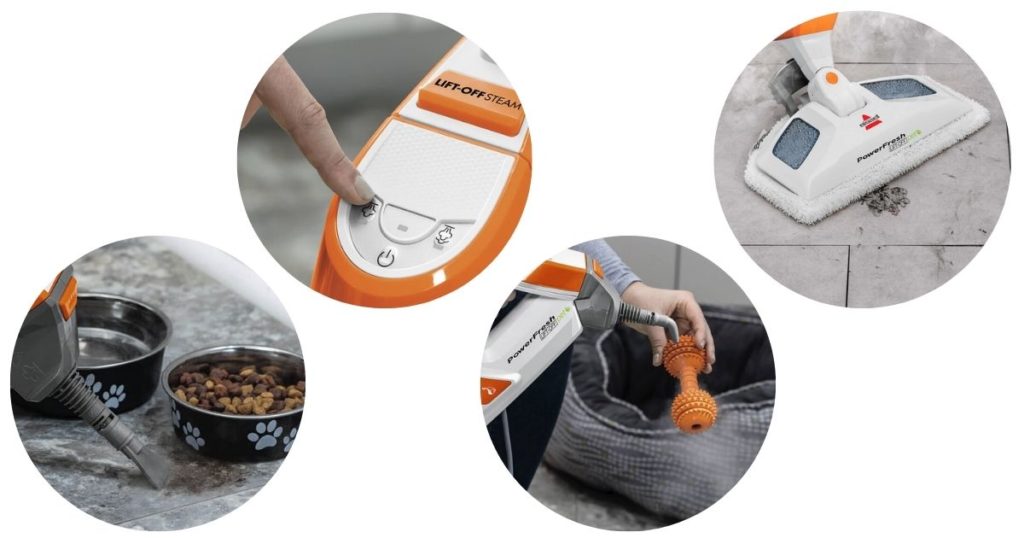 Water Tank & Steam
The Bissell PowerFresh Lift-Off Pet Steam Mop comes with a 13.5-ounce water tank that heats up in just 30 seconds. It is large enough to run for around 20 minutes on one water tank fill. The water reservoir is removable and easy to fill. You can take it to the sink, rather than bringing the water to the machine.
Simply open the Easy Fill opening of the water reservoir and use the included water cup to fill the tank with distilled water.
Furthermore, model Number 15441 has two steam settings (High/Low), one for everyday dirt and the other for tough sticky messes like pet stains and dried-on food. You can select steam settings by using fingertip power controls located on the front of the LiftOFF Pod.
2-in-1 Steam Mop
The Bissell PowerFresh Lift-Off Pet features a 2-in-1 design. The Handheld Steam Cleaner helps you steam-clean above the floor surfaces such as pet beds, upholstery, sinks, countertops, stovetops, windows, and sliding doors. At the same time, the steam mop helps you sanitize your Bare Floors and Sealed Hard Floors.
Microfiber Mop Pads & Removable Easy Scrubber
The unit comes with two reusable microfiber mop pads: white and gray/white. The white microfiber pad is best for general cleaning, while the gray/white one is best for harder waterborne stains. These pads are machine-washable in warm water, and only liquid detergents are recommended for washing the microfiber mop pads.
Furthermore, the device's easy-to-use integrated scrubber helps you quickly clean grout, crevices, and other dried-on messes. The scrubber is simple to use and flips down on the back of the machine. Flip it up again when you have finished scrubbing that spot to continue steam mopping.
Accessories
The Bissell PowerFresh Lift-Off Pet Steam Mop has many different cleaning tools that can be used for a complete house clean. The unit also comes with a Tool Bag that helps you carry the tools you need for the task.
The 13 versatile accessories are listed below:
Fabric Steamer Attachment is used to refresh and sanitize your pet beds, upholstery, clothes, and other fabrics.
Round, Detail Brush: This is perfect for tackling stubborn messes around stovetops, sinks, showers, and appliances.
Grout Brush: This tool is handy for cleaning your tile grout and scrubbing cracks or crevices.
Flat Scraping Tool: It is used to clean and scrape off food, toothpaste, or other tough sticky pet messes from floors or countertops.
Angle Concentrator: Use the Angle Concentrator Tool to shoot steam into hard-to-reach corners and crevices.
Window Squeegee: This tool helps you remove dislodged dirt from windows, mirrors, sliding doors, or other glass surfaces.
Carpet Glider: This attachment enables the steam mop to refresh rugs and carpeted areas of your home.
Odor eliminating fragrance discs: The Bissell PowerFresh Lift-Off Pet Steam Mop has two odor eliminating fragrance discs. These discs add a touch of scent to your steam mop and help fight off pet odors as you clean your floors.
Brass Bristle Brush: Use your Brass bristle brush to clean softer or sensitive surfaces such as wood or plastic.
Kitchen Brush: Use your green kitchen brush attachment to remove all that grime in and around your kitchen and cookware.
Bathroom Brushes: Use your steamer's Red/Black bathroom brush attachment to clean and disinfect your bathroom sink, shower, and tub.
Tool Connector: This tool helps you attach various cleaning accessories to the steam mop.
Assembly of the Bissell PowerFresh Lift Off
The Bissell Steam Mop assembles quickly and easily with the following steps:
Insert the body into the foot, and it will produce a click to indicate it is locked in place.
Next, insert the handle into an opening at the top of the body.
Insert the provided screw in the middle hole on the left side of the device and tight it firmly.
Lastly, attach the mop head by inserting foot into the mop head and make sure to set the quick-grip release tab on the back of the unit.
Now your steam cleaner is assembled and ready to use.
How to Use the Bissell Lift Off Pet Steam Mop
Open the easy fill opening to fill the water tank with distilled or demineralized water.
Now, plug the power cord into an outlet. Wait for 30 seconds to allow the unit to heat up.
When the Steam Ready light is on, press the ON button, and choose your desired steam level based on your cleaning needs.
Choose high steam to remove stuck-on food and other stubborn messes and low steam for everyday cleaning.
Begin cleaning by slowly and evenly moving your steam mop back and forth over the floor surface.
To clean above the floor surfaces, release the handheld steamer by pressing the lift-off button on top of the unit and pulling out the Lift-Off Pod.
To use a specialized accessory, attach the tool connector and secure the appropriate tool by locking it into place on the tool connector.
Once finished, turn off your machine after unplugging from the electrical outlet, then carefully remove the microfiber pad using the quick release tab.
You can machine wash the microfiber pads in warm water with a detergent. Do not use fabric softeners or bleach when washing; this will weaken the cloth fibers, cause streaks on your floor and absorption of the water and steam will not be as good.
For best results, it is recommended that you air dry the mop head after each wash.
Purchasing Details of the Bissell PowerFresh Lift-Off Steam mop
You can purchase the Bissell PowerFresh Lift-Off Steam mop from Bissell's official website at the price of $144.19. The product is also available on famous online shopping stores like Amazon and Walmart (Prices may vary). However, Bissell offers free shipping on orders over $40, and a 2-year limited warranty backs up the product.
Drawbacks of the Bissell PowerFresh Lift-Off Pet Steam Mop
At the time of writing, the average user rating of the Bissell PowerFresh Lift-Off Pet Steam Mop is 4.3/5 stars at Amazon and 4.5/5 stars on the Bissell website.
The biggest complaints about the steam mop is it is heavy to push around, with one user describing it like pushing a 2L milk jug around your home. The lift off handheld steamer makes the unit more bulky, and as such, it can be difficult to navigate under furniture.
Perhaps this is why many users gravitate to the Bissell PowerFresh Slim model instead, which also functions as a handheld steam cleaner and a steam mop.
Frequently Asked Questions:
Here are the most commonly asked questions about the Bissell PowerFresh Pet, an their answers:
How Hot Does the Water Get for the Bissell PowerFresh Lift-Off Pet Steam
The Bissell Steam Mop heats the water to approximately 212 degrees Fahrenheit. This temperature is hot enough to kill germs, remove odors, and clean stubborn, set-in stains on sealed hard floors without chemicals.
How to Start the Bissell PowerFresh Lift-Off Pet Steam Mop?
To start the Bissell PowerFresh lift-off Pet steam mop, insert the plug of the mop into a suitable electrical outlet. Let it heat up for 30 seconds, and then press the ON button to turn on the machine. However, be sure to choose between high or low steam before using the mop on your floors.
Can You Use the Bissell PowerFresh Lift-Off Steam Mop on Carpet?
The Bissell PowerFresh Lift-Off Steam mop comes with a carpet glider attachment that enables the steam mop to travel on rugs and carpeted surfaces in your home. To use the carpet glider, attach the tool to the bottom of your steam mop and glide the mop over your rugs and carpets.
Bissell PowerFreshPet Lift-Off Steam Mop vs PowerFresh Deluxe
You could be wondering whether to get the Bissell PowerFresh® Pet Lift-Off® Steam Mop or the Bissell PowerFresh Deluxe Steam Mop. These steam mops are designed to steam clean your hard floors, and both models come with two steam levels. However, these steam mops are loaded with different features and capabilities. Here is a brief look at some of their features and capabilities to help you decide which model is best for your needs.
The PowerFresh Deluxe Steam Mop is a steam mop only and doesn't offer the detachable handheld steam cleaner that the Lift Off Pet does.
The PowerFresh Lift-Off has 13 accessories for versatile above floor cleaning. The PowerFresh Deluxe steam mop head detaches for floor and grout scrubbing, but offers no above floor cleaning or extra accessories.
The scent of the discs varies between the two models, however, you can purchase extra scent discs easily to vary the fragrance.
If you are seeking a Steam Mop capable of cleaning above-the-floor surfaces removing pet messes and odor, the Bissell PowerFresh Pet Lift-Off is a good choice.
If you are wanting a steam mop capable of cleaning your hard floor surfaces only, the Bissell PowerFresh Deluxe will suit. It is less expensive and comes with Spring Breeze Scent Discs.
I've compared all Bissell steam mops in an overview which outlines the main differences.
Conclusion
Bissell PowerFresh Lift-Off Pet Steam Mop is an excellent option for people with pets looking to get their floors clean without toxic chemicals. Users can remove both pet hair and stains with just water turned into hot steam, making this one of the most eco-friendly options on the market today. Consider giving it a try if you require an affordable, versatile floor cleaner that offers the convenience of a removable lift off pod to use as a handheld steam cleaner as well.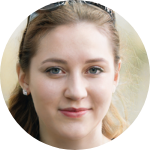 About the Author
Hi I'm Lauren. Passionate organizer, t-shirt folder and owner of a commercial garment steamer, steam cleaner and handheld steamer. I'll discuss all things steaming, so if you need help with buying or using a clothing steamer or steam cleaner, I'm here for you. Please join me on Facebook and don't hesitate to reach out if you have any questions. Happy Steaming!