The Wagner steam cleaner is a compact canister steamer that has been around since 2015. It is a powerful 1500 watt steam cleaner, with adjustable steam settings and extra long 8 foot steam hose. Wagner are renowned for having sturdy attachments that last longer than other models of steam cleaners. This steam cleaner offers powerful steam output, excellent scrubbing ability for tile and grout and around 40 minutes of steaming time.
Let's take a closer look at Wagner steam cleaner and see how it compares to other models on the market in 2022.
Key Features of the Wagner Steam Cleaner
Temperature and Run Time
Like all basic steam cleaners, the Wagner 915 steam cleaner heats the water to 212 °F (100°C) to produce steam. It takes 9-10 minutes to heat up and will run for up to 40 minutes.
With 1500 watts of power, this machine shoots out steam with some serious pressure. Some users have measured the heat of the steam however, and by the time it gets to the steam nozzle, the temperature has dropped to around 180 degrees Fahrenheit. This seems to be the case with most older steam cleaners on the market. The same thing happened with the Pure Enrichment PureClean XL, which is around the same age as the Wagner 915.
The unit also features steam ready LED indicator light, which lets you know when the unit is ready to use. Wait for the orange light to turn off before steaming.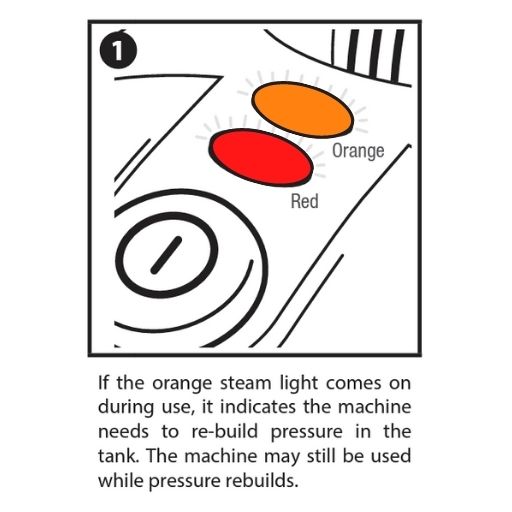 You don't have to fill the entire unit with water to be able to steam. The minimum amount of water required is 13 ounces. This will give you approximately 15 minutes of steaming time once heated. As Wagner recommend emptying the steam cleaner fully after use, only fill with enough water for your intended cleaning task.
Continuous Steam Function
The Wagner steam cleaner is very easy to use. You just fill it with water, plug it into a power outlet and press the on button! You can control the steam via the steam trigger on the handle. Use your hand to turn the steam on or off, or lock the trigger into place using the safety switch for continuous steaming, without the effort on your hand. It works like this: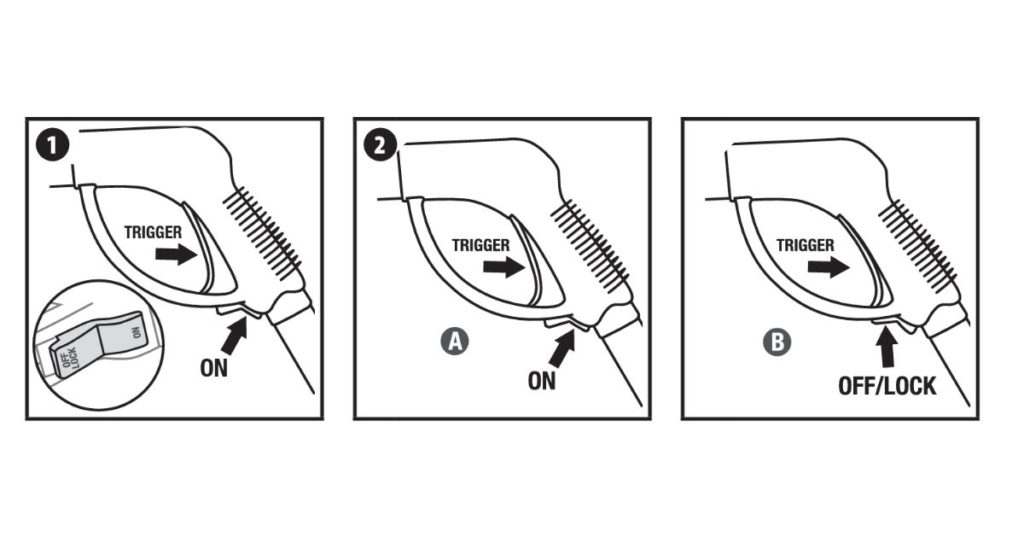 Accessories
The Wagner spraytech steam cleaner comes with a variety of different accessories and nozzles. This makes it perfect for many purposes! You can find the complete list of included items below:
Wallpaper steam plate: Used to remove the old and damaged wallpapers from your walls. For best results score the wallpaper first.
Large cleaning brush and mop pad: Use the brush for deep cleaning of tile floors and grout lines. Attach the mop pad for general steaming.
Extension wands: It makes it easy for attachments to reach hard-to-access areas.
Measuring cup: Used to fill the water tank.
Filling funnel: Used to help fill the tank with water.
Window and tile squeegee: Use for cleaning tiles, mirrors, and windows.
Fabric steamer: Used to freshen, deodorize, and sanitize your sofas, clothes, and other fabrics.
Microfiber bonnet: Helps to diffuse the steam for using on clothing and upholstery.
Jet nozzle: Used to reach hard-to-reach areas by blasting steam with powerful force.
Straight adapter: Used to connect the smaller accessories to the steam cleaner.
Nylon utility brushes: Used to scrub away stubborn dirt and grime from the grout lines, tile grout, and blinds.
Brass utility brushes: Used to clean tougher grease and grime like grills and ovens. Can also be used on grout.
Angled adapter: Perfect for cleaning difficult areas like crevices, corners, and tight spots.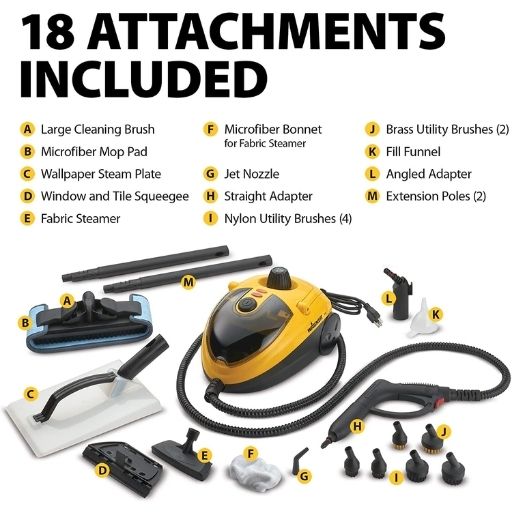 Users have also put the utility brushes in the dishwasher after use (top rack) to clean these. Although it is not necessary, they will withstand the heat of the top rack of the dishwasher.
Onboard Storage for Some Tools
The Wagner steam cleaner 915e has compartments that store some of the smaller included attachments. The larger pieces such as the wallpaper steam head, squeegee and extension poles will need to be stored separately.
Integrated Carry Handle
The integrated carry handle makes it easy to pick up the steam cleaner if you need to head upstairs, or place it on a higher surface for above floor cleaning.
8 Foot Steam Hose
The 8-foot steam hose in addition to the extension wands makes it easy to reach around corners when cleaning! It's also long enough to make it easy when cleaning up high and down low. This is perfect for those who hate having to move furniture and other household items around to get the rest of their home clean.
The long steam hose can be both a help and a hindrance when it comes to this steam cleaner. It is helpful for above floor cleaning, reaching into tight spaces or up high on walls or ceiling. At 8 feet long however, the steam has to travel from the boiler tank, down the 8 feet of tubing, and then depending on what attachments you are using, through the extension poles.
This can cause a drop in temperature in the steam, and also a build up of condensation in the machine. While your ambient temperature can affect the steam temperature, some users have complained of water building up inside the hose and the steamer shooting out water for the first few seconds rather than steam.
Please keep this in mind and perhaps have a towel handy to purge the water/condensation build up when you first start steaming. This can happen if you rest even for a short moment then start steaming again.
Safety Features
The water tank has a safety cap that will not allow you to unscrew it until the unit is cool and the pressure has been released. The cap will rotate, but not unscrew. The recommended cool down time is 30 minutes. Release any excess built up steam by pressing the trigger on the handle.
See the Wagner Steam Cleaner in Action
Here is a quick video of the Wagner steam cleaner in action, albeit in an already very clean home!
Using the Wagner Steam Cleaner on Laminate Flooring
Wagner do not recommend using the 915 model steam cleaner on laminate flooring. There is likely too powerful steam output which may cause damage to the floor. If you choose to use the Wagner steam cleaner on laminate, please test in an inconspicuous area.
Drawbacks of the Wagner Steam Cleaner
I've covered most of these throughout this Wagner steam cleaner review, but here are the most common complaints:
The power cord is too short – at 6ft long, you absolutely need an extension cord for when using this steamer. Wagner even address this in their user manual, advising you must use a 3 wire extension cord with a 3 pronged plug.
The machine produces loads of steam, but it's not hot enough for sanitizing and disinfecting, only general household cleaning.
Water builds up in the long steam hose and when first using the steamer will spurt water rather than steam. Keep a towel handy for this.
The orange light comes on regularly indicating the steam is rebuilding. You can continue to use the machine whilst the pressure is building back up.
1 year warranty. In comparison to the Pure Enrichment steamer, which is around the same price and offers the same steaming capabilities as the Wagner, the 5 year warranty that comes with the Pure Enrichment is much better.
What are the three different models of the Wagner Steam Cleaners?
There are three different models of Wagner Steam Cleaners. They are the 915E, AR (automobile model) and HR Elite. Here are the differences between the three:
915e Model: The 915e is the base model of these three. It is made with home use in mind, and is relatively easy to use for large cleaning projects. This model includes the wallpaper steamer and attachments for home use. A full tank of water will last you for 40 minutes, but this steam cleaner is designed so that most jobs can be completed in one single tank. The maximum temperature on the 915e is 212°F (100°C).
AR Model: The AR (AutoRight) model is designed for steam cleaning car interiors. It has attachments which are designed more for car interiors, no extension poles, so you can't use it as a floor steam cleaner inside your home. The utility brushes, squeegee and microfiber cloths are included. This machine operates at a higher temperature than the 915E model, heating up to 290°F and operating at 55 PSI. The warranty on this machine is 2 years vs 1 year on the 915E.
HR Elite Model: The top of the line Wagner steam cleaner, also heating up to 290°F and operating at 55 PSI. Wagner spraytech have changed the mop head to a triangle design with this machine, and it includes a carpet glider for use on carpets and rugs. HR means Home Right, which is a brand owned by Wagner Spraytech.
If I had to choose between the three it would be the HR Elite Model. Heating up to 290 degrees Fahrenheit, this is a much better model for having the steam temperature stay above boiling point. This would give it more cleaning power, as well as being better for disinfecting and sanitizing.
Home Right Steam Machine Elite
Heats to 290F
55 PSI
Up to 45 minutes of cleaning time
Multiple accessories
Buy on Amazon
We earn a commission if you make a purchase, at no additional cost to you.
09/27/2022 09:02 am GMT
Wagner 915 vs 915E Models – What is the Difference?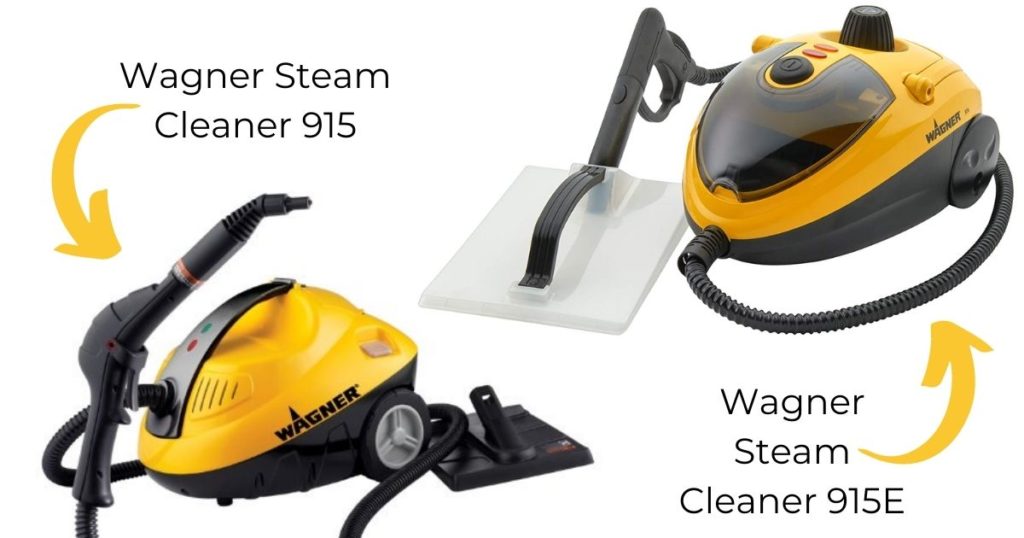 The 915 is the older model of steamer, with a different design. You can still buy this online at Walmart, although at the time of writing, it is much more expensive than the new 915E model. It offers no better features, so I really can't recommend buying this older model.
Wagner Spraytech 915E vs McCulloch MC1275
The Wagner 915e and McCulloch MC1275 Steam Cleaners are both very similar canister style steam cleaners. Here is a quick comparison:
Both steamers operate at 1500 watts
Both have long steam hoses
Both offer onboard storage for some small attachments, but not all
The Wagner has the wallpaper attachment, the McCulloch does not
The McCulloch has the triangle scrubbing brush, the Wagner does not
The Wagner has a clothing and upholstery tool, the McCulloch does not
Both operate for around 40 minutes
Both take 8-10 minutes to heat up
Both offer continuous steam lock so you don't have to hold the trigger in
The Wagner 915E weighs approx 13.8 pounds, the MC1275 approx 12.8 pounds
The McCulloch is slightly higher priced than the 915E, but similarly priced to the HR Elite (which is my model of choice)
Replacing Accessories and Parts
I really like it when steam cleaner manufacturers offer replacement parts for their machines. Wagner/Home Right are one of those manufactuers. You can purchase replacement brush packs, mop heads, nozzles and more for the Wagner and Home Right steam cleaners. Here are some of the most sought after products:
Prices pulled from the Amazon Product Advertising API on:
Product prices and availability are accurate as of the date/time indicated and are subject to change. Any price and availability information displayed on [relevant Amazon Site(s), as applicable] at the time of purchase will apply to the purchase of this product.
Prices pulled from the Amazon Product Advertising API on:
Product prices and availability are accurate as of the date/time indicated and are subject to change. Any price and availability information displayed on [relevant Amazon Site(s), as applicable] at the time of purchase will apply to the purchase of this product.
Conclusion 
The Wagner steam cleaner 915E is an average steam cleaner. If I was to choose any model, it would be the Home Right (a division of Wagner Spraytech) Elite steam cleaner. This model offers 290 degree Fahrenheit heating compared to the 212 degree Fahrenheit of the Wagner 915E.
Many Wagner 915E users have complained the steam output is excellent but the steam isn't very hot. I'd choose the machine that heats up to a higher temperature to avoid this – that machine is the HR Elite. The accessories are all included, except the wallpaper steamer. This can be purchased separately if you need it.
If you were to buy the Wagner 915E I think you'd be impressed by the steam output, but disappointed by the water spraying and lack of heat. And in 2022, where high heat to disinfect and sanitize is at the forefront of everyone's minds, the 915E is limited in that capacity. Consider spending around $20 extra on the HR Elite that heats 78 degrees Fahrenheit hotter to avoid disappointment. You can find it here:
Home Right Steam Machine Elite
Heats to 290F
55 PSI
Up to 45 minutes of cleaning time
Multiple accessories
Buy on Amazon
We earn a commission if you make a purchase, at no additional cost to you.
09/27/2022 09:02 am GMT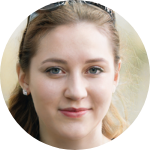 About the Author
Hi I'm Lauren. Passionate organizer, t-shirt folder and owner of a commercial garment steamer, steam cleaner and handheld steamer. I'll discuss all things steaming, so if you need help with buying or using a clothing steamer or steam cleaner, I'm here for you. Please join me on Facebook and don't hesitate to reach out if you have any questions. Happy Steaming!