McCulloch Powersteam MC1275 Review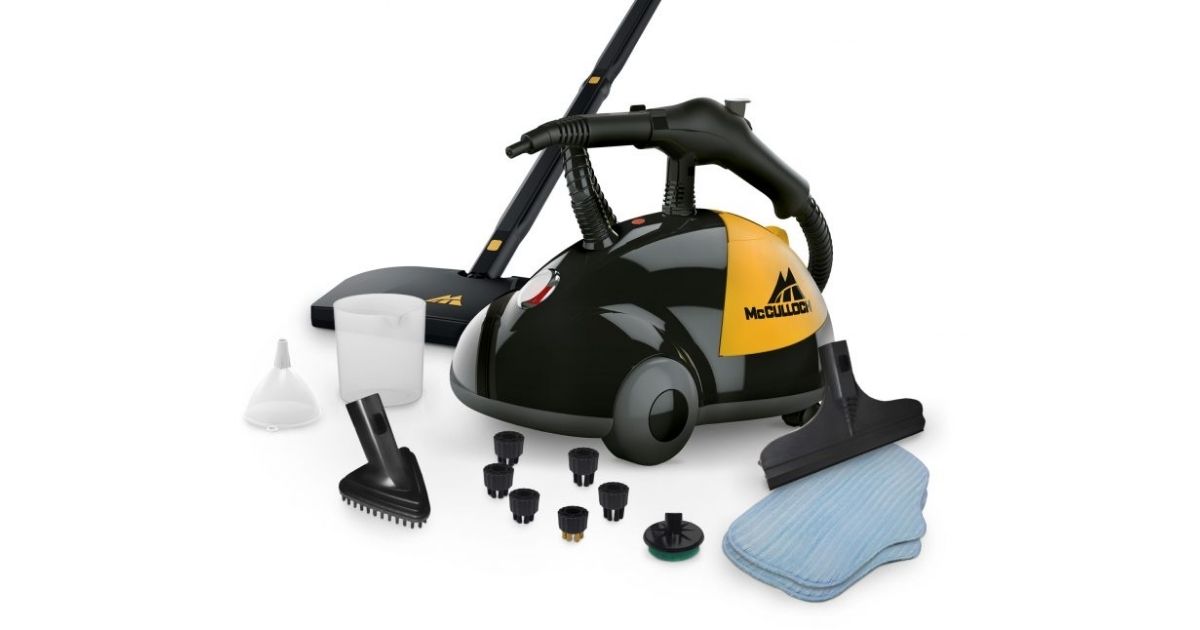 If you're in the market for a smaller-sized canister steam cleaner for home use, the McCulloch Powersteam MC1275 is worth looking at. This machine has the basic home cleaning accessories and enough steam power to take on even the most stubborn dirt and grime. It's easy to use and won't cost you the earth. Overall it's a great entry-level canister steam cleaner.
Keep reading for my full review of the McCulloch MC1275 steamer.
Key Features Of The McCulloch MC1275 Heavy-Duty Steam Cleaner
1500 Watts of Power
McCulloch Powersteam MC1275 is a Heavy-Duty Steam Cleaner in a petite bundle. It has 1500 watts of power which heat the water to over 200ºF. This then produces steam between 33 and 37 grams per minute.
This is a higher output of steam than you will find with both of the larger McCulloch Steam cleaners. The MC1375 and MC1385 models output steam between 15 grams per minute on the lowest setting and 31 grams per minute on the highest.
Six grams per minute more steam output is significant and will help you power through tough messes, baked-on grease and grime, clean tile and grout, and much more.
A Water Tank Equivalent to More Expensive Models
The McCulloch MC1275 holds 48 ounces of water, which allows for 45 minutes of continuous steam cleaning. It comes with a 16-ounce measuring cup, so when filling from empty, you need to add 3 cups into the machine.
The minimum amount of water required to operate the MC1275 is 16 ounces, so if you have a small cleaning job that doesn't require a full tank, one measuring cup full is enough.
Each 16oz of water in this canister steamer will give you approximately 15 minutes of steaming time.
Surprisingly, this is the same-sized water tank found on the more expensive MC1375 model. The main difference between the two is that the next model offers variable steam settings. Unless you need this, the MC1275 offers better steam output for more powerful cleaning.
No wonder it's called the Powersteam!
Accessories
Eighteen accessories come as standard with the MC1275 steamer. This includes extension poles and the steamer head, which I wouldn't consider an accessory. There are really ten main accessories which are:
5 Nylon Utility Brushes – 3 small and 2 larger ones
1 Brass Utility Brush
1 Round Scrub Pad
1 Squeegee for glass and windows
1 Triangle Brush
1 Steam Jet Nozzle
Also included with the machine are the following:
1 Large Mop Head
2 Microfiber Pads
2 Extension Wands
A carry handle that also holds the main nozzle
The measuring cup for water
A funnel to pour the water through
In terms of accessories, the McCulloch MC1275 is missing a scraper, clothing steamer, and upholstery cleaning tools. No McCulloch steamer offers carpet steaming abilities – they do not sell any carpet gliders for their steam cleaners.
You can use your McCulloch steamer to spot-clean carpet and upholstery, but that's all. A scraper tool can be purchased separately for $3.99 at McCulloch.
The McCulloch steamers aren't designed for use on clothing, but if you had to, you could use either the triangle brush or window squeegee towards your clothing for steaming. They don't have microfiber covers to filter the steam, so I would try this with tougher clothing like denim before steaming something delicate.
You can connect the squeegee to the main nozzle or the extension wands – great for cleaning high windows and glass. The same applies to the triangle cleaning brush, which is great for getting into corners.
The microfiber pads are machine washable and able to be reused. You can also use extension wands and steam mop pads for above-floor cleaning. They work especially well for cleaning walls.
Steam Lock Function
The Steam Lock Switch of the McCulloch MC1275 Heavy-Duty Steam Cleaner is a great feature that keeps the machine turned on while you're cleaning. No more having to hold down the button the whole time!
Australian buyers – you won't get a steam lock button with any McCulloch steam cleaner in Australia. It is against regulations in this country.
With its push-forward steam lock switch, you can quickly provide continuous steam without pressing the steam button.
One drawback of this is that steam needs time to build back up, so if you continuously use the steam lock function, expect the steam levels to drop a little, then come back again.
Design Of The McCulloch MC1275 Heavy-Duty Steam Cleaner
One of the first things you'll notice about the McCulloch MC1275 is its stylish design.
It looks like a little ladybug steamer but is offered at a much cheaper price. Don't be confused, though. Ladybug offers better quality and features than McCulloch.
The steaming hose is around 9 feet long and excellent for hard floor and above-floor cleaning.
The water tank is tucked away, and you can locate this by lifting the yellow flap on top. You could probably store a few small accessories here to keep within reach, although this space isn't specifically designed for this.
There isn't any onboard storage for the accessories, so you will need to keep these and other attachments separately.
There is also no designated cord storage. It does not retract into the steamer, nor is there a place to wrap it around neatly. This makes it a little messy to store, but the power of the machine certainly makes up for that!
Here is a quick one-minute video showing the impressive cleaning capabilities of this steamer:
How to Operate the McCulloch MC1275 Heavy-Duty Steam Cleaner
Operating the McCulloch MC1275 couldn't be easier! Here are a few tips for getting started.
First, make sure you have enough water in the reservoir. The minimum amount of water should be 16 ounces or one measuring cup full. The maximum amount is 48 ounces.
Turn on the steamer. There is an indicator light between the handle and the hose on the top of the steamer. Wait for the indicator light to turn green before you start steaming. Depending on the amount of water in the steamer, the heat-up time is 2-8 minutes.
The steam trigger is located on the top of the handle. Press this to begin releasing steam. There is a small button located behind the steam trigger. Push this down to lock it into place for continuous steaming.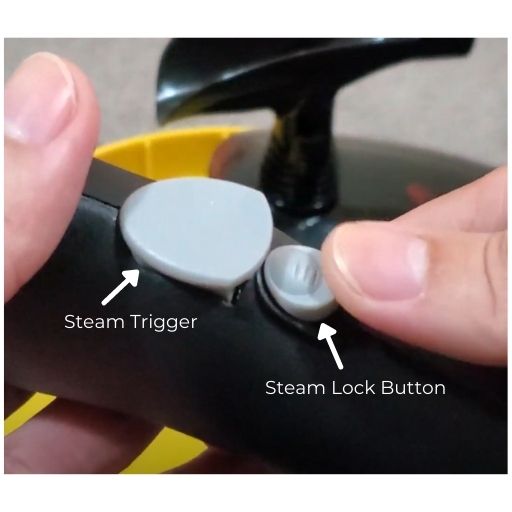 Once you have finished steaming, wait for the machine to cool down. Press the steam trigger continuously to release any excess steam built up in the machine.
Once the machine has cooled (approximately 20 minutes after steaming), open the water reservoir and drain any excess water. For longevity of the steamer, use distilled or demineralized water, and don't store the steamer with water in the boiler tank.
Things to Know Before Buying the MC1275 Steamer
A small amount of assembly is required when you first receive this steam cleaner. There is an included screwdriver, and you must assemble the top handle. It only goes one way and will hold the steam nozzle during storage. It is not difficult to install.
There is no way to empty the reservoir after you have finished steaming except to turn the machine upside down and pour out the water.
The power cord is only 15.7 feet long.
You must register your steamer within 60 days of purchase to activate the 2-year warranty. Failure to do this will void the warranty (see the paragraph below about contacting McCulloch).
About The McCulloch Company
McCulloch is a well-known steam cleaning company with headquarters in the USA and a distributor in Western Australia. The brand is part of the Swedish Husqvarna Group, famous for manufacturing outdoor power products.
They also have an impressive range of steam cleaners, the McCulloch Powersteam MC1275 being the smallest of their rolling canister steam cleaner range. They are manufactured by Vornado Air LLC (under license from Husqvarna) and are also affiliated with Steamfast, a trademarked company owned by Vornado.
McCulloch is prominent in the USA and sells two models in Australia (the MC1385 and MC1375). I ordered the MC1385 in December 2022 and will have some in-depth feedback soon.
If you are outside these countries, servicing or getting replacement parts for your McCulloch steam cleaner may be difficult. If you are based in Canada, please look at the Dupray brand instead – there have been numerous complaints about McCulloch's lack of help for Canadian customers.
How to Get in Touch with McCulloch if Things Go Wrong
If you are in the USA, you must register your machine for its 2-year warranty within 60 days of purchase. To do that, go to the McCulloch Steam website and complete the online form. If you do not register your McCulloch MC1275 Steamer within 60 days of purchase, McCulloch will void your warranty.
For services under warranty, contact McCulloch Steamers at 1-800-711-6617 or email consumerservice@mccullochsteam.com.
If you need to send back your McCulloch MC1275 for repair, send it to:
Steamfast – Attention Warranty and Repair
415 E 13th Street
Andover, KS 67002
Using the McCulloch for Commercial Use
The McCulloch Powersteam MC1275 and MC1375 steam cleaners are favored among car detailers for their strong steam output and ease of use.
Please be aware that McCulloch will not cover this machine under warranty if you use it in a commercial setting. It is designed for household use only.
Where to Buy the McCulloch Heavy Duty Steam Cleaner
You can find this steamer at Sylvane and on Amazon. The links below will take you to the products, where you can compare pricing.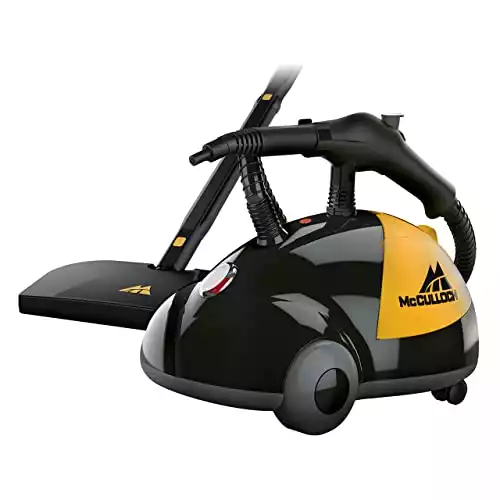 McCulloch MC1275 Steam Cleaner
Long 9 foot steam hose
Excellent range of accessories for all surfaces
45 minute run time
Replacement accessories available
Boiler heats to 212°F
We earn a commission if you make a purchase, at no additional cost to you.
05/21/2023 05:25 am GMT
Conclusion
The McCulloch MC1275 Heavy-Duty Steam Cleaner is an excellent canister-style steamer for the home. It is compact and lightweight (under 10 lbs), runs for a decent amount of time, and includes the accessories you need for a complete home clean, such as a window squeegee, utility brushes, and scrubbing pads.
I'm impressed with the strong output of steam (up to 37 grams per minute), which is better than the two larger models from the McCulloch range. I'd happily add this neat little steamer to my arsenal of steaming tools at home. The only problem is it's not in Australia – so the MC1385 will have to do.