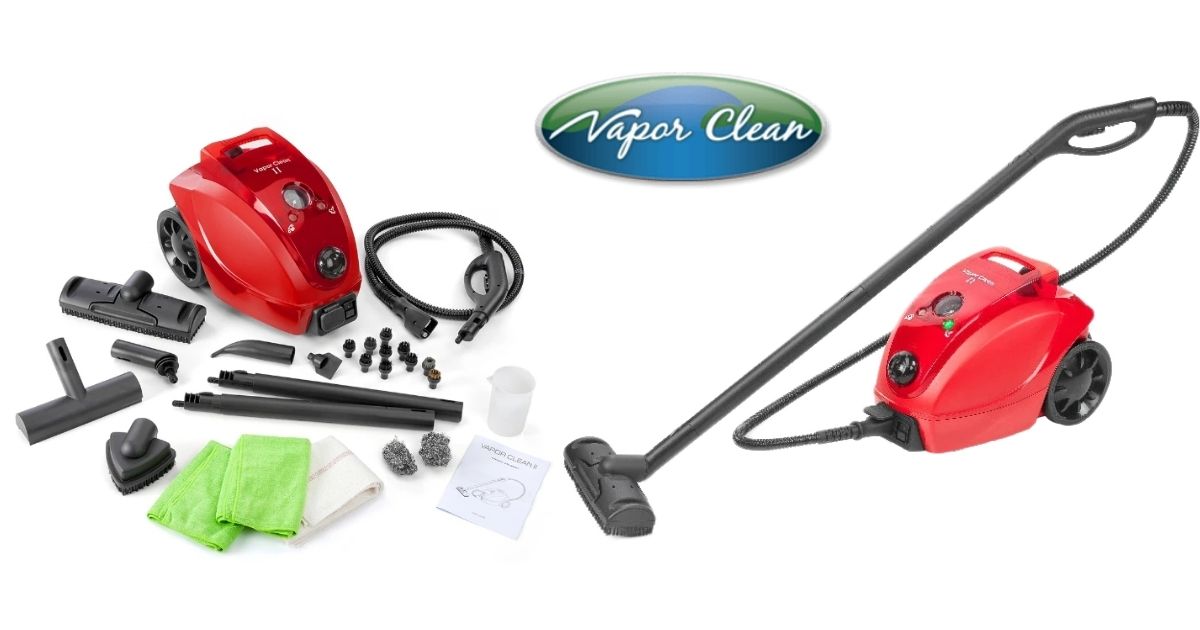 If you are searching for a dry vapor steam cleaner with less than 5% moisture for heavy-duty cleaning at home, the Vapor Clean II is one to consider. 
Compared to other steamers from the Vapor Clean company, this model is the cheapest. It offers a higher steam pressure than the Dupray One and hotter steam than the Vapamore MR-100.
Let's look at how the Vapor Clean II can help you keep your home incredibly clean without harsh chemicals. 
Specifications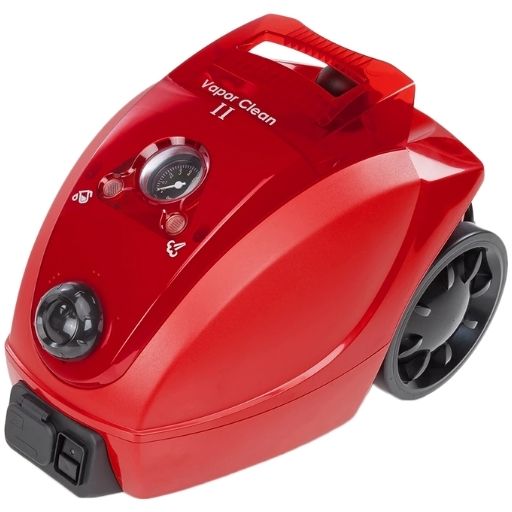 | Specification | Vapor Clean II |
| --- | --- |
| Dimensions | 19 inches x 13 inches x 12 inches |
| Power Rating | 1450-1500 watts |
| Maximum Steam Pressure | 65 PSI |
| Boiler Tank Capacity | 2.3 quarts |
| Initial Heat Up Time | 12 minutes |
| Boiler Tank Temperature | 298⁰F |
| Operating Time | 60-90 minutes |
| Power Cord Length | 13ft |
| Steam Hose Length | 7.5ft |
| Country of Manufacture | Italy |
| Warranty | Boiler: Lifetime; Parts: 5yrs; Labor: 1yr |
Great Features of the Vapor Clean II
The Vapor Clean II steam cleaner is easy to use and comes with loads of accessories as standard.
Design
This steam cleaner is compact in design, so it won't be a giant intrusion in your home. You can move it efficiently upstairs or into the car using the integrated carry handle. The large rear wheels allow it to roll easily on the floor when cleaning. Smaller caster wheels underneath swivel at 360 degrees for smooth rolling in any direction. 
Sturdy Steam Hose
If you're like me and tend to pull your vacuum or steamer by the hose to move it closer to you, can you do this with the Vapor Clean II without concern. The steam hose is bendable and sturdy, with quality construction that won't damage the steamer. 
Power Cord
The unit comes with a 13-foot power cord. It could be longer, and you may need to use an extension cord when cleaning larger rooms. Vapor Clean recommend at least a 14 gauge commercial extension cord with a 3-wire grounded plug. Anything higher is not strong enough and can put an electrical strain on the appliance.
The power cord wraps around the back of the cleaner for easy storage when you have finished cleaning.
Steam Temperature
This dry vapor steamer cleaner can kill bacteria, germs, and viruses from surfaces. This is because it uses super-hot steam with the boiler tank heated up to 298⁰F. There is an adjustable steam knob with 3 temperature settings. Through this knob, you can choose high, slow, or steady steam according to your cleaning requirements.
The steam regulator knob (the black knob on the front of the steamer in the picture above) controls the steam output and it turns 360°. Turn the knob to the left to increase the steam output volume. This provides wetter steam and faster pressure loss. Turn the knob to the right to lower the steam output. This provides dryer steam with minimal pressure loss.
This is definitely something to be aware of. In Australia, we normally turn dials to the left for less and right for more. Given this is a European made appliance, it is different to what you may be used to.
Steam output volume will diminish faster if kept at maximum level. The low to mid steam setting is the best for most applications and it maintains consistent steam output.
Providing continuous steam for up to 90 minutes (sometimes longer if you are using the lowest steam setting), you can get through a large volume of cleaning before needing to refill the water tank. 
Warranty
When you are paying several hundred dollars for a steam cleaner, you expect a decent warranty. The Vapor Clean II offers just that. With a lifetime warranty on the boiler tank, a 5-year warranty on parts, and a 1-year labor warranty, you can rest assured the Vapor Clean II will last you for years to come.
Portability
Another great thing you will love about this machine is the lightweight design that makes it easy to pull when cleaning. It only weighs 13 pounds when empty and 17 pounds when full. Considering the Vapor Clean II is a dry vapor steam cleaner with a stainless steel boiler tank, 13 pounds is quite a reasonable weight.
The steam cleaner has an ABS plastic body housing, which helps keep the machine's weight down. Some users have said they would have happily paid more for a more durable body coating, as it feels a bit plasticky. This hasn't impacted the performance of the steamer, however.
Safety Features  
To ensure that the Vapor Clean II stays working as required, it is CE certified and comes with different safety features, which include: 
Pressure regulator: This feature lets you know when the boiler is at the required temperatures for cleaning. 
Auto thermal switch: When the boiler is empty, the auto thermal switch will not allow the boiler to heat. This will activate the low water indicator. 
Low water indicator: The low water indicator light lets you know when to refill the boiler. 
Steam lock on trigger: Switch the steam lock on when small children are around so steam cannot be discharged by accident.
Accessories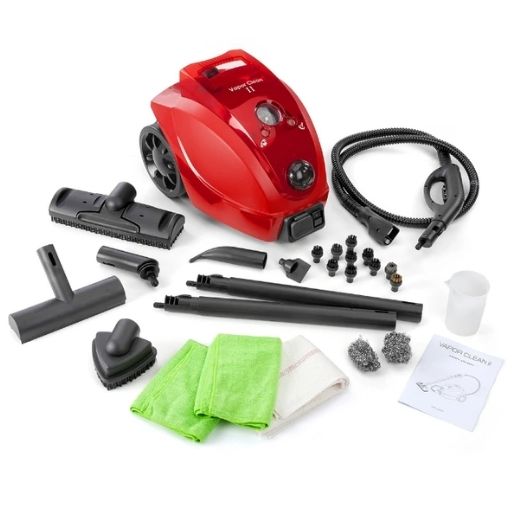 With this machine, you can really do a lot since it comes with 17 accessories which include:
Scraper: This one is perfect for cleaning off stuck-on food in your oven, sticker and tape residue, and anything that needs a bit of extra oomph
Rectangular floor brush with clips: You can use this attachment with or without a cloth when cleaning floor surfaces or refreshing carpets. 
Triangular brush: The triangular brush is perfect for cleaning mattresses, kitchen cupboards, benchtops, furniture, and refreshing garments. You should wrap a cloth around it when cleaning or use the brush on its own for scrubbing.
Window squeegee: With this tool, you can easily clean windows, mirrors, or shower screens. 
2 stainless steel scrubbers  
8-foot flexible steam hose 
2 extension wands 
 Detail nozzle
Accessory adaptor
Measuring cup
Brass detail brush
Stainless steel detail brush
Nylon detail brush
(2) 16 x 16 microfiber towels 
User manual 
Cleaning Ideas Using the Vapor Clean II
All the above accessories make the Vapor Clean II home steam cleaner ideal for cleaning:
Mattresses, furniture, upholstery, and hardwoods 
Windows, grills, screens, car interior, tires, etc 
Pet items such as food bowls, pet beds, litter boxes, etc 
Kitchen appliances, countertops, and cupboard doors, among others 
Kid's items like strollers, soft fabric toys, high chairs, and small mattresses  
Toilets, sinks, bathrooms, and tubs 
Dirty walls, wrinkled clothes, wallpaper removal 
Sealed hardwoods, tiles, grout cleaning, and defrosting freezers
A Brief Overview Video
How to Use the Vapor Clean II Home Steam Cleaner
The Vapor Clean II home steam cleaner is straightforward to use due to its user-friendly design. If you are not sure how it works, you should follow these steps. 
Start by opening the safety cap so that you can add water to the water boiler. 
Lift the socket lid from the main unit and connect the flexible steam hose. 
 The pin of the lid should be locked firmly into the hose connector. After that, try to pull the connector to ensure it is appropriately connected. 
Connect the accessory to the handle of your steam cleaner. You can just press the button and take it out when you want to remove the attachment. 
Connect the power cord to a wall socket and then switch on the appliance.  
Once you have connected it to a power source, the orange light will be activated.  
When the machine is ready, the light will turn green.  
Check the pressure gauge and wait until it reaches 4-4.5 bars to start steaming.
Allow the steam to rebuild at intervals to keep adequate pressure built up.
During the initial heat-up process, the air inside the boiler always produces a pressure that restricts the steam output. Therefore, after the first minute of heating up, press the button on the handle a few times to release the air.
Pros
Versatile home cleaning vapor cleaner 
High steam temperatures of 298⁰F 
Cleans with only 5% moisture content 
3 steam settings
Bendable and sturdy steam hose 
Compact and easy to store
Equipped with safety features 
5 years parts warranty
Lifetime boiler tank warranty
Cons
Not refillable during steam cleaning – approximate cooldown time is 5 minutes

Short power cord
Water Requirements
You are not limited to using distilled water in this steamer, as it has a stainless steel boiler tank. Vapor Clean recommend using any of the following:
Tap Water
Reverse Osmosis Water
Distilled Water
Spring Water
Bottled Drinking Water
Vapor Clean advises not to use water filtered through a water softener.
If you regularly use your steam cleaner, you don't need to empty out the water after each use. If letting it sit unused for more than two weeks, empty the boiler tank.
Maintenance of the Vapor Clean II Home Steam Cleaner
One of the biggest complaints about steam cleaners is that they stop working. Many consumers don't realize the need to regularly descale your steamer, especially if you are using tap water.
To do this, unscrew the nut on the bottom of the boiler tank and drain any water. Put the nut back on and tighten. 
Add 500mls of white vinegar and 500mls of tap water. Allow this to sit in the boiler tank overnight. The following day, drain the boiler tank and rinse with clean water. 
Your steam cleaner is descaled and should continue to work perfectly. Follow this process every 6 months or so. If you are in a hard water area, you may need to descale your steamer more often.
Vapor Clean also suggests using any commercially available descaling agent. A generic option such as this coffee machine descaler and cleaner is inexpensive and will work well.
Safety Precautions
Some of the safety precautions you should consider when using this machine to prevent injuries or electric shocks include; 
Make sure you have gone through all the instructions provided in the manual before you start using the machine. This will help you to understand how different parts of the unit work. Again, make sure that all the features are functional. 
Like other steam cleaners, you should not add harsh chemicals into the water tank. The boiler should only be filled with water. 
Before you plug it into a power source, you should ensure it is off. Confirm that the power cable is not damaged. 
You should never tilt or overturn it when it is on. 
Vapor steam cleaners like the Vapor Clean II Steam Cleaner are designed for indoor use. You should not expose the unit to atmospheric agents such as rain, direct sunlight, frost, etc. I wouldn't let this deter you from using it to clean your car's interior.
In case the machine gets damaged, you should switch it off immediately. You should only use it after consulting the manufacturer if it is an issue you cannot solve.   
Some of the parts become hot due to the hot steam. Therefore, you should only use the handle when you move it. 
Never place the machine near an electric burner, heated oven, or hot gas. 
Never use attachments or accessories that the manufacturer does not recommend. You might end up damaging the appliance or injuring yourself. 
Never use steam to clean electrical appliances, even if they are not connected to a power source. 
Avoid connecting it to an extension lead unless you use a 14-gauge commercial extension. 
Always disconnect it from the power outlet when doing maintenance tasks such as cleaning the boiler. 
 Always switch it off before you unplug it from the power outlet. 
 You should keep your hands away from the steam jet to avoid accidental burns. 
After you are done with the cleaning, you should switch it off to allow it to cool. 
Enjoy Your New Vapor Clean II Home Steam Cleaner
Vapor Clean sum up this steam cleaner by stating it respects your home environment, allowing you to rid your home of dirt, bacteria, and mites. Vapor Clean is confident this machine will meet and exceed every expectation, and I agree.
When comparing the Vapor Clean II to other similar models on the market, the strong 65PSI (4.5 bars of pressure) outweighs McCulloch, the Dupray One, and the Polti Vaporetto steam cleaners.
If you're looking to buy a reliable steam cleaner under $500, the Vapor Clean II is excellent.
You could also consider the Vapamore MR-100 at a slightly lower cost. However, you get a smaller boiler tank (less running time) and a lower steam temperature (maximum 220°F compared to 298°F with the Vapor Clean II). If you are weighing this up against the Dupray One, check out my full review of the One and One Plus here.
Consider spending slightly more for hotter steam and better performance from the Vapor Clean II. Sylvane (an authorized Vapor Clean reseller) offers low-cost monthly repayment options if needed. Click here to purchase or learn more from Sylvane. At the time of writing, there was also one Vapor Clean II home steam cleaner left on ebay.