The Vapor Clean Alfa Steam Cleaner is among the best residential steam cleaners on the market.
In terms of price, it is among the most affordable models from Vapor Clean company, making it suitable for those searching for a professional steamer without a huge price tag. Besides that, it provides a high steam temperature with the boiler heating to 302 degrees Fahrenheit and a steam output of up to 65 PSI.
This Vapor Clean Alfa Steam Cleaner review will look at some of its outstanding features and why you should consider the Alfa steam cleaner as an alternative to models such as Sargent, Dupray, and US Steam.
General Specifications of the Alfa Steam Cleaner
| Specification | Vapor Clean Alfa Steamer |
| --- | --- |
| Boiler Temperature | 302 degrees Fahrenheit |
| Steam Pressure | Up to 65PSI |
| Accessories | 27 in total |
| Heat Up/Cool Down Time | 6 minutes |
| Boiler Tank Capacity | 2.1 quarts |
| Size | 13 inches x 10 inches x 8 inches |
| Use | Residential |
| Warranty | 5 years parts, Lifetime on boiler |
| Boiler Type | Stainless Steel |
| Outer Casing | Stainless Steel |
Top Features of the Vapor Clean Alfa Steam Cleaner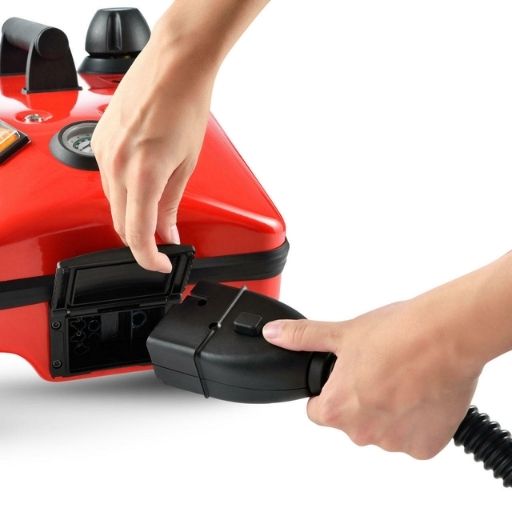 Design
The Vapor Clean Alfa Steam Cleaner has a compact design – measuring 10 inches wide and 13 inches deep. Crafted from stainless steel and coated with high-gloss enamel paint, the outer housing is highly resistant to rusting and corrosion. This coating also enables it to maintain its stylish red color for many years.
Steam Pressure and Temperature
The Vapor Clean Alfa provides a steam pressure of 65 PSI and a steam temperature of 302⁰F. The tip temperature should be around 210 to 240 degrees Fahrenheit based on other steam cleaners that heat to this temperature.
The Alfa is a powerful canister steam cleaner for home use. It releases dry vapor steam with less than 5% water content when cleaning. Using the pressure adjustment knob, you can select steady, high, or slow steam pressure depending on your cleaning needs.
Safety Features
Unlike other Vapor Clean steamers, the Alfa steam cleaner has more safety features to protect the user and its internal components. These features are;
Safety thermostat: The machine has a pressure gauge that alerts you when the steam is ready or has reached the maximum temperature.
Safety cap: The safety cap keeps the water pressure at the recommended levels, but you can easily open it when refilling the boiler.
Low water indicator: With this machine, you don't need to guess when to refill the boiler. An audible alert lets you know when insufficient water is in the reservoir.
CE rating: You will be pleased to note that this machine is CE-rated for safety.
Silicone wires: The internal wires are insulated with silicone to enhance safety.
27 Accessories

You will find 27 accessories in the box, plus an 8-foot cleaning hose. Some of the accessories included are:
Brass and nylon brushes: These help in lifting or removing dirt from the surface
3 Jet nozzles: The three jet nozzles provided pressurized steam to remove dirt from cracks, bathrooms, kitchens, fixtures, etc.
Rectangular brush: With this tool, you can easily clean any floor, including tiles, hardwood, vinyl, etc. When cleaning, connect a microfiber towel to the rectangular brush.
Triangle steamer head with clips: This accessory works like the rectangular brush but is smaller in size. Use it to clean areas that are hard to reach and into corners.
2 Extension tubes allow you to remove dirt from inaccessible parts of the walls, floors, or any other large surface.
Window squeegee: You will need this tool when cleaning smooth surfaces such as windows, glass, shower panels, bathroom tiles, etc.
Funnel: This accessory helps you to refill the water reservoir without spillage.
Two microfiber towels
Bristled floor brush with clips
Stainless steel scrubber
Medium round brush
Ten mixed-detail brushes
Two full bottle tops
Floor brush glider
Large cotton floor towel
User manual
Price
Compared to other Vapor Clean steamers, this one is among the cheapest, making it a good choice for those who want a quality brand at a lower price. It may not offer some of the features of the expensive models (such as continuous refill), but it will give you great results for home cleaning.
The Vapor Clean Alfa is available to buy at Sylvane with free shipping. Click here to check the latest price.
Pros
Multipurpose steam cleaner
Tap water friendly (descale three monthly)
5-year parts warranty
Lifetime boiler warranty
Italian made
27 accessories
Compact and easy to store
Cons
Not suitable for commercial use
Not continuous refill – you need to allow 5-6 minutes for the steamer to cool down before refilling
Affordability – price exceeds $500
What are the Benefits of Using Vapor Steam Cleaners?
Vapor steam cleaners produce steam with less than 5% water content. They offer hotter boiler temperatures and higher steam output than your standard canister steam cleaner or steam mop.
If you are searching for the best steam cleaner from a reputable company, the Vapor Clean models are among the best. Some of the benefits of Vapor Clean steam cleaners include the following:
Performance
One of the significant benefits of Vapor Clean steam cleaners is that they provide a higher steam pressure and temperature than most of their competitors. Hotter, drier steam means better performance when deep cleaning dirty surfaces.
Versatility
Whether searching for a residential or commercial steam cleaner, a vapor steam cleaner will give you unmatched performance. They come with many accessories so that you can use them for various cleaning tasks.
Durability
Vapor Clean steamers are made in Italy using durable materials. Most have a stainless steel outer casing that can withstand harsh cleaning conditions. As a result, they come with a five-year warranty on parts and a lifetime warranty on the commercially rated boiler tank.
Design
The vibrant Ferrari red screams Italian-made, and the lightweight, compact design stores away easily when not in use. The durable caster wheels allow easy maneuverability, and the carry handle on top allows the steam cleaner to be picked up and moved.
What are the Uses of the Vapor Clean Alfa Steam Cleaner?
You can use the Alfa steam cleaner to clean almost everything in your home. It is suitable for cleaning floors, bathrooms, and kitchen appliances such as ovens, fridges, sinks, and countertops. It also effectively cleans bathrooms, toilets, windows, carpets, walls, furniture, and mattresses.
Where Should I Not Clean With a Vapor Steam Cleaner?
It would be best if you did not use the Vapor Clean Alfa to clean delicate surfaces, anything that isn't sealed, lightweight or fragile plastics, and clothing such as suede, leather, and velvet. It is not suitable for cleaning unsealed floors or some velour upholstery. Take care when steaming laminate; always use the lowest setting, with a microfiber cloth over the steamer head.
What Type of Steamer is the Vapor Clean Alfa?
The Vapor Clean Alfa is one of the market's best dry vapor steam cleaners. Unlike steam mops, a dry vapor steam cleaner is more versatile, meaning you can use them to clean floors, mattresses, bedsheets, walls, tables, kitchen appliances, etc. They are also portable and more powerful than steam mops.
Dry Vapor steam cleaners are always canister-style steam cleaners and come with many accessories making them highly versatile. Not all canister steam cleaners are equally powerful, so you must compare the steam pressure and temperature when buying.
Are Steam Cleaners Better Than Using Chemicals?
Using chemicals to clean can leave behind residues on floors and hard surfaces you cannot see. They can be dangerous to children, pets, or your family. These chemicals may produce strong smells that can trigger allergic reactions in your family members. The good thing about steam cleaners is that they use only superheated water, making cleaning chemical free and safe for everyone.
Can I add Vinegar to my Vapor Clean Steam Cleaner?
You can add vinegar to the boiler tank as part of the maintenance process to descale your steamer. Alternatively, use a commercially prepared descaler. The heat and pressure of steam are enough to clean surfaces effectively. You will not need to add vinegar to the Alfa for effective cleaning.
What are the Benefits of Dry Vapor Steam Cleaners?
Both steam cleaners and dry vapor cleaners are very effective in cleaning. They are also similar, and most people don't understand their differences. In simple terms, dry vapor cleaners release steam with 5% or less moisture, meaning their steam is almost dry.
Unlike ordinary steam cleaners, dry vapor cleaners, such as the Vapor Clean Alfa, clean and dry the surface almost instantly due to less water content in their steam. They are also the best for deep cleaning due to the hot steam temperatures. Due to this, they are among the best steamers for cleaning carpets.
Most commercially rated steam cleaners are dry vapor steam cleaners as well.
Can I Leave Water in the Steam Cleaner?
You generally can leave water in a Vapor Clean steam cleaner, especially when you use it regularly. If you are going on holiday or storing the machine, it would be best if you emptied the boiler. Leaving water in the boiler for an extended period may lead to corrosion or damage to the machine.
What Water Does the Vapor Clean Alfa Steam Cleaner Use?
The Alfa steam cleaner is tap water friendly. Fill the boiler with regular tap water and wait for the machine to heat up. You will need to use either white vinegar or a descaling agent every three months to remove any mineral buildup in the boiler from the tap water.
How Hot Does the Vapor Clean Alfa Get?
The Vapor Clean Alfa has a boiler temperature of 302⁰F, is hot enough to kill harmful organisms, and deep cleans very dirty surfaces.
Final Verdict: Is the Vapor Clean Alfa Steam cleaner worth it?
If you are searching for a multipurpose steam cleaner for residential cleaning, the Vapor Clean Alfa Steam Cleaner is among the best models. It is made of top-quality materials to enhance durability. It is also very stylish, moderately priced, and easy to transport.
The 27 accessories make it suitable for cleaning different surfaces or items at home. You can also purchase an optional iron that plugs into the steam cleaner. The Alfa is among the best residential canister steam cleaners to give you excellent value.