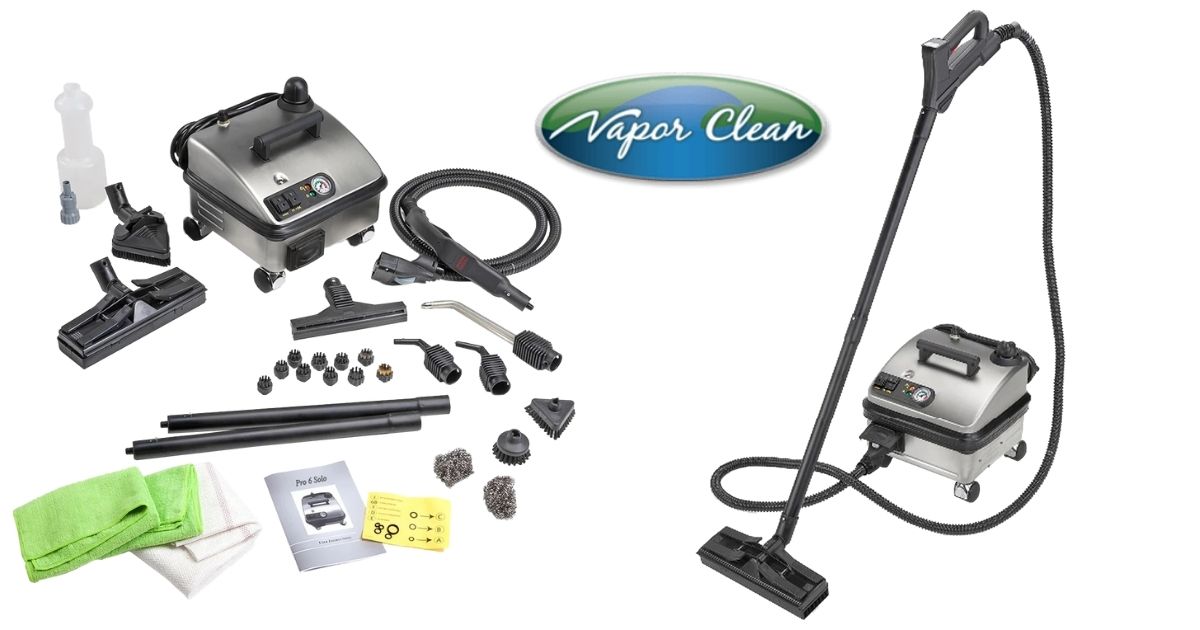 Whether you are searching for a reliable steam cleaner for commercial or residential use, the Vapor Clean Pro6 Solo will give you excellent results. It is efficient, portable, versatile, and highly durable. It is also a fantastic choice for those who cannot justify spending thousands of dollars on a high-end steam cleaner.
The Pro6 solo from Vapor Clean has been described as a "powerhouse" and this compact little machine really does pack a punch. With a boiler temperature exceeding 300⁰F and a whopping 75PSI of pressure this in an impressive unit that doesn't cost the earth.
Check our detailed Vapor Clean Pro 6 Solo review to learn how you can benefit from the fantastic performance provided by this vapor steam cleaner.
Specifications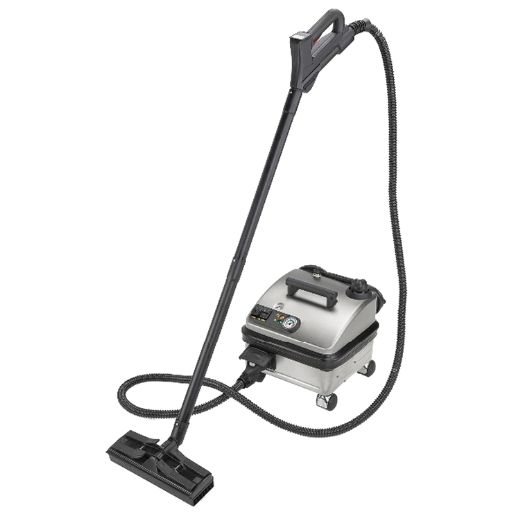 | Specification | Vapor Clean Pro6 Solo |
| --- | --- |
| Dimensions | 12 inches x 12 inches x 11.5 inches |
| Weight | 14.5 pounds (empty) |
| Boiler Construction | Stainless Steel |
| Boiler Temperature | 315⁰F |
| Tip Temperature | 240-290⁰F |
| Boiler Capacity | 2.1 quarts |
| Operating Time | 60-90 minutes |
| Maximum Operating Pressure | 75PSI |
| Water Requirement | Tap or Filtered Water |
| Country of Manufacture | Italy |
| Warranty | Boiler: Lifetime; Parts: 5 years |

Video Overview of the Pro6 Solo
Great Features of the Vapor Clean Pro6 Solo
I'd love to say that everything about the Pro6 solo is great – which it is – but here is a breakdown of how this steam cleaner can help you in your home or business:
Construction and Design
The Vapor Clean Pro 6 Solo features a coated steel housing and a brass housed stainless steel boiler to enhance durability. It is compact unit, with a handle on top for easy carrying to the car. The 4 castors on the bottom make ensure stability of the steam cleaner as well as allowing it to move in a 360 degree direction.
The power cord is 15 feet long, and it provides a cleaning reach of up to 23 feet. As a result, you can clean a wide area without restrictions.
Vapor Clean design their steam cleaners with the user in mind. You can pull the steamer by the hose and it will follow right behind you.
The integrated locking system ensures the commercially rated hose does not pull out of the machine.
You will also be pleased to note that all steam cleaners from this company are individually tested to ensure that they meet the highest quality standards. Its main components include:
Safety pressure cap on the boiler
Steam regulator knob
Steam switch
Main switch
Carry handle
Low water warning light
Steam ready light
Pressure gauge
Like other electrical appliances, this machine can be dangerous to children or those not conversant with it due to the hot steam. However, it comes with a child safety lock to ensure minimizing the risks of kids operating it accidentally.
Boiler
The Vapor Clean Pro6 solo has a 2-quart boiler that is well insulated for safety. The stainless steel boiler is housed in brass, with copper tubing, brass fittings and double coated circuitry for the upmost protection and quality.
You don't need to use distilled water with the Pro6. Use tap water or filtered water in this unit. Do not use softened water (in any steam cleaner) due to the added salt.
Initial heat up time from cold is around 12 minutes. If you need to refill the boiler during cleaning, wait 5 minutes for the boiler to cool slightly and the pressure to drop, before opening the boiler cap and refilling. Secondary heat up times won't need as long, as the boiler is already warm.
The brass boiler is also covered by a lifetime warranty. Look after it by following our decalcification steps further down this page, and the Vapor Clean Pro6 solo should last you a lifetime.
Performance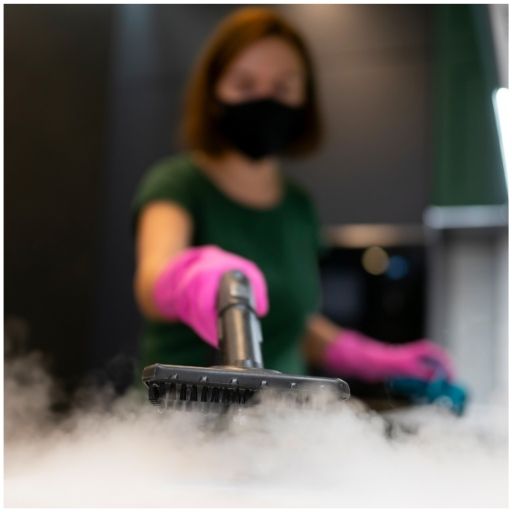 Operating at up to 75PSI, with a boiler tank temperature of 315 degrees Fahrenheit, you will blast away dirt and grim with ease. For easy operation, the Vapor Clean Pro6 solo comes with an ergonomically designed handle with controls for the steam.
From cleaning the bathroom to the grill outside (and everything in between) the heat and power behind the Pro6 steamer will amaze you. Few people really enjoy cleaning, but there is something oddly satisfying with steaming. There has been many a time when I've stood there marveling at how much cleaner an area of my home is, then realizing how long we'd been living with it dirty!
Most home steam cleaners only heat the boiler tank to 212 degrees Fahrenheit. This includes popular brands such as McCulloch, Dupray (Neat), even the base model from Vapamore only heats to 220 degrees max. 100 degrees hotter in the boiler tank means far hotter steam at the tip for amazing cleaning power.
Speaking of tip temperatures, the Pro6 Solo has a tip temperature of 240-294⁰F – hotter than some of the basic steam cleaners heat their boiler tank to!
Vapor Clean Pro6 Accessories
In the box, you will find different accessories, which include:
Stainless scrubbers and towels
Rectangular brush – which can also be used on carpet
Medium round and triangle brush
Extended nozzle with rubber protection
Small round brush (brass)
Small round brush (stainless steel)
Round nylon brush
Water bottle
3 jet nozzles
Window squeegee
2 extension wands
Triangular brush
User manual
How Does the Vapor Clean Pro6 Solo Work?
Just like other steam cleaners, this machine's components work as follows:
Boiler: The first thing you need to do is add water to the boiler. After that, connect it to a power outlet to heat the water. It has a steam-ready indicator that shows you when it has attained the maximum steam temperatures of 315°F and steam pressure of 75 PSI.
Attachments: Before you start cleaning, you need to ensure that you have connected the correct attachment that suits the type of cleaning you want to do. After that, direct the steam nozzle to the dirty surfaces. The Vapor Clean Pro 6 Solo doesn't provide continuous refilling, so you need to do that manually. It has a low water alarm that lets you know when to refill the boiler.
Descaling Your Steam Cleaner
As you use either tap water or filtered water in the Pro6 solo, you will need to regularly descale your steamer. Vapor Clean recommend descaling the boiler tank every 3 months. Here's how:
Ensure your steamer is turned off, unplugged and cold.
Unscrew the nut on the bottom of the machine and drain any water. Re-tighten the nut.
Add approximately 16oz of white vinegar and 16oz of clean water to the tank.
Allow this mixture to sit overnight.
The next day, empty the boiler tank, add some tap water to rinse it out and empty again.
You have now decalcified your steam cleaner. Follow this process every 3 months to remove any scale build up in the tank which may affect the performance of your steam cleaner.
If you're not a fan of vinegar, you can also use any commercial descaling agent to clean the tank. This coffee machine descaler is inexpensive and will work well.
Pros
Compact and portable
High temperature boiler of 315F
Produces steam with less than 5% moisture content
Quality accessories
Made in Italy
Lifetime boiler warranty
5 year parts warranty
Safety features
Cons
No continuous refill function (you need the Pro6 Duo for this)
The 15ft power cord could be a bit longer
Common Questions About the Vapor Clean Pro 6 Solo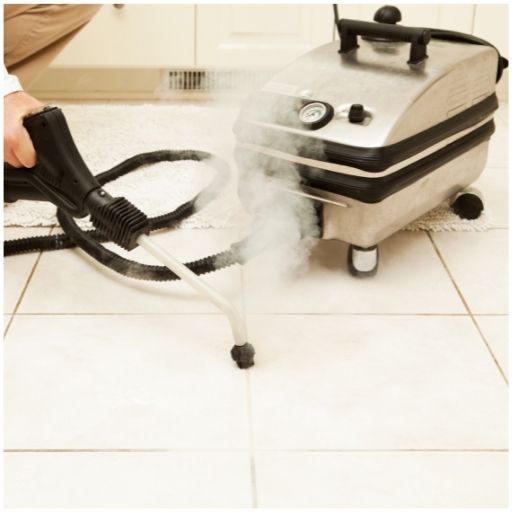 What is the difference between Vapor Clean Pro6 Solo and Pro6 Duo?
The main difference between the Vapor Clean Pro6 Solo and Duo models is the Duo has a double boiler, one of which can be refilled during cleaning. This means there is no downtime waiting for the boiler to cool, then refilling, then heating up again.
The Pro 6 Duo also heats slightly hotter than the solo – 327⁰F vs 315⁰F. The Duo also has slightly higher PSI – 87 vs 75.
Expect to pay a few hundred dollars more for the Pro6 Duo, mainly for the refillable boiler feature. You can read my full review of the Vapor Clean Pro6 Duo here.
Vapor Clean Pro5 vs Pro6
The difference between the Vapor Clean Pro5 and Pro6 is the construction of the boiler, temperature of the steam and steam pressure. The Pro5 has a Tungsten welded boiler, fully insulated and crafted from stainless steel. The Pro5 heats to 327⁰F, compared to 315⁰F on the Pro6 solo. The Pro5 also offers slightly higher steam pressure at 87PSI, compared to 75PSI on the on the Pro6 solo.
The Pro5 is priced in between the Pro 6 Solo and Pro 6 Duo models. You can expect the Pro5 to run for 90 to 120 minutes, offering ample cleaning time.
Read the full review of the Vapor Clean Pro5 solo here.
Is the Vapor Clean Pro 6 Solo Worth It?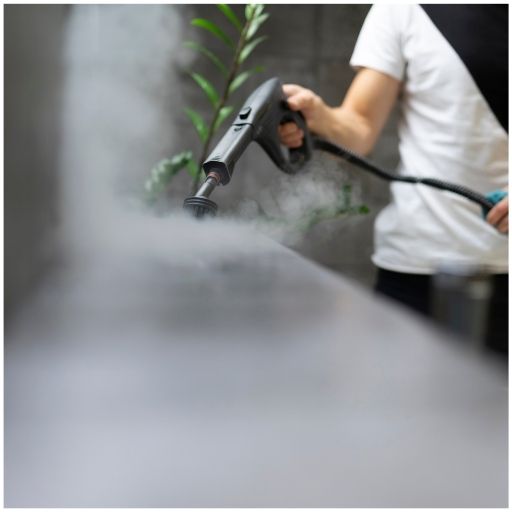 The Vapor Clean Pro 6 Solo is undoubtedly among the best steam cleaners on the market in 2022. You can highly rely on it for all your home cleaning requirements and small commercial operations. It is an excellent choice for those searching for a portable and versatile steam cleaner for well under $1000.
All the components are made of top-quality material to enhance durability. If you are searching for a reliable steam cleaner for home or small businesses, the Vapor Clean Pro 6 Solo is worth the investment.
If you want to compare similar steam cleaners, the Dupray Tosca operates at the same boiler temp, wattage, steam pressure and is also made in Italy.
Where to Buy the Vapor Clean Pro6 Solo
You can purchase the Vapor Clean Pro6 solo via Sylvane. They are authorized resellers of Vapor Clean steam cleaners and offer free shipping. You can also find it on ebay. Here are the links: