Vapor Clean Pro5: A Dry Steam Cleaner at an Affordable Price
If you are searching for an above average residential or light commercial steam cleaner take a look at the Vapor Clean Pro5. Combining powerful 87PSI, super hot 327 degree steam, yet priced affordably, this neat little unit has to be one of the best models from Vapor Clean.
In terms of design, the Vapor Clean 5 Pro Solo is among the market's most stylish steam vapor cleaners. It is designed to handle both residential and simple commercial cleaning tasks. In our Vapor Clean Pro 5 Solo review, we shall reveal the most exciting features that enable it to provide an extraordinary cleaning performance. 
The Vapor Clean Pro5 Specs: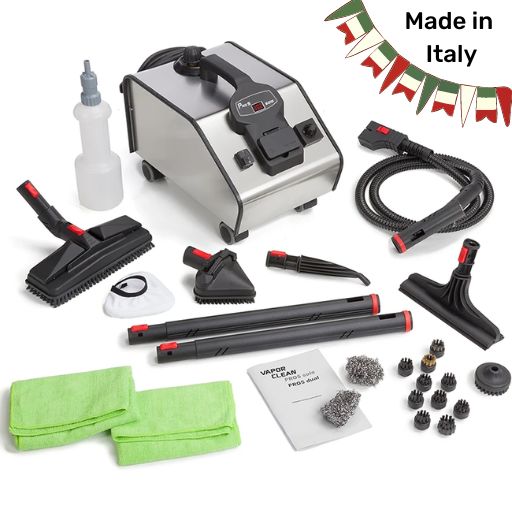 | Specification | Vapor Clean Pro5 |
| --- | --- |
| Dimensions | 12 inches x 13 inches x 16 inches |
| Outer Housing | Stainless Steel |
| Power | 1600 watts (110-120v power) |
| Weight | 13 pounds |
| Boiler Capacity | 1.9 quarts |
| Boiler Heat Up Time | 10 minutes |
| Boiler Cool Down Time | 4 minutes |
| Operating Pressure | 87 PSI (6 bar) |
| Boiler Temperature | 327 degrees Fahrenheit |
| Operating Time | 60-90 minutes |
| Variable Steam Settings | Yes |
| Steam Hose Length | 8 feet |
| Accessories | 17 |
| Warranty – Boiler/Heating Element | Lifetime |
| Warranty – Parts | 5 years |
| Warranty – Labor | 1 year |
| Child Lock | No |
Outstanding Features
Construction 
Unlike other steam vapor cleaners, this one features a resilient stainless steel exterior. This material enables it to withstand bumps and knocks when cleaning. Besides, it has 4 rugged casters that roll smoothly on all floors and carpets. The Vapor Clean Pro 5 Solo has durable copper tubing, double-coated circuitry, and brass fittings to guarantee long-lasting performance.  
Components
At the top of the unit is a clear digital display for checking the steam temperature and pressure. You can also use it to adjust various settings, although it is important to note that being Italian made, the controls may be different to what you are used to. To operate the steam adjustment, you turn the knob counter clockwise to increase the steam output and clockwise to decrease the steam output. Apart from the digital display, this machine comes with an 8-foot hose, allowing you to easily access hard to reach areas. 
Powerful Performance
In terms of performance, this machine is more powerful than most dry vapor steamers on the market. It uses a 2-liter (1.9 quarts) stainless steel boiler which takes 10 minutes to heat. The steam produced by this unit contains a 5% moisture content. This is known as dry vapor steam. The boiler heats the water to 327⁰F, which means it is powerful enough to kill 99.9% of all germs and dangerous microorganisms.   
The steam is also suitable for deep cleaning since it lifts dirt, stains, and dust without leaving too much water on the surface. An adjustable steam knob allows you to increase or decrease the steam pressure according to your cleaning needs.  
The stainless steel boiler has a capacity of 2 liters, providing up to 1.5 hours of continuous powerful steam.
Safety Features
This machine has impressive safety features to protect its components from damage. One of these features is the over-pressure safety valve which ensures that it works within the recommended pressure range. Besides that, the machine has an auto-diagnosis function for quick checkups. It is a handy feature because it ensures that all the parts work as expected.
Where Can I Use the Vapor Clean Pro5?
If you are searching for a versatile dry vapor steam cleaner, the Vapor Clean Pro 5 steamer is undoubtedly among the best. You can use it for different purposes, such as: 
Floors: Irrespective of the type of floor you have in your house, the floor brush that comes with this unit will give you outstanding results. Cover the floor brush with a microfiber cloth to turn it into a steam mop, or use it without for extra scrubbing power.
Seats and furniture: You can rely highly on this steamer to clean your sofas, couches, chairs, or other upholstery. 
Cleaning grout: With a range of bristle brush attachments, your grout will look new after being cleaned with the Pro 5 solo steam cleaner.
Kitchens: Cleaning different parts of the kitchen is not easy, but with the Vapor Clean Pro 5 Solo, you can easily clean sinks, countertops, faucets, rangehood filters, or appliances such as ovens. 
Refrigerators: Since this steam cleaner uses high steam temperature and pressure, it is very effective in removing gunk from refrigerators, especially around the seals.
Clearing hard water buildup: Dry vapor steam effectively removes limescale buildup and hard water deposits. Take a look at this post where I tackled years of limescale buildup on a stainless steel sink.
Bathrooms and toilets: The Vapor Clean Pro 5 is also a perfect option for sanitizing and removing germs from your bathroom, toilet, or bathtub. 
Apart from using it for residential cleaning, the Vapor Clean Pro5 Solo is also perfect for commercial cleaning. Some of the areas you can use it include:
Car cleaning businesses: This machine is among the best you should consider if you offer car cleaning services. It effectively cleans car seats, floor mats, and other car parts.  
House cleaning companies: With this machine, you can easily clean a house with many rooms since it has 4 wheels, allowing you to move it quickly on the floor. Apart from that, it can deep clean even the dirtiest surfaces. Again, it comes with multiple attachments for cleaning the floor, walls, windows, carpet, furniture, and other items.  
Attachments
Some of the accessories you will find in the package are: 
Floor brush: When you want to clean large surfaces such as floors or walls, you should attach this tool to the steam cleaner. You can also connect it to a microfiber towel when cleaning delicate surfaces like wooden floors.  
Triangle brush: The triangle brush is the perfect tool for cleaning couches, sofas, chairs, mattresses, or areas that are not easy to reach using a floor brush. 
Two microfiber cloths: Cover the triangle brush and floor brush with the microfiber cloth to turn them into an upholstery cleaner or steam mop for the floor. 
Window squeegee: This one is perfect for cleaning windows, tiles, glass, or other smooth surfaces. 
Extension wands are used together with the detail attachment, triangle brush, or floor brush. You can use them as a pair or separately, depending on the type of surface you are cleaning.  
Joint attachment: This allows you to connect the triangular or floor brush with the extension wand. You can also fix this in place so it doesn't move, or allow movement left or right.
Flexible hose: The steam hose releases the steam once you press the button on the hand grip. 
Steam jet nozzle: The nozzle provides a continuous steam flow for deep cleaning different surfaces. This is a handy tool for toilets, getting into cracks and crevices, precision cleaning, and more. It also holds the brushes and scrubbers.  
Measuring cup 
2 stainless steel scrubbies 
Stainless steel nozzle brush
Brass nozzle brush
Large round nylon scrubbing brush
8 nylon detail cleaning brushes  
A bonnet for the triangle head – use on clothing or upholstery to diffuse the steam
Pros
Durable construction 
Powerful enough for commercial and residential cleaning tasks 
High steam pressure and temperature  
Adjustable steam knob 
Reliable safety features like the auto diagnosis  
Carrying handle to enhance portability 
8-foot steam hose featuring fingertip controls 
Excellent warranty
Cons
No child lock
No continuous refill – although if it is already hot it won't take long to heat back up again
No onboard storage for tools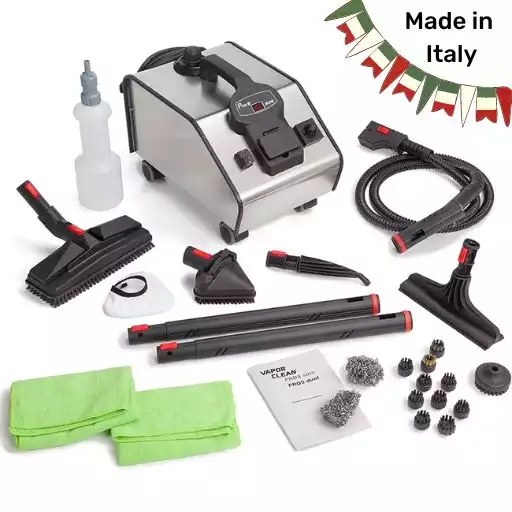 Ongoing Maintenance of the Pro5 Solo
Every steam cleaner requires maintenance of some kind, and the Vapor Clean Pro5 Solo is no exception. As you can use tap water in this steam cleaner, you will need to descale the boiler of any limescale build up. Vapor Clean recommend doing this at least every 8-12 months, you may need to descale the steamer more often if you are in a hard water area.
How to Descale the Vapor Clean Pro5 Steam Cleaner
Descaling the Vapor Clean Pro5 is simple and easy to do. All you need is white vinegar and water. Here are the steps:
Start with a cold steam cleaner – Make sure the steam cleaner has been off for at least 3 hours and has cooled down sufficiently. Unplug the power cord from the socket.
Empty the water tank – Turn the steam cleaner upside down. Use the tool provided with the steam cleaner to unscrew the nut on the bottom of the boiler tank. Empty any remaining water out of the boiler.
Add vinegar and water to the boiler – Add approximately 16 ounces of white vinegar to the boiler tank. Add approximately 16 ounces of clean tap water to the boiler tank.
Replace the boiler nut – Put the boiler nut back into position and tighten with the tool provided. Turn the steamer up the right way.
Let the solution sit in the steamer – Leave the vinegar and water solution to sit inside the steamer for 8 hours.
Empty the boiler – After 8 hours, unscrew the nut on the bottom of the boiler and pour out the vinegar and water solution. There may be some small white particles which come out also. This is the limescale build up from inside the boiler tank.
Rinse the boiler – Add clean water to the boiler, swish it around to rinse and drain the water out again.
Replace the boiler nut – Put the boiler nut back into place and tighten it using the included tool. You can wipe over the outside of the steam cleaner with a damp microfiber cloth, if needed. Your steamer has now been descaled and is ready for use again.
Frequently Asked Questions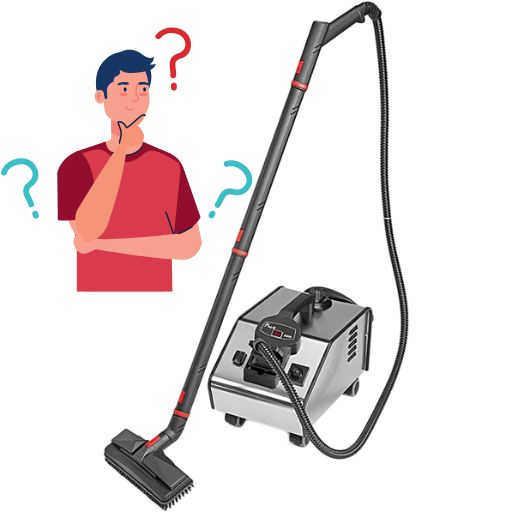 Is the Vapor Clean Pro5 Solo able to eliminate all allergens? 
One of the significant benefits of using the Vapor Clean Pro5 is its ability to kill all allergens such as molds, mildew, pollen, pet dander, dust, and mites. As a result, it is among the best for those who suffer from different respiratory allergies. 
Can I use the Vapor Clean Pro5 Solo for heavy-duty commercial cleaning tasks? 
Even if this machine is among the most powerful models on the market, it is not the best for heavy-duty commercial cleaning tasks. Instead, consider the Vapor Clean Pro 6 Duo – a commercially rated steam cleaner with 87 PSI that offers continuous refill without downtime, or our commercial steamers page.
Vapor Clean Pro5 vs Pro6
The difference between the Vapor Clean Pro5 and Pro6 is the construction of the boiler, temperature of the steam and steam pressure. The Pro5 has a Tungsten welded boiler, fully insulated and crafted from stainless steel. The Pro5 heats to 327⁰F, compared to 315⁰F on the Pro6 solo. The Pro5 also offers slightly higher steam pressure at 87PSI, compared to 75PSI on the on the Pro6 solo.
The Pro5 is priced in between the Pro 6 Solo and Pro 6 Duo models. You can expect the Pro5 to run for 90 to 120 minutes, offering ample cleaning time. The downside with the Vapor Clean Pro5 is you can't refill it whilst in use. For this, you need to look at the Pro6 Duo, with a dual tank system.
Read the full review of the Pro6 Solo here.
What is Dry Vapor Steam Cleaning?
Dry steam cleaning is almost the same as regular steaming, although the steam produced by dry steamers contains less moisture. As a result, they use dry vapor to remove dirt from the surface. Their steam is usually more than 300⁰F, meaning they can kill all microorganisms without using chemicals.  
Final Verdict: Is the Vapor Clean Pro5 Solo Worth it?
The Vapor Clean Pro5 Solo combines efficient high heat dry vapor steam cleaning with value for money. Costing less than $1000, the Pro5 is comparable with commercial steam cleaners selling for twice the price.
This is a rugged machine, built to last, and one of the most popular models from Vapor Clean. 
Backed by a lifetime warranty on the boiler tank and heating element, up to 5 years on parts, and a 1-year labor warranty, the Pro 5 solo won't break the bank to buy. If kept maintained, it should last you for years to come.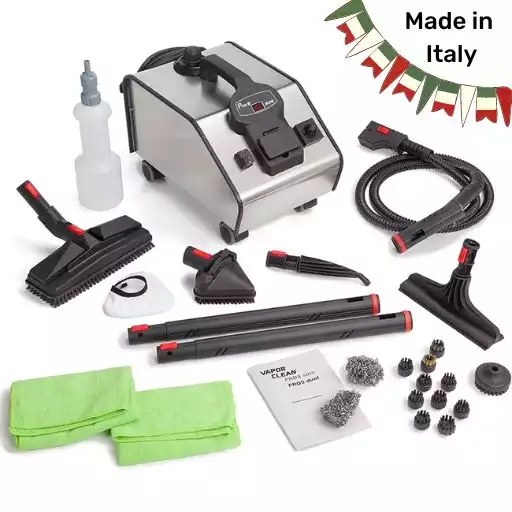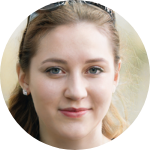 About the Author
Hi I'm Lauren. Passionate organizer, t-shirt folder and owner of a commercial garment steamer, steam cleaner and handheld steamer. I'll discuss all things steaming, so if you need help with buying or using a clothing steamer or steam cleaner, I'm here for you. Please join me on Facebook and don't hesitate to reach out if you have any questions. Happy Steaming!