Bissell Crosswave vs Steam Mop | Battle of the Hard Floor Cleaners
Bissell is a big name in hard floor cleaning solutions. From vacuum cleaners to steam mops, Bissell is known for moderately priced cleaning tools marketed towards pet owners. If you are trying to decide between the Bissell Crosswave vs Steam mop, this comparison guide will help you choose the model that perfectly suits your needs.
Bissell Crosswave vs Steam Mop – What is the Difference?
The Bissell Crosswave is a wet vacuum, that pushes out a larger volume of water onto your floor, simultaneously sucking it back up again. A steam mop converts water into steam and uses the steam to clean sealed flooring. When using a steam mop, you need to vacuum your floor first, as opposed to the Crosswave which vacuums at the same time.
Comparing the Bissell Steam Mop vs Crosswave
In the table below, I've compared the Bissell Crosswave vs PowerFresh steam mop (model number 1940 and 1785). These are the base models of each type of floor cleaner.
| Specification | Crosswave | Steam Mop |
| --- | --- | --- |
| Size | 46 inches x 10.5 inches x 12 inchees | 29 inches x 10 inches x 7 inches |
| Weight | 11.5 pounds | 6.4 pounds |
| Power | 4.4 amps | 1500 watts |
| Settings | On/Off | Low, Medium, High |
| Power Cord | 25 feet | 23 feet |
| Use On | Hard floors and low pile rugs | Hard floors, rugs and carpet |
| Vacuums | Yes | No |
| Models | Crosswave, Crosswave Pet Pro, Crosswave Cordless HF3, Crosswave Cordless Max, Crosswave Cordless X7 Pro | PowerFresh, PowerFresh Deluxe, PowerFresh Pet, PowerFresh Slim, PowerFresh Lift-Off Pet, PowerFresh 2-in-1 |
| Extras to Buy | Floor cleaner, filter, replacement brush rolls | Replacement mop pads, distilled or demineralized water, scent discs (optional) |
A table comparing the Bissell Crosswave vs Steam Mop
Set Up Comparison
As you can see from the image above, the Crosswave is a slightly bulkier machine with a roller brush in the bottom. There is a little more setup required with the Crosswave, such as filling the clean water tank, adding detergent and making sure the roller brush and filter are clean.
Comparatively, a steam mop requires you to fill the tank with distilled or demineralized water, and place a clean microfiber cloth on the base. Plug it in, and your steam mop is ready to start cleaning in less than a minute.
Usage Comparison
The Bissell Crosswave has a dual-action multi-surface brush roll that mops and collects debris at the same time. It does this using advanced microfiber plus a nylon brush that rotates at a speed of 3000 RPM. The brush spins and scrubs the floor while the vacuum sucks up the dirty water. 
Traditional steam mops don't vacuum floors. They emit much less water than the Crosswave, so there's no need to suck anything back up into a dirty water tank. You have to sweep or vacuum your floors before steam mopping, but you don't need to use a traditional mop before steaming.
A common question I get asked is where does the dirt go when steaming? If it doesn't get sucked back up into a machine, and you don't rinse the steam mop head like a traditional mop, does it just push dirt around the floor? The answer is no, but also yes. This all comes down to how often you change the mop pad on the head of the steam mop.
The microfiber or cotton toweling cloth (whatever your steam mop uses) will collect dirt as it steams. If your floor is really dirty and the cloth fills up with dirt, then you need to change it. Otherwise, you are pushing a dirty mop head around on your floor, which will cause streaks or a poor finish.
The Crosswave brush roll isn't immune to collecting dirt either, after all, you are vacuuming and washing the floor at the same time. If you have a large floor area or a particularly dirty floor, you may need to stop during cleaning and clean the brush roll. Otherwise, you can end up with a dull or streaky finish on your floor also.
Overuse of cleaning products can also cause this, which is one of the benefits of a steam mop – no chemicals or cleaning products required.
Video
Here is a snippet of a video showing the Crosswave in action, followed up with a steam mop. It will start at 5:46 into the video, which is where the floor cleaning gets going! Spoiler alert – you can see the steam mop picked up more dirt after the Crosswave, however, the ideal usage of a Crosswave is to make two strokes over the floor area. One with the button pressed releasing the cleaning solution and another without to lift any residual cleaner and dirt.
Clean-up Comparison
This is where the steam mop really shines, so to speak. When you are done steam mopping, you take off the microfiber pad and wash it. That's it. If you used a scent disc and it is out of scent, throw it away. There's no big clean up required after you've just spent time and effort cleaning your floors.
Comparatively, the base model of the Bissell Crosswave will require you to empty and wash the dirty water tank, filter, screen and tank lid with included float. There are 3 separate components that will need washing after use, then left to dry before reassembling. You will also need to wash the brush roll and wipe out the head of the cleaner.
Some models of the Crosswave have a self cleaning function. This function cleans the brush roll, you will still need to empty and clean the dirty water tank. These models are:
Bissell Crosswave Pet Pro vs Steam Mop
Bissell's marketing supports pets and they make specific variations of their machines targeted at pet owners. As such, you'll find a Crosswave Pet Pro model, in both corded and cordless options. You will also find a pet steam mop, which is the same as the standard PowerFresh steam mop. The difference between the steam mops are the scent discs. The standard has Spring Breeze fragrance, the pet model has Odor Eliminating fragrance.
The same also applies with the Crosswave. The included floor cleaner on the pet model is designed for pets with added Febreeze for odor elimination.
The main variation in machine design between the Pet Pro vs the original Crosswave is the pet hair filter. Inside the dirty water tank is a plastic filter that collects pet hair and debris, so it can be emptied into the bin rather than washed down the drain with the dirty water.
The brush rollers are also slightly different, with Bissell improving the roller on the pet model for less wrapping and tangling of pet hair. This is ok for shorter haired pets, but if you have a long haired dog (or human for that matter) hair can still get tangled around the roller, needing to be cut away.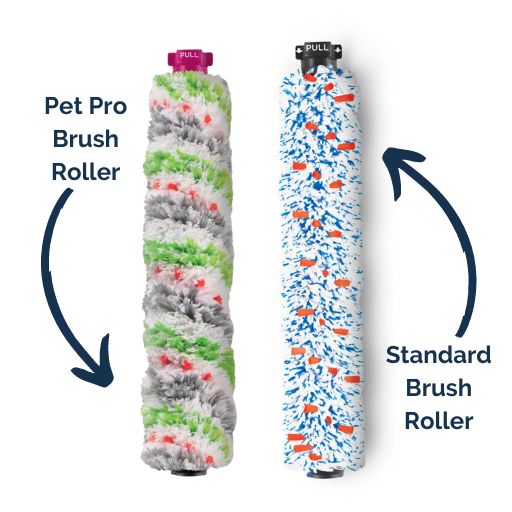 Bissell PowerFresh Steam Mop vs Crosswave
The PowerFresh steam mop is Bissell's signature steam mop priced under $100. It is affordable, offers 3 levels of steam, a flip down scrubbing brush on the back and a carpet glider. There are also many variations of the PowerFresh steam mops. They are:
PowerFresh Deluxe (Model Number 1806)
PowerFresh Pet Lift Off (Model Number 15441)
PowerFresh Slim 3 in 1 (Model Number 2075 and 2181)
PowerFresh 2 in 1 Multi Surface (Model Number 2814)
PowerFresh Pet (Model Number 19404)
I've written a post comparing Bissell steam mops, this will help you decipher the differences between the different models listed above.
Both Bissell steam mops and the Crosswave are two different cleaning tools. While they both clean your floors, they use different methods. The Crosswave being a wet vacuum, using tap water and detergent-based cleaners. The steam mop uses water alone to clean with steam. In 2023, there are no cordless steam mops yet.
If you like to use a traditional mop to wash your floors and prefer scented floor cleaners, then the Crosswave is likely a better choice for you.
If you suffer from allergies, prefer natural cleaning solutions or have less money to spend, a steam mop may be a better choice. Keep in mind, that Bissell recommends using distilled or demineralized water in their steam mops for the longevity of the machine, so there will be an ongoing cost in buying water.
You can buy Bissell scented demineralized water if you prefer scents rather than the natural smell of steam.
Bissell Symphony Steam Mop vs Crosswave
The Bissell Symphony is a steam mop and dry vacuum for hard floors. It is not a wet vacuum and won't suck up spills, pet urine etc. Despite being more comparable to the Crosswave than traditional steam mops, these two machines still function quite differently.
The Symphony head is shaped in a rectangle, with one section at the front open for the vacuum. Behind that is the steam mop pad.
The Crosswave also has a rectangular head, but the brush spins at 3000 revolutions per minute giving the floor a light scrub with water and detergent and sucking the water up into a separate dirty water tank.
The Symphony doesn't wet vacuum, the Crosswave doesn't dry vacuum. So which one is better? I've compared the Symphony steam mop vs Crosswave in a full article to help you work out which one is best for your needs.
Shark Steam Mop Vs Bissell Crosswave 
Shark steam mops and Bissell are among the most popular brands when it comes to floor cleaning. Like other standard steam mops, Shark doesn't vacuum as well as mop, so you're not really comparing similar machines. Shark steam mops are very easy to use, you simply plug them in and can start mopping within 30 seconds.
When comparing the Bissell Crosswave vs Shark steam mop, the Crosswave will require a little more setup and cleanup, but you have the added ability of using the Crosswave as a wet vacuum, whereas you need to vacuum your floors thoroughly before using a Shark steam mop.
Frequently Asked Questions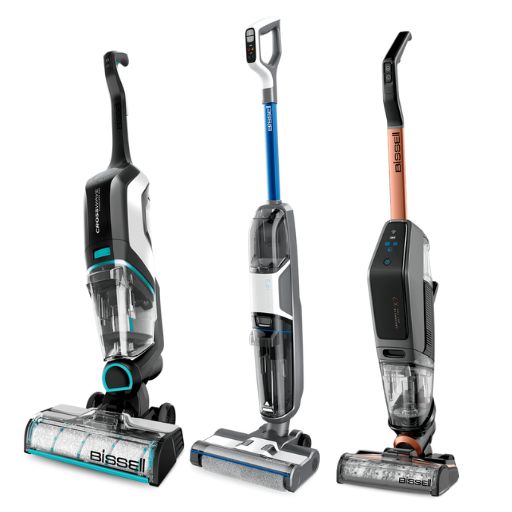 Is Bissell Crosswave a Steam Mop?
The Bissell Crosswave is not a steam mop. It is a wet vacuum with a brush roll that gently scrubs your floors using detergent and water. The Crosswave vacuums back up the dirty water into a separate tank from the clean water.
How Does Bissell Crosswave Work?
The Bissell Crosswave has two water tanks, one for clean water and the other for dirty water. It uses clean water combined with floor cleaner to gently scrub flooring, simultaneously vacuuming the dirty water into a separate tank. 
Is Bissell Crosswave Worth It?
Some users wonder how they ever lived without the Bissell Crosswave, making it a worthwhile purchase for their home. Others have complained it can get clogged up with pet hair, doesn't pick up kitty litter well and has left streaky marks on the floor. How often you clean and the type of messes you are cleaning up may impact the performance of the Crosswave, making it more worthwhile for some people than others.
Does Bissell Crosswave Clean Better than a Mop?
A Bissell Crosswave can clean better than a mop, particularly when using antibacterial floor cleaners. With traditional mops you are using the dirty water to continue cleaning the floor. With the Crosswave, the dirty water is stored in a separate tank, using only clean water and floor cleaner for excellent results.
Which One Will You Choose? The Bissell Crosswave or Steam Mop?
Since the Bissell Crosswave and the Bissell Steam Mop have different features, the best one will be determined by personal preferences.
If you want to clean up crumbs in the kitchen, food spills, or mess around the dog bowl, without having to get out the vacuum or dustpan and broom, the Crosswave will suit you. Vacuuming and mopping at the same time makes light work of floor cleaning.
If you prefer to vacuum first and clean with hotter temperatures and fewer chemicals, a steam mop is the best choice for you. Steam mops clean your floors using water converted to steam. It offers chemical-free cleaning for allergy sufferers, pets, and children.
Steam can sanitize your floors, whereas water and detergent offer cleaning only. If you are still on the fence, take a look at my list of the best steam mops under $100 here.