Dupray Neat vs McCulloch 1385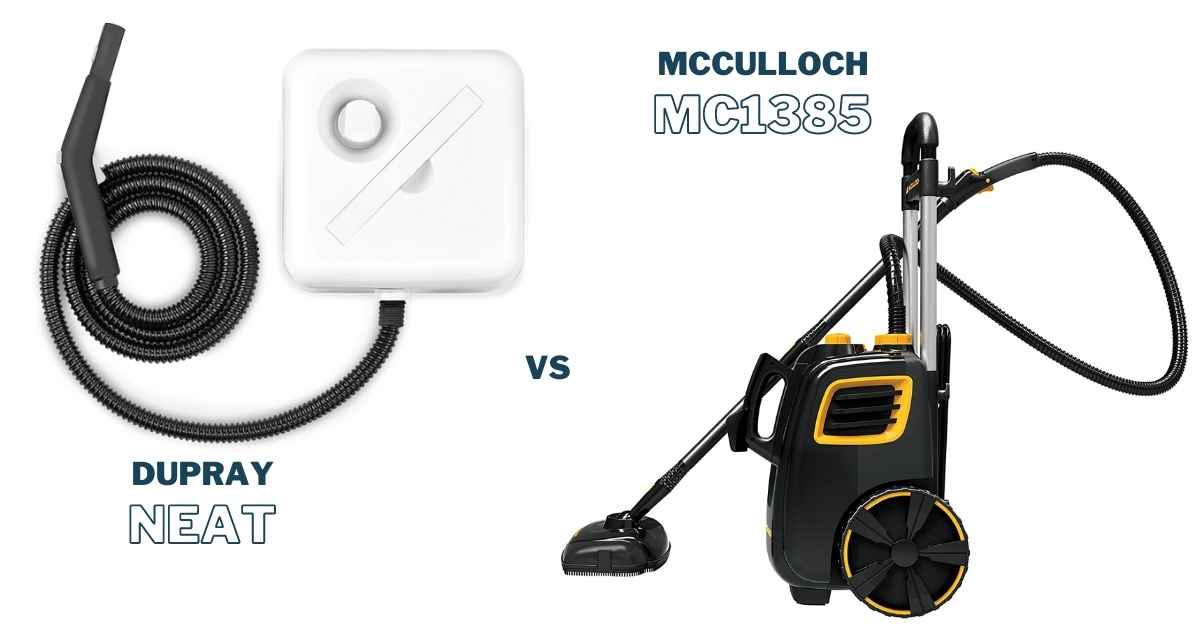 When searching for the best canister steam cleaner for around $200, you are likely to come across both the Dupray Neat and McCulloch 1385. When you look at their features closely, you will realize that they are relatively similar machines. However, they differ in some aspects, so you need to understand how each of them works. 
In this detailed Dupray Neat vs McCulloch 1385 comparison, we'll help you determine if one steam cleaner is better than the other for your needs.
Dupray Neat vs McCulloch 1385
I've compared the Dupray Neat steam cleaner vs McCulloch 1385 side by side below, with recommendations for when one machine may be a better choice over the other for any particular feature. Take a look below:
Design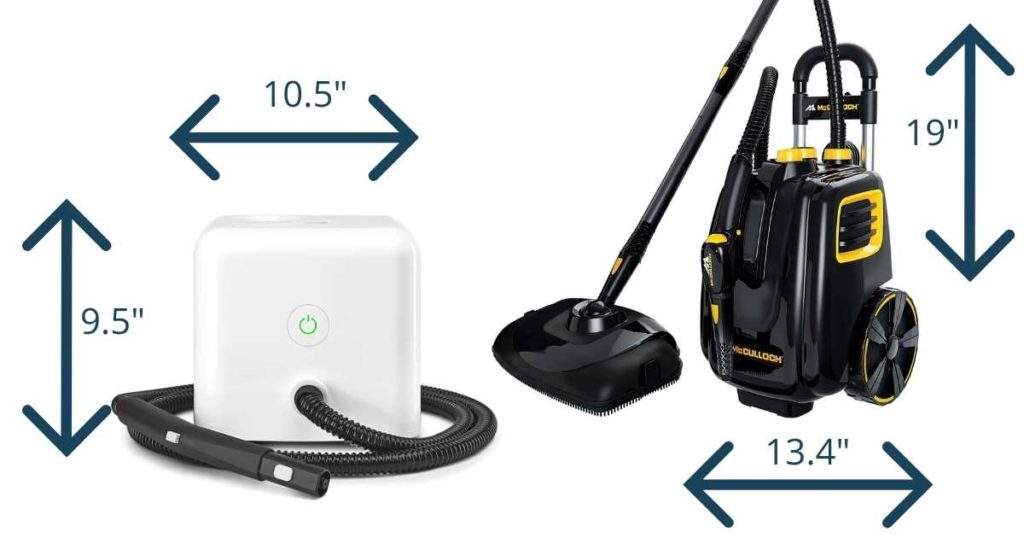 One of the major differences between the Dupray Neat and the MC1385 is the design. You will find that the McCulloch 1385 has a more rugged construction than the Dupray Neat Cleaner. Its suitcase-looking design is larger and bulkier than the Dupray. Comparatively, the measurements are: 
| Steam Cleaner | Height | Width | Depth |
| --- | --- | --- | --- |
| Dupray Neat | 9.5 inches | 10.5 inches | 10.5 inches |
| McCulloch MC1385 | 19.1 inches | 13.4 inches | 13.1 inches |
Tank Capacity
When it comes to the capacity of the water tank, the MC1385 comes with a 64-ounce water tank that heats water within 12 minutes. It can steam continuously for up to 120 minutes.  As the McCulloch 1385 has variable steam pressure, the run time quoted would be using the lowest steam setting. If using the highest steam setting, expect the MC1385 steamer to run for around 90 minutes.
The Dupray Neat Steam Cleaner provides continuous steam for 50 minutes. Its water tank has a capacity of 40 ounces with a heating element that heats water within 8 minutes. Despite this advertised time, some consumers reported needing 10-12 minutes to fully heat the Dupray Neat steamer.
Neither machine has the ability to see how much water is left in the tank when using. This is one of the biggest consumer complaints. Both machines also cannot be refilled whilst in use, so you will need to wait around 20 minutes for the machine to cool down before depressurizing and refilling the water. Then, you'll need to wait for it to heat up again also.
| Steam Cleaner | Tank Capacity | Heat Up Time | Run Time |
| --- | --- | --- | --- |
| Dupray Neat | 40 ounces | 8 minutes | 50 minutes |
| McCulloch MC1385 | 64 ounces | 12 minutes | up to 120 minutes |
Steam Temperatures
The steam temperatures determine the effectiveness of a steam cleaner when cleaning dirt and killing microorganisms. 
The Dupray Neat is the clear winner in this regard, with the boiler heating up to 275⁰F. The McCulloch MC1385 heats up to 212⁰F. The Dupray is likely to produce hotter steam output, with less water in the steam. 
| Steam Cleaner | Boiler Temperature | Tip Temperature |
| --- | --- | --- |
| Dupray Neat | 275 degrees Fahrenheit (135 Celcius) | |
| McCulloch MC1385 | 212 degrees Fahrenheit | |
Variable Steam Control
The McCulloch 1385 comes with a variable steam control, whereas the Dupray Neat does not. If you are looking for the ability to control the steam flow according to your cleaning needs, the McCulloch 1385 is the choice.
The variable steam rate outputs steam between 15 and 31 grams per minute. If you are leaning towards the Dupray brand, look at the next model up – the Dupray Home Steam Cleaner – which offers variable steam control.
Power Cord and Cleaning Reach
The McCulloch MC1385 will reach slightly further than the Dupray Neat. 
When cleaning, you will need a machine with a long power cord that allows you to navigate a wide area. The Dupray Neat cleaner comes with a 16 foot (5 meters) power cord. It also comes with a 6 feet and 6 inches steam hose to enhance maneuverability. The total reach is 22 feet and 6 inches.
On the other hand, the McCulloch 1385 has a long 18 feet power cord and a 10 feet insulated hose giving you a 28 foot reach in total. 
| Steam Cleaner | Power Cord Length | Steam Hose Length |
| --- | --- | --- |
| Dupray Neat | 16 foot (5m) | 6 feet, 6 inches |
| McCulloch MC1385 | 18 foot | 10 feet |
Portability
The Dupray Neat Steam Cleaner has small smooth-rolling wheels on the base and a retractable handle to enhance movements. This allows you to move it quickly to different places when cleaning. It is also lightweight since it weighs 9 pounds (without water). The pop up handle keeps the unit compact, but also allows you to lift the steamer and carry it upstairs easily.
You will find that the MC1385 is slightly heavier than the Dupray Neat since it weighs 13 pounds. However, it also features an integrated handle and large wheels for movement. The vertical design, however, lets the McCulloch down a little. It can be prone to tipping over and won't roll along behind you like a vacuum cleaner would. You need to tilt the machine and roll it like a suitcase.
Steam Pressure
Another essential aspect that determines the performance of a steam cleaner is the steam pressure. In this regard, the Dupray Neat Cleaner offers a steam pressure of 50 PSI (3.5 bars), while the Mc1385 provides a more substantial steam pressure of 58 PSI (4 bars). 
As a result, it is more effective in blasting away dirt, dust, grime, and grease. Besides that, it comes with solid utility brushes, which can remove even the toughest grease or grime on BBQ grills, ovens, patios, etc. 
| Steam Cleaner | Max Steam Pressure (PSI) | Max Steam Pressure (Bars) |
| --- | --- | --- |
| Dupray Neat | 50 PSI | 3.5 Bars |
| McCulloch MC1385 | 58 PSI | 4 Bars |
Please keep in mind that this is the maximum steam pressure the cleaner can operate at. How long it maintains this pressure will vary based on the amount of water in the tank, how long you let it heat up for, altitude and water hardness. Both steam cleaners may drop in pressure or need to pause slightly while pressure builds back up again.
Accessories
Most steam cleaners come with standard accessories such as scrubbing brushes and a window squeegee.
If you are searching for a model with many accessories, the MC1385 will be a great choice. This is because it comes with 23 accessories, while the Dupray Neat comes with 17 accessories.   
Please note that both brands consider the basic floor tools and extension wands as accessories. I've compared the accessories in the table below. McCulloch offer a larger variation of accessories and scrubbing tools in different sizes. While Dupray do not offer this as standard, additional accessories such as stainless steel brushes, horse hair brushes and large nylon brushes can be purchased separately.
McCulloch also offer onboard storage for accessories, whereas Dupray do not. Let's compare the Dupray Neat vs McCulloch MC1385 accessories:
| Accessory | Dupray Neat | McCulloch MC1385 |
| --- | --- | --- |
| Rectangle Floor Tool | Yes | Yes |
| Triangle Above Floor Tool | Yes | Yes |
| Window Squeegee | Yes | Yes |
| Scraper Tool | No | Yes |
| Steam Lance | Yes (curved) | Yes (straight – separated curved nozzle attachment) |
| Nylon Round Brushes | 5 small | 2 large (2.5″), 2 small (1.5″) |
| Brass Brush | 1 small | 2 small |
| Round Scrubbing Pad | No | 2 large (2.5″) |
| Extension Tubes | 2 | 2 |
| Microfiber Cloths/Bonnets | 5 | 2 |
The target audience for McCulloch and Dupray are very different. McCulloch target their steam cleaner towards men and outdoor use, such as car and boat cleaning, grills and BBQ's, outdoor pavers and around the home use. McCulloch only include microfiber pads for the floor tool, you will need to purchase additional microfiber cloths for above floor cleaning.
Dupray target the Dupray Neat steam cleaner towards indoor use at home. The triangle tool is aimed at cleaning mattresses and upholstery, with a small bonnet and microfiber cloth included as standard. The microfiber cloth can also wrap around the floor tool, or use the included floor pads. The design of the steam lance is curved, which is beneficial for cleaning under toilet bowl rims.
In comparison, the design of the McCulloch lance is straight, with the slight curve being on the brush accessory rather than the steam nozzle itself. There is a small curved attachment which is included as standard. I've demonstrated this in the image below:
Comparison of Basic Specifications
| Specification | Dupray Neat | McCulloch MC1385 |
| --- | --- | --- |
| Dimensions | 10.5 x 10.5 x 9.5 inches  | 13.1 x 13.35 x 19.05 inches  |
| Water Tank Capacity | 40 ounces | 64 ounces |
| Power | 1500 watts | 1500 watts |
| Heat Up Time | 8 minutes + | 12 minutes + |
| Cool Down Time for Refilling | 20 minutes | |
| Pressure Gauge | No | Yes |
| Max PSI | 50 PSI | 58 PSI |
| Cleaning Time | 50 minutes | 90-120 minutes |
| Variable Steam Pressure | No | Yes |
| Boiler Temperature | 275⁰F | 212⁰F |
| Accessories | 17 | 23 |
| Warranty | 2 years (lifetime on boiler) | 2 years |
Descaling and Maintenance
If using tap water in your steam cleaner, you will need to regularly descale it using a solution of 50% water and 50% white vinegar.
Dupray recommend descaling the Neat steam cleaner after every 40 hours of use. If you used the steam cleaner for 4 hours per week that would be approximately every 10 weeks you would need to descale the boiler.
Comparatively, McCulloch recommend descaling the MC1385 steam cleaner once a month, also using a solution of vinegar and water.
You will need to set aside around 1 hour in total for this process, which includes 40 minutes of soaking the vinegar solution in the boiler.
Price
These machines are among the best steam cleaners for under $200. However, at the time of writing the McCulloch is slightly more expensive than the Dupray Neat.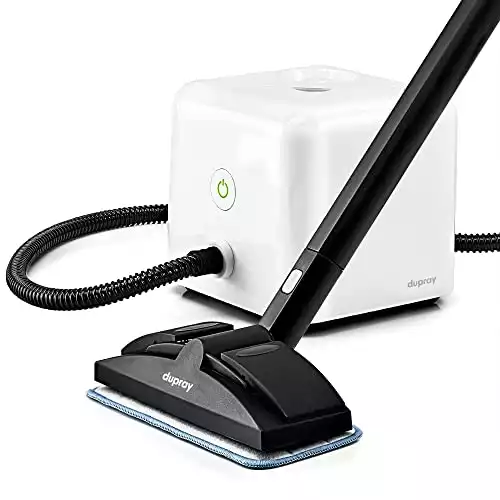 Dupray Neat Steam Cleaner
Compact yet powerful
Boiler heats to 275°F
Versatile attachments
Lifetime warranty on boiler
We earn a commission if you make a purchase, at no additional cost to you.
05/20/2023 05:41 pm GMT
Prices pulled from the Amazon Product Advertising API on:
Product prices and availability are accurate as of the date/time indicated and are subject to change. Any price and availability information displayed on [relevant Amazon Site(s), as applicable] at the time of purchase will apply to the purchase of this product.
Similarities between the Dupray Neat Steamer Vs McCulloch MC1385
Despite the differences, these two machines also have some similarities, which include; 
No chemicals
These two steam cleaners use hot water to kill harmful microorganisms without using chemicals. As a result, they are very safe for homes with kids and pets. Besides that, they are perfect for those who experience different allergic reactions due to chemicals.  
Power
You will find that both the Dupray Neat and the McCulloch 1385 have a 1500 watts heating element that heats water in the water tank. 
Type
There are different types of steam cleaners, but if you are searching for the best canister steam cleaner, you can pick any of the two, especially if you have a smaller budget.  
Affordable price
These two machines are among the best steam cleaners for those searching for cheaper but reliable alternatives. Despite their low price, they will give you exceptional cleaning performance.  
Warranty and After Sales Support
When buying a steam cleaner, even when you are on a budget, it is crucial you check the warranty. These two steamers come with a 2 years warranty. They also come from reputable brands. 
If you are in Canada, Dupray is the better choice, offering much better after sales support with a head office in Montreal. McCulloch are not supported in Canada and you will need to send the machine back to the USA for any repairs under warranty, at your expense.
If you are in the UK, both Dupray and McCulloch are supported. Dupray is not available in Australia at the time of writing, whereas, selected models of the McCulloch steamers are. This includes the MC1385 steam cleaner.
Frequently Asked Questions
Here are the most asked questions about the Dupray Neat Steam Cleaner and the McCulloch MC1385.
Where is Dupray Neat made?
Dupray advise that all of their accessories are made in Italy, however, do not publicly disclose either via their website or user manual where the Dupray Neat steam cleaner is manufactured.
Where are McCulloch Steam Cleaners Manufactured?
McCulloch steam cleaners are manufactured in China.
Can You Put Vinegar in a McCulloch Steamer?
For steam cleaning, you need tap water only in the McCulloch steamer. For descaling mineral build up from tap water, use a solution of 50% vinegar mixed with 50% water and let sit in the boiler for up to 40 minutes. Empty the boiler and rinse well. Refill with clean tap water after this for steam cleaning. It is not necessary to run the steamer with vinegar inside.
How Much Water Does a Dupray Steam Cleaner Need?
The Dupray Neat steam cleaner holds a maximum of 40 ounces of water. You can use tap water, but using demineralized water will prevent mineral build up caused by tap water and prolong the life of the steam cleaner.
Dupray vs McCulloch – Which One is Best?
Choosing between Dupray Neat and McCulloch 1385 can be very challenging since the two machines have very similar features.
If you are looking for a low maintenance steam cleaner, with a higher than standard boiler temperature, for mostly indoor use, the Dupray Neat is an excellent choice.
If you are looking for a rugged steam cleaner than can be used outdoors for longer periods of time, the McCulloch is the better choice.
If you are on the fence, read our individual reviews of each steam cleaner for more information:
Both models are extremely popular steam cleaners. I really like that Dupray offer a lifetime warranty on the boiler tank. The added accessories and lower cost of replacement accessories are pros of the McCulloch steam cleaner. There really is no clear winner when it comes to comparing the McCulloch vs Dupray. It will come down to personal preference based on your individual needs. I hope that I've helped you choose between the two in this comparison guide.