Dupray Home Steam Cleaner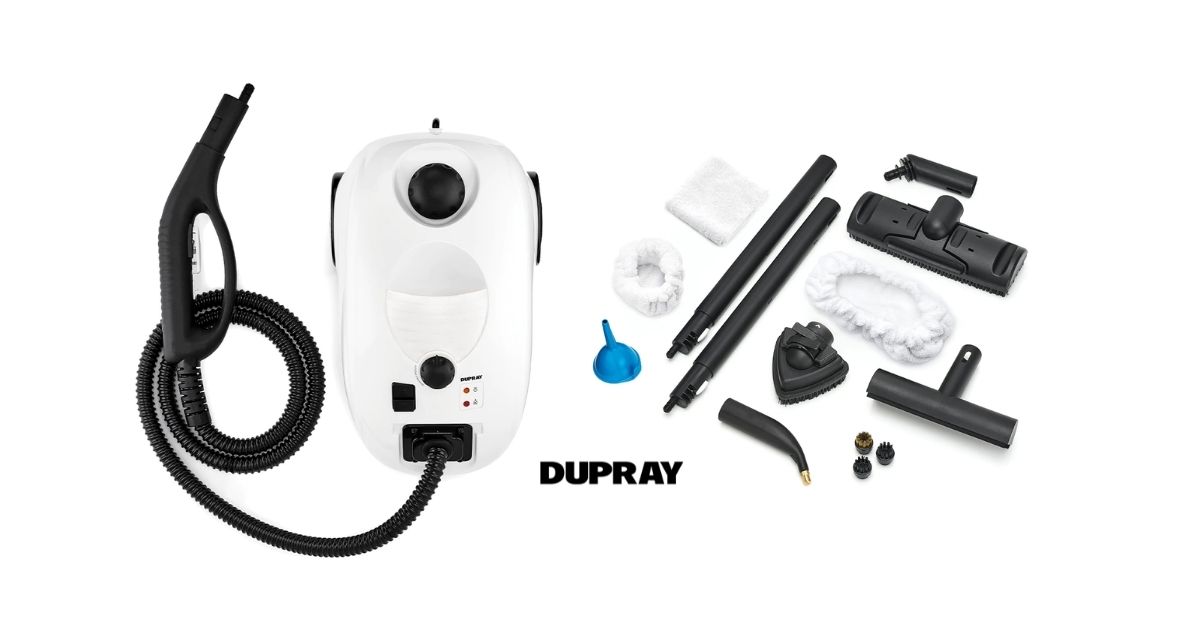 The Dupray Home Steam Cleaner is among the best canister steam cleaners that will give you great value for your money. It is designed for those searching for a versatile, sleek, and efficient canister steam cleaner backed by a reputable brand.
It is packed with excellent features to make your work easier when cleaning, without being over complicated. Like other Dupray models, the Dupray Home Steam Cleaner uses superheated low-moisture steam to clean grime, debris, stains, viruses, bacteria, germs, grease, and other forms of dirt. Our Dupray Home Steam Cleaner Review will take you through how it works. 
| Dupray Home Steam Cleaner | Specifications |
| --- | --- |
| Heating Time | 8 minutes |
| Run Time | Up to 50 minutes |
| Power | 1200-1450 watts |
| Steam Pressure | 3.2bar / 46PSI |
| Adjustable Steam Control | Yes |
| Tap Water Friendly | Yes – with regular descaling |
| Water Capacity | Up to 34 fluid ounces |
| Body Material | Plastic |
| Boiler Type | Stainless Steel |
| Weight (without water) | 9.26lbs (4.2kg) |
| Dimensions | 10 inches x 10 inches x 16 inches |
| Accessories | 14 (including basic tools) |
What makes the Dupray Home Steam a Good Buy? 
Dupray Home Steam Cleaner comes with many outstanding features to ensure that you will enjoy your cleaning. Some of these features include; 
Adjustable steam control 
One of the significant benefits of using this machine is that it allows you to control the steam. Adjust the steam settings with one simple dial control to choose the amount of steam you want to use. Choose from low steam settings (best for delicate flooring such as laminate) to the high steam setting for tackling baked-on grease on the grill. You'll find you rarely need to use the high steam setting, the low and medium is generally sufficient.
Performance  
When it comes to performance, this machine is among the best steam cleaners on the market. It reaches high temperatures of up to 293⁰F/125⁰C, enabling it to remove up to 99.9% of bacteria, bedbugs, dust mites, viruses, mold, germs, etc. As a result, you can use it to disinfect even the dirtiest areas in your home.  
Turn on the machine as you are tidying your home, and by the time you are ready to start cleaning, the water in the tank will be hot. Taking around 8 minutes to heat up, you can then clean for 40-50 minutes on one full water tank. Again, it uses just ordinary tap water without chemicals. 
Design 
The Dupray Home Steam Cleaner has a compact design that is easy to use. It is equipped with intuitive controls plus advanced technological features to enhance performance. It is lightweight, weighing less than 10lbs. or 4.2 kg without water. The unit is made and hand-assembled in Europe, with quality and durability at the forefront of Dupray's standards.
Environmentally Friendly 
Another reason why you may need this machine is that it doesn't use chemicals. Instead, it uses tap water. If you have young children who are constantly on the floor or pets in your home, you don't need to worry about any chemical residue being left behind. 
This also means that it is very friendly to the environment.  
Boiler 
The boiler is among the most important parts of a steam cleaner because it heats water and creates pressurized steam in the tank. It should be durable and sturdy enough to withstand high temperatures. In this regard, the boiler that comes with this steam cleaner is made of stainless steel to enhance durability and offer excellent heat retention.  
Dupray offers a lifetime warranty on the boiler tank with the Home steam cleaner. 
This cleaning machine produces excellent steam with just 5% of water content. The steam is pressurized more than 4 times the atmospheric pressure to make cleaning work easier. 
Automatic Shut-off 
To enhance safety, the Dupray Home Steam Cleaner is equipped with an inbuilt thermal sensor that detects when the unit is running low on water. This function shuts the heating element off and turns on the low water indicator. This protects your machine from potential electrical failures from the heating element running dry. Besides that, it comes with 3 levels of safety which include the childproof safety lock, low water light, and the automatic shut off. 
Steam Hose and Power Cord  
The unit comes with a 5 feet and 7 inches steam hose featuring a steam release trigger for easier use. Besides that, it has a childproof safety lock to prevent kids from playing with the unit. The electric cord is 7 feet and 5 inches – not particularly long. You may need to move power outlets frequently or use an extension lead. 
Warranty 
When buying a steam cleaner, you can quickly determine its quality by checking the warranty. The Dupray Home steam cleaner comes with a 3-year warranty, unlike other steam cleaners. This canister steamer is built to last with a lifetime warranty on the stainless steel boiler. 
Ability to clean hard to reach areas 
One of the main challenges you are likely to experience with many steam mops is difficulty cleaning some areas. However, the Dupray Home cleaner comes with many attachments that allow you to remove grime or dirt in all areas, including the inaccessible parts.  
14 Accessories 
To enhance versatility, this steam cleaner comes with 14 heavy-duty accessories. These accessories are connected with the unit to remove stains, dust, germs, grease, viruses, grime, and any other form of dirt. The accessories are:
The rectangular floor tool (12 inches/ 30 cm wide) is excellent for cleaning floors or large surfaces. You can use it with ordinary microfiber cloths or use the included steam bonnet. You can use this on floors, walls, and carpet.
Triangular tool – To get into hard-to-reach places, corners, or clean smaller surface areas. This is an incredibly versatile tool that can be used with the included steam bonnet and without. 
Refill funnel – This one helps you to refill water without spilling.  
Microfiber bonnet: You can use this small microfiber cover with the triangular tool to concentrate the steam when cleaning. It is excellent for upholstery cleaning as well.
2 Extension tubes – These 20 inches/50 cm extension tubes allow you to extend your reach even without losing the steam pressure. 
2 small nylon brushes – Useful for deep cleaning around taps, drains, sinks, grout lines, and anything that needs a bit of a scrub. 
A small brass brush is handy for more challenging grout, oven, and grill cleaning.  
Window tool (9cm/23 cm wide) – The widow tool will be beneficial when cleaning windows or mirrors for a streak-free shine. 
Connector – With this tool, you can easily connect the accessories to the hose and extension tubes.  
Lance – You can use the lance for cleaning applications where precision and intensity are required. You can also use it with a small brush for scrubbing.  
How to Use the Dupray Home Steam Cleaner
This short video will step you through everything that comes in the box, and how to get started using the home steam cleaner.
The Dupray Home Steam Cleaner can be used for a wide variety of cleaning tasks such as:
Floors 
Cleaning floors is among the most tiresome activities, especially when cleaning many rooms or big houses. However, with the Dupray Home Cleaner DU050, you can remove even the most stubborn debris and dirt without any problem. You can use it together with ordinary soft cloths (such as old cloth nappies, hand towels, or cut-down bath towels) or the included microfiber bonnet. The machine is highly effective in deep cleaning grout lines. 
Upholstery 
When searching for a quality steam cleaner that you can use to clean delicate upholstery, chairs, or furniture, the Dupray Home steam cleaner is an excellent choice. You can also steam your mattress, eliminate bed bugs and other pests, and kill germs on pet bedding.
 Bathrooms and Toilets 
The Dupray Home Steam Cleaner is also effective in disinfecting toilets or cleaning showers. You can also use it to remove mineral deposits and soap scum without the need for harsh, smelly chemicals. The included window squeegee is excellent on shower screens.
Home Appliances 
Most home appliances like those used in the kitchen are very delicate. This means that cleaning them is not always easy. However, the Dupray Home Steam Cleaner DU050 allows you to sanitize or degrease sinks, countertops, ovens, BBQs, fridges, and many more. 
Pros
Lightweight and portable 
It comes with 14 accessories  
Adjustable steam pressure with only 5% moisture content
Stainless steel boiler  with lifetime warranty
Childproof safety lock 
Quality, reputable brand
Cons
Not possible to see the amount of water remaining, although the alarm and auto shut off is helpful

Short power cord, which wraps around the base (not the best design)
No storage for hose and handle
Dupray Home Steam Cleaner Vs Neat 
The Dupray Neat and the Dupray Home Steam Cleaners have similar features. Many people find it difficult to differentiate the two. However, the Dupray Neat Steam Cleaner heats up to 275⁰F while the Dupray Home heats up to 293⁰F. Both are very effective in killing microorganisms and germs. 
When it comes to the number of accessories, the Dupray Neat comes with 17 accessories. In comparison, the Dupray Home comes with 14 accessories. The Dupray Neat comes with a 2 years warranty, while the Dupray Home has a 3 years warranty. 
The Dupray Neat has an aluminum boiler tank, the Home has an upgraded stainless steel boiler. Both offer lifetime warranties on the boiler tank. 
I would buy the Dupray Home over the Dupray Neat because of the hotter, drier steam. With only 5% moisture content, the Dupray Home offers drier, vapor steam cleaning compared to the basic Neat model.
Prices pulled from the Amazon Product Advertising API on:
Product prices and availability are accurate as of the date/time indicated and are subject to change. Any price and availability information displayed on [relevant Amazon Site(s), as applicable] at the time of purchase will apply to the purchase of this product.
Frequently Asked Questions 
Here are the most asked questions about the Dupray brand and the Dupray Home steam cleaner (and their answers):
Where is the Dupray steamer made? 
The Dupray Home steam cleaner is made in Europe using top-quality materials. As a result, they are more reliable than some of their competitors. Keeping in mind the Dupray Home model is the bottom of the line from their canister steamer range (before the Neat was introduced). It offers a good balance of quality vs affordability.
Is Dupray a good brand? 
When it comes to the production of top-quality steam cleaners, Dupray is undoubtedly one of the best brands. Their products come with impressive features which enable them to provide excellent performance. The Home steam cleaner is affordable, easy to use, and durable.  
How Hot Does the Dupray Home Steamer get? 
Unlike many steam cleaners, the Dupray Home Steam Cleaner provides super-hot steam up to 293⁰F/125⁰C. Due to this, it can kill up to 99.9% of harmful microorganisms such as viruses, bacteria, bedbugs, dust mites, germs, etc. 
How long does the Dupray Home take to heat up? 
When using this machine, you don't need to wait for long to start cleaning because it heats up within 8 minutes.  
Can I use this machine like a regular vacuum? 
The Dupray Home steam cleaner does not have any vacuum functions. For a steamer with vacuum function, take a look at the Dupray Carmen Super Inox or Vapor Clean Desiderio.
Conclusion
 If you are searching for the best home steam cleaner that can sanitize, disinfect, deodorize or degrease surfaces, the Dupray Home Steam Cleaner will be an excellent choice. The 14 pieces included making it ideal for cleaning floors, furniture, windows, car interior, bathrooms, toilets, mattresses, home appliances and more. Without a doubt, the Dupray Home steam cleaner is among the rare steam cleaners that are worth your money, but also won't cost you an arm and a leg to buy.