Best Garment Steamer for Jeans [+ My Jeans Steamed]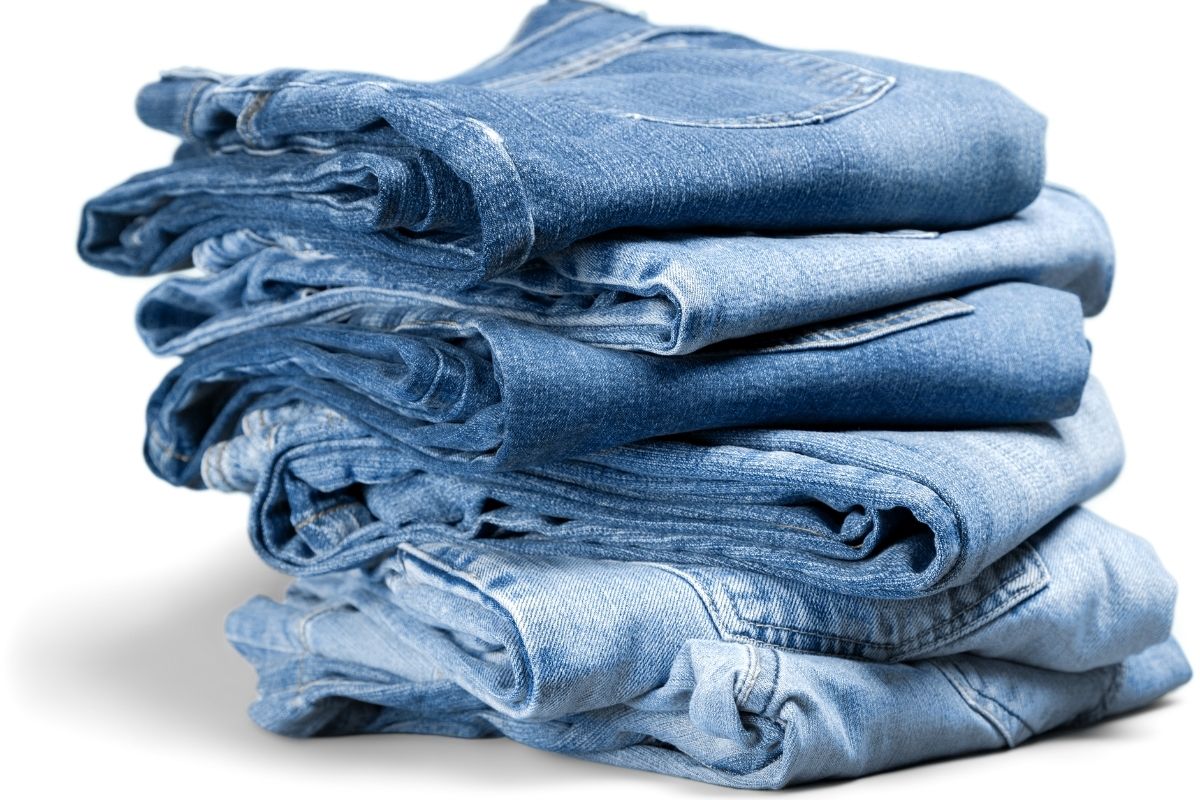 We've all been there – you want to wear your favorite jeans but they've been stuck at the bottom of your washing basket. One word to describe them? Crushed.
You grab your garment steamer but wonder, 'will this work on jeans?' And the answer really depends on two factors – how thick your jeans are and how powerful your garment steamer is.
How well a garment steamer will work on jeans will depend on both the thickness of the denim and the power of the steamer itself. It is helpful to use a backing board or ironing board to lay your jeans flat on when steaming to help remove tough wrinkles. Alternatively, hang them against your door, or flat on your bed or a hard surface covered with a towel.
If you lay your jeans flat on an ironing board or bed, make sure your garment steamer can be used in a horizontal and vertical position. I generally only recommend steamers that can be used both ways.
Can You Use a Steamer on Jeans?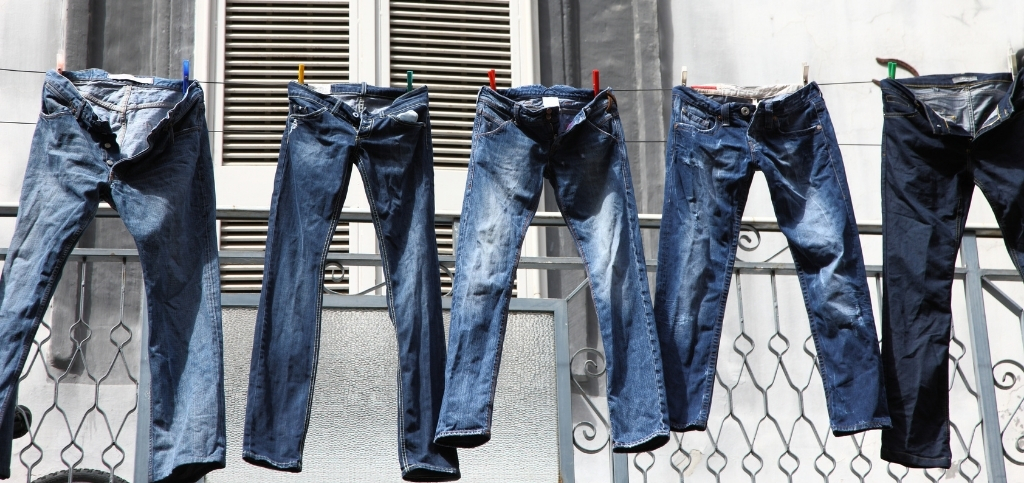 You can use a steamer on jeans, and most modern clothing steamers will work well. I tested this out myself by steaming one leg of my jeans, and ironing the other. You can see the results in the images below.
There are a two factors that I look for when considering a garment steamer for jeans and denim clothing. They are:
Power/Wattage – A lower powered garment steamer won't produce enough steam to remove wrinkles from jeans effectively. I recommend choosing a garment steamer that is at least 1500 watts.
Steam Output – This is the volume of steam that is produced by the garment steamer and measured in grams per minute.
Should Jeans Be Ironed?
Choosing to iron your jeans or not is personal preference. It also depends on the type of denim jeans you have. In 2021, a lot of the jeans are stretch fabrics – a combination of cotton and elastane, that comfortably hug your curves.
If you are a fan of bootleg jeans, or jeans with a more relaxed fit, you may find that you need to either iron or steam the jeans, at least from the knee down.
Whilst starched jeans with front creases went out of style a long time ago, wearing obviously wrinkled jeans isn't always the best look either.
Using a Steamer vs Iron for Jeans
These jeans are quite thick and had been dried on the clothes line. They're not stretch denim. They clearly needed either steaming or ironing! Take a look below: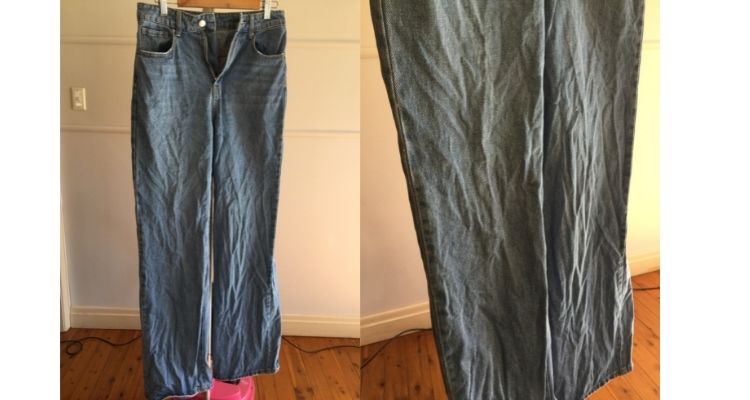 I started by using my handheld steamer on one leg of the jeans. My handheld steamer is a 1500 watt steamer, that outputs steam at 22 grams per minute, nothing fancy! I found better results by using a steaming mitt on my left hand to hold the back of the jeans, whilst pressing the handheld steamer on the front side of the jeans. Here is the result: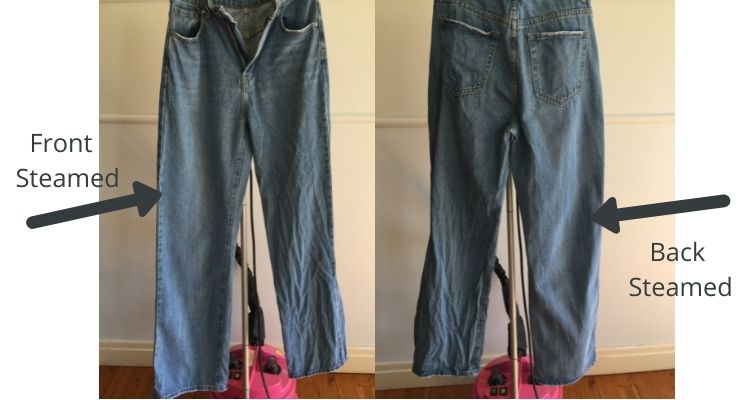 For comparison, I have ironed the other leg. Here's how they turned out:
Can you tell the difference? Looking closely, yes. The iron did a better job. I put that down to the weight of the iron and the horizontal pressure whilst ironing, versus the vertical steaming. So, I decided to lay the jeans flat on the table and use the clothing steamer to go over them again.
The final result is pictured below. Overall, the iron was a little more precise on the hems and sides of the jeans. Would that stop me from steaming my jeans in the future? No way. I love the convenience of a handheld steamer that heats up in 45 seconds. If you had a hook on the back of your door, or a steamer door pad you wouldn't need to lay the jeans flat.
Best Garment Steamers for Jeans
Here are my top choices for powerful clothing steamers for jeans.
Simbr Heavy Duty Garment Steamer
The Simbr clothing steamer is a newer steamer to the market, released in 2020. This is a full size standing steamer with a steamer head that looks like a mini iron.
The Simbr garment steamer operates at 1500 watts, producing steam at 45 grams per minute on the highest setting. 45 grams per minute is a very high output of steam. This makes the Simbr steamer an excellent choice for jeans and denim clothing.
Speaking of settings, there are 4 different steam settings on this machine. This makes the Simbr garment steamer a versatile steamer for all types of clothing and home use.
Simbr offer a 2 year warranty on this clothing steamer. Click here to read a full in depth review of the Simbr Steamer.
Rowenta DR8120 Handheld Steamer
Prices pulled from the Amazon Product Advertising API on:
Product prices and availability are accurate as of the date/time indicated and are subject to change. Any price and availability information displayed on [relevant Amazon Site(s), as applicable] at the time of purchase will apply to the purchase of this product.
Rowenta are one of the leading brands of clothing steamers and the DR8120 X-Cel handheld garment steamer doesn't disappoint.
Heating up in 40 seconds, the Rowenta X-Cel Handheld Steamer outputs steam at 26 grams per minute on the turbo setting. This is a suitable choice for getting the wrinkles out of your denim jeans.
There is also a lower steam setting, making the Rowenta DR8120 X-Cel great for more delicate items as well. Read the full review of the Rowenta DR8120 here.
Budget Handheld Steamer
This is a budget handheld steamer worth taking a look at. I haven't tried this one myself yet, but it's certainly ticking all the boxes of what I'd expect from a handheld garment steamer, and certainly one that I would buy.
With two steam settings, this handheld steamer outputs steam between 25 and 35 grams per minute. The higher setting would produce more steam, making it a great choice for steaming jeans.
It is backed by 1800 watts of power to produce the high steam volumes, and is priced under $40 (at the time of writing).
There's nothing about this steamer I don't like so far. Once I can get my hands on one I'll write a complete review – but Amazon users are currently giving it 4.8 stars out of 5. I can't see any reason not to agree.
Conair Extreme Steam Turbo Handheld Steamer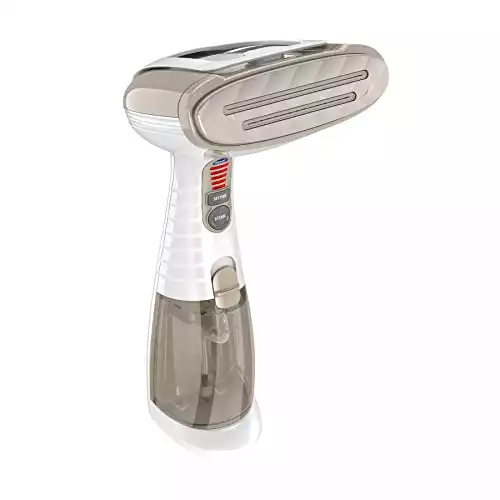 Conair Turbo Extreme Steam 1875 Watt - 2019 Model
5 steam settings
40 second heat up
15 minute steam time
3 in 1 attachment for delicate fabrics, and a built in pants press
We earn a commission if you make a purchase, at no additional cost to you.
05/20/2023 11:13 pm GMT
The Conair Extreme Steam handheld steamer has appeared numerous times on Best Garment Steamers and with good reason. This handheld steamer is backed by 1875 watts of power and has 5 steam settings.
The Conair steamer heats up quickly, comes with attachments including a built in pants press. I recommend choosing the champagne color that has the two openings in the steam head.