Simbr Heavy Duty Garment Steamer Review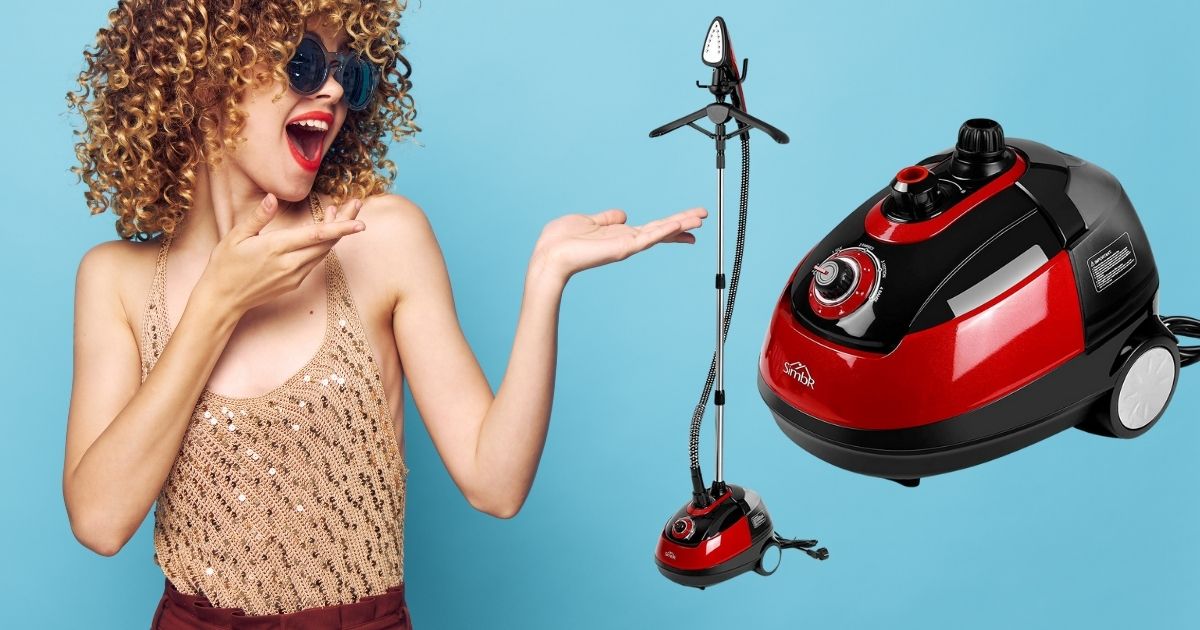 Unfortunately the Simbry Heavy Duty Garment Steamer is out of stock. Take a look at these steamers instead.
The SIMBR heavy duty garment steamer is a full sized clothing steamer with excellent steam output and 2 year warranty. I first added this steamer to my list of best clothing steamers for jeans because of the 45 grams of steam this steamer shoots out on the highest setting.
Combine that with the built in hanger, adjustable height, long power cord and added attachments, you've got yourself a great full sized steamer that's competitively priced and represents good value for money.
Here's what I like the most about the Simbr Garment Steamer:
Large Crease Tool for Perfect Creasing
I've continued to be impressed by the Simbr steamer, mostly because of the design of the steamer head. As much as I dislike ironing, I really like that the head of the steamer is shaped like a mini iron. The pointed shape of the steamer head allows you to get in between buttons, into pockets and under collars with ease.
Combine that with the added crease tool that clips on, it makes it so easy to add creases to sleeves, collars and trouser legs. Here's a visual of how that works: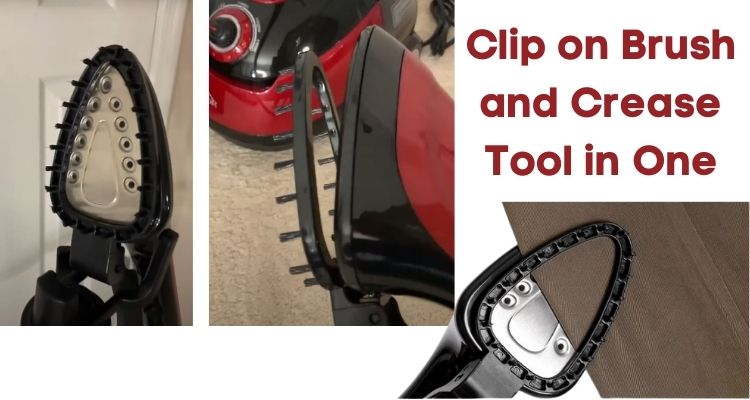 What you don't see in the images is the quite long handle that you squeeze to open and close the crease tool. Unlike the Conair handheld steamer (which has a built in crease tool), you don't need to put your hands anywhere near the steam to open or close the tool. It is as large as the steamer head and spring loaded, so it will snap back together and crease your clothing nicely.
Multiple Steam Settings
On the front of the Simbr clothes steamer you will find a dial with 5 settings. They are OFF and:
Silk (the lowest steam setting)
Fabrics (I'm assuming general lightweight fabrics here)
Cotton
Ramie (a fibrous grass linen native to Eastern Asia – and the highest steam setting)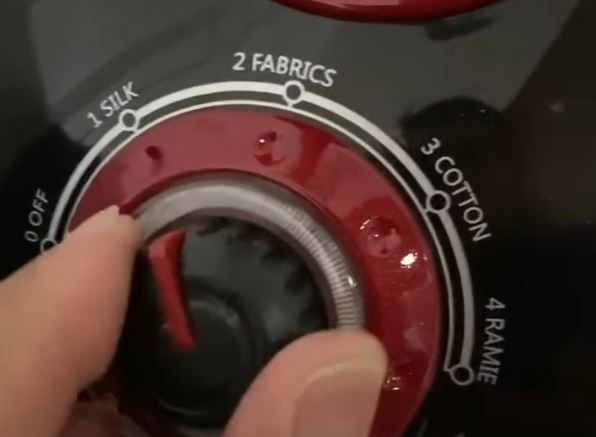 he ability to adjust the steam setting is very helpful, particularly when you have a variety of fabrics in your wardrobe. The turn style dial on the front makes it easy to adjust the settings, simply by turning clockwise or anti-clockwise.
High Steam Output
Simbr boast that this clothing steamer will output steam at 45 grams per minute. This is impressive, and is mostly due to the design of the steamer head, with 11 holes to push out the steam. Most standard full size garment steamers have around 6-8 holes in the steamer head.
This means that the Simbr steamer releases more steam at once with the larger iron shaped sole plate. You'll cover a larger area with the bigger steam head, and steam your clothes faster.
High Temperature Steam
In comparison to other full sized steamers, the Simbr steamer heats up hotter than others. I took a look at other 1500 watt clothing steamers on the market, here's how they compare:
| Steamer | Temperature |
| --- | --- |
| Simbr Heavy Duty Garment Steamer | 275℉ |
| Fumorclu Full Size Garment Steamer | 208℉ |
| PurSteam Garment Steamer | 248℉ |
| Pure Enrichment PureSteam Pro | 208℉ |
The Simbr steamer isn't the hottest steamer on the market. There are other full sized steamers which heat to 302 degrees Fahrenheit. But when comparing Simbr to brands such as PurSteam and Pure Enrichment, 275℉ temperature is significantly hotter.
Fast Heat Time and Large Water Tank
As the Simbr steamer doesn't heat all the water at once, the machine will start steaming within 30 to 45 seconds. The 91 ounce water tank ensures you can steam a whole load of laundry without needing to refill, lasting up to 75 minutes. If you are steaming on lower settings, the water should last even longer.
Wheels for Portability
With two back wheels and one smaller rotating front castor style wheel, the Simbr clothing steamer is easily moved from laundry to bedroom, especially if you have hard floors. Manouvering on plush carpets will be more difficult, but not impossible.
Are There Any Pitfalls to the Simbr Garment Steamer?
Depsite being an impressive steamer overall, there are a couple of pitfalls in my opinion. The single telescopic rod is one. When using at full height (5.25 feet) it is common to become a little wobbly, particularly with heavier items. This is not specific to the Simbr clothes steamer, most single telescopic rod clothing steamers have this problem.
The steamer hose is a little short. At 4.6 feet, the steamer hose could be longer. Compare this to the 7.5 feet hose that is standard on the Jiffy Drapery Steamer, or the 5.5 foot hose that comes standard on other Jiffy steamers. When comparing other brands, Salav also have a 4.6 foot steam hose, as do Rowenta, PurSteam and Pure Enrichment.
In a nutshell, the two complaints I have about the Simbr Clothing Steamer and generally standard across most full sized steamers.
Where to Buy the Simbr Heavy Duty Clothes Steamer
Amazon is the official sales channel for the Simbr Steamer. Click here to check the latest price or buy.
The Simbr steamer comes with a 2 year warranty. You can also add on 3 and 4 year protection plans for under $15. Despite being a Chinese made steamer, the Simbr steamer complies with safety certification. Most Amazon customers are speaking highly of the Simbr steamer and I'd have to agree.