Why Rowenta Xcel Steam DR8120 is Still a Good Buy in 2023
Rowenta are a leading brand in clothes steamers and now offer 5 different handheld steamers. In this post, I'm looking at the Rowenta Xcel Steam DR8120, which in 2022, was superceded with the DR8220. In comparison to the other Rowenta handheld steamers, the DR8120 offers:
1600 watts of power
26 grams per minute steam output
Standby mode
Excellent attachments
Combine these features and this makes the DR8120 the 2nd best handheld steamer that Rowenta have offered to date (the DR8220 is now higher powered with slightly more steam output). Let's take a closer look: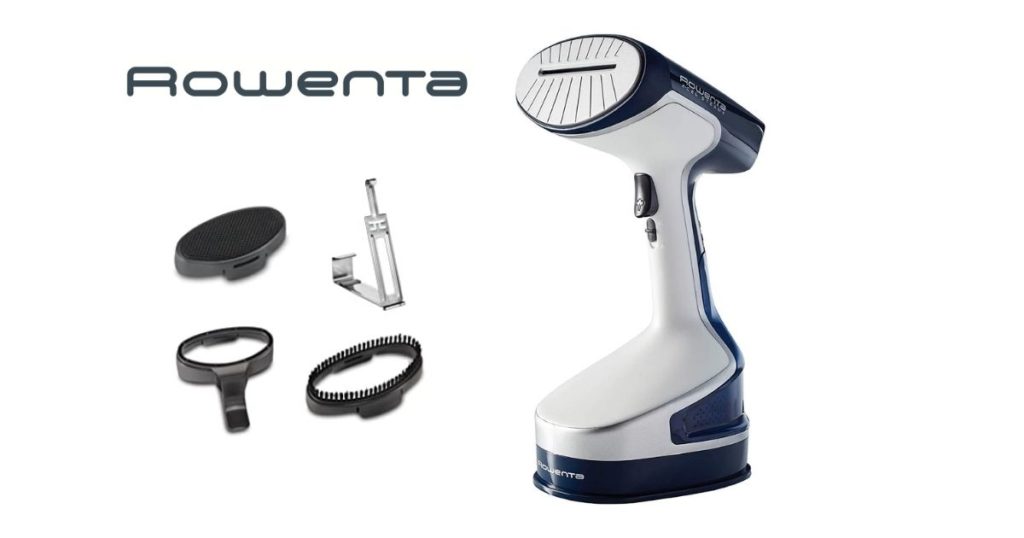 The Rowenta Xcel Steam Plus
The Rowenta DR8120 handheld steamer is an impressive looking navy blue and silver unit. I really like the design with the large head and large base to even out weight distribution. The base gives you a larger flatter surface keep the steamer upright when you place it down on the bench or table.
If you have read any of my other clothes steamer reviews, I generally recommend buying a clothes steamer that has at least 1500 watts of power. This is to maximise steam output and performance of the steamer.
The Rowenta Xcel Steam Plus has 1600 watts of power, and outputs steam at 26 grams per minute.
Stand By Mode
After 8 minutes without use, the Rowenta DR8120 steamer will go in to "standby mode". This is handy if you're driving to work and wondering if you've forgotten to switch off your clothing steamer!
You will know your Rowenta handheld steamer is in standby mode if the on/off button is flashing. If you would like to begin steaming again, press the on/off button again. The light should stop flashing and the steamer will be in power mode again.
If you want to switch off the Rowenta steamer, press and hold the power button for 3 seconds.
Rowenta Steamer Accessories
There are 4 included accessories with the DR8120. They are: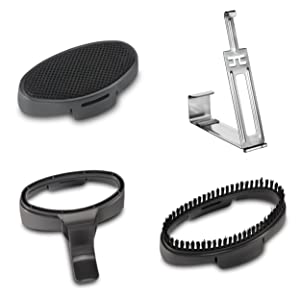 Fabric brush – to open the fibers in the fabric for easier steaming.
Mesh Steam Cover – this diffuses the steam, protects your fabric from any impurities in the water (if using tap water) and may help to catch any drips from the steamer.
Crease Attachment – the crease attachment helps to pull fabric tight and make trouser creases or shirt sleeve creases.
Over the door hook – a fold out hook that fits over the top of your door to hang your coat hanger on.
I really like clothing steamers that come with accessories. The fabric brush has to be my absolute favorite tool. Take a look at this post to see how my dry clean only coat came up using a fabric brush.
The downside to multiple accessories that clip onto your handheld steamer is you need to let your steamer cool down before changing these. Rowenta recommend leaving your steamer for 1 hour before removing or changing accessories.
Rowenta DR8120 Cord Length
The power cord on the DR8120 is 3 meters long, which is around 9.5 feet. This is one of the reasons why this steamer made my list of best steamers for curtains.
There is nothing more frustrating than having to find an extension lead, or steam right near a power point (dangerous) because the cord on your steamer isn't long enough.
Water Tank Capacity
The Rowenta Xcel steamer holds 6.4 ounces of water. This isn't a huge amount, but any more than this and I think it would make the steamer too heavy in your hand. The steamer should run for around 10 minutes before needing refilling.
Be mindful that if you use the steamer on the highest steam setting it will use the water faster, meaning you will have to refill it more often.
Can You Use Tap Water in Rowenta Steamers?
I really only have one complaint; and it's not about the DR8120 handheld steamer, it's about Rowenta themselves. Rowenta advertise that you can use tap water in their steamers.
What Rowenta don't tell you upfront, is that if you use tap water in your steamer you will need to regularly descale the steamer. Over time, limescale will build up from tap water and affect the output of steam, cause spitting of water from your steamer and will shorten the life of your machine.
I think this is really misleading. Please be mindful up front that if you choose to use tap water in your clothing steamer you will need to descale the steamer. How often you need to descale, will depend on how often you use the steamer, and how hard the water is in your area.
My firm recommendation is to always use distilled water in your steamer. If you cannot get distilled water, choose demineralized water instead.
Here is the official statement from Rowenta:
Your appliance has been designed to use tap water. If your water is very hard, mix 50% tap water and 50% bottled demineralised water. Never use water containing additives (starch, perfume, aromatic substances, softeners, etc.), or condensation water (for example water from tumble dryers, water from refrigerators, water from air conditioning units, rainwater). This water contains organic waste materials or minerals that concentrate under the effect of heat and cause spitting, brown colouring or premature ageing of your appliance

Rowenta User Manual
Rowenta DR8180 vs Rowenta DR8120
One of the common misconceptions with handheld garment steamers is that they are cordless. Most photographs you see online have the power cords removed from the images.
I'd love a cordless handheld steamer, but sadly that doesn't yet exist. I suppose this is because a battery pack of some sort would need to be attached to the steamer. This would increase the weight of the steamer and tire out your arm much faster.
Rowenta have instead come out with a new design of the DR8120 steamer – it has a larger bottom base and a retractable cord. With a different design comes a different product code – this one is now the DR8180.
I'll keep this short – Rowenta steamer with the retractable cord is identical in every other way to the DR8120 steamer. The retractable cord is the only difference.
Rowenta DR8080 vs Rowenta DR8120
The Rowenta DR8080 handheld steamer and the DR8120 steamer are two very similar looking steamers. Looking at the image above, you could be forgiven for thinking that they were the same steamer at first glance.
There is a slight design change in the ceramic coated sole plate, positioning of the colors and the steam button. There are the differences in the specifications:
| | |
| --- | --- |
| Rowenta DR8080 | Rowenta DR8120 |
| Wattage: 1500 watts | Wattage: 1600 watts |
| Steam Output: 22 grams per/min | Steam Output: 26 grams per/min |
| Heat Up Time: 45 seconds | Heat Up Time: 40 seconds |
| Water Tank: 6 ounces | Water Tank: 6.4 ounces |
| Accessories: 3 included | Accessories: 4 included |
The 1500 watts of the Rowenta DR8080 is still a powerful handheld steamer, when you compare it to other steamers on the market that are 1200 watts and less. But if you want the best Rowenta has to offer, the DR8120 with 1600 watts of power is it.
The 100 watts of difference between the two steamers has two main benefits:
A faster heat up time, as there is more power to heat up the steamer faster
A stronger steam output. The DR8080 outputs steam at 22 grams per minute. The DR8120 outputs steam at 26 grams per minute. Please note the steam outputs quoted are running the steamer the absolute maximum setting. Using this setting all the time will also run out your water quickly.
You get one extra accessory with the DR8120 handheld steamer, an over the door hook to hang your clothes on whilst steaming.
Is the Rowenta DR8120 a Good Buy?
Yes. I would happily purchase the Rowenta DR8120 Xcel Steamer. With two steam settings it is suitable for all fabrics. The steam output is good and the included accessories are a bonus. Rowenta is a trusted brand.
Priced at around $40, the DR8120 Xcel steamer is affordable for what you are getting. If you look after your steamer well, it should last you for years to come.
The only downside I see with all Rowenta steamers they are only covered by a 1 year warranty in the USA and Canada. If you are in the UK or Australia, Rowenta will cover your steamer for 2 years.
Rowenta are also very specific that "scaling" is not included in any warranty repairs, so if you choose to use tap water in your steamer, do so at your own risk.
What are your thoughts on the Rowenta handheld steamers? Please let me know in the comments below!
New Release for 2022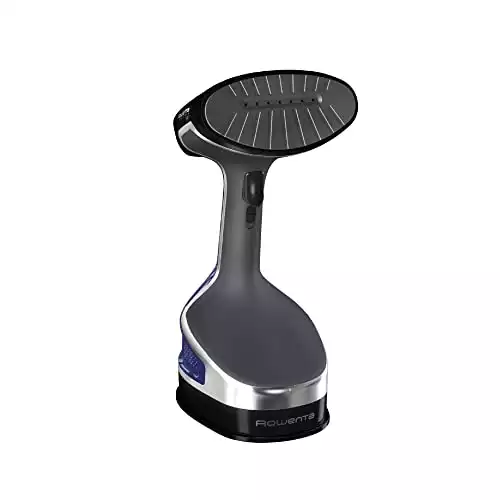 Rowenta X-Cel Steam Force
In 2022, Rowenta are giving Conair a run for their money with a newly released 1875 watt steamer, called the Rowenta X-Cel Steam Force.
Featuring 1875 watts of power with a steam output of 28 grams per minute (super turbo level) the Rowenta steamer offers excellent performance. It also has a 9.84 foot power cord, making it a great choice to reach the top of curtains.
With the Rowenta X-Cel Steam Force (model number DR8220), you get two steam levels – delicate and turbo. The delicate setting would work well for lace or chiffon curtains (or any type of sheer curtain materials) that are quite thin and would require a lower steam output and less heat to de-wrinkle.
The turbo setting would use the full 1875 watts of power and would be the better choice for heavier curtains or drapes, particularly those with thermal backing or dual layers.
The Rowenta steamer can be used in both a horizontal and vertical position, heats up in 25 seconds and holds 6.04 fluid ounces of water for a steam time around 10 minutes.
Included with the Rowenta DR8220 steamer are 3 accessories, 2 which are most beneficial for curtains. A fabric brush (which helps to loosen fibers from thicker fabrics and helps with wrinkle removal) and a steam bonnet (which is good for delicate fabrics like chiffon and lace to help diffuse the steam rather than a direct stream of steam).
A crease attachment is also included, which for curtains and drapes really isn't needed, but is handy when using this steamer for clothing.
The Rowenta steamer is available in both the USA and Canada. If you are in the UK, take a look at the Tefal DR8150 Access Steam + which is similar (Tefal is Rowenta's sister brand in the UK and Australia).
Pros:
New release for 2022

Upgraded 1875 watts of power

Trusted brand

2 steam settings

Use horizontally or vertically

Fast heat up

Includes accessories
Cons:
1600 watt and 1875 watt models are on the same listing - make sure you look for the 1875 watt model
We earn a commission if you make a purchase, at no additional cost to you.
05/22/2023 03:58 am GMT
Want to stick with the DR8120? You can find it here:
Prices pulled from the Amazon Product Advertising API on:
Product prices and availability are accurate as of the date/time indicated and are subject to change. Any price and availability information displayed on [relevant Amazon Site(s), as applicable] at the time of purchase will apply to the purchase of this product.