Samsung Airdresser vs LG Styler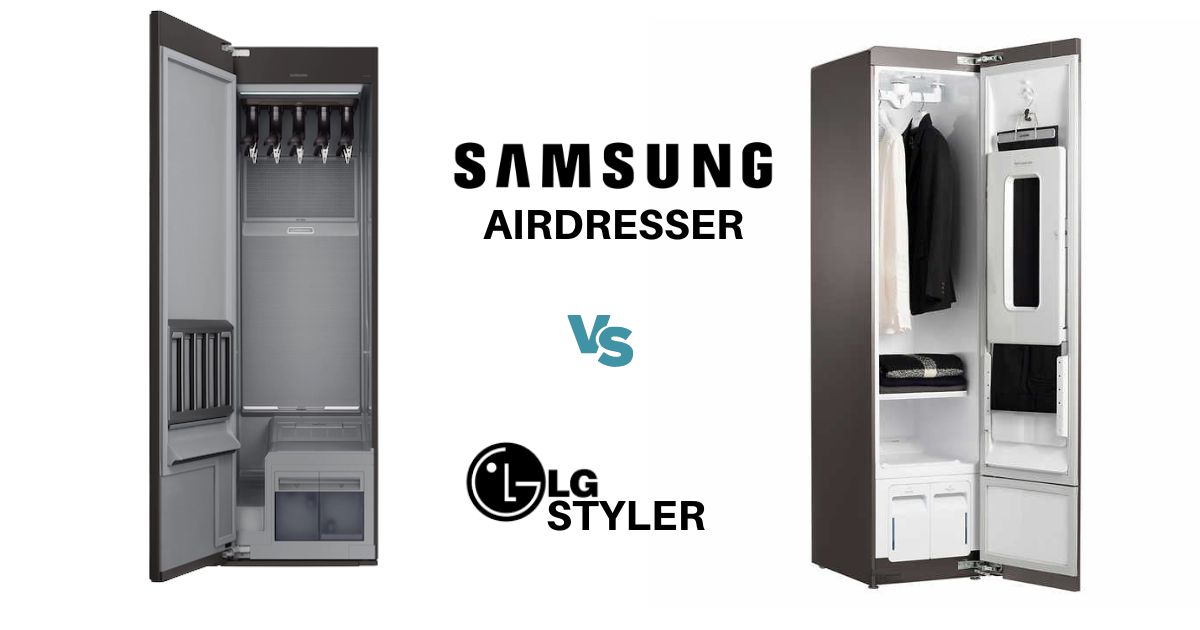 So, you've decided a steam closet would benefit your home. It now comes down to the ultimate decision, the Samsung Airdresser vs LG Styler. After all, in 2023, these are your only choices at a reasonable price.
If you're short on time and want the quick answer, my preference is the LG Styler. Read on to find out why.
As an Amazon Associate, I earn from qualifying purchases.
LG Styler Steam Closet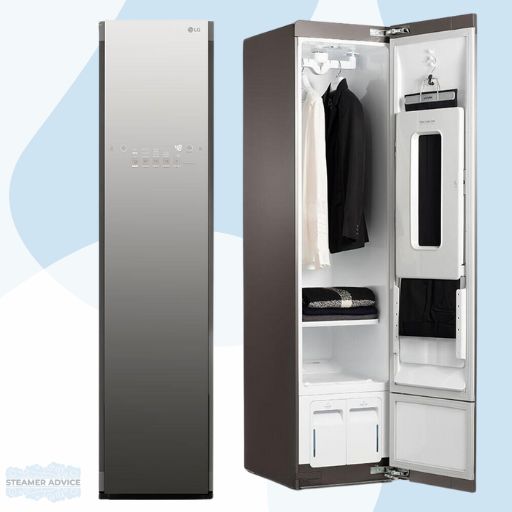 Samsung Airdresser Grand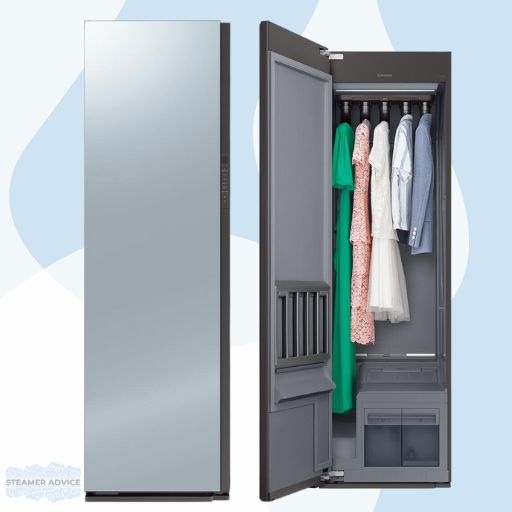 NB: Appliances Connection have some amazing deals on during July and August 2023 in their Summer Sale. If you are looking to upgrade your laundry appliances, you can buy a new washer, dryer and LG Styler together in a bundle. The savings are so good, you virtually get the LG Styler for free. Check it out below (I am an affiliate and will earn a small commission if you buy):
Samsung Grand vs LG S3MFBN Model
Just to be clear, I am comparing the latest model of the Samsung Airdresser (Grand) vs the LG Styler model number S3MFBN.
Both are mirror finish steam closets with 5 hanging spaces. I want to make sure we're comparing equivalent steam closets.
For smaller steam closets, earlier models, or the newer, larger LG Studio Styler, please refer to my individual posts:
Specification
Samsung AirDresser
LG Styler
Dimensions (approx)
24 x 78 x 25 inches
17.5 x 73 x 23 inches
Weight
231.5lbs
172lbs
Noise
39 dB
40 dB
Fill Water Capacity
1.69 liters
Drain Water Capacity
1.49 liters
Electrical Requirements
120V, 60Hz
120V, 10 Amps, 60Hz
Watts
1400w
1500w
Control via app
iOS or Android
iOS or Android
Warranty
1 year
1 year parts/labor,
10 year compressor
Similarities Between the Samsung Airdresser and LG Styler
Both steam closets are similar in functionality. You put your clothes in, they blow steam and air around, shake clothes to remove dust, fluff up and lift fibers, dry and sanitize. Both offer shelves to place items flat or things you can't hang; such as toys, backpacks, woolen items, etc.
Both steam closets don't require any built in plumbing, work with standard electrical outlets, have apps to remotely control, and a dehumidifier function. Both can fragrance clothing through the use of dryer sheets, both require filling with water, and emptying of the same.
Both offer certifications via asthma and allergy foundations. LG in the USA, Samsung in the UK and Australia.
Let's talk about the differences instead.
Differences Between the Samsung Airdresser and LG Styler
Here are the key differences between these two steam closets:
The Hangers
The Airdresser Grand has 5 individual hangers, that move independently. The LG styler has a rack with 5 hanging spaces, the whole rack moves. Here is a visual comparison of the two: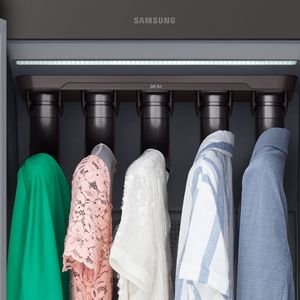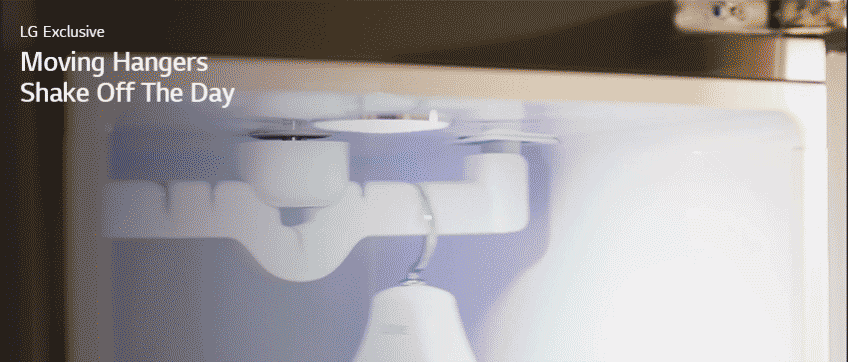 Both off the same functionality, albeit a slightly different design. One could consider that there are 5 moving parts on the Samsung that could potentially break, compared to 3 moving parts on the LG styler.
Interior Design
The Airdresser Grand offers a longer hanging space for dresses or long coats. This is an upgrade specific to the Grand model and not something LG have featured yet. You can hang garments as long as 140cm in the Airdresser Grand. You cannot however, use the shelf function with the full length hanging function.
If you took the shelf out of the LG styler, it would give you 130cm of hanging space, so not too much difference overall. Take a look at the two interior comparisons below: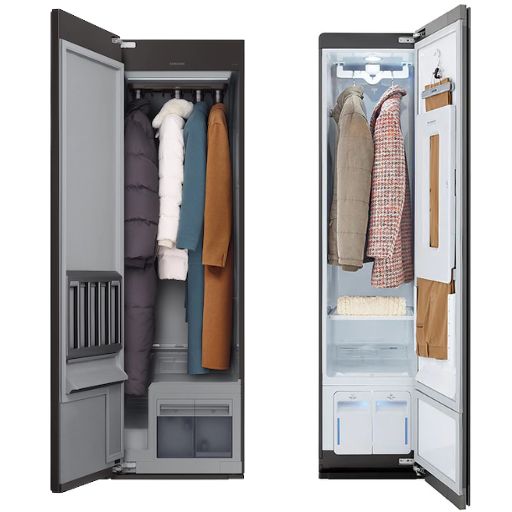 Whilst we're talking about the interior, the LG Styler has the pants press built in to the door. This is a great use of space, rather than hanging trousers, and I'm not sure why Samsung hasn't adopted something similar to this. You can buy weights to use in the Samsung than connect to the waist of the trousers to keep them straight during the cycle.
Technology
The AI powered learning is a subtle difference between the Samsung and LG styler. If you constantly use a particular cycle, the Airdresser will remember this and suggest it to you for ease of use. The Airdresser also has a self cleaning cycle, where the LG styler does not. It should be noted however, that you need to descale both machines on a regular basis to keep them working well.
Like other modern laundry appliances, there is a sensor function on the Samsung Airdresser which will continue a cycle if the clothing is still damp. It's not perfect, and Samsung themselves say you may need to run a cycle a 2nd time, particularly if you have placed multiple items in the steam closet.
No Silk, No Shoes
Got some stinky trainers that would sit perfectly on the shelf during a sanitize cycle? It's a no go for both the LG styler and the Samsung Airdresser. Both brands advise against shoes, silk clothing, anything with foam, rubber, plastics or anything that could melt.
I have a theory on the shoes however. Typical trainers have foam in the soles, which would absorb moisture, and therefore may not dry in either steam closet. So if you ran the steam closet on the sanitize cycle with your trainers, then opened the door and ran a dehumidifier cycle, would that extract any excess moisture from the shoes?
When Samsung or LG decide to send me a steam closet to try, I'll test this theory and let you know. Unless Steamer Advice miraculously makes enough money for me to buy one. At $2600-$3300 Australian dollars each, I'm firmly in the theory zone right now. Although, whilst we're having a laugh, check out this steam closet I found in Australia whilst doing some research! Now that's a price tag!
Ok, back to reality. A note on silk. If you look closely at the LG website, they do say you can put silk in the LG styler. Here's the proof:
The user manual firmly advises against silk, so please do so at your own risk. Feedback shows many people use the styler for silk with excellent results. My advice is to stick to the low heat settings (not the sanitize cycle).
Update August 2023: The official advice from LG is:
Don't put items that are sensitive to heat or are not suitable for washing with water in Styler cycles that use steam. Use the Dry cycles only.
For fur, leather and silk items, you can use the LG Styler on the Air Fresh setting – a 30 minute setting that will gently remove moisture and dust, and restore volume to fur. You need to download this special cycle, it is a new, updated cycle and does not come pre-programmed into the styler.
Frequently Asked Questions About Steam Closets
Here are the most asked questions surrounding steam closets, and their answers.
Is a Steam Closet the same as Dry Cleaning?
A steam closet is not the same as dry cleaning, however it is intended to reduce the need for frequent dry cleaning. A steam closet can help reduce or remove odors, fragrance items, sanitize clothing and dry clothing, however it won't dry clean clothes and will not remove stains.
Steam closets are best for:
Killing odor-causing bacteria or microorganisms 
Drying wet clothes 
Refreshing stored sweaters or jackets
Treating delicate fabrics using low temperatures  
Is it possible to dry clean at home? 
It is possible to dry clean at home, but some fabrics may require professional attention. Materials that are labeled as dry-clean-only can be cleaned at home. A steam closet is one of the best machines for dry cleaning since it is suitable even for the most delicate items. However, these machines cannot remove stains, dirt, or tough wrinkles.
You can also buy dry clean at home kits that work with your clothes dryer.
Airdresser vs Styler: The Final Verdict
Unless you've got some thirty thousand dollars to spend on the 'Refresh Butler' (see my link above about the other steam closet I found), you're left with choosing between the LG Styler vs Samsung Airdresser.
I'm all for functionality over style, making the LG Styler my choice over the Samsung Airdresser. The pants press in the door is simply a better design, particularly if you wear suits and blazers daily.
When you consider that you cannot use the shelf with long garments in either steam closet, you may as well have all the bottom space as you would in the LG styler, not just the one long section in the Airdresser.
You can hang more clothing in the Airdresser Grand, but upon reading up on Samsung's recommendations, one piece at a time is often recommended for the best results. LG also have their own answer to this, which is the LG Studio Styler. It has 5 hanging spaces + the pants press in the door. Albeit at a larger cost.
I also like that LG make replacement (or extra) hangers (if you look closely at the interior photo, there is space for 5 hangers), their own aroma sheets and have a better warranty than Samsung.