Should I Buy an LG Styler Steam Closet?
The LG Styler steam closet is an upmarket device to steam and sanitize dry clean only clothing, linens, hats, toys and soft furnishings from around your home. Holding 3 hanging items, plus 1 pair of pants, there is still room for toys, shoes or smaller items, making this a versatile machine to set and forget and have it do the work for you. Certified by the Asthma and Allergy Foundation of America, the LG Styler Steam Closet removes 99.9% of bacteria.
Does that alone make it a worthwhile buy? Let's take a closer look at the LG Styler steam closet and see if it's worth the price tag.
What Does LG Styler Do?
The LG Styler (also know as the LG Styler Wi Fi Enabled Steam Clothing Care System – if you want the really long name) offers the following functions:
Dries damp clothing at a low temperature, avoiding shrinkage of heat sensitive garments
Crease pants and trousers whilst removing wrinkles
Sanitize clothing
Refresh clothing in between professional dry cleaning
Shakes your clothing gently during cycles so steam can penetrate all areas
Reduces common household allergens like dust mites
Remove odors from clothing
Adds fragrance to clothing (using additional dryer sheets)
How Do I Use LG Steam Closet?
The LG steam closet looks like a slim refrigerator. It is simple to use by pressing the front touch panel of the styler, or operating via wi-fi from your phone or smart device. Here is an overview of the steam closet: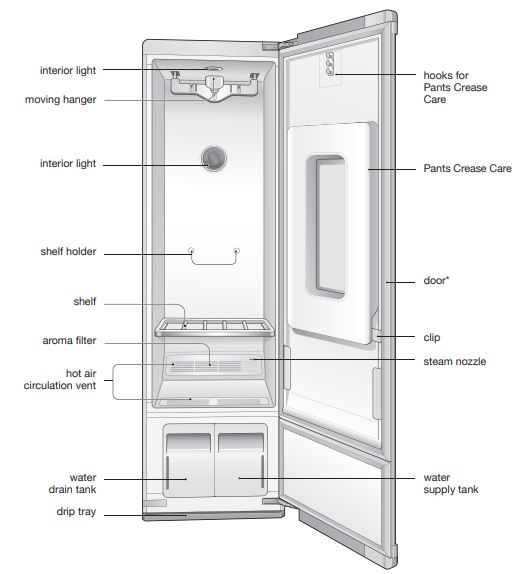 Two special designed clothes hangers and a pants hanger are included with the styler. It is important to note that you can use ordinary clothes hangers in the styler also if the hook is less than 4mm thick.
I wouldn't recommend thin wire hangers though, any hanger that is too lose will cause vibration as the machine shakes the clothing. This could potentially damage both your clothing and your styler machine.
Hang Your Clothing
You hang your clothing on the hangers inside the styler. You can hang up to 3 pieces of clothing inside. As the styler runs for a couple of hours, it is best suited to cleaning jackets, coats, blazers, dresses, skirts and pants. Anything that you wouldn't normally hang on a coat hanger can be flat dried on the shelf at the bottom. This also helps to avoid hanger marks in clothing.
You should ensure that your clothing does not touch the inside walls of the LG styler. This could cause condensation build up and damp patches on your clothing. If you have wider or bulky clothing, use it for one or two pieces of clothing at a time, rather than 3 hanging pieces. That way, you can turn the clothing on an angle and give it room to move within the styler.
As the hangers will move during cycles, button up any shirts, and fasten zippers so your clothing doesn't fall off the hangers.
There is 41 inches (105cm) of hanging space from the top of the styler to the bottom shelf. For longer items, the shelf can be removed and hung on the back wall of the styler. This then gives you up to 51 inches (130cm) of hanging space.
Using The Pants Press
You can use the pants press at the same time as refreshing other clothing. You simply hang your trousers from the bottom of the legs on the trouser hanger. This is positioned inside the door.
Pants should be no wider than (38 inches) 96cm or longer than 110cm to fit correctly in the pants press. Larger pants can be hung on the moving hangers, but this may reduce the creases in pant legs.
There are two pants cycles. They are:
Pants press crease care – removes wrinkles from pants and creases pant legs
Trouser Wrinkle Care – use with the crease cycle for a complete clean and sanitization of your pants
Tips for using the pants press correctly:
Make sure the pants are hanging straight. Crooked pants = crooked creases, or double lines forming in pre-creased pants.
There are 3 hook settings inside the styler for pants. Choose the highest hook for longer pants, so they don't hit the floor of the cabinet.
Check your pockets and remove any loose items.
Make sure any back pockets are buttoned.
Gently tug on the pants to make sure they are secure and smooth any lines before using the pants cycle.
The Bottom Shelf
The bottom shelf is designed for items of clothing that cannot be hung on hangers. It is also useful for soft toys, pillows, hats, leather shoes, laying down thermals, stockings and lingerie.
Choosing a Care Cycle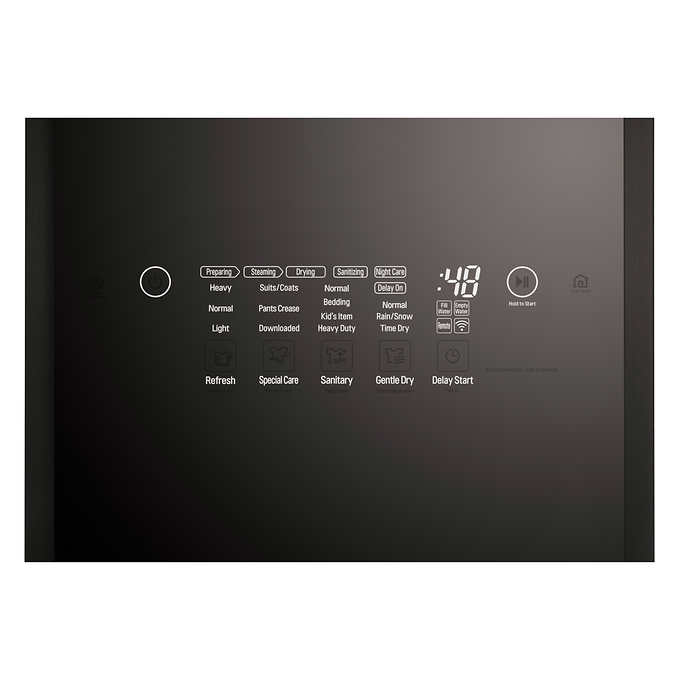 There are 4 main care cycles on the LG Styler Steam Closet. They are:
Refresh Cycle – reduces odors and wrinkles in clothing that is already dry. This cycle uses steam and should be used on washable items. It is safe to use on wool and knitwear that is washable.
Special Care Cycle – Select options for treating items like leather or fur, static removal from clothing, down jackets and denim.
Sanitary Cycle – Uses a higher temperature, so not for items that cannot be exposed to higher heats. Great for bedding, quilts, toys and blankets. Will dry items as well as sanitize.
Gentle Dry Cycle – dry items safely rather than using your clothes drier. This function uses a sensor to sense the dryness of fabrics and will extend drying time automatically if needed. Any items that aren't suitable for washing with water can be put in the styler on this setting.
Additional Useful Settings
Rain and Snow – this cycle will gently dry and refresh damp clothing.
Dehumidify – if you live in a humid area, leave the door of the styler open and use the dehumidify function. This will run for either 2 hours or 4 hours (depending on your choice). The door must be open at least 45 degrees to run this function.
Night Care – periodically produces warm air, keeping items warm and dry until they are removed. To activate this, press and hold the sanitary button for 3 seconds. The only time the night care function cannot be used is after a gentle dry cycle.
There are normal, light and heavy options for each cycle. If you have a particularly odorous item, put it in by itself. The odor may transfer to other items in the styler, which is not desirable!
How Long Do The Care Cycles Run For?
Be prepared to wait a little longer for the LG Styler Steam Closet to work its magic. With some planning and understanding of the different steam cycles, you can make this machine work for you. Here are the approximate run times for different cycles:
Refresh Cycle – 20 to 67 minutes
Sanitary Cycle – 88 to 103 minutes
Gentle Dry Cycle – 120 to 150 minutes
Gentle Dry Cycle on manual time choice – 10 to 150 minutes
Special Care Cycle – from 10 minutes
Fabric Types That Can Be Treated with the LG Styler
Refresh Cycle: The refresh cycle is suitable for suits, coats, school uniforms, scarves, wool, knitwear, outdoor and performance clothing, underwear, t-shirts, socks, jeans, denim jackets, lingerie, sportswear, tablecloths, polyester, rayon, urethane, garbardine, gore-tex fabrics, cotton, nylon, ramie and hemp.
Sanitary Cycle: Same as refresh cycle above, but excluding wool and knitwear. Also, not for use with any rubber items, foam or adhesives.
Special Care Cycle: Special cycles for fur, leather, down jackets, denim and static removal. Any fabric in the refresh cycle above, can be used in special care.
Gentle Dry Cycle: Suitable for non washable fabrics suck as silk ties, blouses, wool, cashmere, camelhair and alpaca fibers.
Fabrics to Be Avoided
LG have recommended that silk clothing not be placed in the styler. Many people do, and have given feedback that it works well for silk items. For any delicate fabrics (silk, velvet, some wool), use the gentle dry cycle only, which uses a very low heat. Starched clothing isn't recommended. The shaking of the clothes combined with with the heat and steam may remove the starch.
Vinyl should not be put in the clothing care system. Blankets over 1.5kgs are too large and heavy to be treated effectively and best taken to the dry cleaners. Electric blankets should not be put in the styler.
LG advise against putting shoes in the styler. Any items with adhesives may cause the adhesive to melt, and sponge rubber is not suitable for the styler either.
Using Aroma Sheets
Prices pulled from the Amazon Product Advertising API on:
Product prices and availability are accurate as of the date/time indicated and are subject to change. Any price and availability information displayed on [relevant Amazon Site(s), as applicable] at the time of purchase will apply to the purchase of this product.
There is an aroma filter on the LG Styler where you can place your favorite fabric softener sheets that you would normally use in the dryer. Unlike using these in the dryer, they won't reduce static or soften clothing, they are simply used for fragrance. As the heat and steam from the styler pass through the aroma filter it will blow the scent on the clothing, adding to the freshness.
For best effect, use a new dryer sheet for each cycle and clean the aroma filter after 5-7 cycles.
Water
LG recommend using ordinary tap water in the the clothing care system, specifically advising against distilled water.
Does LG Styler Replace Dry Cleaning?
The LG Styler is an excellent choice for refreshing clothing after wearing. It won't completely replace dry cleaning, but may extend the time needed between dry cleans.
It also won't replace your iron, or portable garment steamer. It also won't replace your washing machine. If your clothes are heavily soiled, stained or super sweaty and in need of a wash, your are better off washing them first and drying them in the styler.
How Much Room Do I Need for the LG Styler?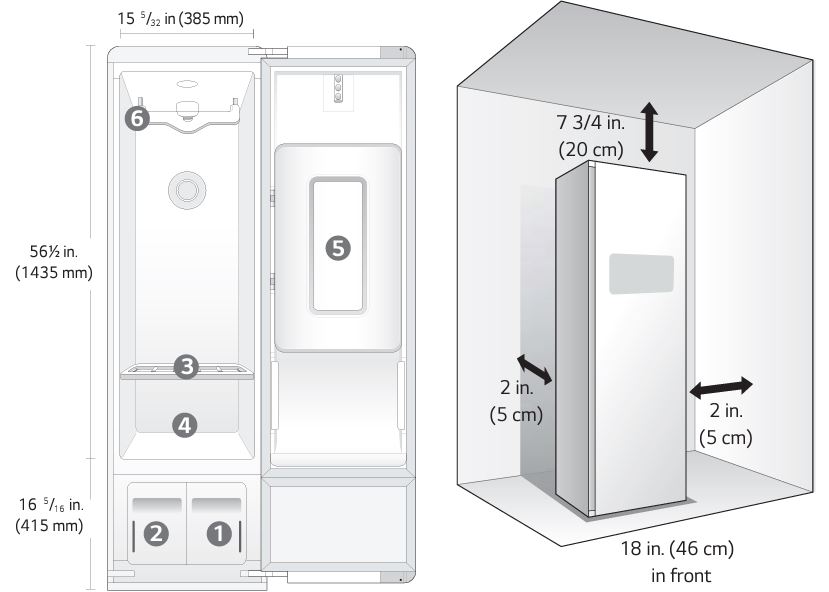 Allow at least 2 inches on either side and behind the steam closet and at least 7 and 3/4 inches above the styler.
The styler measurements are 17.5 inches wide, 72.75 inches tall and 23 inches deep.
You need to allow around 18 inches in the front to open the door.
LG Styler vs LG Studio Styler
The studio styler is an upgraded model which is larger, heavier and holds more clothing. With that comes a larger price tag, priced well over $2000 in the US.
LG Styler vs Samsung Airdresser
LG and Samsung are the two players in the market when it comes to steam closets. Is one better than the other? In terms of technical details, they are both similar in size, weight, capacity and connectivity. Both have the humidifier function.
Both machines are best used for dry clean only items and drying out winter coats and rained on items gently. Neither are great with removing wrinkles from cotton fabrics, a handheld clothing steamer will be a better choice for everyday wear casual clothing.
Where the both steam closets shine is the ability to press pants and refresh suits, delicate fabrics and luxury items – extending the time needed between professional dry cleaning.
Where to Buy the LG Styler Steam Closet System
In the USA, you can buy the LG Styler Steam closet from the following places (the links below are affiliate links, I may earn a commission at no extra cost to you):
If you are in the UK, the authorized distributors are John Lewis and AO. You can also buy direct from LG.
If you are in Canada, you can purchase the LG Styler Steam Closet at Lowes and Costco.
If you are in Australia, expect to pay around $2500-$3000 AUD for the styler steam closet. You can purchase the LG Styler at:
Harvey Norman
The Good Guys
Bing Lee
What Are The Differences Between Model Numbers?
There are 5 models of LG Styler steam closets. They are:
S3CW – The original styler steam closet, 10 accessories, NO pants press, metallic charcoal finish. This model is now discontinued.
S3MFBN, S3WFBN, S3RFBN (US Model Numbers: M = Mirror Finish, W = White Finish, R = Espresso Finish). Upgraded version with pants press in the door, 3 interior lights (compared to 1 in the original), more downloadable cycles, 12 accessories, 1 year parts and labor warranty, 10 year smart inverter compressor warranty.
S5MSB – New STUDIO Styler, Larger unit, hang up to five pieces of clothing compared to three. Also has pants press in door. Mirror finish only. Upgraded 2 year warranty on parts and labor, 10 year warranty on smart inverter compressor.
Are Steam Closets Worth It?
When you look at the cost of dry cleaning clothes, a steam closet may be worth it for you. Considering you can use it for leather (including motorcycle gear), linen, ski gear, hats, coats etc, when you add up the cost of dry cleaning individual items over 12 months or so, a steam closet could be a cost saving device.
The key thing to remember with steam closets is that sanitization is the selling point, not wrinkle removal. They won't replace your iron or your clothing steamer in terms of getting wrinkles out of clothing.
If you only occasionally wear dry clean only items, delicate fabrics, or don't live in an area where you need to dry out coats or jackets, you may not get the value out of a steam closet. This is where you will need to look at the pros and cons of your own circumstances to decide what is best for you.