Samsung Airdresser Review (2022) Is the New Grand Worthwhile?
If you have a busy schedule and often send clothes out to drycleaners, you might be considering the Samsung Airdresser Grand as an excellent investment. 
This machine looks like a narrow closet or even a tall slim fridge. Designed to sanitize, refresh and remove wrinkles from various fabrics, you can hang your business suit overnight, your coat that is damp from drizzling rain or snow, or that luxurious blouse that can usually only be handled by the dry cleaner. By morning it will be dry, deodorized, sanitized, and ready to wear. 
In our Samsung AirDresser review, I will explain how this machine works and its main features.  
Overview: What is a Samsung AirDresser?
The Samsung AirDresser is a sleek, tall, and narrow machine that refreshes garments. The latest model is the "grand" version, which includes 5 air hangers inside the unit where you place your coats, blazers, suits, dresses, quilts, duvets, or other fabrics. It also features a shelf for items you prefer to lay flat, such as scarves, children's soft toys, cushions, and blankets.
You can use it to dry wet clothing, or freshen up dry clothing that has been worn, or stored for a while.
What does the Samsung AirDresser Grand do, and how does it work? 
At the end of a long day of work, the last thing anyone wants to do is think about how to get their clothes clean. That's where the Samsung Airdresser comes in. With a quick, simple cycle, your clothes look, feel, and smell fresher.
This machine uses Jetair, jet steam, and Air-Hangers to refresh and sanitize clothes. The Jet steam releases super-hot vapor to your clothes, killing up to 99% of viruses, bacteria, and other microorganisms. The Jet-Air helps to circulate the steam around your garments.
The AirDresser air dries your clothing using lower temperatures than a clothes dryer, protecting delicates from shrinking. The 5 Air-Hangers contain a hollow center, allowing the vapor to penetrate your clothes more effectively. These hangers release steam to your garments without making noise or creating vibrations.
Once you have placed your clothes inside the unit, choose between the 4 cleaning cycles from the touchscreen panel. These are known as daily cycles, which are:
Quick: Running for 24 minutes, most users have said this cycles does nothing much at all. Samsung recommend it for slight wrinkles or refreshing light odors.
Delicates: Running for 40 minutes, this cycle is suitable for chiffon, lace, embellishments, decorative items etc.
Normal: Running for 48 minutes, this item is most suitable for everyday wear.
Sanitize: The sanitize cycle runs between 132 and 140 minutes to sterilize items.
There are also 9 special cycles (including a self cleaning cycle) which run between 30 and 89 minutes. These cycles are:
Fur and Leather: Running for 30 minutes, the fur and leather cycle removes dust and dirt with care. Ideally, refresh one garment at a time.
Wool and Knit: Running for 34 minutes, place your woolen or knitted sweaters on the shelf so they retain their shape.
Suits: Running for 40 minutes, the suit cycle will smooth out your jacket after wear, and by using the weight kit, you can sharpen creases in trousers.
Winter Coat: The winter coat setting runs for 54 minutes to refresh your long, thick coat, that ideally shouldn't go in the wash.
Outdoor: Running for 57 minutes, this is the best cycle for your exercise gear, activewear, tights and gym gear.
Down Jackets: If you've had your down jacket stored over Summer, you can add fluff and refresh. Ideally, this should be the only item hung in the airdresser, hanging on the middle hanger.
School Wear: If you have uniform that is worn daily with no time to wash and dry, pop it on the school wear cycle. Running for 74 minutes, it will refresh pinafores, blazers, skirts and trousers.
Heavy Duty: Running for 89 minutes, this is best cycle if you want to refresh multiple items at once.
Self Clean: This cycle cleans the inside of the airdresser, however, won't remove mold or limescale build up. It should be ran with nothing inside the airdresser.
There are also 3 drying cycles which are perfect for when you take wet clothing out of the washing machine and leave the drying to your airdresser, or you get caught in the rain or snow and need to dry out your garments. They are:
Sensor Dry: Running for 90 minutes, this is the default drying setting. The intelligent airdresser may extend the drying time if it senses your clothing isn't dry.
Time Dry: Choose from one, two or three hours.
Room Care: This drying cycle is the dehumidifier function, which runs for either two or four hours. Make sure there are no clothes hanging in the airdresser, when dehumidifying your closet.
You can also download special cycles via the Samsung SmartThings app (which works with both android and apple). The special cycles include babywear, toys, accessories, bedding, down drying and denim. 
It's Like Your Own Personal Dry Cleaner at Home
The AirDresser isn't designed to replace your washing machine and won't magically clean soiled, stained or dirty clothing. If you've worn a piece of clothing and think it's not quite ready for the wash, this is where the airdresser shines. This 100% natural method (air + steam) of refreshing your clothes will remove any odors and make them look ready to wear.
If you prefer to launder your clothing, hang them in the airdresser overnight to dry. The airdresser will run a drying cycle while your shirts, trousers, skirts (etc.) are hanging, leaving you ready to wear clothes the following day.
If you have unique fabrics that would normally go to the dry cleaners, such as camel hair, alpaca wool, fur and faux fur, you can use the airdresser to refresh these items. They should be fully dry before placing them inside. You can also lay a towel on the shelf and place your garment on top.
What a Steam Closet Isn't…
A steam closet won't replace your washing machine.
A steam closet is not a miracle cure for tough wrinkles (especially in natural fiber fabrics such as linen, hemp and cottons).
A steam closet won't press your business shirts, instead, leaving them with more of a relaxed look.
The Airdresser isn't suitable for artificial or vegan leather. You can use the airdresser for 100% natural leather.
You can't use the airdresser for any heat sensitive fabric. This includes, rubber, latex, sponge filled or porous items. Funnily enough, Samsung do not recommend placing any silk items in the airdresser. You can use it for rayon, however, stick to the delicate cycle.
Any starched (permanent press style) clothing should not be placed in the airdresser.
For the super tall. The maximum length of trousers is 100cm. In the Grand model, 140cm on one side.
Maintenance free. You'll need to clean the lint filter, air filter, descale the steam closet, and empty the water tank (and refill).
---
The key to effective use of a Samsung Airdresser is learning the cycle times. If you load it up with 5 items, you can't run it on a quick 20 minute cycle and expect a decent result.
---
Great Features of the Samsung AirDresser Grand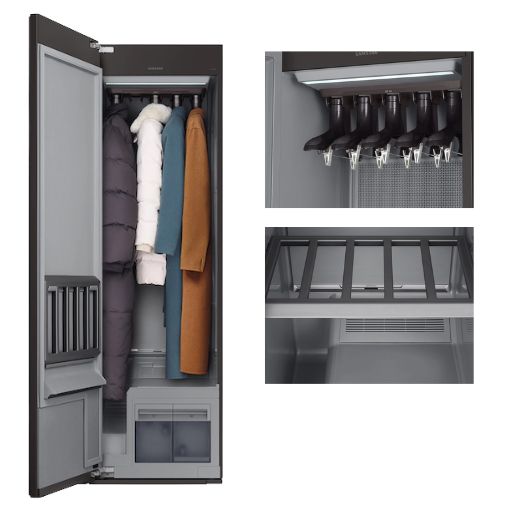 Expandable 5 Hangers 
The new Samsung AirDresser Grand features 5 expandable hangers. This is an upgrade in space from 3 hangers in previous models. 
It has an extra-length zone for long dresses, coats, and blankets. The steam also removes dust and light wrinkles from the outer and inner parts of the material.  
Design and Auto-clean features 
The airdresser has an elegant mirror finish, enabling it to match any interior décor. For ease of use, it has a user-friendly touch control panel with various settings for refreshing, sanitizing, and drying wet clothes. Download the Samsung Smartthings app to control your airdresser from wherever you are.
The machine features a convenient self-clean technology for eliminating buildup or odors inside the unit. You will get reminders to clean after every 40 cycles, at which time you will need to purchase a descaling agent and run through the machine. So, if you use your steam closet every day, expect to descale it once every 6 weeks.
I will cover the exact steps to descale your steam closet in a separate post.
Ability to sanitize and Odor-elimination technology
The steam produced by the AirDresser Grand penetrates deep into the fabric to freshen clothes. It can kill up to 99.9% of viruses, dust mites, bacteria, and germs. The outstanding odor-elimination technology features a deodorizing filter that removes 99% of common smells like smoke, pet, sweat, and unpleasant food. For an extra scent, add a dryer sheet to the airdresser, any brand will do. Here is a link to Downy Infusions (14,000+ 5 star reviews).
Easy setup
Another thing you will enjoy when using the Samsung AirDresser is its easy assembly. You only need to connect it to the ordinary 120 volts power outlet, and that is it. The machine doesn't have a separate water line, so you don't need to hire a professional to set it up. 
Instead, it has a removable compartment for water and drainage, so no plumbing is required. The water reservoir has a capacity of 1.49 liters and is straightforward to refill. 
Advanced features
The Samsung AirDresser grand has high-tech features, making it convenient to use. Some of these features include:
Heatpump drying: To ensure that your raincoats or delicate clothes are protected from high heat, which might cause them to shrink, the unit has a heat pump that dries them using lower temperatures. 
Wi-Fi connectivity: When using the Samsung AirDresser Grand, you can switch it on or pause remotely through the Samsung Smart Things App. Using the same app, you can get notifications or cycle recommendations.  
Voice commands: It allows voice commands via Amazon Alexa, Bixby, and Google Assistant.  
AI Powered Learning: Through this technology, this machine can monitor your preferred cycles and the times you use those settings most. Due to this, you don't need to adjust the settings all the time. 
Sensor Dry: This feature detects the humidity inside the airdresser and reduces the drying time. As a result, your clothes are dried within the shortest time possible. 
Dehumidifier: If your closet is prone to moisture and doesn't get much ventilation, use the built-in dehumidifier function to pull the moisture from the air, keeping your wardrobe fresh. 
Are there other Samsung AirDresser Models? 
The Samsung AirDresser is available in 2 other models, besides the new 'grand'. They all have similar features but various capacities. 
18-Inch Samsung AirDresser 3 Hanger (2022) 
The Samsung AirDresser 3 Hanger (2022) model is another popular model from this brand. Just like the other models, this one too has the following features. 
3 air hangers 
Odor-removal technology 
Sanitize cycle
Wi-Fi connectivity 
Easy to install 
Samsung AirDresser 3 Hanger (2020) Model 
This machine has a measurement of 24.2 x 17.5 x 72.8 inches. It provides up to 1300 watts of power and is equipped with 3 hangers for air drying clothes. It has the same excellent features as other Samsung AirDresser models, such as a deodorizing filter, Wi-Fi Connectivity, sanitize cycle, low heat drying, self-clean technology, and an inbuilt dehumidifier. Unlike other models from this company, the machine has additional features, which include:
Weight kit: This feature helps to keep trousers straight, or lightweight clothing from moving around and potentially causing more wrinkles.
Scented dryer: When using the clothing care system, you can give your clothes a pleasant scent. You just need to add a scented dryer sheet in the Fresh Finish Compartment.
Samsung AirDresser Vs LG Styler 
The LG Styler and the Samsung AirDresser are the only two steam closets on the market. Even though they are both meant for removing wrinkles and odors and air drying your clothes, their features are very different. You can read our detailed comparison of Samsung AirDresser vs LG Styler here.  
Frequently Asked Questions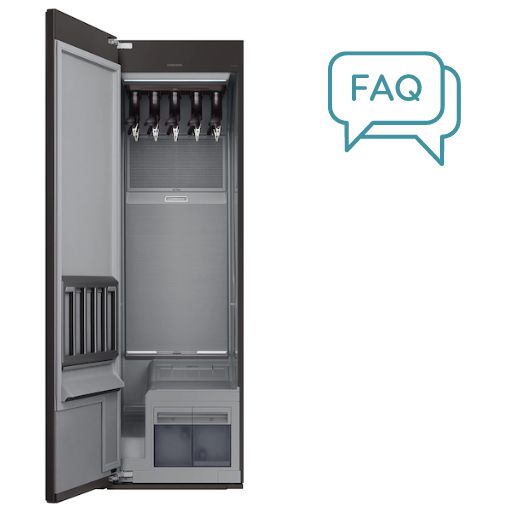 Is the Samsung AirDresser Grand worth it? 
The Samsung AirDresser is a versatile do it yourself dry-cleaning wardrobe designed to give your clothes a neat and professional look. Even if it is not as effective as a steam iron or a steam press, this machine effectively removes odors from clothes. You can use it to keep various garments fresh such as uniforms, suits, jackets, sportswear etc.
It is also suitable for delicate fabrics – anything you cannot wash, could be damaged in a washing machine, and would typically take to the dry cleaners. It works exceptionally well for acetate, nylon, polyester and polyurethane fabrics, especially when it comes to wrinkle removal. But… not silk. Silk is not recommended in the airdresser at all.
Samsung themselves admit that the airdresser isn't the best at removing wrinkles from cotton, linen, ramie and hemp fabrics. You may still need to iron these fabrics after using it.
The key to effective use of a Samsung Airdresser is learning the cycle times. If you load it up with 5 items, you can't run it on a quick 20 minute cycle and expect a decent result. This machine is doing the work for you and needs time to do so.
What are the benefits of steam closets? 
Steam closets are an excellent investment for those who usually send their laundry to the dry cleaners. This machine can refresh your uniforms, suits, blazers, coats, sportswear or delicate items by hanging them inside the unit or sitting on a shelf. These units are versatile; you can use them for different clothes, and items around your home. They effectively sanitize up to 99.9% of microorganisms such as bacteria, viruses, germs, etc. You can also use them to warm your gym gear before morning workouts. 
Does Samsung AirDresser iron clothes? 
An air dresser does not iron clothing. You can use weights on the bottom of your garments to help straighten them during the cycle. If your clothes have many wrinkles and creases, you may need to consider investing in a steam press machine, steam iron, or sending your clothing to the dry cleaner.
What's the difference between Samsung AirDresser and a clothes steamer?
The main difference between a clothing steamer and a steam closet such as the Samsung Airdresser is how you use it. The airdresser does the work for you at the press of a button. The results you get will depend on the type of fabric you have. A clothes steamer is operated by you.
You can use a handheld or upright clothes steamer to direct steam at specific areas of your garment to remove wrinkles. You can be more precise with a clothes steamer than a steam closet that diffuses air and steam around your clothing.
Does the AirDresser clean clothes? 
The AirDresser will not replace your washing machine for visibly dirty, stained, or malodorous clothing that requires professional treatment. 
How long does Samsung AirDresser take? 
When using this machine, you can refresh your clothes within just 20-30 minutes. For the best results however, use the specific settings for the type of fabric you have. Heavy duty takes around 90 minutes and the sanitize cycle runs for a little over 2 hours. Be prepared to give the airdresser the right amount of time to work its magic.
Is Samsung AirDresser a dry cleaner? 
The Samsung Airdresser does not use any chemicals, unlike dry cleaners. There is a certain amount of moisture, given the airdresser uses hot steam and air. It is an ideal appliance for anyone who owns a lot of dry-clean-only clothing. 
You simply hang suits, dress shirts, and ties (not silk), close the door, and it does its job. This intelligent appliance is Wi-Fi connected, so you can control it from your phone. If you have a walk-in closet, it's the ultimate luxury.
Does Samsung AirDresser remove wrinkles? 
The Samsung Airdresser isn't the ideal appliance for tricky wrinkle removal. It can handle light wrinkles, but if you prefer the look of professionally pressed clothes, you'd be better off with a steam press rather than a steam closet. If you own a lot of natural fiber clothing such as hemp, ramie, linen and cottons, the airdresser isn't ideal for you, unless you want to iron or steam your clothing after it has been in the steam closet.
Where Can I Buy a Samsung Airdresser?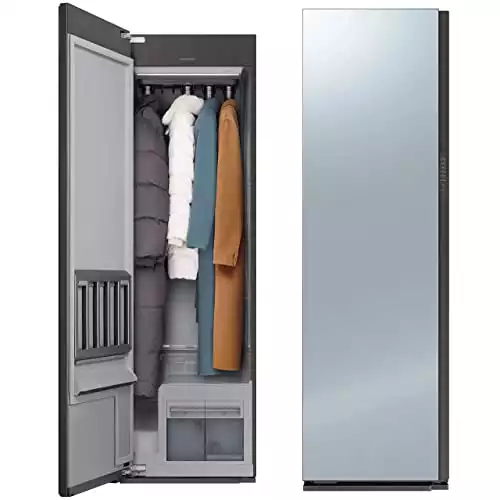 SAMSUNG Airdresser Grand
The latest release, upgraded 5 hanger Samsung Airdresser Grand with a stunning mirror finish, for that final check of your outfit before you head out!
We earn a commission if you make a purchase, at no additional cost to you.
06/04/2023 06:27 am GMT
Will You Be Enjoying a Samsung Airdresser?
Clean, fresh clothing. What could be better? The Samsung Airdresser is just one of those clever little gadgets you didn't know you needed until you tried it. This handy steam closet can make your life a little easier, so you don't have to take your dress shirts and suits to the dry cleaner every week. It even has a sanitizing mode, a great way to ensure your suits stay fresh and clean for longer.
The downside is the price. With Samsung and LG being the only two makers of steam closets in 2022, there is little competition to drive the price down. If you live in a climate with frequent rain, colder weather, or have a wardrobe full of dry-clean only clothes, the Samsumg Airdresser could be for you.
If you live in a humid climate and wear linen, hemp, ramie etc, I don't think you'll be impressed.