OApier S6 Steam Mop | A Good Buy for Mixed Floor Types?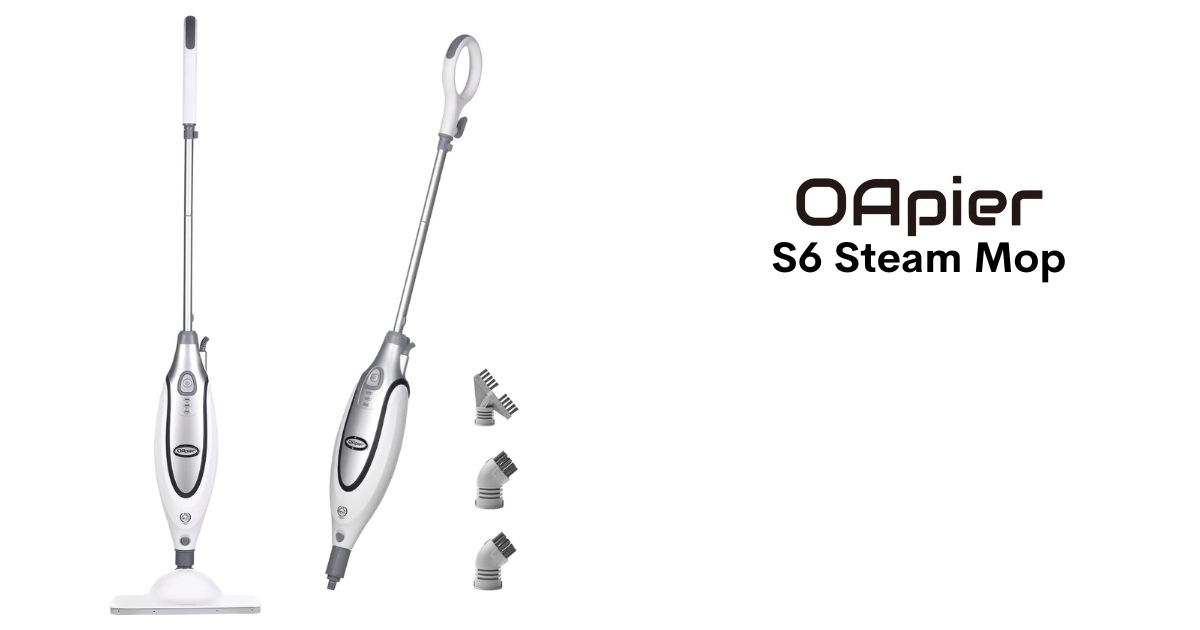 The OApier S6 steam mop has some extra versatility when it comes to cleaning grout. Best suited for tile floors, this multifunction steam mop converts to a grout cleaner with 3 grout brushes included.
It's a little pricier than the other OApier steam mops however. Read my full review below to see if the OApier S6 steam mop is the right choice for you.
OApier S6 Steam Mop: The Basic Specifications
| Specification | oApier S6 Steam Mop |
| --- | --- |
| Dimensions: | 12 x 6.85 x 47.24 inches |
| Weight: | 8.48 pounds |
| Heat up Time: | 30 seconds |
| Accessories: | 3 |
| Power Cord: | 23 feet |
| Water Tank: | 16 ounces |
| Boiler Temp: | 212⁰F |
| Wattage: | 1550 watts |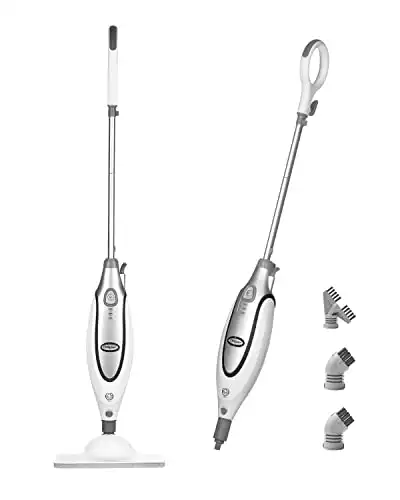 OApier S6 Plus Steam Mop
Pros:
Grout cleaning attachments

Large water tank

Auto stop when stood upright

270 degree rotating mop head

3 adjustable steam settings

30 seconds heating time
Cons:
Only 1 mop pad included

No carpet glider
We earn a commission if you make a purchase, at no additional cost to you.
Pros of the oApier S6 Steam Mop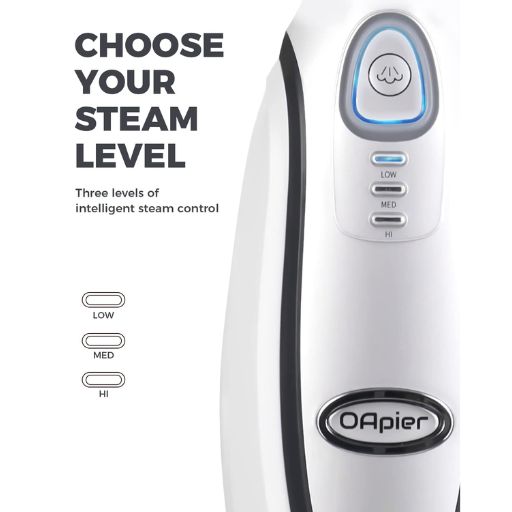 Large Water Tank
The larger 16oz water tank is up to 50% bigger than other steam mops. You won't need to stop cleaning to refill the water tank as much. The water takes just 30 seconds to reach the maximum steam temperature of 212⁰F. Since the steam produced by the machine is so hot, it is perfect for deep cleaning as well as sanitizing surfaces.
User Friendly Design 
In terms of design, this machine is very easy to use. It is lightweight, at around 8.5 pounds, not as lightweight as other steam cleaners such as the Schenley Steam Mop. One benefit however, is the OApier steam mop stands up on its own. This is a handy feature if you get a phone call, need to tend to the kids, or answer the door. The steam mop also goes into sleep mode when you stand it upright, which means you can easily come back to steaming when you are ready.
Multipurpose Functionality 
The three steam settings make the OApier S6 steam mop an excellent choice for all flooring types. The added accessories are best for grout cleaning, with 2 round bristle brushes and a grout brush. If you have timber floors in your home, lino in the kitchen and tiles in the bathroom, the S6 can handle all 3 flooring types with ease.
Swivel Mop Head 
Sometimes cleaning tight angles or corners is not easy when using steam mops don't fully swivel. The OApier S6 steam mop has a flexible head that can rotate at 270 degrees.
Adjustable Steam Settings 
To ensure that you have the right amount of steam for different surfaces, the OApier S6 Steam Mop features 3 intelligent steam settings. These settings work as follows: 
High: This setting is perfect for tough cleaning tasks like when handling sticky messes or stains. You can also use it to deep clean areas with high traffic or when trying to cut through grime and heavy dirt. 
Medium:– You should select the medium setting for basic or everyday cleaning.  It helps to remove spots or smaller messes.  
Low: It is perfect for light cleaning tasks and delicate flooring.
Accessories 
Once you purchase this machine, you will find several items in the package. They include:
2 mop pads 
3 onboard spot board brush 
Measuring cup 
User manual 
Cons of the OApier S6 Steam Mop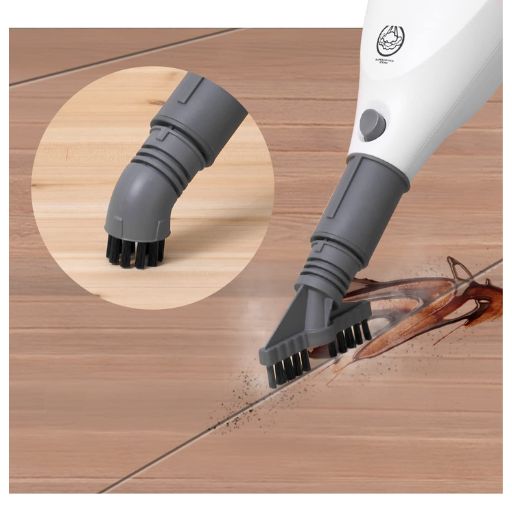 The included grout brushes are a bonus with this steam mop, particularly for tile floors. But that's where the pros end, unfortunately.
The grout brushes attach in place of the steam mop head. This is good for cleaning grout from a standing position, but unfortunately, you can't really use the S6 steam mop for other uses around your home.
At this price point (around $120 USD), it makes this steam mop a little pricey for what you get. There are plenty of other steam mops on the market that offer detachable handheld steam cleaners and extra accessories above and beyond what the S6 offers. It is for this reason I wouldn't purchase the OApier S6 steam mop.
How to store the Oapier S6 Steam Mop
Once you are done with the cleaning, you should do the following:
Disconnect the power cord from the power outlet and then place the machine in an upright position.
Leave it for about 5-10 minutes to cool.
 Remove the mop pads once the mop head is completely cool.
Open the cap on the water reservoir and empty the tank over a sink.
Clean the mop pads using warm water and detergent. You should not wash them together with clothes. Do not use fabric softener or dryer sheets.
About the OApier Brand
OApier is a division of Light n Easy, a home cleaning manufacturer. Both Light n Easy and oApier steam mops sell well on Amazon and are backed by a 12 month warranty. Both Light n Easy and oApier are made in China.
For support from Light n Easy or oApier, you can email oapier@lightneasy.com or visit the Light n Easy website. They offer a 3 month money back guarantee from the day you purchase the S6 steam mop, along with the 1 year warranty.
Is the OApier S6 Steam Mop for You?
If you are looking for a steam mop for floors with some bonus grout cleaning tools, the OApier S6 steam mop could be a good choice for you. Follow this link for more information on other OApier steam mops. If you want more functionality from your steam mop, take a look at these alternatives which are comparatively priced: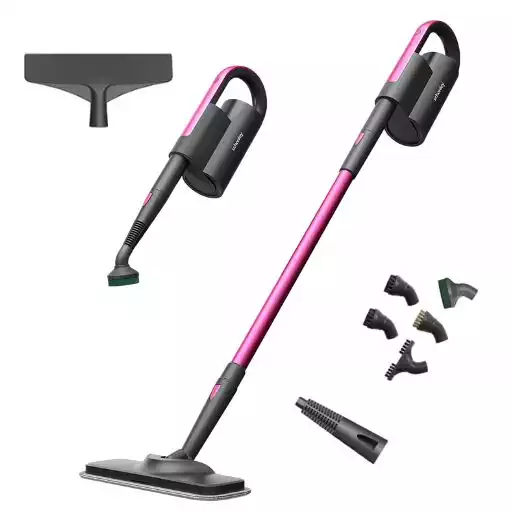 Schenley Steam Mop
Pros:
heats up to 248°F

3 steam settings

detachable handheld steam cleaner

included accessories

modern, slim design to get under furniture
Cons:
small water tank

doesn't stand up on its own

no cord storage
We earn a commission if you make a purchase, at no additional cost to you.
05/29/2023 09:32 pm GMT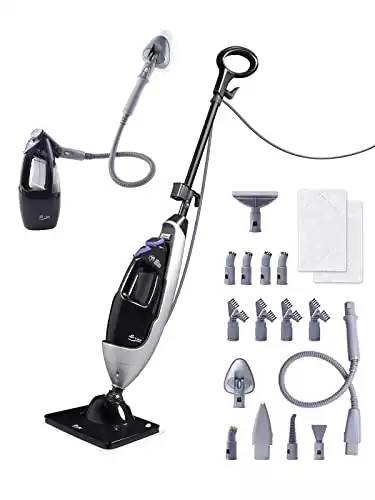 LIGHT 'N' EASY Steam Mop
This multi purpose steam mop has a detachable handheld steamer and tons of accessories, making it a better buy than the oApier S15 steam mop - even though they are the same brand! It also heats to a hotter 230°F for more effective steam cleaning.
We earn a commission if you make a purchase, at no additional cost to you.