Schenley Steam Mop Review [2023 Update]
The Schenley Steam Mop is a new release cleaner with a promising outlook. Converting from a steam mop to a handheld steam cleaner, this versatile multifunction steam mop is slim, lightweight, portable, and elegantly designed. With a higher heat than most standard steam mops, an excellent choice of included accessories, and an ergonomic design, I was suitably impressed with this machine.
It's not without its cons, though, which I'll cover in the complete review below:
The Basic Specifications
| Specification | Schenley Steam Mop |
| --- | --- |
| Size | 17.1 x 3.5 x 5.5 inches |
| Weight | 2.92 pounds |
| Water Capacity | 8.5fl oz |
| Power | 1200W |
| Boiler Temperature | 248°F |
| Heat Up Time | 15 seconds |
| Voltage | 120V 60Hz |
| Power Cord | 16ft |
| Accessories | 5 grout brushes, window tool |
| Warranty | 1 year |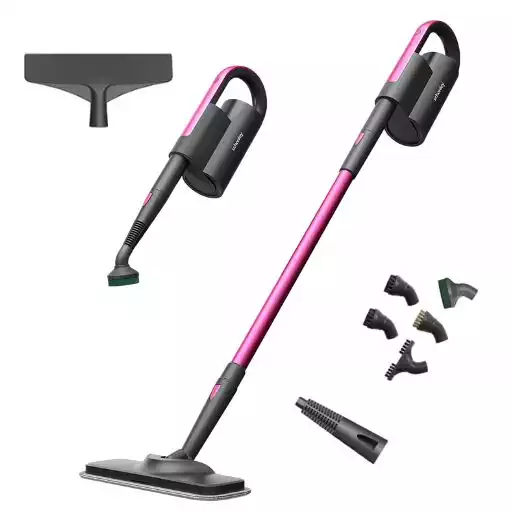 Schenley Steam Mop
Pros:
heats up to 248°F

3 steam settings

detachable handheld steam cleaner

included accessories

modern, slim design to get under furniture
Cons:
small water tank

doesn't stand up on its own

no cord storage
Buy on Amazon
Check eBay Price
We earn a commission if you make a purchase, at no additional cost to you.
07/23/2023 03:55 am GMT

Why You Need the Schenley Steam Mop
Here's what I loved about the Schenley steam mop and what I think you'll like too.
Power
I usually prefer at least 1500 watt steamers for the best steam output, but was surprised by the performance of this 1200 watt multifunction steam mop. Using a standard power outlet, the Schenley steam mop heats to 248°F, slightly higher than the standard 212°F found in most steam mops.
Using a standard 120V power outlet, you don't need any special plugs or leads to operate, and it draws a lower amount of power for lower steam settings.
3 Steam Settings
Choose from low, medium or high steam settings. Low is the best for hardwood and delicate flooring, use high for sealed tile floors and tough stains.
Accessories
This versatile multifunction steam mop comes with the following accessories:
Sponge head for kitchen sinks, bathtubs, and oven.
Jet nozzle for intricate cleaning.
Metal brush for cleaning grills, oven racks, stainless steel, or cast iron.
2 round nylon brushes for bathroom fittings, general scrubbing etc.
Grout brush (better design than using the round nylon brushes for grout).
Glass squeegee for mirrors and windows.
Measuring cup to fill the steamer.
2 machine-washable microfiber pads for the steam mop.
The accessories also clip onto both the bottom of the pole and the handheld steamer. This is great for reaching high places, such as the top of windows, or cleaning grout from a standing position rather than kneeling on the floor.
Design
The unit is lightweight for easier use, and the mop head has a flexible swivel for cleaning corners or hard-to-reach areas. The handle boasts an ergonomic shape, making it comfortable to use as a steam mop and a handheld steam cleaner. The low-profile steam mop head gets under furniture with ease.
Unlike other multifunction steam mops, the handheld steam cleaner is located on the handle rather than in the middle of the steam mop. This also helps to get under low-line furniture and in and around tight spaces. The mop head is less than 1 inch tall, making this perfect for getting under the edge of your oven, refrigerator, sofa, and other low furniture.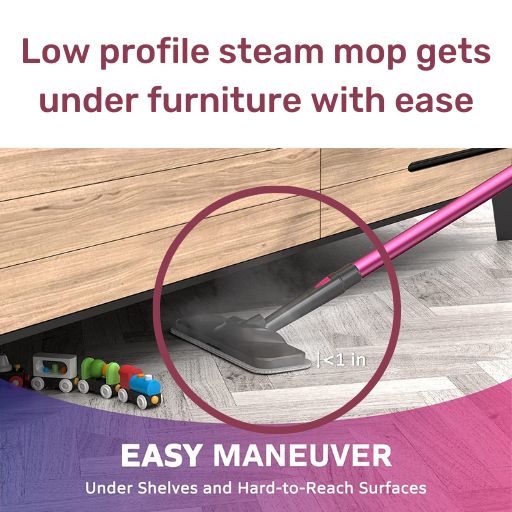 Pros
15 second heat up 
Detachable handheld steamer 
1200 watts power
3 steam settings  
High steam temperatures up to 248⁰F
Excellent range of accessories included
Cons
Small water tank
It doesn't stand up on its own
No cord storage
Frequently Asked Questions About the Schenley Steam Mop
What Makes the Schenley Steam Mop Unique?
The lightweight, ergonomic design of the Schenley steam mop combined with the above-average boiler temperature and detachable handheld steam cleaner makes the Schenley steam mop stand out from other brands. Schenley offers more accessories than other brands, and the affordable price point makes this steam mop an excellent choice.
Is the Schenley Steam Mop Cordless?
The Schenley steam mop is not a cordless steam mop. It has a 16ft power cord which plugs into a standard power outlet.
Can I use the Schenley Steam Mop on Laminate Floors?
Steam mops are not recommended for laminate or luxury vinyl plank flooring. Many people use a steam mop on laminate flooring with good results. If you use the Schenley steam mop on laminate floors always use the lowest steam setting and test in an inconspicuous area first.
Can I use the Schenley Steam Mop on Carpets?
The Schenley steam mop does not include a carpet glider. You can use it to spot clean carpets and rugs by using the handheld steam cleaner with the jet nozzle attached.
How does the Schenley steam mop work?
After adding water to the Schenley steam mop, this versatile multifunction steam cleaner heats within 15 seconds. You can then start using it to clean your floors, or disconnect the handheld steam cleaner from the steam mop and use it for above-floor cleaning. Choose from one of 3 steam settings, and use the nozzle tool to connect different attachments to clean grout, ovens, stovetops, tapware, windows and more.
What are Multifunction Steam Mops?
Multifunction steam mops have advanced features over a traditional steam mop. They have a handheld steam cleaner that disconnects from the steam mop. This can either be located towards the handle of the steam mop or lower down towards the floor steamer.
A multifunction steam mop can be used for above-floor cleaning as well as a steam mop for floors. Multifunction steam mops include a range of accessories to assist with cleaning grout, windows, upholstery, benchtops, ovens, bathrooms, kitchens, and other areas around your home.
What are the Disadvantages of Multifunction Steam Mops?
Multifunction steam mops can be heavier than traditional steam mops due to the extra handheld steam cleaner.
They are generally slightly more expensive due to the extra capabilities.
Compared to a traditional mop and bucket or cleaning by hand, multifunction steam mops require electricity to work and also should be used with distilled or demineralized water, which comes at an additional cost.
The benefit, however, is the extra cleaning power you get from hot steam. Steam effectively kills 99.9% of germs, bacteria, and common viruses.
Is the Schenley Steam Mop Worth It?
The Schenley steam mop is an impressive multifunction cleaning tool that is worthwhile. The included attachments are well thought out for general cleaning around the home. The only missing item is an upholstery tool for furniture, sofa, and mattress cleaning. However, you could wrap a small towel (such as a facecloth) around the window cleaning tool to achieve the same result.
The boiler temperature of 248⁰F is higher than most steam mops on the market, including Bissell and Shark. The design is modern, ergonomic, and stylish. The water tank is small, which helps keep this steam mop lightweight (in addition to the aluminum and plastic components). It has a rubber-style stopper on top – be very careful when refilling during use as you are pouring water directly into the boiler tank. This is a burns risk.
As with any new product, how long it lasts remains to be seen. Customer service and feedback so far have been excellent. I would consider the Schenley steam mop a worthwhile buy. If you have any problems with the Schenley steam mop, you can reach out to them at schenleycare@schenleytech.com.
There are also other generic branded multifunction steam mops very similar to the Schenley steam mop, so make sure you take a look at those as well. Here are the links:
Newbealer Multifunction Steam Mop
Pros:
heats to 248℉

7 accessories + 2 steam mop pads

3 steam settings
Cons:
small water tank

brushes may not last long (replacements are available)

complaints of stopped working (use distilled water)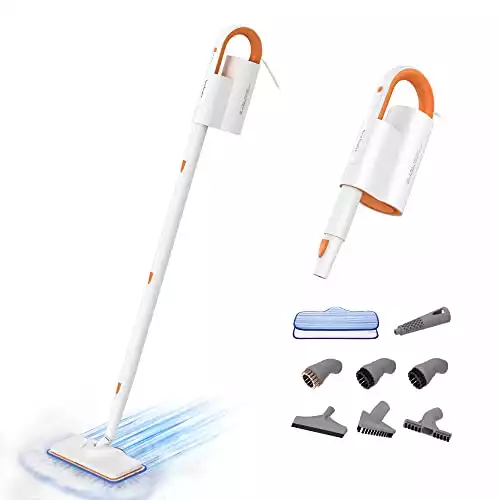 We earn a commission if you make a purchase, at no additional cost to you.

M Mistsince Multifunction Steam Mop
Pros:
Heats to 266℉

9oz water tank

11 accessories + steam mop pads

3 steam settings

weighs 2 pounds without water (approx 3.5lbs with water)
Cons:
attachments don't last

short pole, causing bending over and back pain for those 5'6" or taller

small water tank

may not last 12 months
We earn a commission if you make a purchase, at no additional cost to you.