Shark S5003D vs S6002: Which Steam Mop is Better in 2022?
The Shark Genius Steam Mop S6002 and the Shark Genius Steam Mop S003D are high-quality steam mops that produce a lot of steam to get your floors clean. However, some differences between these two models can make it hard to decide which one is right for you.  
The first thing we will discuss in this blog post is the difference in steaming power between these two models; then, we'll compare their features and see how they perform on different flooring materials. Finally, I'll give you my recommendation for which model I think is best! Let's dive into the article! 
Shark S5003D vs S6002: The Comparison
Steaming Power
Both the Shark Genius Steam Mop S6002 and the S5003D are very efficient floor cleaners. The S5003D uses a more powerful 1200 watts of power to produce its steam, while the S6002 has a 1050 watt motor.
These two steam mops use a standard electrical outlet for power instead of batteries or another external source, so you won't have to buy any special adapters in order to use them. 
Weight  and Size 
The S6002 is slightly heavier than the S5003D, yet is the slightly smaller steam mop of the two. Comparatively, the dimensions and weights are:
| Specification | S5003D | S6002 |
| --- | --- | --- |
| Weight | 5.77 pounds | 6 pounds |
| Dimensions | 7 x 13.8 x 47.1 inches | 8 x 11 x 47 inches |
| Water Capacity | 11.8 ounces | 11.8 ounces |
| Volts | 120V | 120V |
Steam Control 
The S6002 offers a single level of steam output. You turn on the steamer and it goes.
The S6002's single setting is excellent for most cleaning needs, but some people prefer the ability to adjust their steaming power depending on the mess they're tackling.
The S5003D has intelligent steam control with 3 settings (low, medium and high). This would make the S5003D the better option for delicate floor types such as laminate flooring and hardwood floors. Please keep in mind that no steam mop is recommended for use on luxury vinyl planks – use at your own risk.
Both steamers offer a steam burst feature where you flip over the genius mop head to automatically activate the steam. A great feature for stuck on stains or harder to clean areas.
Water Tank Capacity 
 Both steam mops offer the same size water tank, which is 11.8 fluid ounces for around 15 minutes of continuous steaming. With the S5003D, the steaming time will depend on the setting you choose. The higher the setting, the more steam output, the faster the water will run out.
You cannot remove the water tank on either model. Shark include a small flask to refill the water when needed. To prolong the life of your Shark steam mop, Shark recommend using distilled water.
Don't skimp on distilled water. You can buy it on Amazon for a couple of dollars a gallon. If you live near a Walmart, you may find it in store even cheaper. The cost of replacing your Shark steam mop (when it stops working from the build up of minerals from tap water) will far outweigh the cost of distilled water.
Cleaning Pads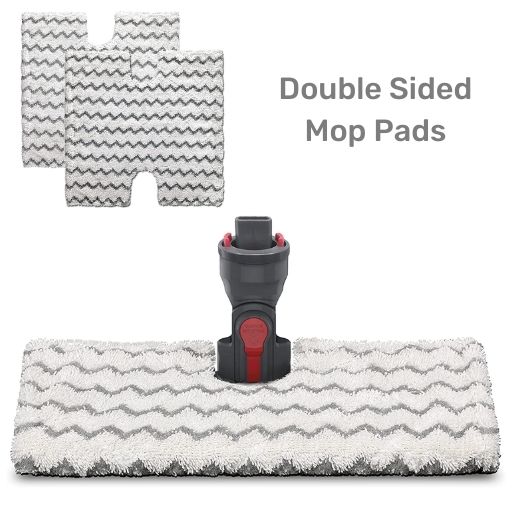 Both Shark genius steam mops come with 2 dirt grip pads. These mop pads are double sided, which is a brilliant design by Shark. When one side of the pad becomes dirty, you flip over the steamer and continue cleaning with the other side.
Generic branded replacement pads are available to purchase at economical prices in comparison to buying genuine Shark replacements. I recommend buying extra cleaning pads at the same time as you buy the steam mop. Despite the pads being washable and reusable, they will never look as clean as they first did – and having extra pads is always handy.
Shark also recommend replacing the washable pads every 3 months.
Budget Choice
The Shark Genius Steam Mops S6002 and S5003D use touch-free technology to attach and release their cleaning pads. This means that you don't have to touch the pad's dirty surfaces when attaching or detaching it from the mop.
This is great in theory, but in reality, I have never been able to get the steam mop pad onto the base of the steamer without touching it. You have to try and maneuver the 4 pieces into the pockets of the mop pad at just the right angle to make this happen.
Taking off a steaming hot pad when it is dirty however, is a different story. Press the button and it drops right off, just as pictured. Another reason why Shark steam mops are so popular.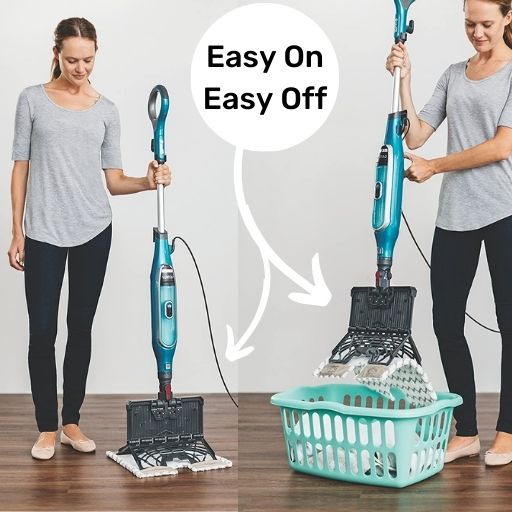 Can You Add Cleaner To The Shark Steam Mop? 
You cannot add any cleaner to the shark steam mop. Using cleaning solutions in the unit will cause clogging and other problems. Instead, use distilled water only.
The unit produces hot steam that quickly dissolves dirt and grime, leaving your floors looking clean and shiny. Plus, the steaming action kills 99.99% of germs and bacteria, so you can feel confident knowing that your floors are clean and safe to walk on. 
Which Model Is Best for You? 
The Shark Genius S6002 and the Shark Genius S5003D are two of the most popular models of Shark steam mops. Both models are great choices for anyone looking for an easy-to-use and lightweight steam mop that doesn't require any harsh chemicals.
There is only a slight difference in price and weight, the main difference is the ability to adjust the steam levels via the electronic steam control.
What I like about Shark Steam Mops is the ergonomic handle design and pump action. As you move the steam mop back and forth, this helps to release the steam. There is no need to hold down any steam triggers or buttons like on other brands of steam mops.
The S6002 comes with an extra handle which attaches to the steam mop head. This allows you to use the steam mop as a spray mop also, with an included bottle of spray cleaner. If your unit comes with The Spray Pocket Mop The Spray bottle can be stored on the handle.
If you are looking for an affordable steam mop for your small cleaning tasks, then the Shark Genius Steam Mop S6002 might be a good choice for you. It is lightweight at only six pounds, and it has great one-level steam control, making it perfect for smaller cleaning tasks. 
If you are looking for an affordable steam mop for your small cleaning tasks, then the Shark Genius Steam Mop S6002 might be a good choice for you. It is lightweight at only six pounds, and it has great one-level steam control, making it perfect for smaller cleaning tasks.  
However, if you are looking a versatile steam mop with multiple settings, then you might want to buy the Shark Genius Steam Mop S5003D, which has three different steam settings to choose from. That is really the biggest difference between the two.
Our Pick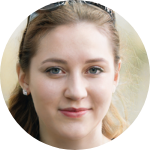 About the Author
Hi I'm Lauren. Passionate organizer, t-shirt folder and owner of a commercial garment steamer, steam cleaner and handheld steamer. I'll discuss all things steaming, so if you need help with buying or using a clothing steamer or steam cleaner, I'm here for you. Please join me on Facebook and don't hesitate to reach out if you have any questions. Happy Steaming!