oApier S15 Steam Mop Review (Why I'm Not Buying This)
The oApier S15 steam mop is a multifunction handheld steam cleaner and steam mop combined. It is worthwhile considering if you are looking for a middle of the range multifunction steam mop that from a brand that has been around for some time.
The oApier S15 steam mop isn't without its limitations however. We've covered some of these in our oApier steam mop overview, but will go into more detail here.
oApier S15 Steam Mop: The Basic Specifications 
| Specification | oApier S15 Steam Mop |
| --- | --- |
| Dimensions: | 29 x 13.5 x 7 inches |
| Weight: | 7.2 pounds (without water) |
| Heat up Time: | 30 seconds |
| Accessories: | 9 |
| Power Cord: | 30 feet |
| Water Tank: | 12.15 ounces |
| Boiler Temp: | 212°F |
| Wattage: | 1550 watts |
Pros of the Oapier S15 Steam Cleaner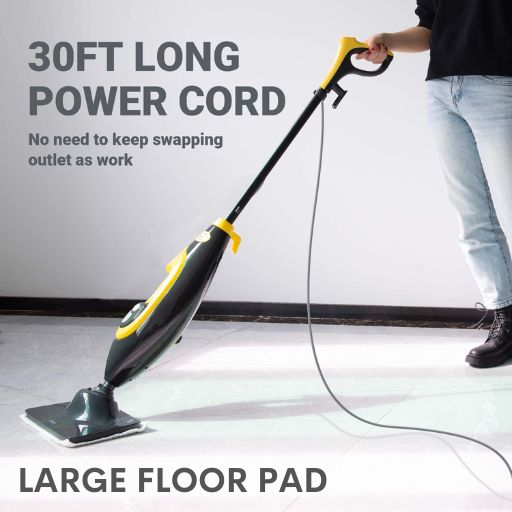 30ft Power Cord
Most steam mops have power cords between 16ft and 25ft long. The oApier S15 steam mop has a 30ft power cord, so you don't need to use any extension leads or change power outlets frequently. This might seem like a trivial detail, but having used steam mops for many years, a long power cord saves you time. Especially as every time you unplug and replug the steam mop it takes time to heat back up again.
Removable Multi Purpose Handheld Steamer 
Having one product that can be used for multiple purposes is always a bonus, and the oApier S15 steam mop doesn't disappoint. You can easily remove the handheld steam cleaner from the steam mop. The 3 adjustable steam settings can be used for both the steam mop and the multi purpose handheld steamer.
Using the steamer, you can clean various items such as upholstery, dining table, appliances, bathroom and kitchen sinks, microwaves, refrigerators, oven racks and stovetops. Apart from that, you can use it to clean windows, showers, and kids and pets toys.  
It converts easily to a steam mop and it is perfect for all types of floors including granite, linoleum, marble, hardwood, ceramic, etc. For easier use, it comes with an on-hand storage kit for carrying the accessories as you clean.  
3 Steam Setting Settings
The steam cleaner heats to a standard temperature of 212°F. There are multifunction steam mops on the market in 2022 that heat higher than this. An example of this is the Schenley steam mop, which also has 3 levels of steam. There's not a huge difference in steam temperatures, and steam temperature over boiling point (212°F) is effective in killing microorganisms, germs, bacteria etc.
The steam mop heats in 20 seconds, fairly standard for most multipurpose steam mops on the market.
Stands Up on Its Own
The oApier S15 steam mop can be locked into an upright position and will stop steaming and stand up on its own. This is an excellent feature if you have children, pets, need to tidy as you clean, or answer the phone or front door. The rectangle steam mop head is 8 inches x 6 inches.
The downside with this however, is the heat under the steam pad can damage sensitive flooring such as wood or laminate when left in one position. I therefore only recommend using this feature if you are on a tiled floor. Alternatively, purchase a heatproof mat to stand the steamer on whilst it is idle and not in use. Consider also the Euroflex M4S Multi Purpose Steam Cleaner, which includes a parking pad for the steam mop.
Cons of the oApier S15 Steam Cleaner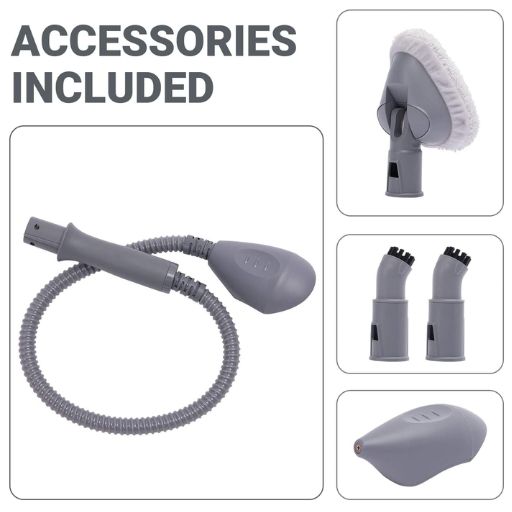 Accessories
As you can see from the image above, the included accessories with the S15 steam mop are pretty dismal. There are:
2 grout brushes
Extension wand
Nozzle
Upholstery and fabric tool
The upholstery and fabric tool could also be used to clean toilet seats, bench tops, inside sinks etc. Given you only get 1 microfiber cover for this tool, you may have to get a little creative with some face cloths or microfiber cloths, or buy extra microfiber bonnets.
The round brushes aren't a great design for grout – there are much better grout tools available with other steam cleaners. Take a look at our best steam cleaners for grout if grout cleaning is important to you.
You do get 3 microfiber cleaning pads for the steam mop, which is a bonus – but not enough to make me want to buy the S15 steam mop.
Bulky Design
The handheld steam cleaner feels rather bulky compared to other models. Here's how it looks and how difficult it would be to get into tight spaces: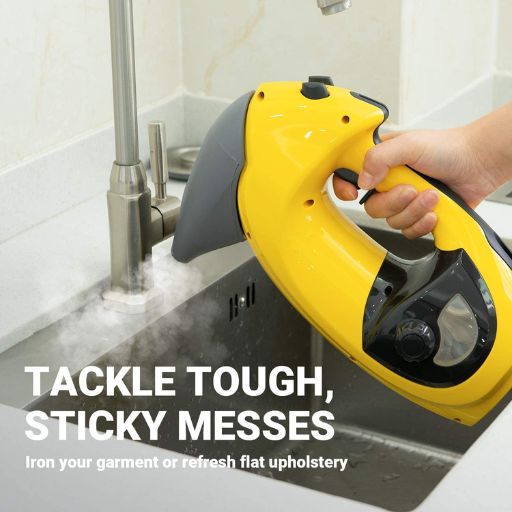 Granted, oApier market this multipurpose steam mop at refreshing upholstery and clothing. It would be suitable for both clothing, bedding, cushions, sofa and upholstery fabrics, however, if I'm going to buy a multifunction steam mop, I expect more. I want to be able to clean my sinks, shower, toilet, oven and other areas as well.
As I mentioned with the accessories above (or lack thereof), the oApier S15 steam mop doesn't come with a squeegee tool for windows or shower screen, no metal scrubbing brushes for oven racks or the grill, and the two nylon bristle brushes aren't enough to make me want to rush out and buy this model.
Finally, you also have to hold your finger down on the steam trigger for the steam to release. This can get tiring on your fingers and hands, and isn't well designed for those with arthritis or weak hands.
About the oApier Brand
oApier is a division of Light n Easy, a home cleaning manufacturer. Both Light n Easy and oApier steam mops sell well on Amazon and are backed by a 12 month warranty. Both Light n Easy and oApier are made in China.
For support from Light n Easy or oApier, you can email oapier@lightneasy.com or visit the Light n Easy website. They offer a 3 month money back guarantee from the day you purchase the S15 steam mop, along with the 1 year warranty.
Frequently Asked Questions
Are Oapier Steam Mops the same? 
There are 6 models of oApier steam mops on the market at the time of writing, and they are all slightly different. The similarities are:
They all heat to 212F
All require distilled water for the best steaming ability and longevity of the machine
Some are steam mops only, some have added tools for grout cleaning, the S15 model being the only one that converts to a handheld steam cleaner.
Read my full comparison of the 6 oApier steam mops here.
oApier S15 Steam Mop Instructions
You can find the user manual and operating instructions for the oApier S15 steam mop online at the Light n Easy website. Here is the link to the product manual page for the S15 steam mop (and other oApier and Light n Easy steam mops too).
What is a Better Buy than the oApier S15 Steam Mop?
If you want to stick with the Light n Easy brand, take a look at the all in one steam mop and steam cleaner below: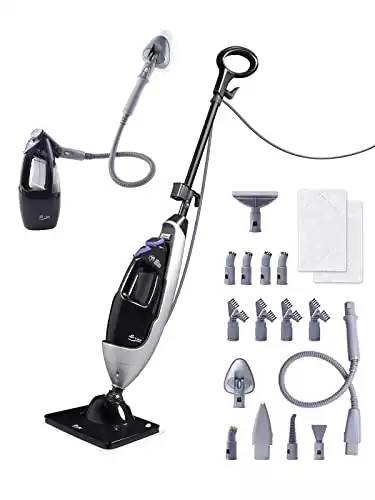 LIGHT 'N' EASY Steam Mop
This multi purpose steam mop has a detachable handheld steamer and tons of accessories, making it a better buy than the oApier S15 steam mop - even though they are the same brand! It also heats to a hotter 230°F for more effective steam cleaning.
Buy on Amazon
We earn a commission if you make a purchase, at no additional cost to you.
07/22/2023 05:49 pm GMT

If you're not loyal to the oApier or Light n Easy steam mop brand, consider the other steam mops mentioned in this post, or take a look at my multifunction steam mop reviews page for other models to consider.
Final Verdict: Is the oApier S15 Steam Cleaner Worth It? 
I'm not rushing out to buy the oApier S15 steam mop, nor would I recommend you do either. There are other models on the market that heat to a higher temperature, offer a wider range of accessories, have longer warranties and I would be confident I'd made a great purchase.
Unfortunately, I can't say that about the S15 steam mop. In 2022, I expect more than a standard 212F heating temperature, more accessories, more functionality, better design – and for me, the oApier S15 steam mop is far too limited in so many areas to meet my criteria. Call me fussy, but I want the best, and the S15 isn't it.