Bissell 1806 vs 1940 – A Comparison of the Best Sellers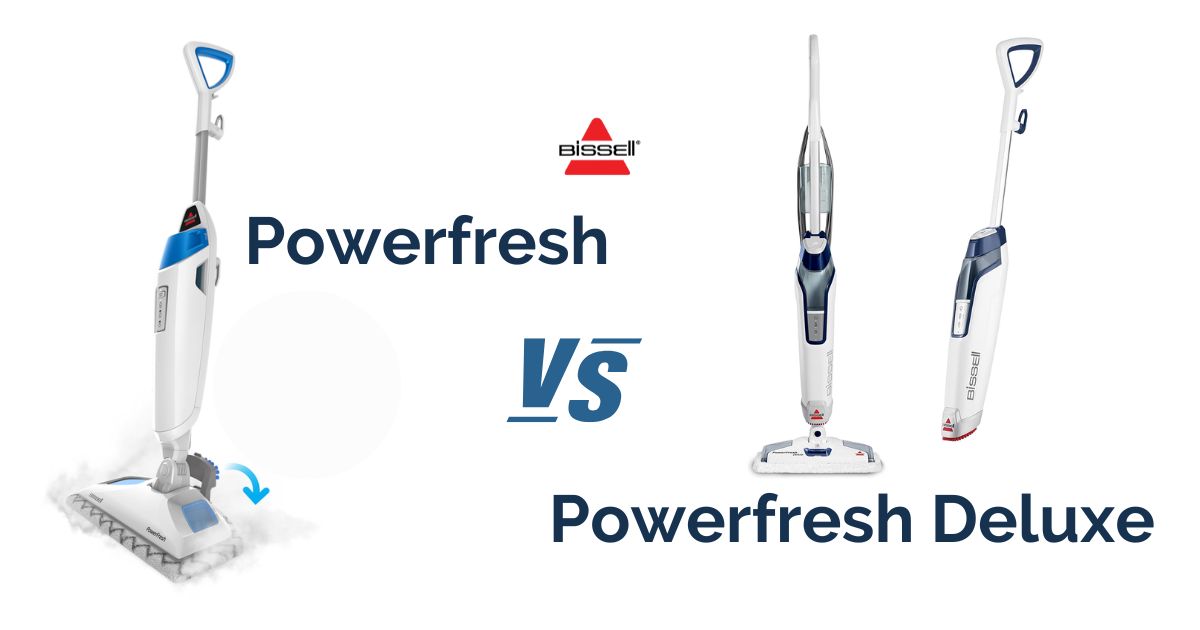 Bissell are one of the best selling steam mops in 2022. Their steam mops are easy to use, affordable to buy and if cared for correctly can last for many years.
One thing steam mop manufacturers (Bissell in particular) are great at is confusing everyone with their various model numbers. You'll find there's a 1940 and 1940w, 19404 and 19405 (which are actually all the same steam mop).
I have written a roundup post to compare Bissell steam mops (8 different models), but in this post I want to talk specifically about Bissell 1940 vs 1806 – the Powerfresh and Powerfresh Deluxe.
I'll also touch on why you might find an A, W or extra number on the end, so keep reading, or use the table of contents to jump to a specific section.
Bissell 1806 vs 1940: A Side by Side Comparison
| | |
| --- | --- |
| Bissell 1806  | Bissell 1940  |
| Large scrubbing brush | Flip down scrubbing brush |
| Fragrance disc slot   | Doesn't have a fragrance disc slot  |
| 2 steam levels   | 3 steam levels   |
| 212⁰F boiler temperature | 212⁰F boiler temperature |
| Permanent 19oz (0.56L) water tank  | Removable 16oz (0.47L) water tank   |
| Carpet glider sold separately | Carpet glider included   |
| 25ft power cord  | 23ft power cord  |
| 1450 watt power rating  | 1500 watt power rating   |
Bissell PowerFresh Deluxe (1806) Unique Features
The Bissell 1806 steam mop uses hot steam up to 212⁰F to kill bacteria, viruses, fungi and germs from hard surfaces.  It has a power rating of 12amps and it is built to provide amazing cleaning results without chemicals or detergents. 
You can use it to clean sealed floors such as hardwood, tiles, marble, ceramic, granite and linoleum. The machine has excellent features which enable it to handle tough messes easily making it ideal for homes and businesses. Some of the notable features you will find in this machine include:
Foot Operated Removable Scrubber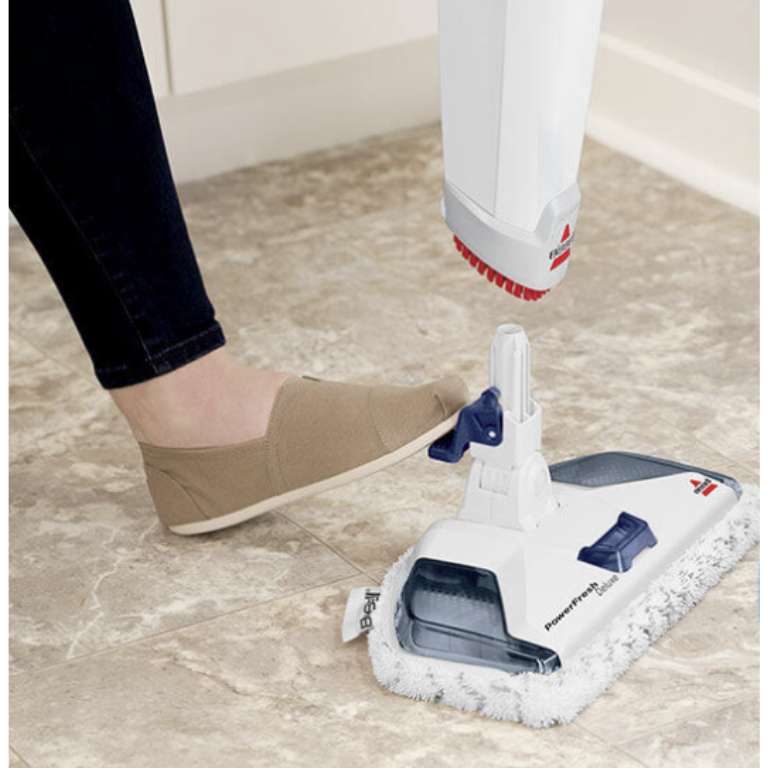 With this machine, you can clean crevices, grout and other forms of tough messes using the removable scrubber. This tool is also perfect for removing stains or cleaning hard surfaces.
I've even seen one person wrap the scrubber in a microfiber cloth and clean the inside of their oven door. Now that's innovative!
You don't need to bend down, just press the foot operated lever on the back of the steam mop and lift off the scrubber.
Keep in mind the mop weighs approx 6 pounds without water, so if you have trouble lifting this weight on and off the steamer head, this design might not be the best for you.
Scent Disc Tray and Top-fill design 
Another great thing about this machine is that it comes with Spring Breeze Scent Discs which are placed in the Scent Disc Tray to provide a refreshing scent when cleaning.
You can also place the scent discs in a small pocket inside the mop pad. If you like a heavier scent when cleaning, use both at the same time.
You can easily add water into the 19oz reservoir using the water cup provided.   The top-fill design also makes it easy to refill – if you bring the water to the machine. Unfortunately, with the 1806 model, the water tank does not disconnect from the steam mop.
Two Power Levels
With a low and high power setting, you can use the Powerfresh deluxe across different flooring types. Choose low for delicate flooring such as hardwood, laminate or marble and high for tiles and grout cleaning.
What is Different About the Bissell 1940 Model?
Just like the Bissell Steam 1806 PowerFresh Deluxe, the Bissell 1940 is designed for cleaning all types of sealed floors.  It heats up fast and you won't spend a lot of time putting it together. Some of the unique features you will find in this machine include:
Carpet Attachment Tool 
Unlike the Bissell 1806 Steam mop, the Bissell 1940 features a carpet glider as standard (you need to buy this separately with the 1806 model).
It's not a carpet cleaner per se, you attach the plastic glider over the top of the steam mop pad – the plastic then glides easily over low pile carpets and rugs. The steam will help to release any dirt trapped in the top of the carpet fibers and help to deodorize odors.
Three Power Levels
There are 3 steam settings on the Powerfresh model vs 2 steam settings on the deluxe. This makes the 1940 a better choice for homes with mixed flooring types, especially delicate laminate flooring (which really shouldn't be steamed but many people do).
Removable Water Tank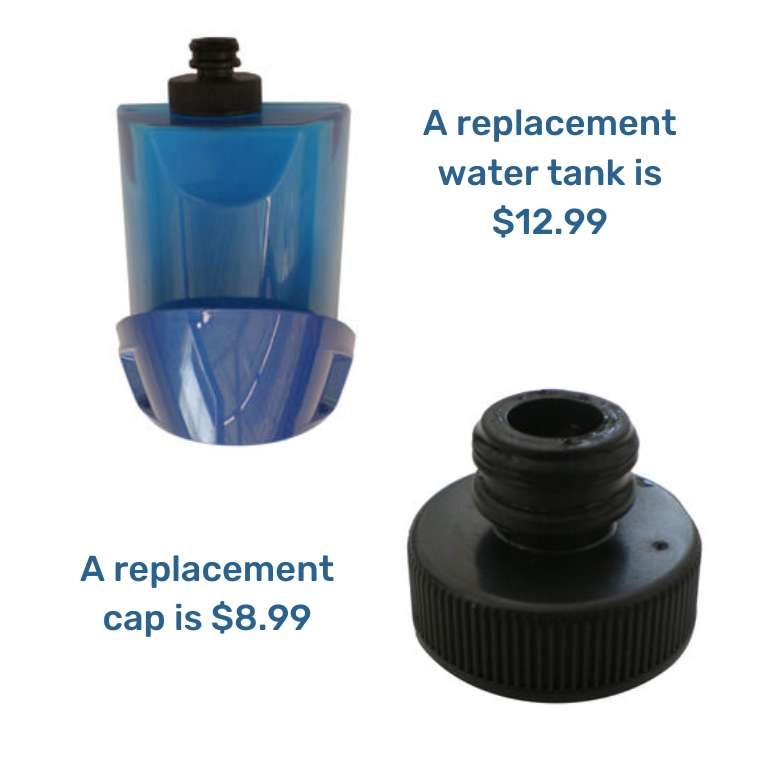 Rather than bringing the water to the steam mop, you can detach the water tank and take it to the sink with the Bissell 1940.
There's pros and cons to this (mostly cons):
Users have complained about having to unscrew the cap of the water tank to refill
One user has had to replace a broken cap twice (which costs $8.99 from Bissell)
Many users complain about the water tank leaking on this model
The consensus is the top fill design of the Powerfresh Deluxe (1806) is better
Similarities Between the 1806 and 1940 Steam Mops
Here is a quick overview of the features that are similar. If you're on the fence about which steam mop to buy, one of these small differences (or similarities) might help make your decision.
Both models have a 12 inch wide steam mop head
Both models use the same mop pads, and you can buy generic (cheaper) mop pads to fit
Both steam mops weigh 6.2 pounds
The power cord is slightly longer on the Deluxe model – 25ft compared to 23ft
Both models heat up in less than 1 minute
You need to use distilled water in both models
Both models have a swivel mop head to move around and underneath furniture
Bissell offers a 2 year warranty on both machines (within the US, Canada and Australia)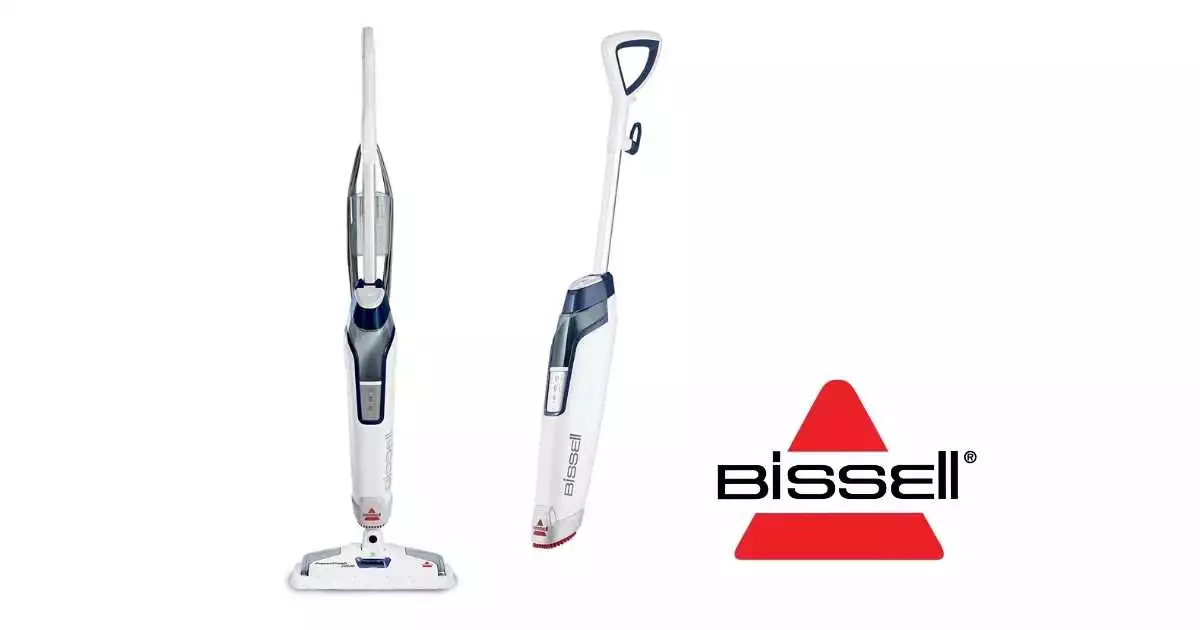 Bissell Powerfresh Deluxe
2 steam settings
Built in water tank (doesn't remove)
25ft power cord
Great brush for grout or textured tiles
2 microfiber pads included
We earn a commission if you make a purchase, at no additional cost to you.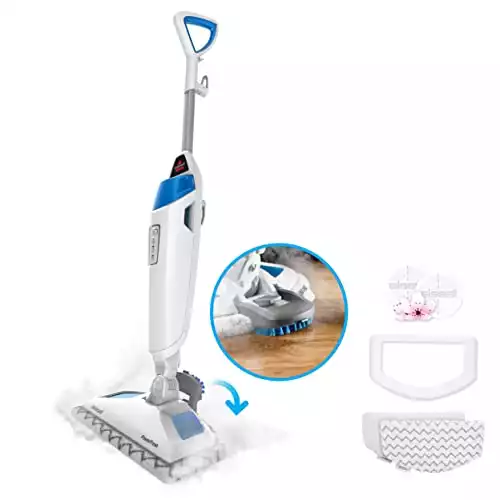 Bissell Power Fresh Steam Mop
3 steam levels
flip down floor scrubber
2 microfiber pads included
2 fragrance discs included
refresh carpets and rugs with the included carpet glider
We earn a commission if you make a purchase, at no additional cost to you.


A Breakdown of the Various Model Numbers
USA
1940A – sold on Amazon
1940W – the orange colored model – sold at Walmart
19404 – PowerFresh Pet – has purple accents and comes with scented discs for pet odor removal
19404 – The purple colored Powerfresh Pet
19405 – The aqua colored model – sold at Walmart
Canada
1806C – Powerfresh Deluxe
1806D – Powerfresh Deluxe Dark Gray Version
19401 – The standard Powerfresh model
19404 – The purple colored Powerfresh Pet (same as sold in the US)
UK
Bissell only offer the Powerfresh Slim model (click here for my review) or the Vac n Steam (same as the Symphony – review here) within the UK.
Europe
Like the UK, there are limited models available across Europe. You can buy the Powerfresh Deluxe, which in European countries is named the Powerfresh Titanium. You can also buy the Powerfresh Slim and Vac n Steam.
Australia and New Zealand
The Powerfresh Deluxe is model number 1979F in Australia and NZ and 1979H. The 1979H is called the Powerfresh Sanitize and is dark gray and purple.
The 1940 model (standard Powerfresh model) is not sold in Australia or New Zealand.
There is also a Powerfresh V model (1979K) which has a triangle mop head rather than rectangle.
Model numbers are the same across both countries, the head office is located in Victoria, Australia.
A Note for Overseas Buyers
Bissell are well supported in USA, Canada, UK, Europe, Australia and New Zealand.
Outside of USA and Canada, there are limited models and not all models are sold worldwide.
If you are outside these countries and choose to buy a Bissell steam mop, I advise you to reach out to Bissell first. If there is no service center in your country, or no warranty outside certain countries Bissell sells to, you may be out of pocket if your steam mop fails.
As always, use distilled or demineralized water (wherever you are in the world) as recommended by Bissell, for the longevity and performance of your steam mop.
Frequently Asked Questions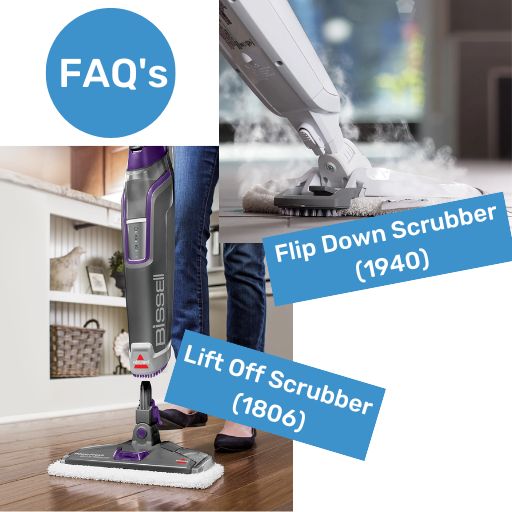 Which is better Bissell 1940 or 1806? 
Bissell 1806 (Powerfresh Deluxe) is the model sold by Bissell across many countries. It offers a larger water tank, longer power cord and larger scrubbing brush. If you have large tiled areas in your home, the Bissell 1806 is best. If you have mixed or delicate flooring, you may prefer the Bissell 1940 for the three steam settings.
Do you have to use distilled water in Bissell Steam Mop? 
Yes, Bissell recommends the use of distilled water in their steam mops since hard or tap water may leave mineral deposits inside the machine. This may affect the overall performance or even damage some components.  
Can I use any Bissell cleaner in my Bissell steam mop?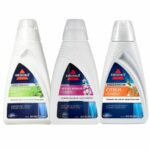 No you cannot use any Bissell floor cleaner. Stick to the Bissell scented demineralized water, or use distilled water only.
Why is my Bissell Powerfresh Steam Mop not steaming? 
If your Bissell Powerfresh is not steaming, check that you have pressed the steam on/off button, then selected a steam level (low or high). Also check there is sufficient water in the tank. Try checking the power cord for damage, and checking your circuit board to see nothing has tripped. If your steam mop still isn't steaming, contact Bissell for support.
Which Bissell Steam Mop Will You Choose?
After reading our detailed Bissell PowerFresh Deluxe Steam Mop 1806 Vs 1940 guide, I hope you now understand how these two machines differ.
If you are searching for the best steam mop for grout cleaning or scrubbing hard floors, the Bissell 1806 PowerFresh Deluxe will be the best. It comes with an effective SpotBoost brush (that I like to call the lift off scrubber, as you lift it off the steam mop head) which enables it to handle tough or sticky messes easily. 
On the other hand, the Bissell 1940 Steam Mop features a flip-down scrubbing brush that you can use to clean sticky spots on your floor.
It is not as easy to clean grout with the flip down scrubber, but it sure is handy for other sticky spots on the floor. The three steam settings are best suited to home with different flooring types so you can adjust the steam levels.
So, which Bissell Powerfresh will you choose? Have you bought a Bissell? Let me know in the comments below!