6 Diffuser Humidifier Combos For Essential Oils and Aromatherapy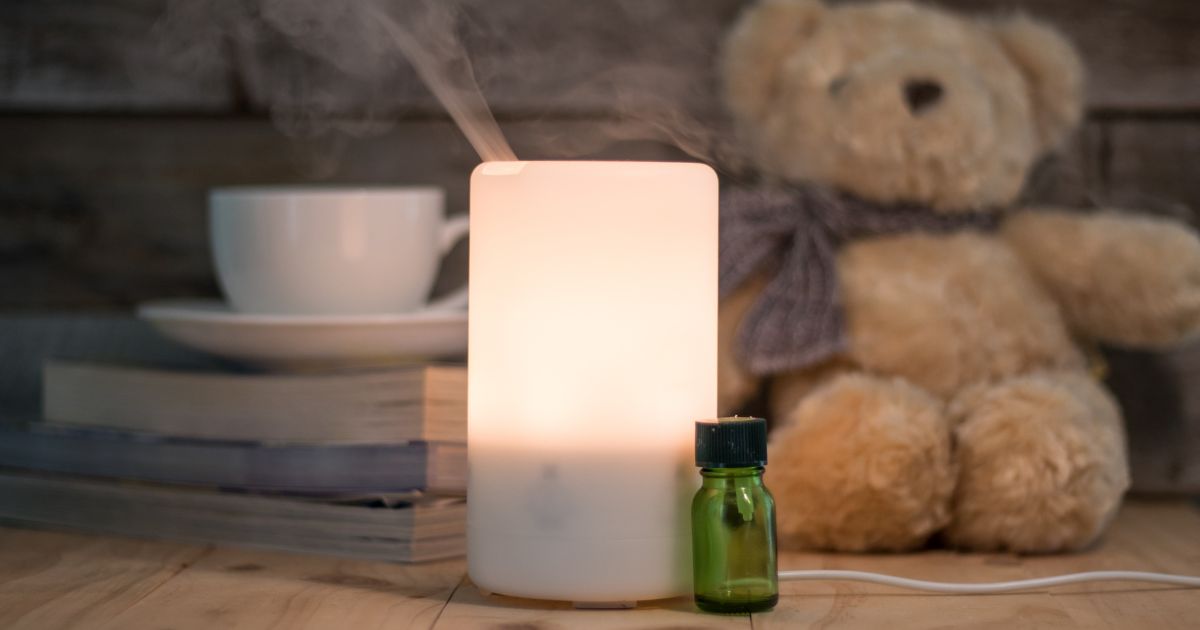 If you love to diffuse essential oils in your home, but want the benefits of a humidifier as well, a diffuser humidifier combo is what you need.
Humidifiers emit water vapor into the air to boost the water level.  When using a humidifier, you will no longer struggle with health issues that are associated with breathing dry air such as sinus problems, snoring, dry skin, cracked lips, dry throat or dry skin. As a result, you will enjoy a more relaxed and comfortable sleep. 
On the other hand, diffusers, help to distribute your favorite essential oils in the air to add a pleasant aroma.  Instead of buying these two machines separately, it is better to invest in a diffuser humidifier combo since they are 2-in-1 appliances. To save your time when buying, we have researched and identified the 6 best diffuser humidifier combos for 2022.
A Quick Look at the Top 6 Choices:
| Product Image | Product Name / Primary Rating / Price | Primary Button / Secondary Button |
| --- | --- | --- |
| | | |
| | | |
| | | |
| | | |
| | | |
| | | |
07/22/2023 09:41 pm GMT

Levoit Large Room Humidifier With Warm or Cool Mist
Levoit Large Room Humidifier With Smart Control
This large warm and cool mist humidifier from Levoit runs for up to 50 hours, refills from the top of the machine, can be managed by an app, Alexa, or Google assistant, and offers comprehensive programs for management of indoor plants. Add essential oils into the aroma box to enjoy the benefits of aromatherapy during humidification.
Buy on Amazon
Buy at Levoit
We earn a commission if you make a purchase, at no additional cost to you.
07/22/2023 09:41 pm GMT

This model comes first in our list as the best humidifier diffuser combo due to its unique features.  Unlike other models in this list, the LEVOIT Humidifier is suitable for very large rooms since it covers up to 753 square feet. It lasts for 50 hours due to the large 1.5 gallon (6 liter) water tank and it has a mist output of up to 500ml per hour in warm mist mode, 300ml per hour in cool mist mode.
When using this machine, you can customize humidity according to your preferred target. The auto-mode adjusts the humidity level automatically to make your work easier. Besides that, it has an auto-sensor and auto mode that sets mist levels as per your settings. 
You can add your favorite essential oils to the aroma box to enjoy scented fresh air.  For easier use, it comes with a remote control which allows you to turn it on as long as you are in the room.  The machine raises relative humidity by 10% within 30 minutes when using the warm mist mode.
Since it offers near-silent noise levels, it is very convenient to use at night. In terms of performance, it provides 4x faster humidification compared to other models. In the box, you will find a user manual, 3 absorption pads, 3 aroma pads, a cleaning brush plus the remote control. 
Pros
Covers up to 753 square feet 
280 watts power rating 
50 hours run-time 
Control via an app or voice assistant
Quiet operation and night mode
Warm or cool mist output
Auto shut off when humidity reaches 60%
2 year warranty
Cons
Some users experienced difficulty with App and Wi-Fi connectivity
Requires ongoing filters (approx $1 per filter) – find the filters here.
Pricier than other humidifiers on this list.
Everlasting Comfort Filterless Diffuser Humidifier Combo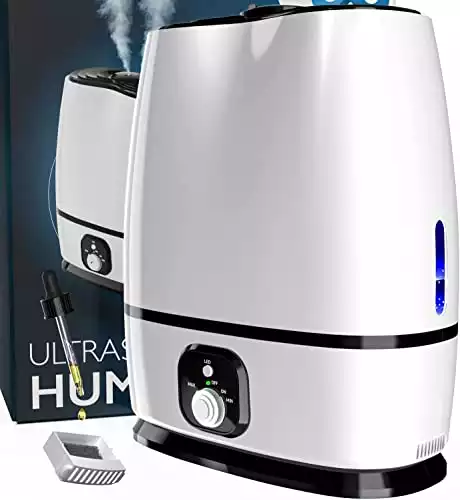 Everlasting Comfort Diffuser Humidifier Combo - Filterless Design
Humidifying up to 500 square feet, the Everlasting Comfort runs for 22-50 hours depending on the setting, is compact in size, and operates at a small 22 watts of power. Offering a cool mist output only, this humidifier outputs between 120ml and 270ml of mist per hour. It's slightly noisier than the Levoit humidifier, but still operates around 35dB.The viewing window lets you see the water level and the humidifier will auto shut off when the water is low.
Buy on Amazon
We earn a commission if you make a purchase, at no additional cost to you.
07/22/2023 10:09 pm GMT

The Everlasting Comfort humidifier is a basic cool mist humidifier with essential oil tray for diffusing. It has a large 1.6 gallon water tank (6 liters), but unlike the Levoit humidifier above, it doesn't fill from the top, which can make this model a little awkard with refilling.
Suitable for rooms up to 500 square feet, the Everlast Comfort humidifier is filter less, so there is no ongoing filters to buy. Using distilled water is recommended due to the lack of filters. I like that the nozzle can be adjusted 360 degrees to point the mist in any direction you choose. The small window in the side allows you to see how much water is left in the tank, and the humidifier will shut itself off when the water is low.
Unfortunately however, there is no built in hygrometer or humidistat, so the machine won't adjust itself based on the humidity in the room, so this is something you'll need to keep an eye on manually to avoid over humidification.
Pros
Covers up to 500 square feet 
22 watts power rating 
Up to 50 hours run-time 
Auto shut off when water is low
Essential oil tray for aromatherapy

2 year warranty
Cons
Noisier than the Levoit humidifier
Doesn't monitor humidity or automatically adjust settings
Have to turn upside down to refill
Black version shows up fingerprints
Hupro LED Humidifier and Diffuser With Ceramic Filter
Our Pick
HuPro Humidifier and Diffuser with Ceramic Filter
This is a new model for 2022 and an impressive one at that. The HuPro humidifier offers both cool and warm mist output, 5 speed levels, auto shut off and has a remote control. The essential oil tray allows for aromatherapy while using the humidifier. Fill the unit from the top, or use the carry handle to remove the water tank to take it to the sink - it holds 1 gallon of water and runs for 24-30 hours. What sets this model apart from the Levoit humidifier is the built in ceramic filter with carbon and mineral pellets for filtration and air ionization. It's quiet too - running at under 30dB.
Buy on Amazon
We earn a commission if you make a purchase, at no additional cost to you.

If you are searching for the most stylish and advanced diffuser humidifier, the HuPro LED Humidifier will be a great choice. It comes with amazing features which you can rarely find in other models and as a result, it is slightly more expensive.  It has a 1.3 gallon (4L) water tank which enables it to run for 24-30 hours. The 360 degree nozzle disperses mist in any direction.
You can use it in rooms up to 500 square feet. The 12 hour timer allows you to set your preferred hours of operating. It is very quiet, operating at a low noise level of 30dB. It has a sleep mode option that deactivates sounds and light to give you a comfortable nights rest. This also makes it perfect for the elderly, children, or sensitive sleepers.   
To enhance performance, it is equipped with a specially engineered ceramic filter that features minerals and carbon pellets for purifying water. This purification system produces up to 300 million cleansing ions within a minute. As a result, it is highly effective in removing smoke, pollen, dust and other forms of allergens.
You can add your preferred essential oils in the box provided to enjoy the benefits of aromatherapy whilst humidifying your space. The removable water tank has a secure inbuilt handle plus an extra large opening for easier refilling – from the top not the bottom. The controls are all touch screen with 5 humidity settings operated by a slider.
The only way I can see to improve the HuPro diffuser humidifier combo is to increase the warranty comparable to other leading brands. You can add 3 and 4 year protection plans when buying on Amazon. Interestingly, the HuPro diffuser humidifier combo is sold by Polardo – who are makers of a great mini garment steamer as well.
Pros
New release for 2022
Stylish design
Easy refilling from the top + easy cleaning
Ceramic filter
Air purification
Warm and Cool mist humidification
Built in humidistat
Sleep mode (no lights)
Included brush for cleaning
GENIANI Top Fill Cool Mist Humidifier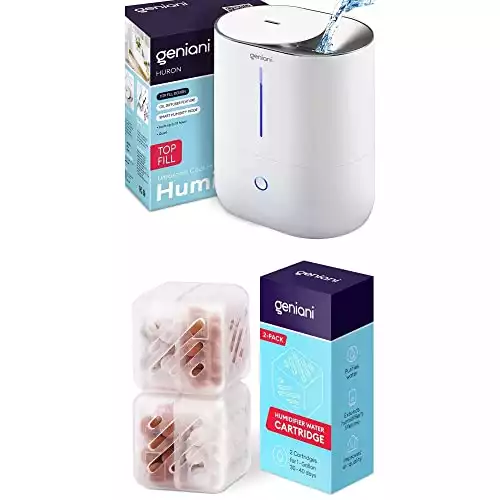 Geniani Small Room Humidifier with Essential Oil Tray
Another great top fill ultrasonic humidifier with quiet operation (under 30dB) and a built in essential oil tray for your favorite scents. This smaller model humidifies up to 220ft rooms and has 3 settings. The whole top removes for easy cleaning, and the humidifier shuts off when the water is low.
Buy on Amazon
We earn a commission if you make a purchase, at no additional cost to you.
07/22/2023 11:30 pm GMT

Geniani Top Fill Mist Humidifier is another reliable appliance you should have in your bedroom, home office or smaller spaces.  It is a 2-in-1 appliance that performs both functions of a humidifier and a diffuser. The water tank has a capacity of 1.05 gallons or 4 liters and it lasts up to 18 hours after refilling.
This machine is designed for rooms that are not more than 220 square feet. When using this machine, refilling water will not be a problem since it offers 2 easy ways of adding water. You can either remove the lid to refill or add water directly using the special hole provided in the lid.
Unlike others models that are difficult to clean, the Geniani diffuser humidifier combo has a removable water base for easier cleaning, and very specific instructions in the manual on how to clean the atomizer, water tank and water channel. A note on this however, if you are not prepared to around 30 minutes per week thoroughly cleaning the parts, this humidifier isn't for you. You'll need to do a little bit of soaking, scrubbing and washing. Also – don't be confused by acetum for cleaning in the instruction manual – this is vinegar.
UPDATE FOR 2022: Geniani have introduced water cartridges that you place inside the humidifier that help to demineralize the water, cut down on cleaning and extend the life of your humidifier. A 5 pack of replacement cartridges is around $15, you can find them here.
It offers a low noise level of 30dB so it won't disturb you at night. Another great feature you will find in this diffuser humidifier combo is the inbuilt smart sensor that maintains the required humidity levels in the room. You can manually select your preferred humidity level from the 3 options provided. These settings include High, Medium, and Low. 
If you are looking for an affordable option, this machine is among the best diffuser dehumidifier combo for those on a budget.  Other features that are found in this machine are 4 mist settings, an LED night light, an auto-shut-off function, and an inbuilt essential oil tray.  
Pros
Reasonably priced
Easy to refill
Excellent instruction manual
Quiet operation
Built in humidity sensor
Essential oil tray for diffusing oils
No filters
Cons
Cool mist only
Ongoing cost for water cartridges
No clear warranty information online or in the user manual
You have to press the button continuously to change settings
Vicks Ultrasonic Humidifier and Diffuser With Night Light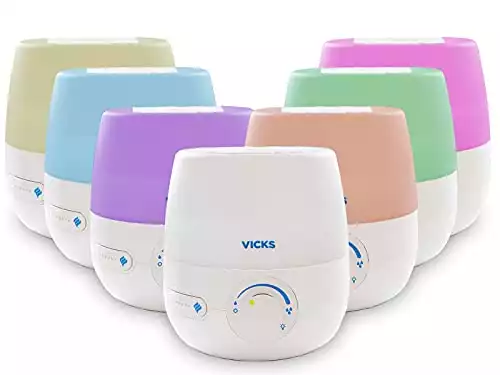 Vicks Humidifier and Diffuser With Night Light
This small humidifier is perfect for placing near your bed for sleep. You can use the essential oil tray or add oils directly into the water (which is not recommended by other brands). Vicks also make VapoPads in either menthol or eucalyptus, rosemary and lavender scents for a done for you scent option, a sample of which is included with the humidifier.
Buy on Amazon
We earn a commission if you make a purchase, at no additional cost to you.
07/23/2023 01:48 am GMT

The Vicks NaturalCare Cool Mist Ultrasonic Humidifier VUL530 has a built in night light that rotates through 7 attractive colors. You can also choose for it to stay on a color, or turn off entirely. Furthermore, you can use the humidifier solely as a night light without the humidification function (great for year round use).
Unlike other diffuser humidifier combos, Vicks state that you can put essential oils straight into the water tank with this model as the tank and reservoir are made from oil-proof materials. Use only 100% natural essential oils. You can also pour essential oils into the tray, or use the Vicks VapoPads (one sample included) that are highly effective in providing relaxing aromatic vapors and each pad lasts up to 8 hours.
When reordering, you can choose your preferred scents such as eucalyptus, menthol, lavender or rosemary (and combinations of these – available on Amazon). If you have been searching for an excellent solution for stuffy nose, congestion or cough at night, this model will provide temporary relief for such problems.  
You can adjust the nozzle up to 180 degrees to direct the mist as per your requirements. This isn't as flexible as the HuPro humidifier above, which has a 360 degree nozzle, however, if you are placing the humidifier on your bedside table, you wouldn't want the mist directed at the wall – so 180 degrees is practical in this setting.   
Whilst the humidifier is filter less, you can purchase additional products to help keep the humidifier clean, and demineralize the water. Vicks specifically recommend the following products in their user manual:
Protec Antimicrobial Cleaning Ball or Fish (same thing, just a different shape) – lasts for 30 days.
Protec Demineralization Cartridge item number PDC51V2 (not needed if you use distilled water, recommended for tap water) – replace every 2-4 weeks. I could only find the PDC51V1 on Amazon, so if you purchase this humidifier, I'd recommend using distilled water, or contact consumerrelations@helenoftroy.com to ask about ordering.
Regardless of these products, a weekly cleaning schedule is still recommended (a vinegar soak for 15-20 minutes), followed by disinfecting with a bleach and water solution (again soaking for 15-20 minutes). If you use distilled water you won't need the cleaning schedule, however, if you place essential oils in the tank I would still recommend this to avoid any build up.
Pros
Reasonably priced
Essential oil tray for diffusing oils
No filters
Color changing and 3 dimming levels for soft light at night
Compatible with Vicks VapoPads
Can put essential oils into the water tank
2 year warranty
Cons
Suitable for small spaces only
Ongoing cost antimicrobial and demineralization cartridges if not using distilled water
Steamfast SF-920 Warm Mist Aromatherapy Humidifier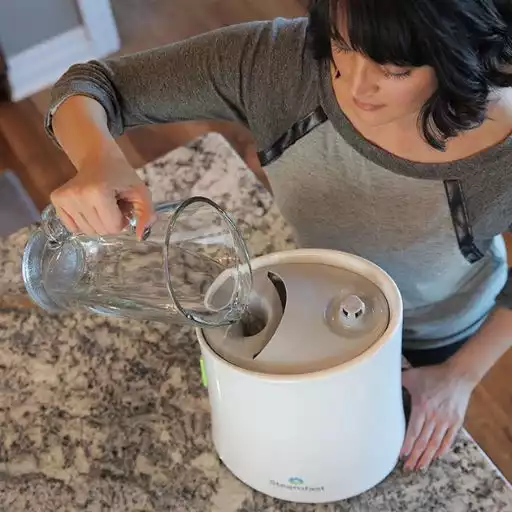 Steamfast Warm Mist Humidifier and Aroma Diffuser
This Steamfast humidifier outputs warm mist only and has an essential oil ring on the top of the machine. Pour essential oil here and as the warm mist is release the scent is diffused as well. This is a well designed humidifier for smaller rooms, home offices and bedrooms. With two steam settings, it will run for up to 24 hours, automatically shutting off if the tank runs dry.
Buy at Sylvane
Buy on Amazon
We earn a commission if you make a purchase, at no additional cost to you.

Steamfast have been around for a long time and make quality devices when it comes to steaming around the home. What I like about Steamfast also is they are supported in Canada as well as the USA.
This is a steam humidifier, so if you have children or pets in your home, this poses a risk to them and probably isn't for you. But if you are suffering with congestion, sinus or cold and flu symptoms during Winter, the steam humidifier combined with the benefits of essential oils can be helpful for symptomatic relief.
I do also like the design of the Steamfast humidifier, you can pour water in the top (as pictured above), or lift the entire water bucket out of the top of the humidifier for easy refilling. Please use distilled or demineralized water however – there are plenty of 1 star reviews on Amazon from consumers who's heating elements corroded from hard water use.
There's nothing fancy about the Steamfast humidifier, the switch on the side slides from off to low to high. It heats up in 3 minutes, producing steam quickly to start humidifying the room. There's no humidistat, hygrometer or digital settings, so you'll need to buy a hygrometer separately to keep an eye on the humidity in the room.
Pros
Reasonably priced
Easy to fill with water
Easy to clean
No filters
No white dust from tap water use
2 year warranty
Cons
Hot steam – burns risk
No automatic settings
Frequently Asked Questions About Humidifier Oil Diffuser Combos
What is a humidifier and diffuser combo? 
A humidifier diffuser combo is a 2-in-1 appliance that can release water vapor into the air to boost the humidity and also releases essential oils for aromatherapy. With a humidifier and diffuser combo, you don't need to buy these two machines separately since it performs both functions.
Can I use a diffuser and a humidifier at the same time? 
You can use a diffuser and a humidifier at the same time. Even though the two machines add water to the environment, they perform different functions.  A diffuser has a smaller water tank than a humidifier since its main purpose is aromatherapy. Never add essential oils into a humidifier's water tank to convert it into a diffuser, this could cause permanent damage.  
Is a diffuser also a humidifier?
Diffusers are smaller versions of humidifiers and release some moisture into the air, along with diffusing essential oils. They are generally not large to increase the relative humidity of a room. If you are suffering the effects of low humidity, a humidifier would be a better choice. For the combined benefit of aromatherapy you can choose a diffuser humidifier combo such as the Levoit large room diffuser and humidifier.
Is a diffuser humidifier combo safe for pets?
Pet Poison Helpline advise you need to be careful about the type of essential oils you use, particularly around indoor cats. Essential oil droplets landing on your pets fur can be ingested when licking themselves. Inhalation of essential oils can cause respiratory issues in cats, dogs and birds. Serious health problems such as liver damage or gastrointestinal problems can also occur from exposure to high concentrations of essential oils.
How do I choose the best diffuser humidifier combo?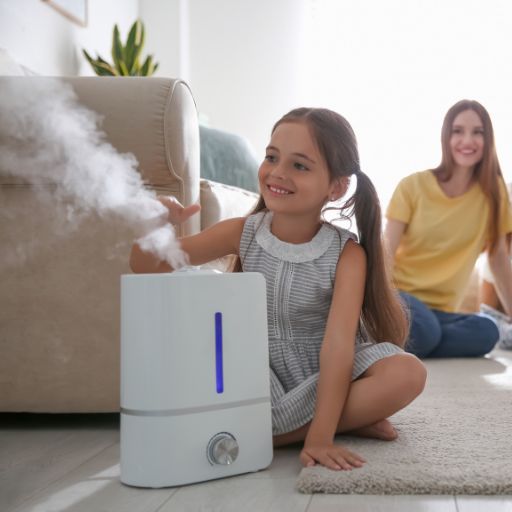 When choosing the best humidifier and aroma diffuser combo, consider the following: 
Size of Your Room
A small humidifier in a large room won't give you much benefit. Likewise, too large a humidifier without a built in humdistat to control the output of mist, can cause over humidification. This comes with its own set of problems including dampness and mold. Consider the size of your room, placement of your humidifier and how you intend to use your humidifier and diffuser combo. If you are unsure, take a look at my article on choosing a humidifier size.
Water Tank Capacity
The water tank capacity will depend on the size of the humidifier you choose. Larger water tanks require less frequent filling, however, you want to make sure that there are different mist output settings available. That way, if you move a large humidifier to a smaller room, you can turn the setting down low to avoid over humidification. Even better is a model with a built in humidistat, which will simply stop outputting mist when the humidity reaches your desired level.
Design
Most of the humidifier and oil diffuser combos on this list are top filling. I've chosen these for ease of refilling with water and easy cleaning. Bottom filling humidifiers can be more prone to leaks, need to be turned upside down to fill with water (then back upright again when full of water). Also consider whether there are any extra items you need to regularly purchase, such as filters, demineralization cartridges, or antimicrobial products.
Many humidifiers also come with LED lights or night lights. If you plan on using these in your bedroom at night, double check that the humidifier has a night time mode turning off the lights completely.
Noise Levels
Some people may enjoy the sound of dripping water or a gentle hum, and others might find this drives them crazy. Consider the noise level of the humidifier and look for models under 35 decibels for the quietest options. Some humidifiers have night time modes that are even quieter, consider this if you are someone who has difficulty falling asleep or staying asleep – especially if you are buying a smaller model humidifier that you would sit on a night stand close to your head.
Adjustable Nozzle
Some humidifiers have nozzles which can be positioned to point in a certain direction. These are a good choice if you are placing a humidifier in the corner of a room and want to ensure the mist is not directed towards walls, curtains or furnishings.
Hygrometers and Humidistats
Larger (and generally pricier) humidifiers have built in hygrometers and humidistats. A hygrometer displays the humidity level, and there are pros and cons to having this built in to the humidifier. A built in hygrometer will show the relative humidity around the humidifier, as that's where the sensor is. A separate hygrometer can be placed anywhere in your room, and moved around to check the relative humidity. These cost $10-15 on Amazon. The ThermoPro TP50 is a popular choice.
A built in humidistat controls the output of the mist from the humidifier based on the humidity reading from the hygrometer. You can set a desired humidity level (for example 60% relative humidity) and when the sensor detects this, the humidifier will slow down or stop producing mist. When the humidity drops, it starts back up again.
You can do all of this yourself by keeping an eye on the humidity in the room and turning the machine on and off, or adjusting the mist settings. For me, there's something about being able to set and forget the humidifier that I find reassuring, so I like the humidistat. Consider how often you'll monitor the humidifier and the humidity in the room, or if you would prefer to automate this process.
Final Verdict – Are diffuser humidifier combos worth it? 
If you love aromatherapy and also want the benefits of a humidifier, then a diffuser humidifier combo is a good choice for you. Of course, you don't need to buy a two in one machine, you can run a diffuser and a humidifier at the same time if you already have both at home.
Humidifier and diffuser combos can range from around $40 up to $160+ depending on the brand, features and size. Use my recommendations above for choosing the right humidifier for your needs, and remember the key to longevity with these machines is regular cleaning and maintenance, particularly when it comes to filterless ultrasonic humidifiers.