Salav steamers have been around for quite some time. When it comes to newer Salav models and Salav standing clothing steamers, they are as equally as impressive as other leading brands. Let's take a closer look at the range of Salav steamers on the market in 2022.
Salav Ultimate Steam System
The Salav Ultimate Steam System (model number ST-50) really is the best of the best when it comes to Salav steamers.
This unit has 1800 watts of power for some seriously good steam output. The water is also double heated – the water from the main water tank is heated to create the steam, then the steam is heated again in the steamer nozzle for ultra dry steam.
This, combined with the fabulous 1800 watts of steam power, will blast through tough wrinkles and thicker fabrics in no time.
For those of you who aren't yet sold on giving up your ironing board entirely, a unit like the Salav Ultimate Steam System is a good transition into steaming.
The board can be positioned vertically for steaming, horizontally for ironing and at any angle in between. It's a short square board however, so it will take some getting used to if you've only used a full sized ironing board before.
The steamer nozzle also rotates 90 degrees at the push of a button, to switch between wider steaming and narrower ironing.
The large water tank holds around 40 fluid ounces of water. As always, distilled water should be used in the Salav steamer for the best quality steam output and longevity of your Salav steamer.
This Salav steamer heats up to 302 degrees Fahrenheit. It also heats up in 60 seconds, which is pretty impressive for a full size garment steamer.
302 degrees Fahrenheit is well above the recommended temperature for killing dust mites and bed bugs. If you like to use your steamer to help sanitize your home, the high powered Salav Ultimate Steam System is a good choice.
Another great benefit of this Salav steamer is the auto shut off feature if the water level runs low. There is also a standby mode, where if the unit is idle for longer than 15 minutes in ironing mode, it will automatically switch itself into standby mode.
There are several different coat hangers included with this Salav steamer to assist with steaming different types of garments. The hangers and steam board can also be removed entirely to maneuver the Salav steamer around your home for other uses, such as curtain steaming or sanitizing.
The steam hose is around 60 inches in length. You can adjust the steaming board by using the swivel knob on the back of the board to change positions easily. The board itself measures 20 inches x 20 inches x 7 inches.
The only attachment this steamer comes with is a delicate clothing attachment. This filters the steam a little more to keep it a further distance from delicate fabrics such as silk.
This Salav steamer is backed by a 12 month warranty. This lets this steamer down a little. For the price and features of the Salav Ultimate Steam System, something better than a 1 year warranty is expected. By me at least.
When purchasing on Amazon, you can add a 4 year protection plan, for around $11 per year. I think this protection plan is really worthwhile.
Overall, the power and versatility of this Salav steamer far outweigh the lack of warranty. Particularly when you can purchase additional warranty plans. Salav also offer really good customer support and a 30 day satisfaction guarantee on this steamer.
Salav Professional Series Upright Steamer
As part of the many Salav Steamer upgrades, this Salav Professional model (GS45-DJ) has dual telescopic poles instead of the single telescopic pole.
This adds more stability to the steamer and is a good feature to have.
The wattage of the steamer 1500 watts, the same as most other Salav steamers. There are two steam settings on this machine, high and low, which are operated via a foot pedal.
The water tank holds 61 fluid ounes of water, allowing you to steam for up to an hour. This Salav steamer still heats up in 45 seconds, has an auto shut off feature and 4.6 feet long double insulated hose. The power cord retracts into the machine, making storage neat and tidy.
There are 4 attachments included, a mini ironing paddle (for collars, cuffs, pockets, buttons etc) hanger clips for trousers, a pants press and a fabric brush.
I like the design of the multi-function hanger, which can accommodate items on the hanger, a separate clothes hanger, pants, children's clothing and small items and items hanging off each side of the steamer. This is very handy when steaming multiple items at once, or if you need to allow your clothing to dry before storing away.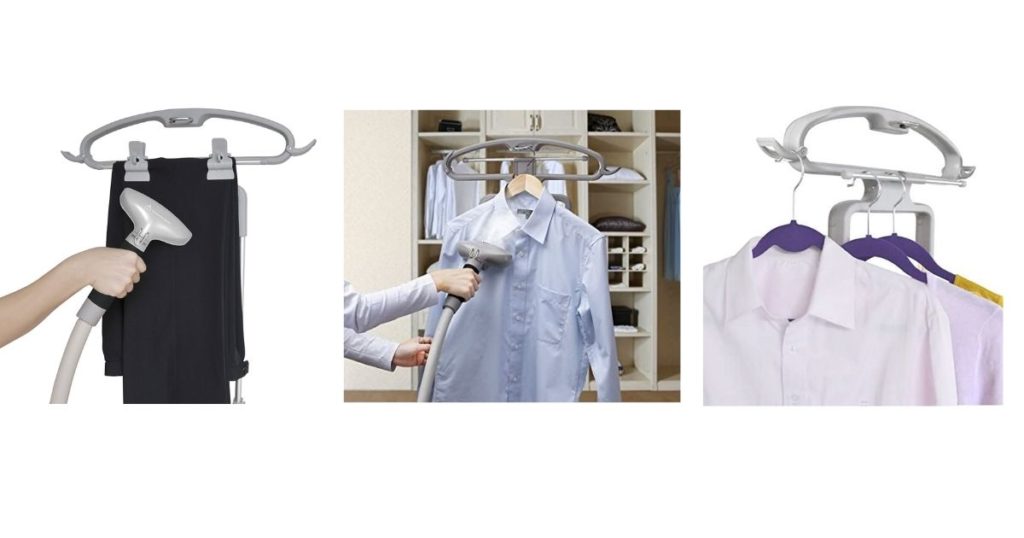 There are three color options available with this model of Salav steamer, white and silver, black and white, and orange and white. They all appear to be the same as far as functionality go, however pricing differs between the colors. You can easily save $10 when buying by choosing a different color.
Salav Limited Edition Professional Steamer
Once again, Salav have changed a small feature, given this Salav steamer a new model number (GS49) and inflated the recommended retail price by about $30. Don't let that scare you off however, at the time of writing, this Salav steamer was discounted and cost less than the GS45 model above.
This limited edition Salav Steamer has one major difference between the GS45-DJ. A stainless steel sole plate on the steamer head.
This may have been in response to the many consumers complaining about Salav steamers dripping from the plastic steam heads. In general, a stainless steel steamer head will help retain heat and avoid condensation build up, which can then cause dripping.
There are the same two steam settings on this machine as the GS45, high and low. The light on the machine will glow yellow for the low setting and red for the highest steam setting. The steamer holds the same amount of water, runs for around 60 minutes and with the limited edition you get the shiny gold color.
At the current pricing (January 2022) where it is discounted by 34% and under $120, I'd snap this steamer up over the GS45 to get the stainless steel sole plate. If it were at the RRP of $179.99, I'd pass, given this is the only difference, I don't think I could justify the cost. Let me know in the comments what you think and if it's worth the extra money?
Salav Performance Series Upright Steamer
This is a simple, budget friendly Salav steamer that offers basic steaming at an affordable price. There's nothing too fancy about this performance series model, (model number GS18); it operates at 1500 watts, has one steam setting, folds down for compact storage and with the folding adjustable hanger, you can hang multiple pieces of clothing at once.
The downside with this steamer as it does not include any accessories. If you're not the type to use a fabric brush or pants press, this shouldn't worry you.
You can use this steamer in both a horizontal and vertical position, it includes an auto shut off for safety and as with most Salav steamers, the steam temperature heats to 212 degrees Fahrenheit.