The Cordless Clothes Steamer is a Unicorn (Find the Next Best Thing)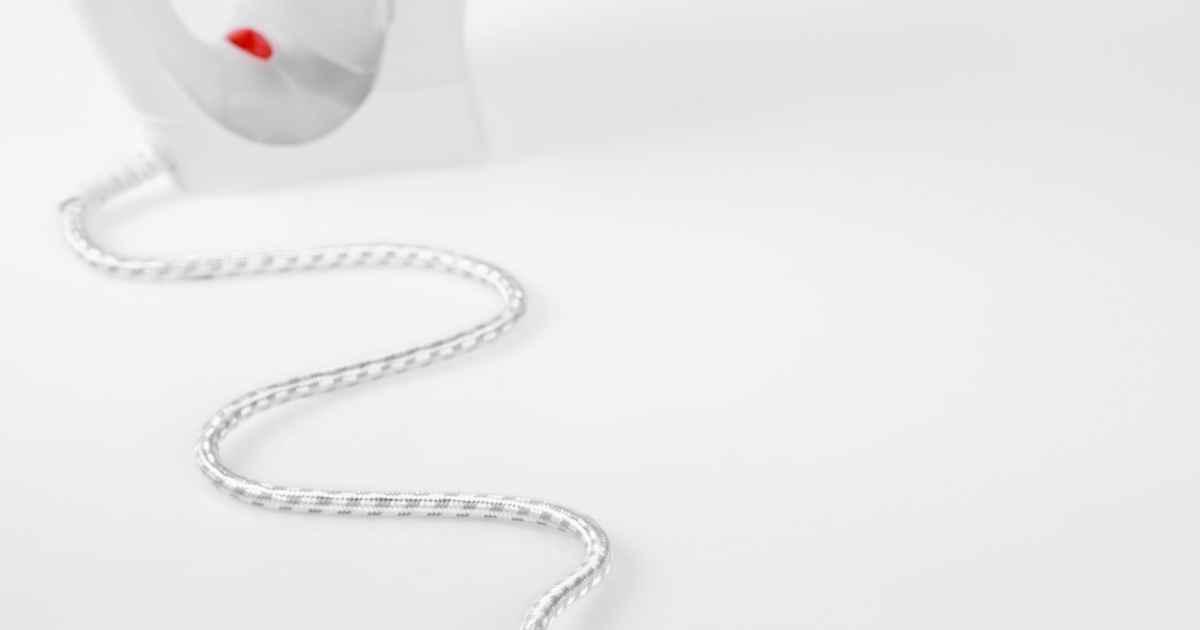 Despite what the photoshopped images show you online (and the slew of best cordless clothes steamers lists), wireless clothes steamers do not exist.
The closest thing to a cordless clothes steamer is a cordless iron. No technology is readily available in 2023 to hold enough power to generate enough heat to create steam continuously. Despite what many images show you, there are no cordless, wireless, or battery-operated clothes steamers.
Do Cordless Clothes Steamers Exist?
As mentioned above, in 2023, we are yet to see a battery-operated steamer, wireless steamer or rechargeable garment steamer hit the market. I expect the technology to create a cordless clothing steamer will come in the future.
But in 2023, people complain that handheld garment steamers are heavy enough with full water tanks. Could you imagine how heavy a cordless steamer for clothes would be?
You would need a large battery pack attached to the steamer to generate enough power to create steam. I've seen this in cordless hair dryers – however, these operate around 400 watts of power and produce heat up to 57 degrees Celsius (134.6°F), which gives you a run time of about 8 minutes.
Handheld clothing steamers use anywhere from 1200 watts of power to 1875 watts. With the current technology, you might be lucky enough to steam a pillowcase.
Best Cordless Clothes Steamer Alternatives
Rather than me harping on any further (especially about the number of websites misleading consumers into thinking they are buying a cordless clothes steamer), let's take a look at cordless steam irons and handheld clothing steamers with long cords that are great for travel, trade show events or to use at home without needing an extension lead.
Panasonic 1500W Cordless Iron
This cordless iron is a popular choice with quilters and sewing enthusiasts due to the 360-degree design. You can use it vertically as a cordless clothes steamer with two steam settings – light and regular. There is a 3rd no-steam setting to use as a dry iron.
It is important to note it is not a rechargeable iron – you will need to plug the power base into a wall outlet.
This iron is around the same size as a handheld clothing steamer, measuring 11.25 inches x 6.94 inches x 8.33 inches. A handy plastic carry case is included.
A bonus is the built-in anti-calcification filter allowing you to use tap water. As always, if you are in an extremely hard water area, Panasonic recommends switching to distilled or demineralized water.
To use this cordless iron as a steamer, you must set the heat to high. If you don't change the heat setting, the iron won't be hot enough to generate steam, and instead, you'll likely get water droplets spraying your clothing.
For vertical steaming, press the power shot button at 5-second intervals and move from top to bottom of your clothing. Place the iron back onto the power base to reheat.
Our Pick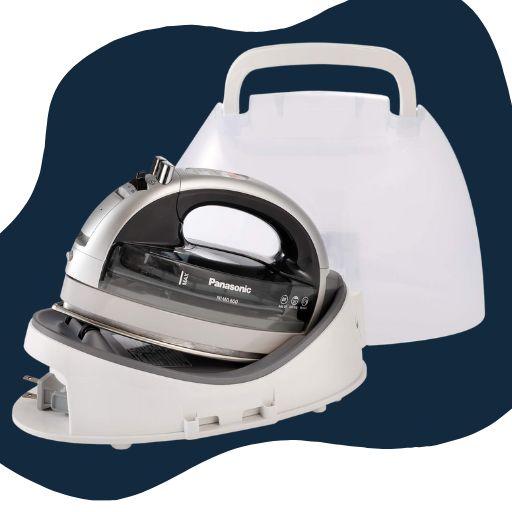 Panasonic Cordless Iron
A wireless iron that can be used as a clothing steamer. Similar in size and comes in a handy carry case.
Pros:
Cons:
Mini Irons and Handheld Clothing Steamers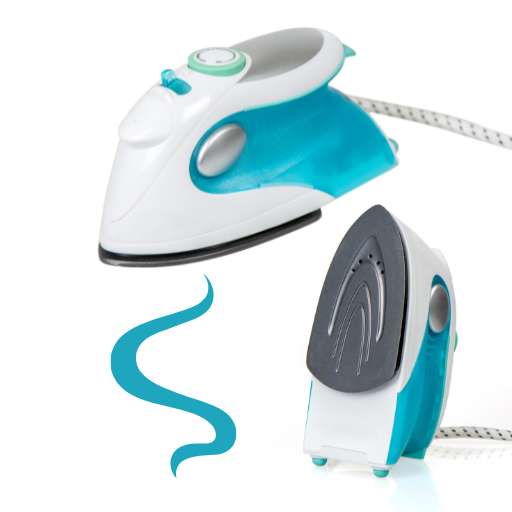 These mini irons and handheld clothing steamers aren't cordless, but are my top choices as cordless handheld garment steamer alternatives for either practicality or cord length. Let's take a look:
Steamfast SF-717 Dual Voltage Steam Iron
This sweet little mini iron can be used as a vertical clothes steamer, outputting steam for 1 full minute.
If you're quick, you could steam a piece of lightweight clothing in this time. You'll then need to refill the 1.4oz water tank before steaming again.
What I like about this Steamfast iron is the built in dual voltage – it can be used with 110-120V and 220-240V respectively. It also weighs less than 1 pound and measures a tiny 3.1 inches high x 2.9 inches wide x 5.3 inches long.
Being lightweight and small, it packs nicely into luggage and is perfect for travel. So much so, I'm adding it to my list of best travel steamers.
While this isn't cordless, the power cord is 7.5ft long – pretty impressive for such a tiny steam iron. And with a ~$20 price tag it ticks all the boxes and is a close option to a cordless clothes steamer.
Our Pick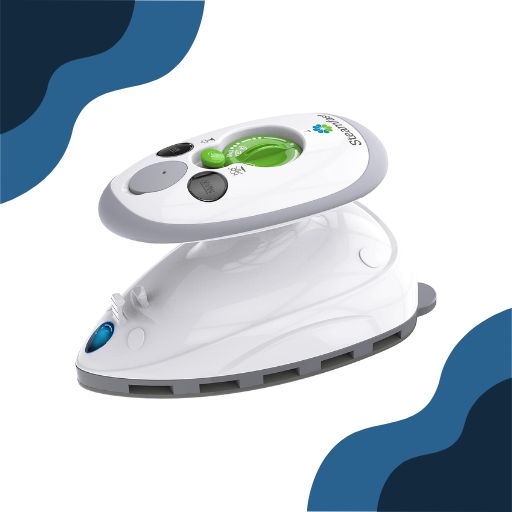 Steamfast Dual Voltage Iron and Steamer
A mini iron with a steaming function that produces continuous steam for 1 minute.
Pros:
Cons:
Sharper Image Portable Iron and Fabric Steamer
This clothing steamer by Sharper Image can be used as both a mini iron and steamer.
Unlike the Steamfast mini iron above, the Sharper Image clothes steamer can steam for up to 10 minutes.
It isn't cordless or rechargeable, and compared to others on this list the 6ft power cord could be a little longer. But I added it to the list for it's steaming ability.
If you're traveling, you'll like that this steamer weighs just 1.7 pounds. It is 6.7 inches long and 3.6 inches tall – around half an inch larger all round than the Steamfast iron above.
You'd think this would come with a carry bag of some sort, but unfortunately it doesn't. Included is a handy heatproof mat to sit it on and water jug to fill it up.
If you're crafty, you could make a drawstring bag to keep it all together, or repurpose something around the home.
Our Pick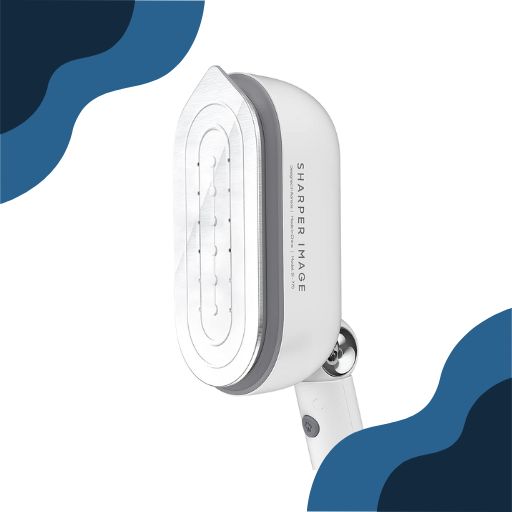 Sharper Image Iron & Steamer
Convertible iron and clothing steamer with a long steam time. Has a 6ft power cord.
Pros:
Cons:
USB Rechargeable Cordless Mini Iron
While there are not yet designated clothing steamers on the market that are completely wireless or cordless, I have found some newer technology coming into the market that combines a mini iron with a water spray that is rechargeable with a USB. You can find it on Amazon here.
A universal USB cable that could plug into your laptop or other charging socket is incredibly convenient, especially for travel. Some newer designed power points also have built-in USB plugs. This negates the need for travel adaptors when travelling abroad or extra cords to carry with you.
Handheld Steamers With Long Power Cords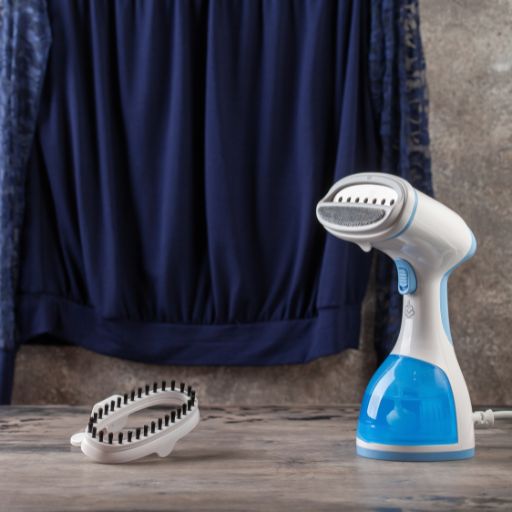 We've long established there is no cordless clothes steamer, so let's take a look at the handheld steamers with the longest power cords:
Black + Decker Advanced Handheld Garment Steamer
This handheld fabric steamer often pops up on my lists, not just because it has a 15-foot power cord.
The attachments include a delicate bonnet, lint, and upholstery tool – you don't find this with many clothing steamers.
It's not without drawbacks, though – some users have complained that the 15ft power cord is too long, and the steamer is entirely plastic, with no ceramic or stainless steel soleplate.
The biggest issue is not being able to fully empty the water tank. You can overcome it by shaking it well and leaving it open to dry.
Our Pick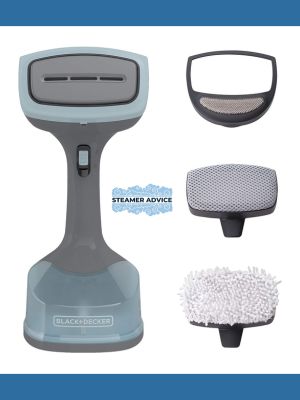 Black + Decker Handheld Steamer
Pros:
Cons:
FAQ's About Clothes Steamers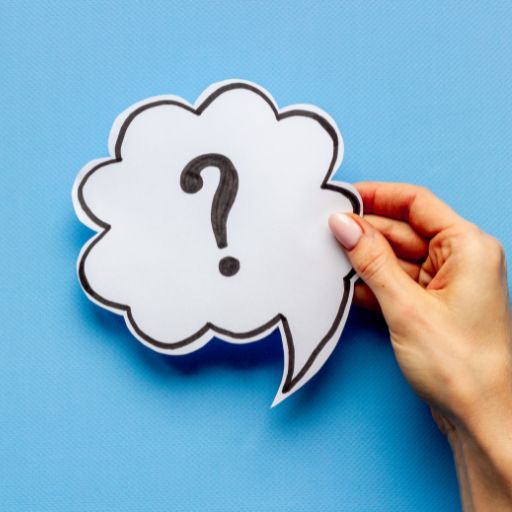 What Can I Use Instead of a Clothes Steamer?
An iron is the most practical solution for home use to remove wrinkles from your clothing instead of a clothes steamer. If you do not have an iron, try hanging your clothing on a coat hanger to dry or hanging dry clothing in a closed bathroom while you shower. The steam will help the wrinkles fall out of the fabric.
Is it Better to Iron or Steam Clothes?
Steaming offers a more gentle solution for wrinkle removal and is less damaging over time on your garments. Ironing offers more precision. If you prefer crisp clothing with defined creases, stick with an iron.
Is There a Cordless Clothes Steamer?
There is no such thing as a cordless clothes steamer. All clothing steamers must be plugged into a power outlet to create the heat necessary to generate steam.
Is There a Rechargeable Clothes Steamer?
There are no rechargeable clothes steamers on the market in 2023. You can, however, buy a USB rechargeable mini iron, which is a good choice for travel.
Is a Clothes Steamer Worth Buying?
Clothing steamers are an excellent investment, especially if you don't like ironing. They can be faster to use, require less setup, and are gentler on wool, silk and satin fabrics. They can also help refresh clothing between dry cleaning.
Is There a Shark Cordless Clothes Steamer?
Shark does not make a cordless clothes steamer, nor do any other manufacturers. All clothing steamers have cords that need plugging into a wall outlet.
Is There a Battery Operated Clothes Steamer?
In 2023, there is not a battery-operated clothes steamer yet. All garment steamers need to be connected to electricity to create steam.
How Can I Steam Without Electricity?
There is a product available by the name of InstaSteam, which does not require electricity. You do require access to water, however. You can read my blog post on InstaSteam here.
You can also try the steam while you're in the shower method:
Close any windows vents, and do not use the exhaust fan in the bathroom.
Hang your clothing in the room whilst you are showering. The steam from the shower will help to reduce wrinkles.
Ideally, you'll need to keep the room steamy for around 15 minutes.
Make sure you air out the bathroom afterwards, otherwise, you could end up with mold.
Final Thoughts
I'm a firm believer that the technology will be developed to create a cordless clothing steamer, but in 2023, it simply doesn't exist.
So, if you've come across one of the many "best of" lists with pictures of handheld or travel clothes steamers without cords, don't be fooled.
All clothing steamers, small or large, handheld, travel or upright, must be plugged into a power source.