Best Clothes Steamer for College [2023 Update]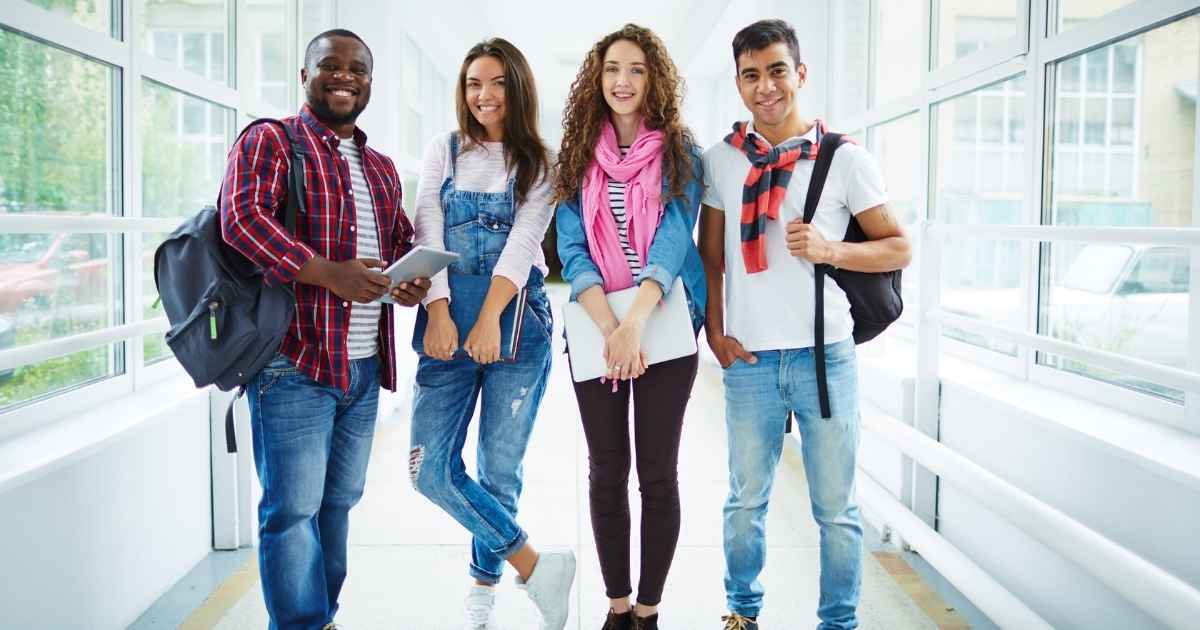 A handheld steamer is a great investment when heading off to college. As technology improves, most handheld steamers are just as good as full sized clothing steamers, without needing much space to store or time to heat up.
In this post, let's take a look at the best clothes steamer for college. Here are the easy to store and easy to operate steamers for 2023:
| Product Image | Product Name / Primary Rating / Price | Primary Button |
| --- | --- | --- |
| | | |
| | | |
| | | |
| | | |
| | | |
| | | |
| | | |
| | | |
05/18/2023 10:00 pm GMT
Polardo Mini Handheld Steamer
The Polardo mini steamer tops our list for 2023 as the best mini steamer for college. It has an electronic pump system and Nano polymer water filter. This means that you can use the steamer both horizontally and vertically without water leaking or spitting.
The Nano polymer filter allows for tap water to be used without calcifying the heating element.
Heating up in just 25 seconds, the Polardo handheld steamer is compact and perfect for college. The small size makes the steamer more lightweight than other choices.
The steamer runs for approximately 10 minutes at a time, plenty of time to steam an outfit before heading off to class. Check it out further below:
Beautural Handheld Steamer
Beautural are the number 1 best selling handheld steamer on Amazon, with over 47,000 customer reviews. Naturally, it had to make the list of best steamers for college students.
There are three things I like the best about the Beautural steamer. They are:
Includes a lint brush, fabric brush and crease tool as standard
Has a long 8ft power cord
Larger 8.79 ounce water tank
This handheld steamer can also be used horizontally and vertically. It operates at 1200 watts, which is an average wattage for handheld steamers. It's not the most powerful steamer, so it would be best for lightweight clothing rather than heavier items such as denim, or coats and jackets.
You'll need to use distilled water in this steamer (as with most steamers). With a built in auto shut off, you also won't need to worry about burning down the dorm if you forget to turn it off before rushing to class. Check it out further below: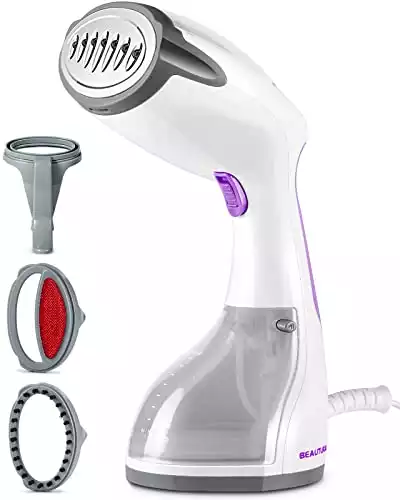 Beautural Handheld Fabric Steamer
1200 watt steamer with 3 handy accessories - the only one on this list that includes a creasing tool
Steams for around 15 minutes
30 second heat up time
Use horizontally or vertically
Distilled water recommended
Auto shut off after 8 minutes of not being in use
2 year warranty
We earn a commission if you make a purchase, at no additional cost to you.
05/19/2023 12:50 am GMT
Bizond Handheld Steamer
The Bizond steamer is very similar to the Polardo steamer featured in our number one spot. Like the Polardo handheld steamer, you can use the Bizond steamer in both horizontal and vertical positions. This makes it one of the best steamers for college as you can steam linen, curtains, mattress and base as well as your clothing.
This steamer also has the built in Nano polymer filter, allowing you to use tap water in the steamer if you have to. It is noted that Bizond themselves still recommend using distilled water even with the Nano filter. The steamer also shuts down after 5 minutes of inactivity.
The Bizond steamer isn't the most powerful steamer on the market, and will be better suited to those who are attending college in warmer climates and steaming lighter weight clothing. In size, it's comparable to the Polardo mini steamer for college featured above.
The steamer is backed by an impressive 3 year warranty, which is the best on this list. Check it out further below: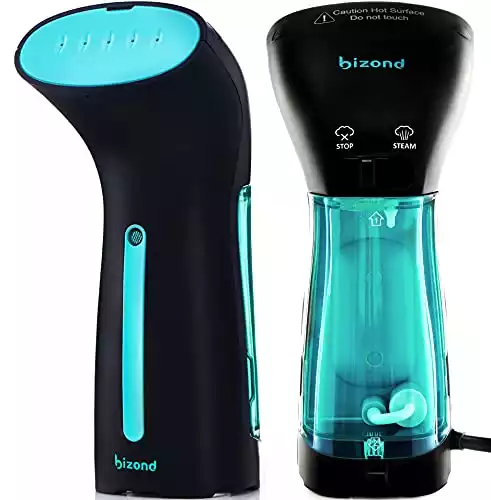 Bizond Mini Garment Steamer
900 watt portable clothing steamer
Heats up in 25 seconds
Tap water friendly thanks to the nano filter
Steams for around 10 minutes
Comes with a storage bag and fabric brush
9.8ft cord length
3 year warranty
We earn a commission if you make a purchase, at no additional cost to you.
05/18/2023 08:57 pm GMT
Rowenta X-Cel Steam Force Garment Steamer
Rowenta have updated their steam force model in 2022, keeping in competition with Conair.
This sleek looking handheld clothing steamer has a huge 1875 watts of power, and outputs steam at 28 grams per minute.
With 2 steam settings plus a turbo steam function, you can use this steamer both horizontally on bed linen, mattresses, or clothes laying flat, as well as vertically to steam hanging clothing or curtains.
The 9.8ft power cord allows you to move about freely without being stuck over the power outlet or needing an extension cord. You'll be steaming everything in your college dorm possible with this powerhouse of a clothes steamer.
Choose distilled water for the longevity of this handheld steamer (pick it up at Walmart for $1-2).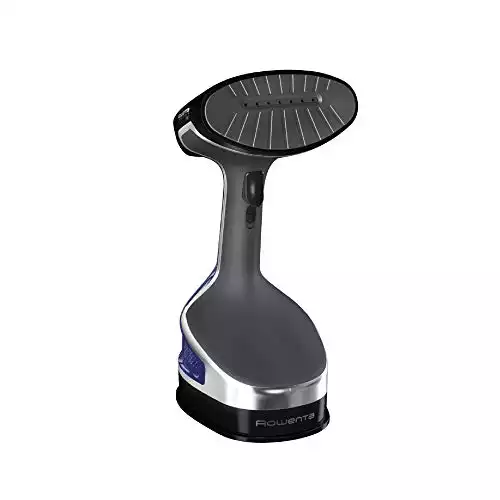 Rowenta 1875 Watt Handheld Clothes Steamer
1875 watt clothing steamer
2 steam settings plus turbo boost
Flat base allows you to sit the steamer down
Auto shut off mode
Long 9.84ft power cord
Includes a fabric brush, crease tool and steam bonnet
We earn a commission if you make a purchase, at no additional cost to you.
05/19/2023 01:31 am GMT
Sunbeam Professional Handheld Steamer
Sunbeam have snuck in under the radar with the professional garment steamer, released in July 2022.
It looks like a cross between a gaming joystick and something out of transformers, but if it performs well then I'm okay with that. It will look pretty cool in your college dorm too.
Sadly, there's not a lot of information available for this new Sunbeam clothes steamer – so I have written to Sunbeam (14th Nov 22) and will update this post when I have a response.
So far I can see it has 5 steam settings, making it comparable with the Conair Turbo Extreme Steam that has been incredibly popular over the last few years.
The video shows the water tank being filled up from the tap – and with a self clean button, I'm hoping there will be some kind of filter within the steamer to demineralize tap water, or you may be able to run vinegar through the steamer.
I'd consult the user manual, but unfortunately, there isn't one. Stay tuned on this one – it looks like a promising steamer, and as a new release clothes steamer it's a pretty cool addition to this list of garment steamers for college.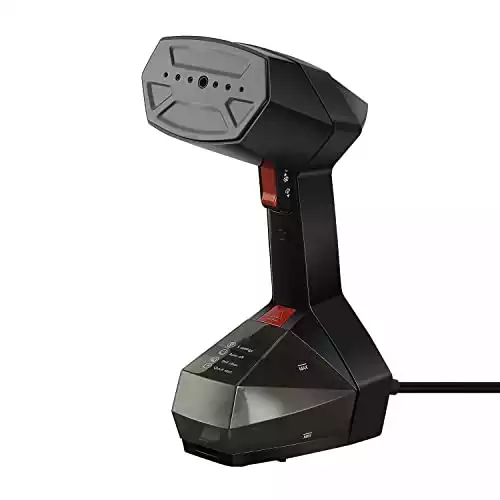 Sunbeam Professional Handheld Steamer
1575 watt handheld steamer
5 steam settings - linen, cotton, wool, silk and dry steam
Heats up in 25 seconds
Steams for around 15 minutes
Includes fabric brush and steam bonnet
2 year warranty
We earn a commission if you make a purchase, at no additional cost to you.
05/18/2023 08:39 pm GMT
Electrolux Handheld Garment Steamer
Electrolux are a quality brand in home appliances and I've been singing the praises of their handheld clothing steamer since it was first released late 2020.
It's middle of the range when it comes to both temperature and steam settings.
With 1500 watts of power, 2 steam settings and the ability to use it horizontally or vertically, the Electrolux steamer is a great choice for college students. It also comes in a reusable storage box to keep everything neat and tidy.
You don't need to choose between too many different settings, the water tank is a decent size and the ceramic coated soleplate won't damage your clothing. It's stylish and functional.
Quality Brand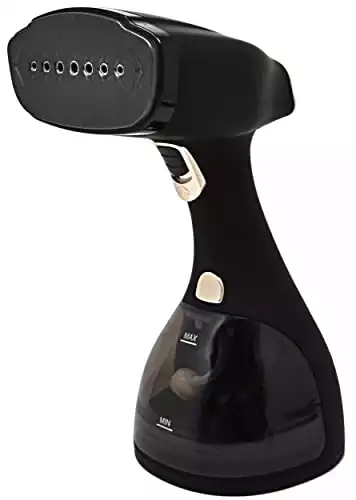 Electrolux 1500 Watt Handheld Garment Steamer
With a 10oz water tank and 8ft power cord, you'll be ready to steam your clothing, curtains or anything else in just 30 seconds with this Electrolux handheld garment steamer. Steam horizontally or vertically without water dripping thanks to the built in steam pump. This European brand is both stylish and effective.
If you are in the UK, take a look at the Homeasy Steamer, which is comparable.
Pros:
Ceramic coated soleplate

1500 watts

2 Steam Settings

Use horizontally and vertically without leaks or drips

Includes fabric brush and lint brush
Cons:
Can get heavy

USA and Canada Only
We earn a commission if you make a purchase, at no additional cost to you.
05/18/2023 08:15 pm GMT
Zokez Handheld Garment Steamer and Iron
This clothing steamer caught my attention when I saw it hanging on a rail – how perfect would that be for a college dorm? Hang it in your closet, off the curtain rail, or off the shower rail.
The water tank is separate from the steamer head, making it more lightweight than other handheld clothing steamers where you hold the complete unit.
With the ability to use it horizontally and vertically, you can steam your clothing, then use it as an iron to press your collar, cuffs, around buttons, or add creases.
It's a little pricier than others on this list, but so versatile. It would make a handy addition to a college dorm and it won't take up much space either.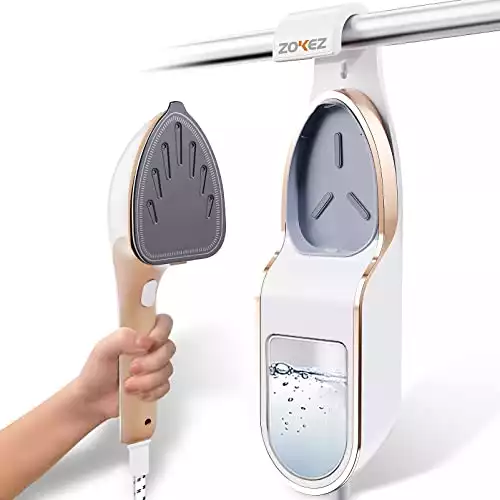 Zokez Handheld Garment Steamer and Iron
1500 watt clothing steamer and iron combined
Handy hook hangs from your closet rail, curtain rod or shower rail
2 steam settings
Auto shut off if not used for 5 minutes
Heats up to 230°F
6ft steamer cord and 6ft power cord
We earn a commission if you make a purchase, at no additional cost to you.
05/18/2023 11:54 pm GMT
Hometop Handheld Clothing Steamer and Iron Combo
This is an all in one mini iron and handheld clothing steamer that rounds off our list of best clothes steamers for college.
It's a little heavier than other steamers because the water tank is part of the handheld unit. It weighs about 2.2 pounds, so isn't overly heavy, especially if you only steam your clothing as needed.
Compared to the Zokez garment steamer above, it is far more affordable, and offers a similar design of iron and steaming combined.
The downside is that there is no hook to hang it anywhere, but it does come with a heat proof mat that you can sit the steam plate on. It also comes with a handy storage bag and a fabric brush.
If your college student prefers to iron, this mini iron and steamer combo is a worthwhile buy.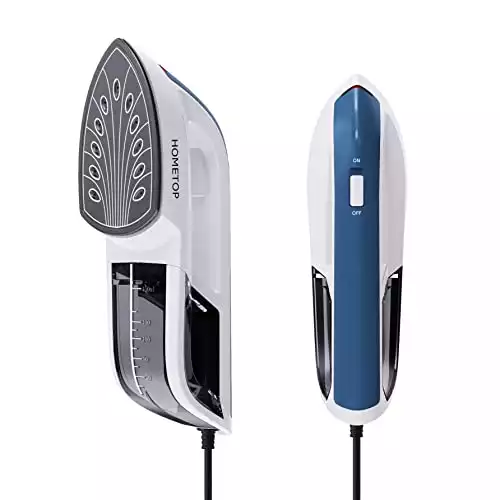 Hometop Handheld Clothing Steamer and Iron Combo
1300 watt garment steamer that can also be used as a dry iron
Heats up to 302°F
7.5ft power cord
Use horizontally and vertically
Distilled water recommended
Comes with a steaming mat, fabric brush and storage bag
1 year warranty
We earn a commission if you make a purchase, at no additional cost to you.
05/18/2023 11:17 pm GMT
Steamer vs Iron for College – Which Is Better?
It's really up to your college student what their preference is when it comes to steaming and ironing.
If they've never ironed their clothing, a garment steamer is a great tool for removing wrinkles from clothing quickly which doesn't take a lot of practice. You are less likely to burn clothing, they heat up quickly and you can steam items whilst hanging vertically, rather than needing a place to iron.
So, being a compact and easily portable device, makes clothing steamers a great choice for college students.
A steamer is also excellent for dry clean only clothing, whereas an iron simply cannot be used on these types of fabrics. I do like the iron and steamer combos above, for those who like having options for all different types of clothing.
Remember however, that most clothing steamers work best with distilled water. You can easily pick this up on Amazon or from Walmart.
Finding a clothing steamer than can be used solely with tap water can be done, and I have featured one on this list, and this would be the most ideal for a student attending college, so they can just grab water from the tap – steam their clothes – and head on out.
What is the Best Clothes Steamer for College?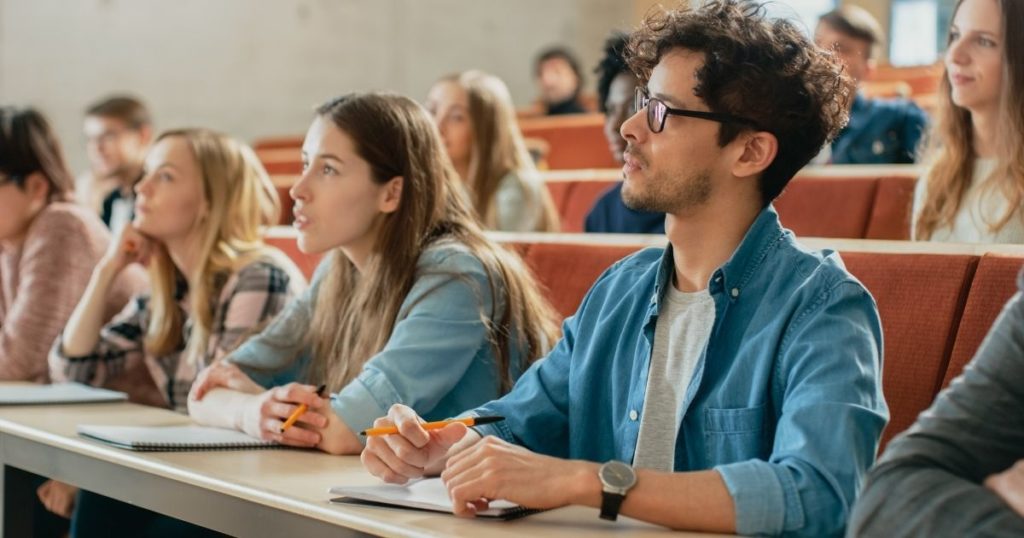 I've personally selected the 8 clothes steamers on this list as suitable options for college students and dorm rooms. They are all compact, functional, easy to use and don't cost huge amounts of money.
I'm a big fan of Electrolux for the quality of the brand, however, am also curious about the new Sunbeam handheld clothes steamer with 5 steam settings.
In terms of practicality, you can't go past the hanging Zokez steamer and iron. The only letdown is the 6ft power cord. You might need an extension cord, depending on where your outlets are located.
With this design you get the best of both worlds with the ability to steam and iron, and hang it up or fix it to the wall if you can.
If your budget doesn't allow for the hanging steamer, the Hometop steamer and iron combo is practically half the price.
If you are on a budget and looking for a middle of the range, nothing too exciting clothes steamer that will get the job done, consider the Beutural handheld steamer. Just remember to use distilled water to keep it in top working order.