Best Steam Cleaner for Mattress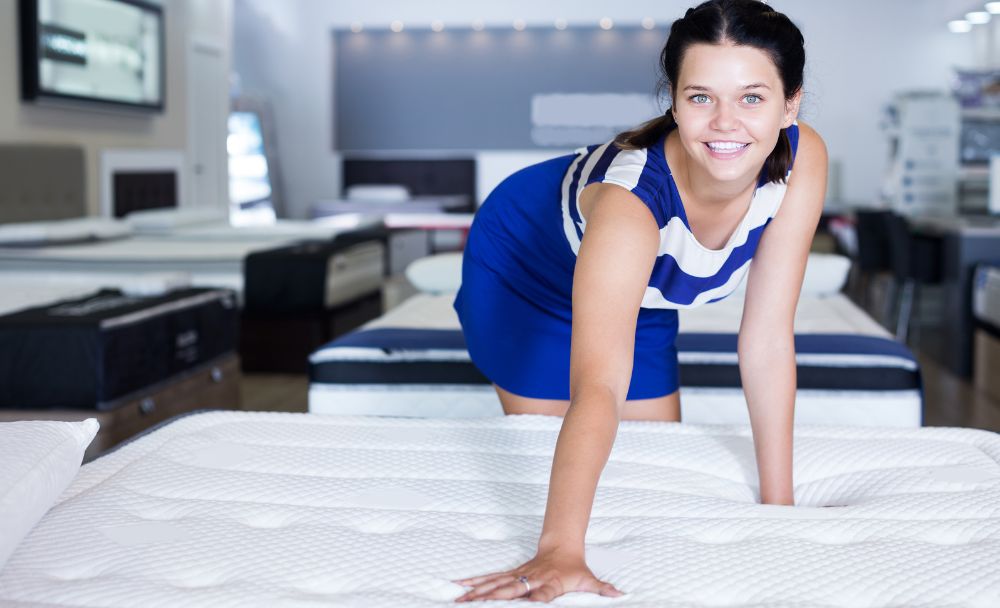 Mattress cleaning is one of the best DIY weekend projects. It might sound a little crazy, but taking care of your mattress improves your sleep and overall health.
Steam cleaning is an effective way to deep clean and helps remove dead skin cells, sweat stains, odors, urine stains, dust, and other forms of dirt.
It also helps to sanitize your mattress by killing allergens, bacteria, and other microorganisms. Since it uses steam instead of water, the mattress takes less time to dry than other measures.
This blog will walk you through choosing the best steam cleaner for mattresses.
Best Steamers for Mattress Cleaning
Best Overall – Dupray Neat
Runner Up: Wagner 915e
Best for Mattresses and Carpets – H20 X5 Steam Mop
Best for Mattresses and Couch – Oapier S15
Handheld Steam Cleaner for Mattress – Eave
Best Bissell Mattress Cleaner – Bissell Little Green Pro Commercial
Best Steam Vacuum – US Steam Sea Hawk
Best Steam Cleaner for Mattress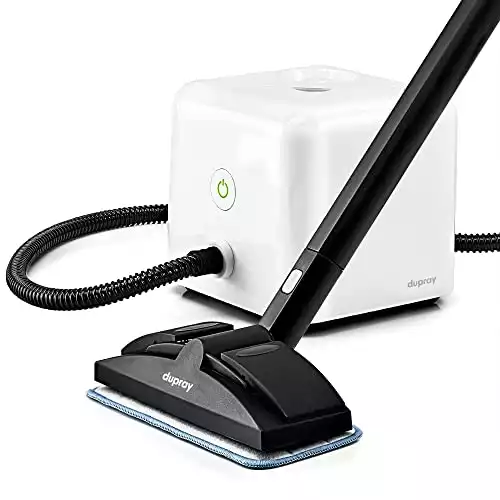 Dupray Neat Steam Cleaner
Compact yet powerful
Boiler heats to 275°F
Versatile attachments
Lifetime warranty on boiler
We earn a commission if you make a purchase, at no additional cost to you.
06/04/2023 08:28 am GMT
The Dupray Neat is a canister steam cleaner machine that is our top pick for mattress cleaning. Use the included triangle tool with the microfiber bonnet to glide over the top and sides of your mattress.
The hot 275°F steam penetrates your mattress, and the microfiber bonnet captures any stains as they are dissolved by the steam and lifted away.
Bacteria, viruses, and pests like dust mites don't stand a chance against the Dupray steam cleaner. It effectively kills up to 99.9% of bacteria, including common household contaminants.
With extra cleaning tools for floors, grout, upholstery, and windows, you can clean your home using only the power of steam.
What I Like:
Compact shape and easy to store
Heats above the boiling point
It has a steam pressure of up to 50 PSI
Lifetime warranty on the boiler tank
What I Dislike:
Cord storage is underneath
No storage for accessories
No sight gauge for the water tank
Great Alternative Steamer
The Wagner 915e is a popular choice in steam cleaners in the USA and UK for the various accessories, smart design, and cost.
I was hoping you could think outside the box with this one, as you might wonder why a steamer with a wallpaper remover is on this list. Imagine how fast the steaming process will be using this tool!
If you have a problem with bed bugs or dust mites, this is one of the best steam cleaners to consider. The large rectangle steam plate will envelop those critters and push hot steam into the fabric.
It also has a garment steamer attachment, perfect for the corners, and a jet nozzle for deep cleaning in seams and crevices. Backed by 1500 watts of power, it is fast to heat up, and the 40 ounce water tank allows the steamer to run for up to 40 minutes.
What I Like:
Carry handle for easy lifting
8ft steam hose helps you get to hard-to-reach areas
The wallpaper plate is an excellent way to steam flat areas
Storage for some attachments on board the machine
What I Dislike:
No sight gauge for the water
Onboard storage doesn't hold all attachments
You may need to buy extra microfiber pads for floor cleaning (it comes with one)
The power cord is short, and many users needed an extension lead
Best Steam Cleaner for Mattress and Carpet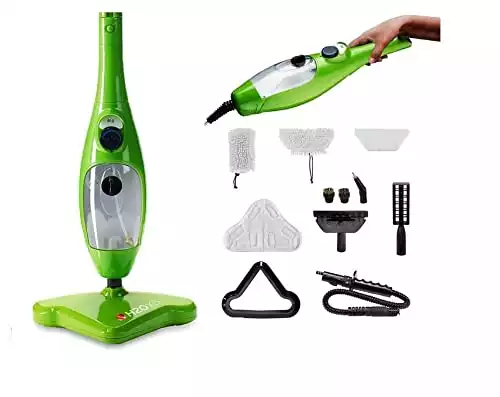 H2O X5 Steam Mop
Steam mop with detachable handheld steamer
Excellent accessories for cleaning mattresses, upholstery and blinds
Multiple steam settings
Includes a carpet glider
Lightweight and easy to assemble
We earn a commission if you make a purchase, at no additional cost to you.
06/03/2023 09:23 pm GMT
The H20X5 steam mop has a detachable handheld steam cleaner. Several tools on this product would be suitable for mattress cleaning. They are:
The bent nozzle for targeted cleaning of stains
The duster tool covered with a towel sleeve for the sides and top of the mattress
The squeegee covered with the microfiber cloth for garment and upholstery cleaning
Besides to the selection of tools, you also get a carpet glider. This allows you to steam area rugs and thicker carpets using the steam mop.
What I Like:
Excellent accessories for your cleaning routine
Steam mop and handheld steam cleaner
Lightweight
Easy to assemble and store
Multiple steam controls
Heats up in 30 seconds
What I Dislike:
Just as expensive as the Dupray Neat (which offers better quality)
The thin handle is not very strong – treat it with care
Users have complained the steamer stopped working – use distilled water only
Best Steam Cleaner for Mattress and Couch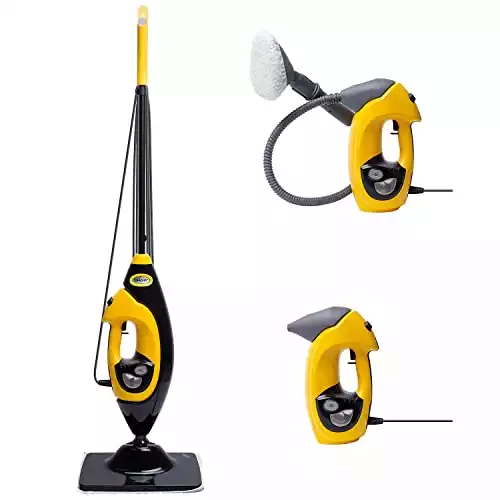 OApier S15 Steam Cleaner
Pros:
Multifunction steam mop and handheld steam cleaner

3 steam settings

30 second heat up

30ft power cord

3 mop pads included
Cons:
No squeegee tool

Bulky handheld steamer

Lacks other accessories

Smaller mop head than other models
We earn a commission if you make a purchase, at no additional cost to you.
06/04/2023 09:26 am GMT
This handy steam mop by Oapier features a detachable handheld steam cleaner with an upholstery tool that is perfect for mattress cleaning.
You can adjust the level with three steam settings depending on your needs. I particularly like the flat head cleaning tool, which is ideal for cleaning your mattress, couch, sofa, or any flat surface.
You can buy extra bonnet pads or wrap a microfiber cloth around the flat head to do the same job.
It also has a standby mode, and like other mops with short power cords, the Oapier has a whopping 30-foot lead so that you can reach right across your room!
What I Like:
Inexpensive to buy
Long power cable
Use as a steam mop and on hard or soft surfaces
What I Dislike:
Only 5 accessories
Carpet glider sold separately
A little bulky
Best Mattress Cleaner for Urine Stains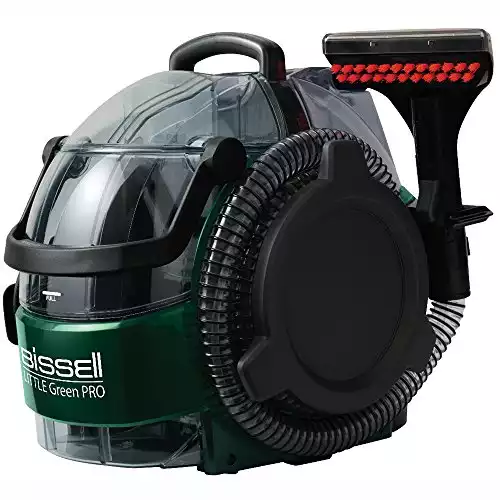 Bissell Little Green Pro Commercial Spot Cleaner
Whilst not a steam cleaner, you can use hot water and detergent in the Little Green Pro Commercial, making it a great choice for hot water extraction on fabric upholstery, carpets and more. With a larger 7 inch head (compared to a 3 inch head on the Bissell Little Green home model) you'll have those upholstered seats, carpeting and mats clean in no time.
We earn a commission if you make a purchase, at no additional cost to you.
06/04/2023 07:56 am GMT
The Bissell Green Pro Commercial Spot Cleaner isn't a steamer but a mattress cleaner machine. You can also use this on carpets, area rugs, upholstery, and furniture such as sofas.
It works like a hot water extractor. You put hot water and cleaning detergent on one side of the machine. This disperses onto your mattress (at your control) and is then sucked back into a dirty water tank.
This is the best mattress cleaner machine for stubborn stains, wet urine, or a thorough cleaning.
If you already have a steam cleaner at home, you can turn on the suction function of the Bissell and extract any excess water from your mattress.
What I Like:
Large cleaning head (if you prefer a smaller head or multiple tools, consider the Little Green Original or Pet Model)
Includes cleaning solution
Extracts water and has a large capacity tank
Use as a carpet cleaner and on other soft surfaces such as sofas
Long power cord
What I Don't Like:
Won't work on hard surfaces
Isn't a steam cleaner
It's loud
Best Handheld Mattress Steam Cleaner
This is a new release model from Eave. Unlike other handheld steam cleaners, you can refill this model, so you don't have to wait for it to cool down and reheat when adding water.
It includes attachments suitable for cleaning mattresses, such as an extension hose, jet nozzle, and fabric steaming tool (which they call a towel sleeve).
The viewing window shows how much water remains in the machine. Weighing under three pounds without water, it is lightweight to use. Press down on the lock button for continuous steaming and take the pressure off your hands.
What I Like:
Refillable when in use
Fast heat-up time
Extra accessories are available to buy separately if needed
What I Dislike:
Pricier than other handheld steam cleaners (expected, given the continuous refill function)
Short 13 foot power cord
High Heat Professional Mattress Steamer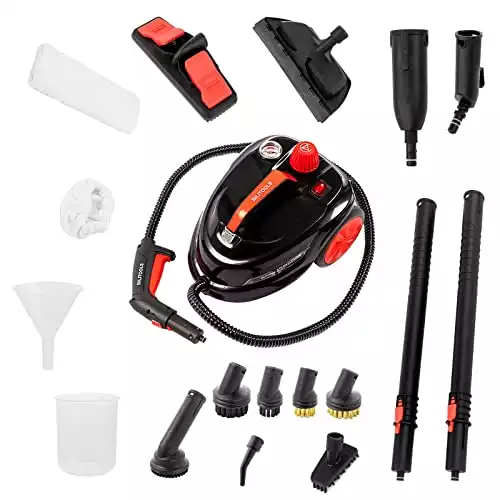 BILITOOLS Ultra Hot Steam Cleaner
Heats to a whopping 339°F
5 bars of steam pressure (up to 65 PSI)
Great range of attachments for both hard and soft surfaces
Unique textured tile and grout cleaning tools
We earn a commission if you make a purchase, at no additional cost to you.
06/03/2023 11:42 pm GMT
Compared to other steamers in our list, the BILITOOLS Steam Cleaner offers the hottest steam, up to 339.2 degrees Fahrenheit. The steam releases at a pressure of up to 65 PSI, hotter and stronger than other models on this list.
You can remove tough stains, grease, and grime from any surface. The 60-ounce boiler takes 8 minutes to provide the super-hot steam and provides continuous steaming for around 35 minutes.
It offers up to 1800 watts of power, making it among the best steamers for heavy-duty residential or commercial cleaning tasks. The high temperature of this canister style steam cleaner makes it an excellent choice to kill germs, bed bugs, dust mites, mold spores, and stain removal.
This steamer includes different accessories, such as a steam jet nozzle for targeted cleaning, a measuring cup, nylon and brass brushes for scrubbing, and a unique trapezoid brush and spin brush attachment for uneven hard surfaces such as textured tile and grout.
What I Like:
339.2⁰F super-hot steam
1800 watts power rating
Excellent accessories
Wheels for easy maneuverability
What I Dislike:
No adjustable steam settings
Plastic – users have questioned quality and longevity, especially given the price
No storage for all accessories or power cord
Best Steam Vacuum for a Mattress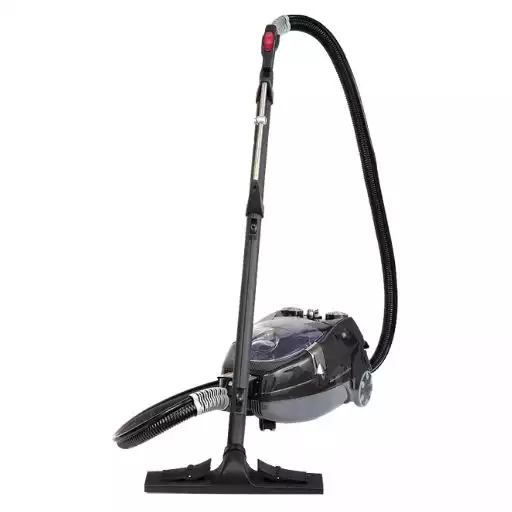 US Steam Sea Hawk Steam Vacuum
Versatile steam vacuum good for grout cleaning, but no large floor scrubber for tiles
Can vacuum up water left behind after steam cleaning
A range of scrubbing brushes included, as well as excellent attachments for upholstery cleaning
1 year warranty (standard across this brand) lets it down a little
We earn a commission if you make a purchase, at no additional cost to you.
How to Steam Clean a Mattress
Follow these steps to clean and deodorize innerspring, box springs, and pillowtop mattresses. My article on memory foam mattresses discusses what to do if you have other types of mattresses.
Remove Linen and Deodorize
The first thing you need to do when cleaning your mattress is to remove the linen. Mix a few drops of your favorite essential oil with baking soda for odors. Sprinkle over your mattress and leave for 1-2 hours.
Vacuum the Baking Soda
Regardless of whether you have sprinkled the baking soda on your mattress, vacuum it before steam cleaning.
Vacuuming will remove dead skin, dust, dander, pet hair, and fluff from your mattress. You don't want to hit that with steam and turn it into a wet pile of goo.
You can buy vacuum cleaners developed for mattresses on Amazon. They have UV lights and HEPA filters that remove 99% of allergens.
Start Steaming
After vacuuming, you can start the steaming process. Your steam cleaner should be full of water, connected to a power source, and heated.
Attach the upholstery attachments and microfiber cloths over the top of the tool. The microfiber will help to contain the steam output, direct it toward the mattress and absorb marks and stains.
Start steaming using mild strokes over the top and sides. You can spray stubborn stains with a spot cleaner and use the jet nozzle tool to help lift them out. Remember to clean the sides and base.
Allow to Dry
After steaming, leave the mattress for 3-4 hours to dry completely. Open the windows or use a fan to speed up the drying time. Use this time to hang your duvet outside in the sun and allow it to air. You can also put your pillows and decorative cushions outside to air.
Once it is completely dry, remake it with fresh linen.
Frequently Asked Questions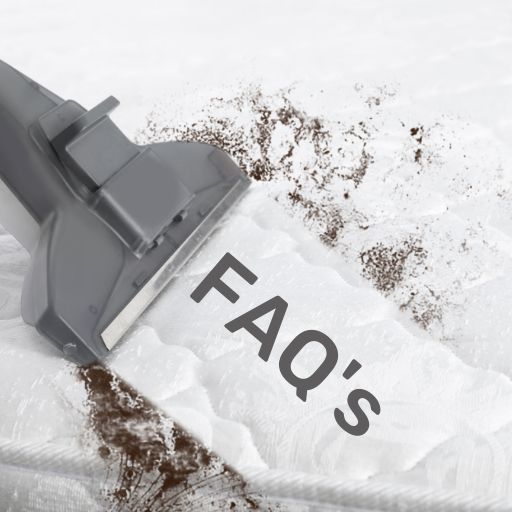 Why should you deep clean your mattress?
Microscopic particles like dead skin cells, dust, pet dander, and more can inhabit your mattresses over time. Steam kills dust mites, bed bugs, and other microorganisms that may be hiding deep into the fibers. Deep cleaning your mattress will help remove these allergens, offering you a healthier bedroom and a better night's sleep.
What is the best steam cleaner for mattresses?
When searching for the best steam cleaner for a mattress, you should consider a model with high steam temperature, high wattage, portable, and easy to use. All the products we have reviewed in this guide fit the criteria, but Dupray Neat Steam Cleaner has the best features.
Is a steam cleaner good for a mattress?
Steam cleaning is safe for box springs or innerspring mattresses, including those with a pillow top. If you have a foam, latex, or memory foam mattress, you should not use a steam cleaner. Spot-clean your mattress following the manufacturer's instructions instead.
How long does a mattress take to dry after steam cleaning?
A mattress can take around 4 hours to dry. This can vary depending on ambient temperature, breeze, and humidity. Open your windows and aim a fan at the wet areas to help speed up the process. Ensure your bed is completely dry before remaking – otherwise, mold spores may start to develop.
Which is the best vacuum cleaner for mattresses?
This 15KPa mattress vacuum cleaner has a high-efficiency UV light and a roller brush that rotates at 18000 rpm. With washable HEPA filtration collecting particles as small as 0.3 microns, you can use it on couches, area rugs, linen, and curtains.
Can I use a clothes steamer on a mattress?
Yes, a clothes steamer heats to the same temperature as a steam mop or canister style steam cleaners and makes an effective mattress cleaner. You can even use a clothes steamer to kill bed bugs.
How Much Does Professional Mattress Cleaning Cost?
The cost of professional mattress cleaning can vary depending on the location, size of the mattress, and cleaning needed. On average, the cost of professional mattress cleaning in the USA can range from:
Twin Mattress: $80 to $100
Full-Size Mattress: $100 to $120
Queen Mattress: $120 to $140
King Mattress: $140 to $160
These estimates are based on the assumption that the mattress is in relatively good condition and does not require special treatment or repairs. The cost may be higher if the mattress is heavily soiled or requires additional services, such as stain removal or disinfection.
It is always a good idea to get a quote from a professional mattress cleaning service before hiring them to ensure that you know the service's total cost.
Some companies may offer discounts or specials, so it is worth shopping around to find the best deal. It is also a good idea to ask about the cleaning methods and products the company uses to ensure they are safe and effective.
Tips to Keep Your Mattress Clean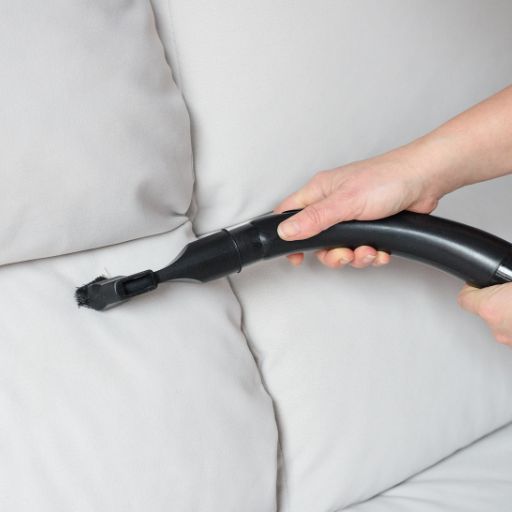 Your bedroom should be a quiet refuge, not a haven for critters to disturb your sleep. To ensure that your mattress stays as clean as possible, here are some tips:
Try not to eat in your bed. Tiny crumbs can fall into your sheets, attracting pests.
Use a waterproof mattress protector, particularly if you have children prone to accidents.
Clean marks immediately before they become a bigger problem.
Launder your sheets weekly. Leave your mattress to air while your sheets are in the wash.
Vacuum your mattress weekly to collect any dust and allergens before they accumulate.
Encourage your pets to stay on the floor (I know it's hard).
Final Verdict: Are Mattress Steam Cleaners Worth it?
Steam cleaning will help to keep your mattress clean and fresh. I recommend deep cleaning it every 6 months. Vacuum it weekly as you change your sheets to keep allergens at bay, and inspect it regularly for any signs of pests.
If you have any questions about steam cleaning, leave a comment below, I am always happy to help.