Best Steamer for Suits – 7 Options to Keep You Looking Sharp
If you regularly wear suits, investing in a garment steamer for suits is one of the most life-changing decisions ever. You'll save money by extending the time between dry cleaning, and refresh your suits quickly and easily.
Besides removing wrinkles, fabris steamers are perfect for deodorizing garments since their steam effectively kills allergens and odor-causing bacteria. 
Garment steamers come in different designs. Some are large freestanding models suitable for home or keeping in your office. There are with commercial options, handheld steamers around the size of a tissue box. Some are lightweight and portable, perfect for travel.
This guide will review the best steamer for suits and cover all sizes of garments steamers and suit fabrics. Check out this guide to learn why we picked them as the best.
BEST JIFFY STEAMER FOR SUITS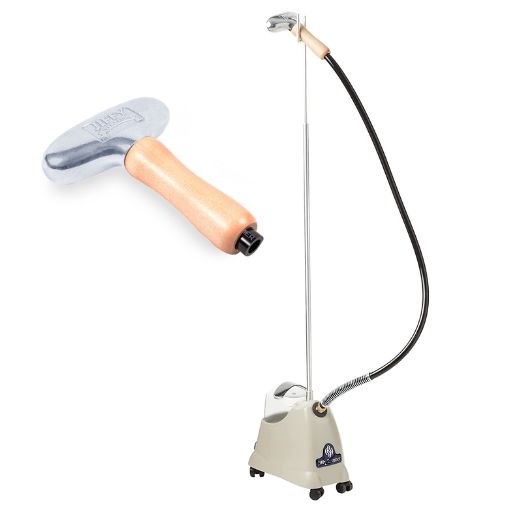 Jiffy J-2000M
Jiffy steamers are made in the USA and backed by a 3 year warranty. If you want the best of the best, Jiffy is for you. I've chosen the metal head option as the head retains heat for better steaming performance.
The J-2000 has a 1300 watts solid brass heating element and features a high-impact polymer outer casing to enhance durability. It takes just 2 minutes to produce steam.  You can quickly move it around since it is equipped with 360 degrees swivel wheels.  The power cord is 7 feet long, while the steam hose is 5.5 feet long. 
Pros:
Cons:
BEST HOME STEAMER FOR SUITS

Rowenta IS8440
Rowenta IS8440 Professional Garment Steamer provides 1700 watts of power, producing 35 grams of continuous steam per minute. It has five steam settings making it ideal for different suit fabrics, from wool to linen to polyester. I love the shape of the steam head to get around buttons, inside pockets and under collars.
The steam and press vertical support system helps keep your suit stable. This is a great feature for pressing suit pants.
Pros:
Cons:
BEST STEAMER FOR WOOL SUITS

Salav GS24
The Salav Professional series steamer (GS24) offers up to 1500 watts of power and takes just 45 seconds to heat. The removable 1.5 liters water tank is easy to refill, offering up to 60 minutes of continuous steaming when full. The ironing board folds from vertical to horizontal to create a flat steaming surface. There are 4 steam settings – silk, wool, cotton and linen. Accessories include a fabric brush and pants press.
Pros:
Cons:
BEST TRAVEL STEAMER FOR SUITS

Conair Travel Steamer
This is a new release travel steamer for 2023 that offers dual voltage steaming. If you regularly travel between different countries, and need to freshen up your suits, this is an excellent choice. With 1200 watts of power, you can switch between 110 and 220V at the press of a button. You will need an adapter for the country you are visiting however (for the wall plug). It includes a bonus travel hanger, but it's small and lightweight, not really suitable for hanging a suit jacket on.
Pros:
Cons:
BEST HANDHELD STEAMER FOR SUITS

Rowenta DR8220
The Rowenta DR8220 is an excellent handheld steamer for suits. It is larger than the Conair travel steamer, but also includes 3 accessories to keep your suits looking in top shape. With 1875 watts of power, it is the most powerful Rowenta steamer, and outputs steam at 28g/min. The ceramic coated heating plate glides effortlessly across suit fabrics and is suitable for all suit materials.
Pros:
Cons:
BEST STEAM IRON FOR SUITS
Rowenta Steam Force Pro
If you prefer to iron your suits, but like some serious steam, the newly released 1850 watt Steam Force Pro iron outputs steam at 50g/min – higher than any garment steamer. The steam boost function outputs steam up to 250g/min – a massive blast to power through tough wrinkles. There are 5 settings for different fabrics, including wool, silk, and linen. With a built in pump system there are no drips on your delicate suit fabrics, even at low heat levels.
Pros:
Cons:
Other Steaming Options for Suits
For those looking for an advanced and more versatile garment steamer for suits, the LG Styler is a high-end model that take care of suit steaming for you.
Known as a steam closet, the LG Styler will deoderize and dewrinkle suits using various cycles. There is a built in pants press in the door. Hang your suit in the machine overnight, press a button and it is fresh and clean to wear the next morning.
If you need perfectly pressed trousers or suit pants, you can't go past the Corby Pants Press.
Frequently Asked Questions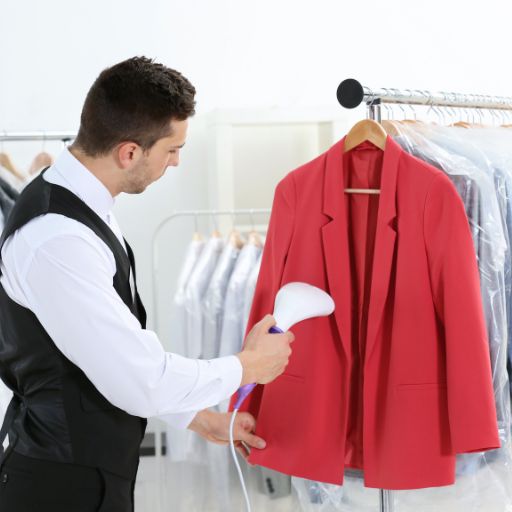 Is it better to steam or iron a wool suit?
It is better to steam a wool suit than iron. The heat and pressure of an iron can cause damage to the wool fibers, leading to shiny patches and irreversible damage. Steaming relaxes fibers to remove wrinkles and refresh the fabric.
Can I steam at suit that is dry clean only?
Steaming is an excellent way to refresh dry clean only suits between professional cleans.
Are garment steamers good for suits?
A garment steamer is one of the most gentle and effective ways to eliminate wrinkles and unpleasant odors from your suit. This process rejuvenates the fabric fibers without causing any damage, which can help prolong the lifespan of your suit.
Can you steam a tweed suit?
For minor wrinkles in tweed suits, you can use a steamer on a low setting and hold it a few inches away from the fabric, being careful not to saturate the fabric with too much steam. Too much heat and moisture on tweed can cause it to shrink or become misshapen.
Enjoy Your Wrinkle-Free Suit
Using a garment steamer on your suit is an effective and gentle way to remove wrinkles and deodorize the fabric without causing damage to your clothes.
Whether you're looking to refresh your suit after a long day of wear, travel, or prolong its lifespan, a garment steamer can be a valuable addition to your wardrobe care routine.
When choosing a garment steamer, it's essential to select one explicitly designed for use on delicate fabrics like wool and silk to enable you to control the steam output. I recommend only the best garment steamers for suits on the list above, so you can keep your suit looking sharp and well-maintained for years.