Cirago Steamer Review LS-609C
The Cirago LS-609C Garment Steamer is a full size upright clothing steamer, suitable for both home and light commercial use.
The Cirago steamer uses a double layer design to heat the water, producing steam up to 266 degrees Fahrenheit.
This is sufficient heat to get wrinkles out of thicker clothes such as jeans, coats, suits and linen.
The Cirago LS-609C is also a good choice if you want to use a clothes steamer for cleaning around the home, such as killing dust mites, spot cleaning carpet and refreshing upholstery.
Cirago LS-609C Specifications
| | |
| --- | --- |
| Temperature | 266 degrees Fahrenheit |
| Wattage | 1500 watts |
| Heat Up Time | 45 seconds |
| Total Steam Time | 60-80 mins |
| Steamer Settings | 2 – Low/High |
| Water Tank Size | 74 fluid ounces |
| Steam Hose Length | 5 feet 3 inches |
| Accessories Included | Yes |
Cirago Steamer Accessories
One of the things I like the most about the Cirago steamer LS-609C is it comes with all the accessories you need to steam any type of fabric. Cirago even include a steaming glove to protect your free hand whilst holding your clothing. There aren't a lot of steamer manufacturers who include this, and it really is an essential item when steaming.
The complete list of accessories are:
Deluxe Hanger which folds down for different sized clothing
A pants press which attaches to the steamer head to put creases in pants and sleeves
A fabric brush to help remove lint from clothing and also help to relax fibers for easier wrinkle removal
A pants hanger to attach under the coat hanger to clip your pants on to
Benefits of Using the Cirago LS-609C
The Cirago steamer is a basic, compact unit. There's nothing too flashy about this upright steamer, but there doesn't need to be. It gets the job done efficiently, without being too big and bulky, can be moved about and heats up quickly.
Large Water Tank
The 74 fluid ounce water tank will generate steam for up to 80 minutes, depending on the steam setting you choose.
This is plenty of water to steam your weekly wardrobe in one go. If you use the high steam setting constantly, you may find the water doesn't last as long, but overall is still a great sized tank.
Wheels for Portability
There are 4 small castor wheels on the base of the Cirago steamer, so you can maneuver the clothes steamer around the house with ease.
If you have plush carpet I would recommend setting up the steamer in your desired position and bringing the full water tank to it, rather than trying to roll the full steamer across carpet. Timber, laminate and tiles should be ok to move around whilst full of water.
Adjustable Height
The telescopic rod adjusts to different heights, so you can adjust the steamer to suit your needs.
Two Steam Settings
Some clothing steamers have up to 7 different steam settings, which can be a bit of overkill. The Cirago steamer has two – low and high. Use low for delicate fabrics and polyester, and high for cotton, linen and denim.
Every Accessory Needed
Cirago have thought of everything when it comes to accessories.
The steaming glove that comes with the clothing steamer even has an adjustable strap on the wrist to prevent it falling off during steaming.
The clothes hanger spins in a 360 degree direction, so you can steam the front of your clothing, then the back without having to remove the item from the hanger.
Stainless Steel Sole Plate
I'm a big fan of stainless steel sole plates in garment steamers, as opposed to plastic steam heads.
Stainless steel tends to hold heat better, has less condensation, and therefore less dripping of water from the steam head.
Cirago have combined a plastic steam head and handle with a stainless steel sole plate, which gives the benefit of the better quality more efficient steam head without the weight of a full stainless steel head.
This makes the head more lightweight and easier to steam multiple pieces of clothing without making your arm sore.
Price
This is a cost effective steamer that offers just as much value as other upright steamers on the market.
Prices pulled from the Amazon Product Advertising API on:
Product prices and availability are accurate as of the date/time indicated and are subject to change. Any price and availability information displayed on [relevant Amazon Site(s), as applicable] at the time of purchase will apply to the purchase of this product.
Tips for Using the Cirago LS-609C Garment Steamer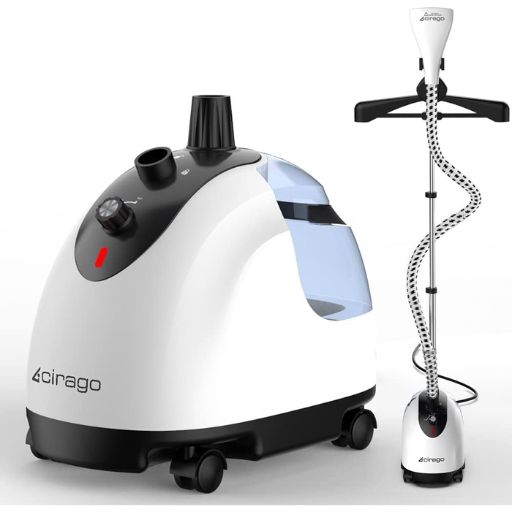 Here are some tips for using your Cirago steamer to keep it in the best possible working condition:
Keep the Hose as Straight As Possible
Hearing a gurgling sound from the steamer is normal, as the water heats up and produces steam.
If the gurgling sound gets too loud, take a look at the steam hose for any kinks or bends. Try to keep the hose as straight as possible when using the clothing steamer.
Use Distilled Water
Cirago are kind enough to tell you how to clean your clothing steamer with vinegar and water in the user manual. They also have a troubleshooting section that talks about what to do if the steamer does not produce enough steam, or no steam at all.
The answer here is a build up of sediment (from using tap water) within the clothing steamer, which causes poor performance and ultimately shortens the life of your steamer. Avoid all of this by using distilled water in your steamer.
Empty the Water Tank After Use
It is important not to store your clothing steamer with water inside, particularly if you use tap water.
Bacteria and mold may build up inside your steamer, causing stinky steam and potential clogging.
Would I Buy the Cirago LS-609C Steamer?
Yes. This is a sturdy steamer from a quality brand, at a reasonable price. I would absolutely purchase the Cirago garment steamer.
I gave this garment steamer 4 stars out of 5, as it only comes with a 12 month warranty.
In comparison, there are other brands of clothing steamers on the market that offer much better warranties than this, offering peace of mind about the longevity of the steamer.
Having said that, you can purchase an extended warranty on Amazon – an extra $15 will buy you a 4 year protection plan, which is what I would do if I was buying this Cirago steamer.