CHI 13102 Steam Iron Review [2023] Retractable Cord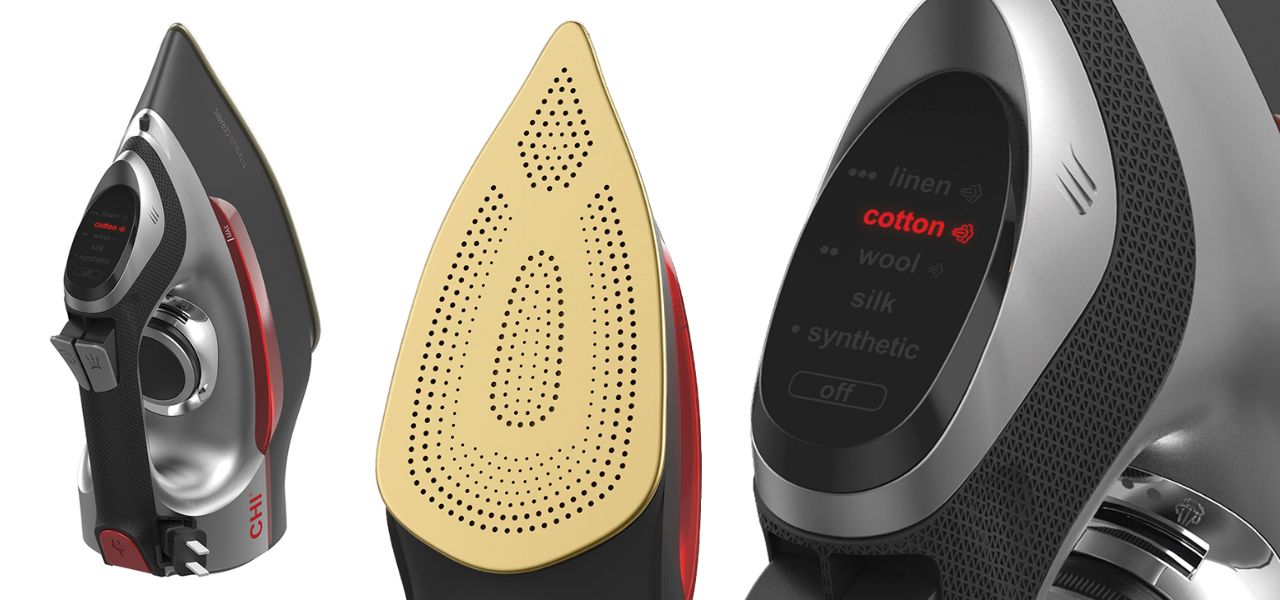 You've heard about the CHI Steam Iron for Clothes with its Titanium Infused Ceramic Soleplate and a whopping 1700 Watts of power. It's more than just an iron; it's a fashion tool designed using the same technology that powers CHI's flagship g2 flat iron for hair styling.
With over 400 steam holes, this fantastic device delivers power-packed steam for effortless ironing. Add to that an 8′ retractable cord for easy use and concise storage, and you have everything you need for a convenient and well-organized ironing experience.
In this comprehensive review, you'll discover more about this professional-grade CHI Steam Iron. Unravel the details of its electronic temperature control with a fabric guide that takes the guesswork out of setting temperatures.
Let's jump right in:
See the CHI Steam Iron in Action
Best Features of the CHI 13102 Steam Iron
Who would have thought that this exceptional technology could ever exist in an ordinary household item like an iron?
The CHI Steam Iron, designed with CHI flat iron technology, gives a new definition to standard home utilities. It employs the same Titanium-Infused Ceramic Soleplate Technology used in CHI's hair styling tools.
The 400+ steam holes and 1700 watts of power make removing wrinkles from your clothes easy and fast.
Titanium Infused Ceramic Soleplate
This ironing product has broken new grounds with its Titanium-Infused Ceramic Soleplate. This ultra-strong and scratch-resistant feature adds durability and long-term use.
Its matte chrome accents and sleek design give it a polished look that attracts the eye of any fashion-conscious iron user.
Electronic Temperature Control with Fabric Guide
The CHI Steam Iron creators clearly understand that different types of garments require unique kinds of attention.
Its Electronic Temperature Control comes with a fabric guide, allowing you to adjust its heat according to your fabric's needs. No more guesswork and the results are professionally ironed clothes.
Retractable Cord
Offering an 8-foot retractable cord, this CHI Steam Iron makes ironing easy and safe. With a single button, you can wind up the cord, making this tool convenient and tidy for storage.
Auto Shut Off Time is Great for Quilters
The CHI steam iron has a 3 way auto shut off feature. This means it will shut off after 30 seconds if left facing down, or tips over sideways.
The 3rd way is the standard upright auto shut off. When left sitting in an upright position for 30 minutes the iron will automatically shut down. It gives you a beeping warning prior to this, and you can tilt it to reset the timer.
This is a great feature for quilting, you can alternate between pressing and sewing without having to reheat the iron
Harnessing the Full Potential of the CHI Steam Iron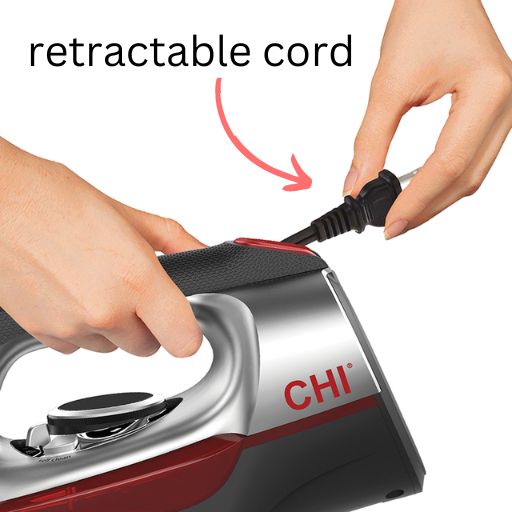 This premier CHI Steam Iron offers a wide range of applications, which makes it a fantastic piece of investment for every household.
Streamlining Your Laundry Chores
Thanks to its 400+ steam holes, you will enjoy a powerful steam ironing experience, making the process of steaming out wrinkles smooth and fast. Combine that with the 3.5 pound weight of this iron and you have efficient crease removal and will cut down on the need for fabric sprays and starch.
Perfect for Delicate Fabrics
The electronic temperature control with fabric guide feature is ideal for those delicate fabrics that need special care. It has both dry iron and steam iron settings.
It is worth noting however, there is no way of shutting off the steam and switching to dry ironing with water in the tank. My suggestion is to iron any clothes needing a dry iron first, then fill the tank with water for steam ironing.
Convenient Storage Solution
Its retractable cord brings an added convenience when storing your iron. I love this for storage, however it does make the iron slightly larger than models with external cords. The 8 foot cord could be a little longer also, but that would add to the bulkiness of the iron.
Product Specifications
| Feature | Description |
| --- | --- |
| Soleplate | Titanium-Infused Ceramic |
| Technology | CHI Flat Iron |
| Power | 1700 Watts |
| Cord Length | 8 ft. Retractable |
| Other Unique Features | Electronic Temperature Control, 400+ Steam Holes |
Pros and Cons
There are some great positives to the CHI 13102 steam iron, but it's not without some drawbacks. Here are the pros and cons and some general feedback from other users:
Pros:
400+ holes for effective steam ironing
Auto shut off
Self clean function
Retractable cord
2 year warranty
Cons:
Price is higher compared to standard irons
Larger and heavier than other irons – weighing approx 3.5 pounds. Having said that, many people like the weight, which helps with wrinkle removal
No switch to toggle between steam ironing or dry ironing – it's all or nothing
Feedback on the CHI Steam Iron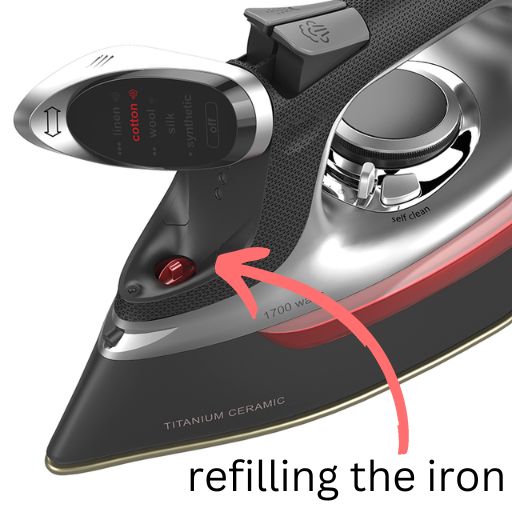 Customers have sent raving reviews about the exceptional de-wrinkling power of this iron. The modern and elegant design is a hit, and the retractable cord received considerable compliments for storage convenience.
Here is some general feedback:
One user complained the ceramic coated soleplate was not as easy gliding as the stainless steel of other models.
Sewers and quilters love the 30 minute auto shut off vs 8-10 minutes of other irons.
You have to refill the iron when it is laying flat. Some users don't mind this, or fill it over the sink. Other users would prefer an iron that could be filled when sitting upright.
The electronic temperature settings are large and easy to read.
The iron heats up quickly.
Frequently Asked Questions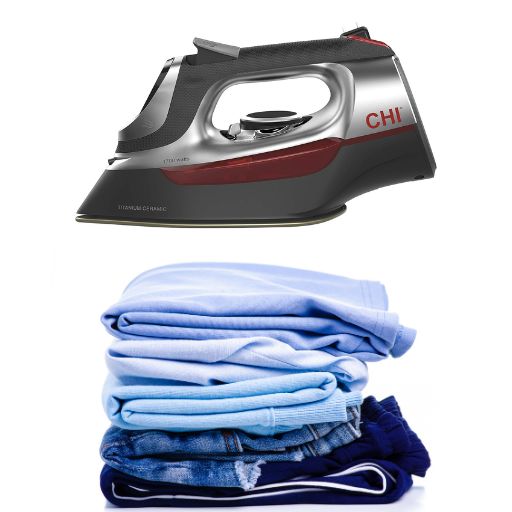 Does the CHI steam iron have auto shut off?
The Chi steam iron has a 3 way auto shut off across all models with the retractable cord. This means it will shut off after 1 minute if left on the sole plate or resting on either side. If you leave it sitting upright, it will shut off after 30 minutes of inactivity.
Is CHI iron worth it?
The CHI steam iron with retractable cord is higher priced than other irons, however, the quality makes it a worthwhile buy.
Which iron is better CHI or Rowenta?
The CHI iron is better than Rowenta. It has a longer warranty, is larger and slightly heavier resulting in better wrinkle removal, has a larger digital display, and unlike Rowenta, users have not complained about the CHI iron leaking.
Worth the Investment?
Its excellent quality and smart features are evident from the words of satisfied customers. It is a premium iron worth every penny.
Tips for Perfect Ironing Results
Remember to adjust the temperature according to the type of fabric you are ironing. Regularly clean the iron for maximum performance and longevity.
Wrapping up the Review
The CHI Steam Iron for Clothes with Titanium Infused Ceramic Soleplate is a meticulously designed tool that redefines the meaning of an iron. Its premium quality and features are not merely a marketing scheme but a true testament of CHI's commitment to providing consumers with superior and innovative products.
A Quick Product Recap
The CHI Steam Iron with a Titanium Infused Ceramic Soleplate utilises CHI's patented technology for efficient and effective ironing. With its electronic temperature control, retractable cord, and impressive 1700-watt power, it's a modern iron designed for modern users.
Final Decision
The CHI Steam Iron with Ceramic Soleplate is undoubtedly a worthy investment for every home. Its user-friendly, stylish design, coupled with unparalleled ironing performance grants a superior ironing experience. One must consider this when looking for the best steam iron in the market. It might be a little more expensive than standard irons, but its features justify the cost. Happy ironing!