Sunbeam Power Steam Fabric Steamer
The Sunbeam Power Steam Fabric Steamer is not a new steamer to the market, but still a popular choice in 2022. There are two models in this range, the GCSBHS-100 and GCSBHS-200. The varying model numbers refer not to the fabric steamer itself, but the accessories that are included.
Firstly, lets take a look at the basics of the Sunbeam Power Steam Fabric Steamer:
| | |
| --- | --- |
| Wattage | 1500 watts |
| Voltage | 110-120 volts |
| Heat Up Time | 45 seconds |
| Steam Levels | Low or High |
| Approximate Steam Time | 15 minutes |
| Cord Length | 10ft |
| Use Horizontally & Vertically | Yes |
| Weight | Approx. 2.5 pounds |
| Warranty | 3 years |
A Closer Look at the Sunbeam Power Steam Fabric Steamer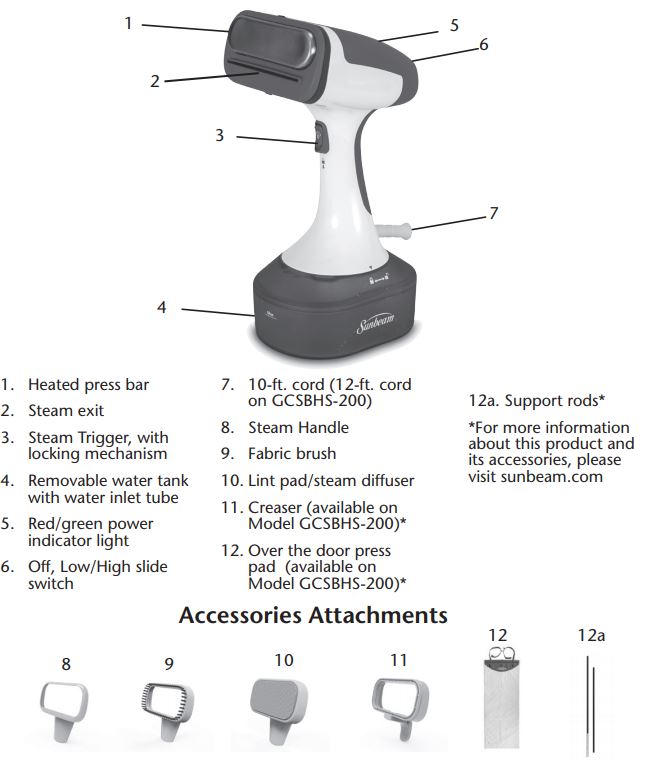 The distinctive looking heated press bar is in place of what would normally be a stainless steel or ceramic coated sole plate on the steamer. Instead, the face of the steamer (that is, where the steam comes out), has a heated plate and an open bar underneath which the steam is emitted from. This is quite unique to Sunbeam, with the idea being that the mini sole plate can be used to press out tougher wrinkles like an iron would.
The steamer has two levels of steam output, either low or high. As with most clothes steamers, low is best for delicate fabrics such as silk and lace, with high being a better option for cotton, linen and heavier fabrics. There is a sliding switch on the back of the steamer to change the steam level.
You can push down on the button on the front of the steamer to make the steam come out. There is also the option to lock this button into place so steam is continuously output from the steamer. This is really convenient and much easier than holding down a button whilst you steam.
The water tank is located on the bottom of the steamer and holds approximately 10 fluid ounces of water. This is a good design and helps to evenly distribute the weight of the water and steamer combined. To refill the water, simply twist water tank off the bottom of the steamer.
The clothing steamer can also be used both horizontally and vertically. This makes it perfect for use on bedding, soft furnishings, cushions or clothes laying on your bed, as well as vertically hanging clothing.
Differences Between the two Sunbeam Steamer Models
The steamer itself has the same wattage, run time, steam settings and water capacity between the GCSBHS-100 model and the GCSBHS-200 model. The differences with the GCSBHS-200 model are:
12 foot power cord (instead of 10ft long on the GCSBHS-100 model)
The crease attachment is included with the GCSBHS-200 model
The over the door pad is included with the GCSBHS-200 model
What Accessories Come as Standard?
The Sunbeam Fabric Steamer Model GCSBHS-100 includes three accessories as standard. They are:
A Steam Handle – this is a cover that goes around the edge of the steamer to protect your hands from steam.
A Fabric Brush – this is excellent for thicker fabrics and works by loosening fibers in clothing to help get the wrinkles out. It will also collect lint and pet hair in the process.
A Lint Pad/Steam Diffuser – you may have also heard me refer to this as a steam bonnet. It is basically a mesh attachment that diffuses the steam as it exits the clothing steamer. Great for vintage clothing and delicate fabrics.
Extra Accessories with the Sunbeam GCSBHS-200 Model
The Sunbeam GCSBHS-200 model includes two additional accessories. A creasing tool, which helps to get iron like creases on your shirts and pants. An over the door press pad is also included, which is handy to protect your door and help to press out tough wrinkles from clothing.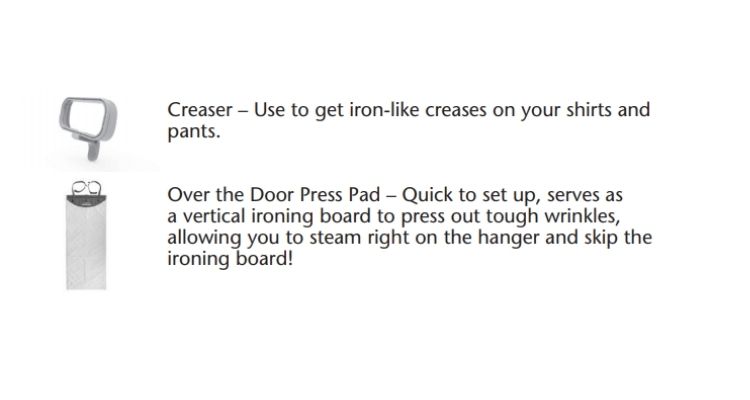 What to Look For When Buying the Sunbeam Fabric Steamer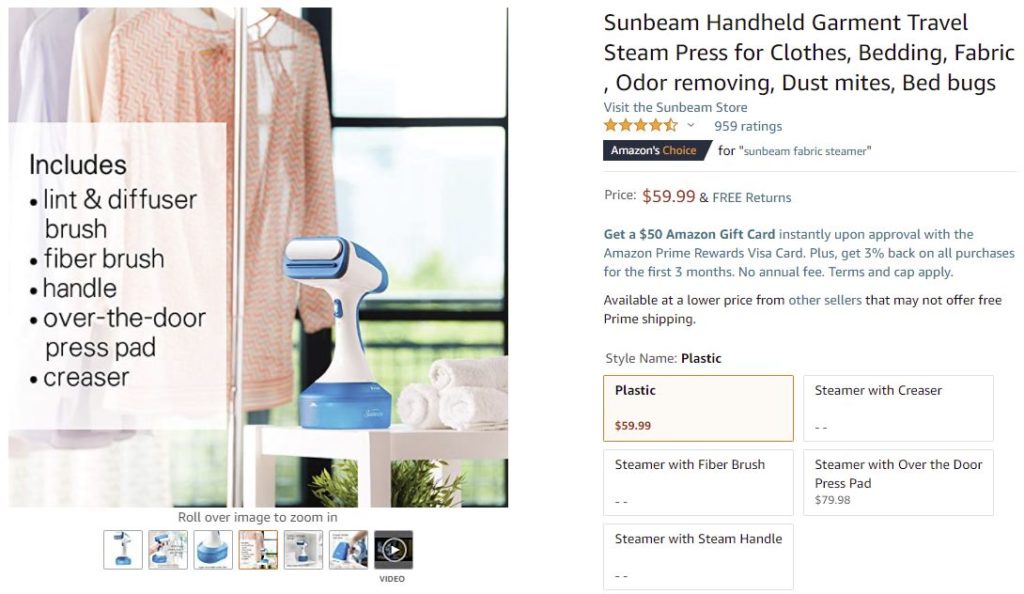 Feedback from some users indicated they did not receive the accessories stated. Clearly, Sunbeam do advertise that you will receive the accessories, however, you won't receive all of them, only the standard accessories. I believe that you will only receive the crease tool and over the door press pad when you select that option for an additional $20 (see the image above with the choices).
Given the over the door pad costs $20 to buy anyway, it's not any special kind of deal. I'm wondering if Sunbeam have the settings around the wrong way for the steamer and over the door press pad option, as when you select that, the images disappear and you only see the garment steamer…
Traveling with the Sunbeam Clothes Steamer
The Sunbeam clothes steamer is actually much larger than it looks in the images. Measuring 11.22 inches tall x 6.88 inches x 5.03 inches. It looks like this when held in your hand:
If you were traveling with a large suitcase or needed to steam a larger volume of clothes (for instance wedding and bridesmaid dresses), this steamer could be a good choice. If space is an issue however, this steamer would take up considerable space in your luggage, and I think there are more streamlined models better suited to travel.
What Water Do You Use in the Sunbeam Steamer?
My personal recommendation is to use distilled water only your garment steamer. This comes from years of owning clothing steamers (even a cheap steamer from Aldi) and the longevity I've gotten out of my steamers by using only distilled water.
The Sunbeam user manual states you can use tap water in the power steam steamer, but also recommend using distilled water in hard water areas or for better results.
If this is your first steamer purchase, do yourself a favor and pick up some distilled water. You can buy it for a couple of dollars per gallon and will make a huge difference both with the quality of steam and the longevity of your machine.
You should not use any perfumes, oils or additives in the water of your Sunbeam clothing steamer. If you choose to use tap water (or any water other than distilled water) in your handheld steamer, Sunbeam recommend cleaning with a vinegar and water solution every two months.
This link will take you to my detailed tutorial on cleaning and descaling your clothing steamer.
Troubleshooting and Warranty
The Sunbeam Power Steam Fabric Steamer comes with a 3 year warranty in the USA and Canada, which is an excellent warranty for a handheld steamer. It is best to register the garment steamer on the Sunbeam website when you receive it, in case of any warranty issues that may arise.
Please be aware that when using the Sunbeam Powersteam Fabric Steamer you may hear and feel a shuddering or vibration when the water is running low. This is normal, and a sign that you should refill the water.
If the green light goes off whilst steaming it is because the temperature has dropped too low and may need 10-20 seconds to heat back up again.
Contacting Sunbeam
Sunbeam don't sell their products directly on their website, but they do arrange all warranty repairs. Regardless of where you purchased your Sunbeam handheld steamer from, if you need to raise an issue with Sunbeam under warranty their contact details are:
USA: Phone 1-800-458-8407
Canada: Phone 1-800-667-8623
Sunbeam will give you instructions by phone on how to send your clothing steamer back for servicing, repair or replacement. You can also complete the contact us form on the Sunbeam website.
Where to Buy the Sunbeam Steamer for Clothes
Amazon is the most popular choice to purchase the Sunbeam Power Steam Fabric Steamer for USA and Canadian residents.
In the UK, I wasn't able to find the Sunbeam Steamer on Amazon, but did find it on eBay here (which is sold via the USA).
Australian shoppers, there is a different model for Australia (model number GS1000), which is a deep purple color. You can find it at Harvey Norman. It also includes the crease attachment as standard, and in Australia, has a 2 year warranty.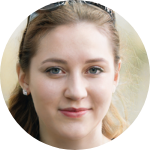 About the Author
Hi I'm Lauren. Passionate organizer, t-shirt folder and owner of a commercial garment steamer, steam cleaner and handheld steamer. I'll discuss all things steaming, so if you need help with buying or using a clothing steamer or steam cleaner, I'm here for you. Please join me on Facebook and don't hesitate to reach out if you have any questions. Happy Steaming!