Steamery Cirrus No 2 Handheld Steamer Review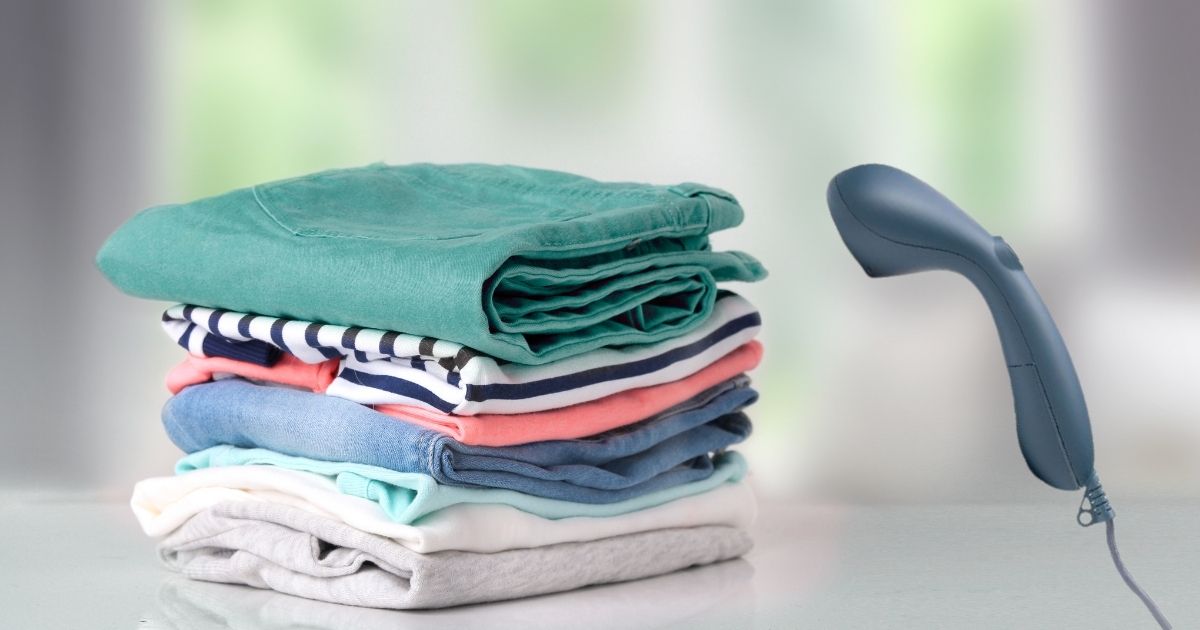 Steamery Stockholm brings us the very stylish Steamery Cirrus No 2 handheld steamer, a portable travel steamer with a Scandinavian design, available in four contemporary colors. They are black, light grey, baby pink and navy blue, and oh so beautiful.
When I first looked at the Cirrus No 2 steamer, I had two immediate thoughts:
Ooh it's so pretty! Then reality kicked in…
Where's the water tank?
Now, if only I can get thought number one out of the way, because I want to own a Steamery steamer just because of how beautiful it is.
I can envision how wonderful I feel holding the soft, velvety matt rubber finished steamer in my hand. How even the weight distribution feels with the large steamer head balanced by the weight of the water in the chamber of the wand.
How stylish and luxurious this handheld steamer looks that I'd want to leave it on display, or carry it with me everywhere, just incase! Even the box it comes in has such a minimalist design, I'm bound to store something in it. Reuse and recycle, right?
But then I come back to reality and ask myself, ok Lauren, design aside, what are the specs and is this a good buy?
Steamery Cirrus No 2 Travel Steamer Specifications
| | |
| --- | --- |
| Model No | EM-601 Cirrus No.2 Travel Steamer |
| Power: | 1500 watts 110V 60Hz |
| Heat Up Time: | 25 Seconds |
| Accessories: | Travel Bag, Fabric Brush |
| Water: | 3 ounces/90ml |
| Steam Temperature: | 212°F/100°C |
| Run Time: | 6 minutes |
| Steam Output: | 15 grams per minute |
| Warranty: | 1 year |
| Made in: | China |
Steamery has been around since 2014, and naturally, the Cirrus No.2 is an upgrade from the original version of handheld steamer – the Cirrus No.1.
As a 1500 watt steamer, it is comparable to other handheld steamers on the market, in regards to power. The steam output is fairly low, 15 grams per minute. In comparison, the Rowenta DR8080 is a 1500 watt steamer and outputs steam at 22 grams per minute.
I don't know why the steam output is much lower on the Steamery steamer, although they do advise the steam is pressurized. Consumer feedback indicates the steam output is smooth and steady.
What Water Do You Use in the Steamery Steamer?
The Cirrus No 2 boasts that the inside of the steamer is coated, meaning that you do not need to descale the cirrus steamer. This and the design are the two major upgrades from the original Steamery Stockholm steamer.
I looked further into this, and the caveat is that you don't need to descale the steamer if you only use distilled water.
Here is the official wording from the Steamery Stockholm website:
Cirrus No.2 has a coating that makes it resistant to residues of limestone and minerals, this means that there is no need to descale it.

Steamery Stockholm
After consulting the user manual for the Cirrus steamer, here are the instructions for filling the steamer with water:
Take off the rubber plug on top of the water container and fill it with distilled water as this will prevent mineral deposits in the boiler that can reduce performance or clog the water system.

Cirrus No.2 User Manual
Distilled water is created from steam, therefore, you are less likely to get any kind of build up in the steamer when using distilled water. This in turn, reduces the need to descale your steamer.
This is why most steamer manufacturers recommend only using distilled water in their steamers. And also why I have an entire blog post on why you should never use tap water in your steamer.
Included Steamer Accessories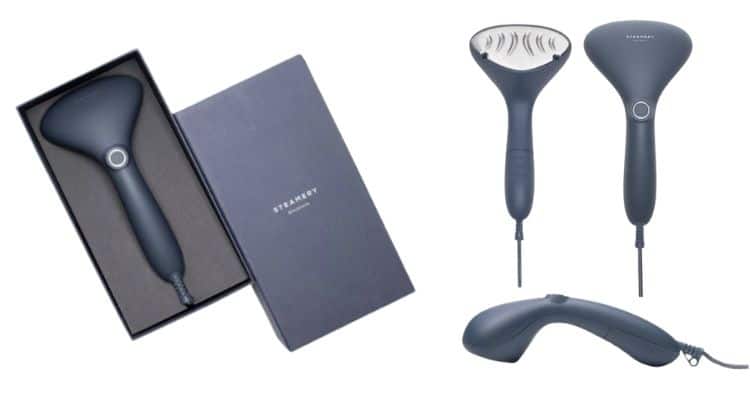 The cirrus steamer comes with a fabric brush, which helps to loosen fibers in clothing. This is particularly useful for wool and woven fabrics, like those used in cardigans and coats. It is not shown in any of the images, but it is a small clip on brush, like most other garment steamers.
One thing that did impress me was the heat proof bag. Steamery have designed their bag that holds the travel steamer to act as both a steaming glove and a crease tool.
To use as a steaming glove, place your hand inside the bag and tighten the cord around your wrist. This will protect your hand from the heat of the steam.
To use as a crease tool, lay the bag on a flat surface, then place your clothing over the top, positioning the edge of the bag where you would like the crease to be.
Then press the cirrus steamer over the top of your clothing and the bag. A crease will form where the edge of the bag is. I have to give Steamery points for innovation on that one!
Using the Steamery Cirrus Steamer
The Cirrus steamer can be used continuously for up to 30 minutes. Given you would have needed to refill the steamer 5 times by the time 30 minutes came around, I think you'd be ready for a break anyway.
The steamer itself takes around 25 seconds to heat up, an excellent heat up time, but also expected for a 1500 watt steamer that holds such a small amount of water.
There is only one steam setting – it's on, or it's off. You can use the Cirrus No 2 steamer both horizontally and vertically.
The steam heats up to 212 degrees Fahrenheit, hot enough to remove wrinkles, but at 15 grams of steam output per minute, perhaps not fast enough of an output to tackle tougher fabrics like wool and denim.
The steamer is 13 inches in length and weighs around 1.3 pounds without water. 3 ounces of water won't weigh much, so it is safe to say this is a lightweight handheld steamer.
Is the Steamery Cirrus Travel Steamer a Good Buy?
The Cirrus no 2 steamer could be a good buy for you if:
You travel regularly and need a lightweight, portable handheld steamer
You primarily send out your clothes for dry cleaning and need a steamer for touch ups in between
You live in a warm climate and wear mostly lightweight clothing
You love the minimalist design and are looking for an aesthetically pleasing handheld steamer
You have a larger budget to spend on a handheld steamer
Where to Buy the Steamery Cirrus No 2: