Rowenta IS8440 Professional Steamer Review
Rowenta is a trusted name in irons and steamers, and the IS8440 upright garment steamer claims to give you professional results. The unit is stylish and compact. But is it functional?
The Rowenta Rowenta IS8440 professional clothes steamer initially stood out to me as one of the better choices when I published an overview of all the upright garment steamers by Rowenta. 
One of the most powerful of the upright Rowenta steamers, it boasts 1700 watts of power, 4 steam settings, and outputs steam at 35 grams per minute (on the max setting). With a pull-down screen, 40-minute running time, and an anti-calcification function, this presents as a great buy.
Is there a but coming? You bet there is. Let's take a look at the full Rowenta IS8440 Professional steamer review: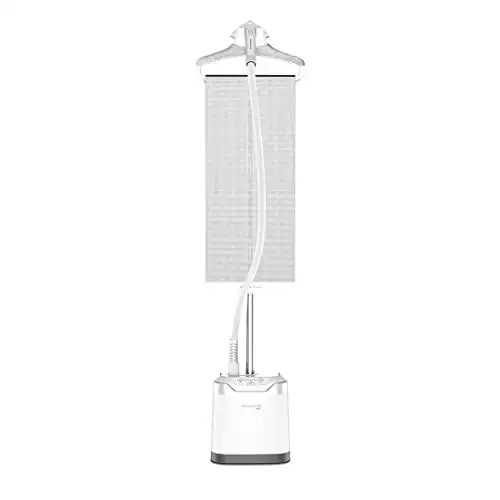 Here are the basic specifications of the pro style care IS8440 steamer:
| Specification | Rowenta IS8440 |
| --- | --- |
| Heat up time | 45 seconds |
| Continuous Steaming | 40 minutes |
| Steam Output | Up to 35 grams per minute |
| Steam Levels | 4 |
| Water Capacity | 52 ounces |
| Power | 1700 watts |
| Country of Manufacture | China |
A Quick Overview of the Pros and Cons of the IS8440
Pros
Compact and stylish design
1700 watts of power 
35g/min steam output 
Heats up within 45 seconds 
4 steam settings for all types of fabric 
XL Delta steam head with steam controls on the handle
Includes 3 attachments
Cons
Short hose
Having to lift the steamer base to clean and descale
No onboard storage for accessories
The screen doesn't roll up and down
The Best Things About the Rowenta IS8440 Professional Steamer
XL Delta Steam Head 
The extra large delta steam head is triangular in shape for the utmost precision when steaming clothes. There are 9 steam holes in the head for superior steam output. As a result, the steam can penetrate deep into the fabric's fibers irrespective of the thickness. The pointed shape of the steam head enables it to navigate easily around buttons, pockets, and under collars.
Variable Steam Choices
The steamer features 4 steam settings with controls located on the handle. You can use multiple steam levels to remove wrinkles from all fabric types, including delicates such as silk. An auto shut-off feature alerts you when the machine needs cleaning or when the water tank is empty. 
Water tank 
Another great feature of the Rowenta IS8440 is the removable water tank. This large water tank has a capacity of 52oz, accommodating enough water for 40 minutes of continuous steaming. Some users have achieved up to 60 minutes of continuous steaming.
Important Information About Rowenta's Calcification Sensors
Many Rowenta steamers have built-in calcification sensors and auto shut-off sensors. According to Rowenta, these sensors do not work when used with 100% distilled water. Rowenta recommends using 50% tap water and 50% distilled or demineralized water.
Safety 
Along with the auto shut-off feature when it is time to refill the water, the Rowenta IS8440 will also shut off if it overheats. When it is time to decalcify the steamer, a light will flash. Pay attention to this, as ignoring regular cleaning and maintenance of your steamer will shorten its life.
Roller on the Back for Maneuverability
The IS8440 looks like it isn't on wheels (which technically it isn't). However, you can move the steamer without needing to lift it by tilting it backward and rolling it along the small roller. Make sure you remove the water tank before you do this – it has the potential to leak when tipped over.
Accessories  
In the box, you will find 3 innovative accessories:
A fabric brush for steaming heavier fabrics
A crease attachment for pleats
A steam bonnet for delicate materials  
The Downsides of the IS8440 Professional
The steam hose is short, making it difficult to get clothes on and off the hanger. The screen is handy, but only on one side. The telescopic pole gets in the way when you are steaming the back of items, making it impractical to work from both sides of the fabric steamer. This is common with this style of upright garment steamer and it is best if you turn the clothing around.
Rowenta advertises using tap water in this upright steamer. In reality, it still needs to be regularly maintained by lifting the entire unit with water in the base, shaking it, and pouring it out over the sink. To effectively do this, you need to disconnect the steaming hose and telescopic pole. You could try shortening the telescopic pole (as suggested by Rowenta in the user manual), however, I can easily see this bumping something and causing damage.
Many online reviewers complain about the poor steam output from this steamer. This could be from purchasing a returned machine, using 100% tap water, or choosing the incorrect steam level, as most consumers love it.
Would I Buy the Rowenta IS8440 Professional Garment Steamer?
The short steam hose on the IS8440 limits this garment steamer. If you mainly steam suit jackets, blouses, and dress shirts, I would consider the Rowenta IS8440 a good choice.
You may need to get creative and set it on a dining chair to reach the top of your curtains. 
The design of the base is flat and compact. This keeps the footprint small, so you can steam upholstery, cushions, duvet covers on the bed, etc., without much hassle.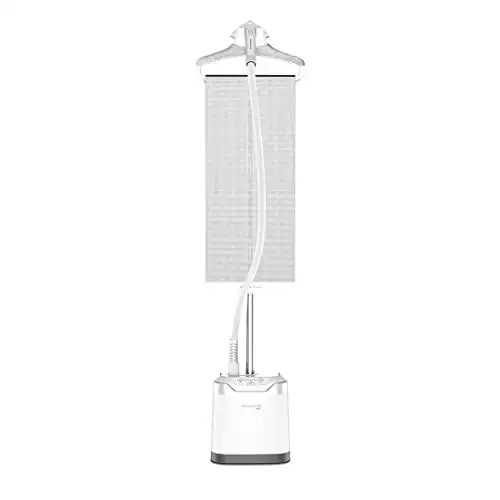 Rowenta IS8440 Professional Garment Steamer
1700 watts
4 steam settings
Removable screen
Delta shaped head
Anti-calc system for tap water use
Stylish and compact
We earn a commission if you make a purchase, at no additional cost to you.
06/04/2023 09:54 am GMT
Rowenta IS8440 VS Rowenta IS6300
The main differences between the Rowenta IS8440 and IS6300 (Master Valet) are:
Power: The Rowenta IS8440 offers 1700 watts, while the Master Valet IS6300 provides up to 1550 watts of power. This means that the IS8440 is slightly powerful.  
Steam output: The Rowenta IS8440 has a steam output of 35g per minute, while the Rowenta IS6300 offers 30g per min. The IS8400 provides continuous performance for 40 minutes while the IS6300 works continuously for 60 minutes. 
Design: The IS6300 has a bulkier design with larger wheels.
Accessories: The IS6300 does not include the crease tool attachment. You can purchase this separately.
Similarities Between the IS8440 and IS6300:
Both machines come with 3 accessories; however, they are slightly different between models.
Both steamers can be tilted and pulled behind you to move around.
Replacement parts and accessories are available for both models.
Both steamers have the press screen integrated.
Both steamers offer a built in hanger
The Rowenta Master Valet Garment Steamer IS6300 and the Rowenta Pro-Style Care IS8440 are among the most popular models from this brand. With similar features, both offer excellent performance.
Frequently Asked Questions 
Is Rowenta a Good Brand? 
Rowenta is among the best brands when it comes to the production of great garment steamers and irons. Rowenta also manufactures intelligent devices such as space heaters, cooling fans, air purifiers, and many others.  
The company was launched in 1909, but it produced its first iron around 1912. In 1949, this company developed an advanced iron with temperature control and a thermostat. Their first steam iron was launched in 1957, and now, Rowenta has continued to produce excellent technologically advanced products.  
What sets Rowenta apart is that they are highly durable, affordable, and straightforward. Their garment steamers are equipped with excellent features which enable them to offer incredible results. Other features that make Rowenta steamers the best are: 
Some models can use a combination of tap water with distilled or demineralized water, saving you money on buying water. 
 Fast and equal heat distribution means you don't need to mind hot spots. 
The outstanding steam distribution mechanism.
Rowenta offers replacement parts and accessories that can readily buy on their website. They have been in the market for decades and don't look to be disappearing any time soon.
How Does a Rowenta Steamer Work? 
Rowenta steamers are operated just like other models, meaning they are not very complex. They also come with a user manual which you should read before using the machine. When using any Rowenta garment steamer, you should follow these steps; 
Fill the water tank on the steamer with distilled or demineralized water. With the anti-calc steamers, use 50% distilled or demineralized water and 50% tap water.
Connect the unit to a power outlet for the water to heat. Most like the Rowenta IS8440 takes less than a minute to heat. 
Once the unit is ready, start the steaming process from the top of the garment to the bottom. 
 If you are steaming a dress shirt, start with the sleeves.  
After you finish the sleeves, you can move to the front and back of the shirt. Ensure you have covered all the parts before you hang them to dry. Pay particular attention to the collar. 
Try not to steam over the top of plastic buttons; the heat and steam can cause them to become brittle and break.
You can press the steamer on the fabric without causing any damage. Wearing a steaming glove can help as it doubles as a press pad and protection for your other hand.
How Do I Choose the Best Rowenta Garment Steamer? 
Rowenta has produced a wide variety of garment steamers. Consider the following when choosing the suitable Rowenta steamer for you:
Performance: Check the wattage of the steamer. I recommend choosing at least 1500 watts for effective performance on all fabric types.
Steam Settings: If you have a range of fabrics in your wardrobe, look for multiple steam settings. That way, you can use the lower setting for delicates and the higher for fabrics like linen and denim.
Water tank: If you like to steam your weekly wardrobe in one go, look for a steamer with a larger water tank.
Storage: Is space an issue for you? Will you need to store the upright steamer in between uses or leave it set up all the time? Consider the size, space available, and how you intend to use it.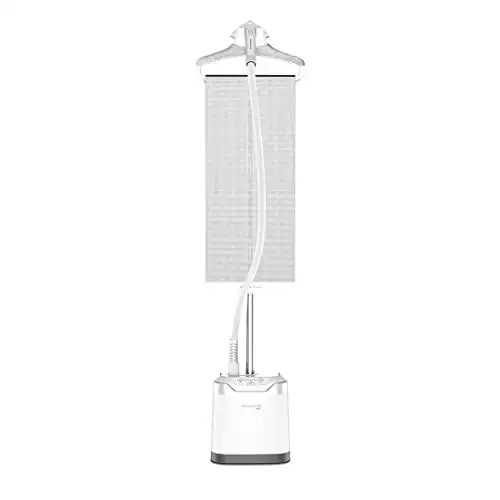 Rowenta IS8440 Professional Garment Steamer
1700 watts
4 steam settings
Removable screen
Delta shaped head
Anti-calc system for tap water use
Stylish and compact
We earn a commission if you make a purchase, at no additional cost to you.
06/04/2023 09:54 am GMT
Final Verdict 
The Rowenta IS8440 Professional Clothes Steamer is among the best models for professional steaming results. It comes with very convenient features such as the XL delta steam head and 1700 watts of power which enables it to handle steaming tasks within a short period.
The multiple steam settings allow you to steam all types of fabrics, including the most delicate. Whether you want to use the IS8440 as a steamer for clothes or upholstered furniture it can handle both. The only thing that lets the IS8440 down is the length of the steam hose. A little longer would be handy, but it's not a make-or-break deal for me.