Black and Decker Steam Mop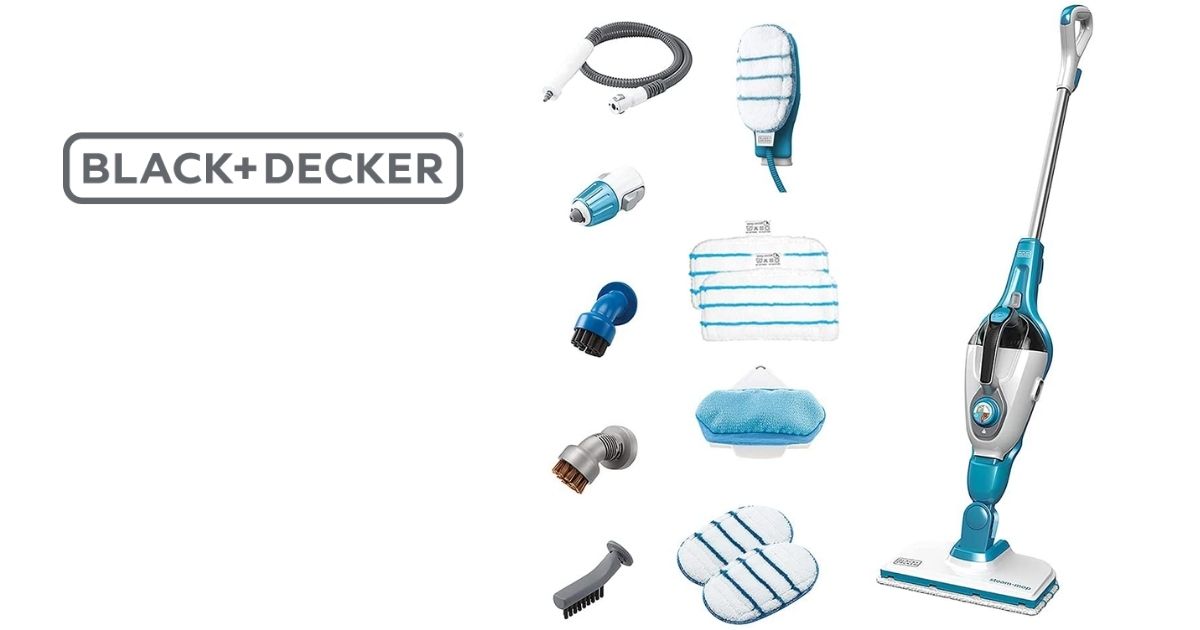 Black and Decker steam mops are versatile all round cleaners that remove soil from hard floors, including grime, grease, debris, and contaminants. I am particularly fond of the Black and Decker 7 in 1 steam mop with the SteamGlove™ feature (USA and Canada).
In the UK and Australia, the SteamGlove™ is named the SteaMitt™ – same functionality, different name. Accessories will vary also, depending on your country.
In this Black and Decker steam mop review, I'm going to explore the multifunction steam mop that has the detachable handheld steamer. You can also buy Black and Decker steam mops without the steaming glove, but it is the glove that I am most interested in, as an alternative to using a handheld steam cleaner and wiping surfaces with a microfiber cloth or towel.
There are variations of model numbers for this multifunction steam mop, different model numbers for different countries, and different accessories that come with each. Talk about confusing! I'm going to break down each model number and their accessories, so you know exactly what you are buying.
Let's get started:
Black and Decker 7 in 1 Steam Mop With SteamGlove™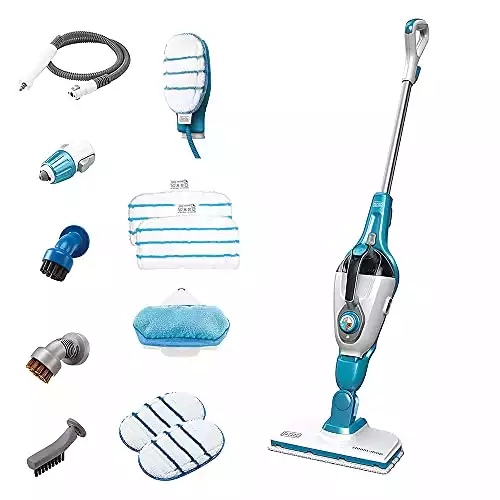 Black + Decker Multipurpose Steam Mop
Multifunction steam mop for floors and handheld steam cleaner
Uniquely styled steam glove protects your hands
Accessories for grout, tile, grill cleaning, curtains and clothing
Adjustable steam settings
Buy on Amazon
We earn a commission if you make a purchase, at no additional cost to you.
07/22/2023 03:46 am GMT

As I mentioned above, Black and Decker have designed a steam mop and handheld steam cleaner combination with a glove or mitt that goes over your hand that emits steam. You can then wipe over surfaces using your hand as you naturally would with a cleaning cloth. This is a great idea, but when looking further into Black and Decker steam mops and their models, I was easily confused. Judging by the feedback, consumers are too.
This is where it gets a little tricky depending on what country you are in. In the USA, you can buy the Black and Decker steam mop on Amazon. There are two models available:
The 5 in 1 steam mop which does not include the SteamGlove™ (look for model number HSMC1321)
The 7 in 1 steam mop which includes the SteamGlove™ and fabric steamer accessory (look for model number HSMC1361SGP)
In Canada, the Black and Decker Steam Mop is also available on Amazon and comes with the same accessories as the USA 7 in 1 model. It also has the same model number – HSMC1361SGP. These attachments include the SteamGlove™, replacement steam mop pads, garment steamer attachment and various multifunction brushes.
As I mentioned above, the in the USA and Canada, the 7 in 1 steam mop with SteamGlove™ is model number HSMC1361SGP. The accessories included with this model are:
Adjustable steam nozzle
1 x Nylon Brush
1 x Copper Brush
1 x Grout Brush
Steam Glove
Garment Steamer attachment
2 x microfiber mop pads for floor
2 x microfiber mop pads for steam glove
Hose from the handheld steamer to the accessories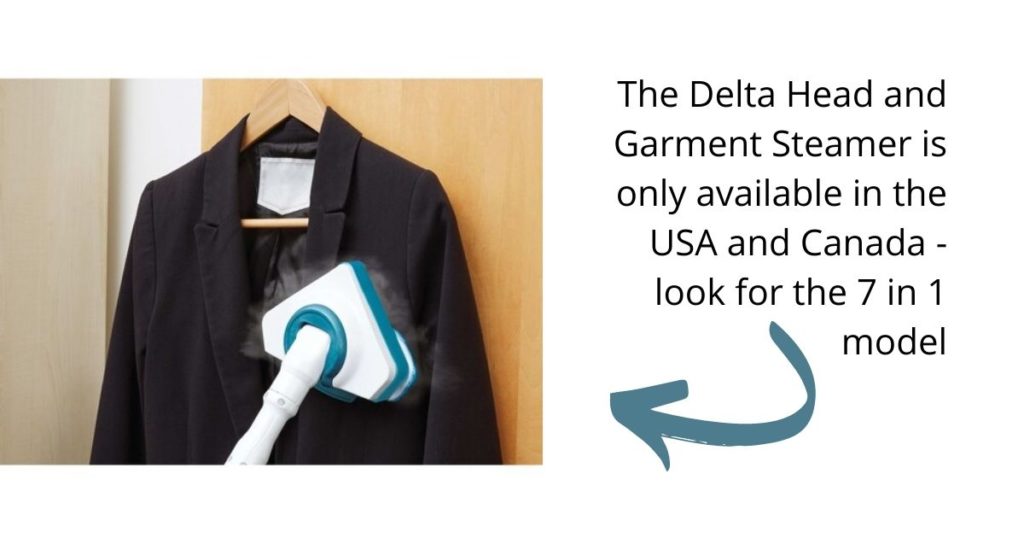 In the UK, you can buy the basic 7 in 1 steam mop, but this doesn't include the steam glove. You need to look for the models advertised on Amazon with 10 accessories, or 15 accessories. Please keep in mind (at the time of writing) the headings don't match up with the number of accessories.
For example, the 15 accessories steam mop is titled Black and Decker Steamer Mop 11 Accessories. It is also lower priced than the 10 accessories option, yet has more brushes. So, look out for this one as it is the better buy! [Here is the link to Amazon UK if you are interested].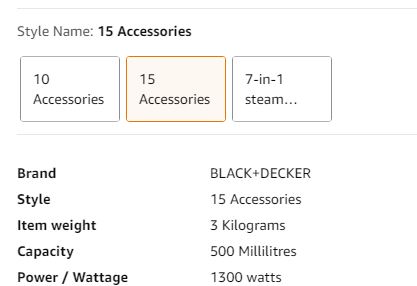 The model numbers correspond as follows:
FSMH13101SM-QS – 15 Accessories option
FSMH13151SM-QS – 10 Accessories option
FSMH1351SM-GB – Advertised as a 9 in 1 (in a separate listing by Black and Decker), but doesn't include extra floor mop pads and only has 2 brushes.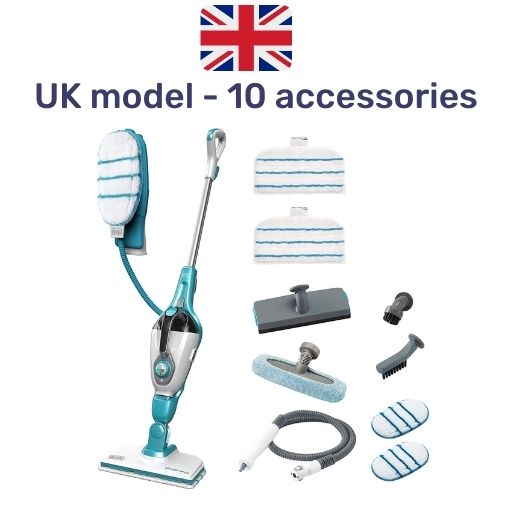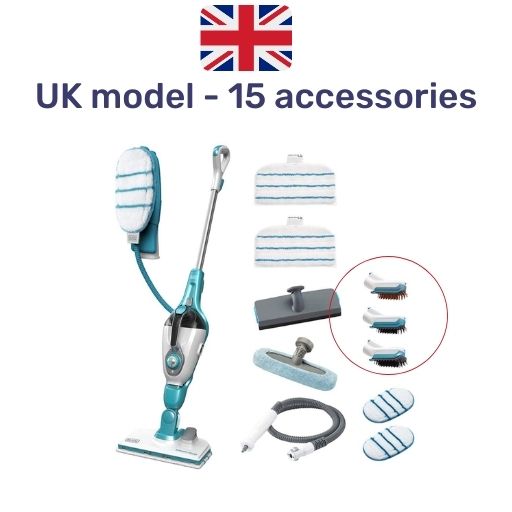 Best Features of the Black and Decker Steam Mops with Glove
Regardless of which country you are in, the basics of the steam mop and steaming glove remain the same. Here's the best features of the Black and Decker steam mop:
Steam Glove and Variable Steam Control 
The SteamGlove™ allows you to clean awkward angles and corners more efficiently. As a result, you won't struggle when cleaning countertops, appliances, furniture, etc. Also, knowing that you are making contact with the surface helps ensure the steam has reached all areas for a spotless clean. 
No Guess Variable Steam Control
This Black and Decker steamer also comes with an advanced SmartSelect control system which regulates the amount of steam according to the type of surface you are cleaning. Switch the dial on the front, choosing from the following selections:
Stone/Marble
Tiles/Vinyl
Wood/Laminate – choose this for garments and carpets also
I like that there is no guessing here or no low, medium, or high settings. Black and Decker seem to have thought of the end user here and made it easy to choose based on the surface you are cleaning.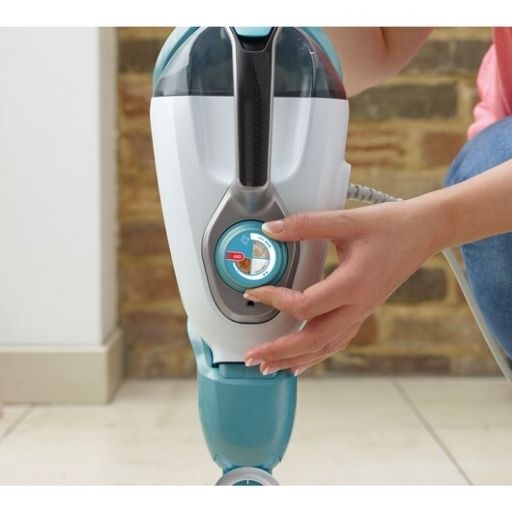 Fast Heat Up and Continuous Flow of Steam
The steamer takes just 20 seconds to heat up and start producing steam. You don't need to hold any triggers in, as the steam flow is continuous. There are pros and cons to this. It is better for your hands to not have to hold in a trigger, and those who suffer arthritis or whos hands fatigue easily will appreciate this. On the flip side, continuous steam will use the water in the tank faster.
Swivel Head 
It is equipped with a flexible swivel head to make your work easier when cleaning tight spaces and corners. It also comes with a 20ft power cord for easier navigation. Some users complained the power cord could be longer. You can use an extension cord if needed.
Functionality
You can use this handheld steam mop to clean stainless steel kitchen appliances, glass, bathrooms, floors, countertops, etc. The adjustable steam nozzle allows you to clean all the inaccessible parts easily. It also makes it perfect for cleaning microwaves, toilet seats, and ovens.  
Pros
Smart Select Dial adjusts steam depending on the surface you are cleaning
Steam Glove is an excellent feature
Heats up within 20 seconds 
Continuous steam flow 
Lightweight and stylish design  
Two year limited warranty  
Cons
Parts and replacement accessories need to be purchased via a 3rd party supplier. See my paragraph below for more info on where to buy.
Doesn't stand up on its own
Black and Decker Steam Mop Replacement Accessories
One of the biggest complaints consumers have made about the Black and Decker steam mop with steam glove is that you cannot buy replacement parts and accessories. A quick search on Amazon finds replacement mop pads and steam glove pads (albeit not a genuine Black and Decker product), but no replacement brushes.
Anyone who has used a handheld steam cleaner with the grout accessory will know that these accessories don't last long. The heat of the steam combined with grout scrubbing melts away the nylon bristles quickly.
In the US, you can purchase replacement accessories via a third party supplier. The company is Tool Service Net and they are the official supplier for Black and Decker replacement products (among other brands).
I wish I could tell you this was a simple process. I searched the US/Canada model number and was given two steamers to choose from, both are identical. I went to the user manuals for each – also identical. The most helpful option was to click on the 'view parts by drawing' option (see the yellow tab in the image below). Then you can see the part numbers, as they don't match with the part numbers in the user manual.
I was going to suggest a phone call to confirm you are buying the correct part, but they have no contact number, just an online request form. As you can see in the screenshot below, there are multiple options for brush number 15, which has two different pricing options.
I can only assume that one is the standard nylon brush and the other is the copper brush (given the 2nd option is more expensive also), however, with no images and no explanation, how can you be sure of what you are buying? As I mentioned above, don't refer to the user manual here – as they are labeled there as parts 17 and 18.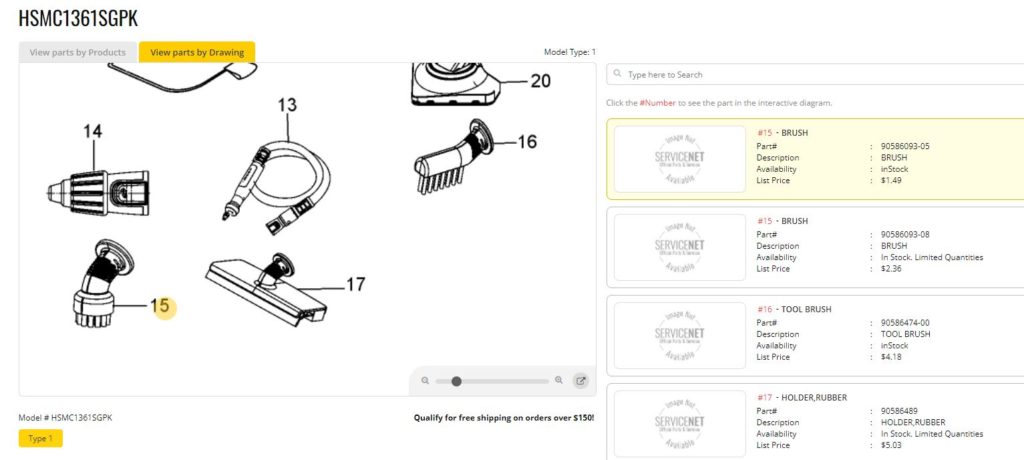 It is also worth noting that Service Net does not ship outside the USA. Not even to Canada.
For the purpose of deciding how easy it was to obtain replacement parts I added a $2.36 brush to my shopping cart. There was a notification on the cart page to say my order would ship in approximately 8-10 business days. So, I need a new brush, but have to wait at least 2 weeks before you send it to me?
You then had to either create an account, or checkout as a guest. I went with the guest checkout. After inputting an address in Chicago (as they are based in Illinois), shipping was calculated as $6.99 using UPS ground, or $23.99 for premium delivery. Yikes. I could buy another 3 brushes for the cost of ground shipping, and I'm still waiting weeks on end as they are upfront in telling you its going to take a while.
For UK buyers, I was redirected to Part Shop Direct, where you can buy every conceivable part for repairing the steam mop. After a little digging around, I found some replacement brushes, also a squeegee, floor pads, steam glove pads and a replacement hose.
Most of the products here were more for technicians repairing the steamer, with many internal parts available to purchase. I thought I was in luck when I did a quick search on Amazon and found a SteaMitt kit with multiple brushes and pads, but this is for the Black and Decker handheld steamer, not the steam mop version. I can't be 100% sure that this will fit on the detachable handheld steamer that comes with the steam mop.
You can also take a look at this accessory kit with 6 brushes and a squeegee but again, I can't be 100% confident they will be the right products for the steam mop handheld cleaner, as they appear to be designed for the handheld steam cleaner that is a separate product on its own.
In Canada, blackanddecker.ca states you can find replacement parts at Service Net and links you back to the USA website mentioned above. Yet Service Net were very clear that they do not ship to Canada! A quick check of Amazon in Canada didn't find anything other than generic replacement mop head pads. Lowes and Walmart did not turn up anything either, unfortunately.
I also found a set of pads for the steamer glove which look really useful:
Prices pulled from the Amazon Product Advertising API on:
Product prices and availability are accurate as of the date/time indicated and are subject to change. Any price and availability information displayed on [relevant Amazon Site(s), as applicable] at the time of purchase will apply to the purchase of this product.
Frequently Asked Questions 
How to Use a Black and Decker Steamer
Start by attaching the microfiber mop pad to the mop head.
Then fill the water tank and then connect the machine to a power source.
Check the indicator until it turns from red to blue. It takes 15-20 seconds to heat up.
Once the steamer is ready, you can now start cleaning your floor, pushing the steam mop back and forth in a short motion.
These machines also come with different attachments for cleaning various items or surfaces. In case you are still confused, check the instruction provided in the user manual.
How to use a Black and Decker Steam Mop on Carpet 
You will need the carpet glider attachment to effectively use the Black and Decker steam mop on carpet.
Remove all items from the carpet and then vacuum it to remove dirt particles.  
Connect the carpet glider to the steamer.
Add water to the steamer and allow it to heat.  
Start cleaning the carpet from the furthest corner. You should clean in straight lines to ensure that you don't miss any spots. 
During cleaning, open the windows to allow the carpet to dry. 
When the carpet is dry, vacuum again to remove any dirt particles loosened by the steam.
See the Black and Decker Steam Mop in Action
Is the Black and Decker Steam Mop with Glove a Good Buy?
Black and Decker are a well know brand in small appliances, and I was very interested in the SteaMitt or SteamGlove feature. This isn't something I've seen with other brands of steamers and I think its a really great feature.
In terms of the steam mop, it's no different to any other standard steam mop on the market. Black and Decker certainly don't make it easy to obtain replacement brushes and this was a big deterrent for me. Some of the biggest user complaints about the Black and Decker steam mop were:
Handle isn't very strong and doesn't attach well (one user needed to use a rubber band to help it stay on)
Accessories sometimes fall of when using
Water tank is small – expect around 10 minutes of cleaning time
The water tank doesn't separate from the handheld steam cleaner
Some of the positive reviews regarding the steamer were:
Steam glove works great for window cleaning
Mop pads are good quality and work well
Ease of use as a steam mop and also easy to switch between mopping and using the handheld steamer
Good for laminate floors
Steam nozzle has excellent output of steam
If you're as interested in the steam glove as I am (particularly with the extra mitts for dusting and polishing) you'll most likely enjoy the Black and Decker steamer. Priced around the $200 mark, it is not the cheapest multifunction steamer on the market, especially when extra mitt pads are sold separately.
I like the simplicity of the steam selection dial based on your surface type. The lack of replacement brushes available is something to consider if you do decide to buy the Black and Decker steam mop with steam glove handheld steamer for cleaning your home.